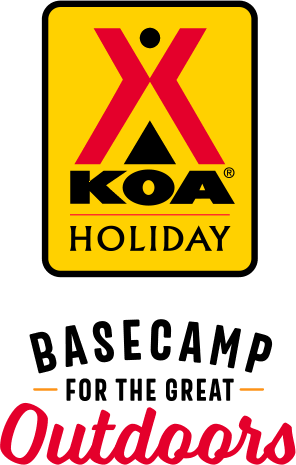 KOA Holiday Campgrounds
Whether you're exploring the local area or hanging out at the campground, KOA Holidays are an ideal place to relax and play. There's plenty to do, with amenities and services to make your stay memorable. Plus, you'll enjoy the outdoor experience with upgraded RV Sites with KOA Patio® and Deluxe Cabins with full baths for camping in comfort. Bring your family, bring your friends, or bring the whole group – there's plenty of ways to stay and explore.
KOA Holidays Feature:
RV Sites with a KOA Patio®
Deluxe Cabins with full baths
Premium Tent Sites
Group meeting facilities
Directions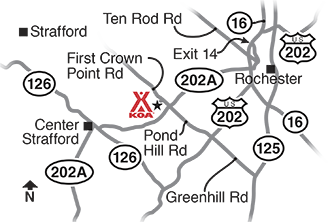 From Route 16 North take exit 14 Ten Rod Road. At the end of ramp bear right then turn right at lights. Go 1/8 mile between Home Depot and Burger King turn right on Twombley St. Go 4/10 mile to end. turn Right on 202A West . Go 2 1/2 mile to a blinking light at 4 corners go straight threw in 1/2 mile bear left on 202A go 2 more miles to First Crown Point road turn right. Campground is on your left in a 1/4 mile. (If coming from Route 16 south take exit 15 turn left at the end of ramp.)
GPS: N43.284099, W71.070311
Get Google Directions
May 10, 2021
Everything was very clean. Especially liked all the Mother's Day activities. No WiFi though and not enough help. We felt bad for th3 staff but they really did a great job holding down the camp. Pool needed to b3 warmer and a specific dog swimming beach is needed.
CAMPGROUND RESPONSE / COMMENTS:
We are so glad you enjoyed your time with us. Thank you for the suggestions!
May 10, 2021
This trip was our maiden voyage with our New 2800BH imagine travel trailer. We have camped in the past but never with a travel trailer. The staff at Strafford/ Lake Winnipesaukee South KOA were VERY helpful from the time we pulled in until the time we left. We already have our next trip booked with them in June!! Can't wait :)
CAMPGROUND RESPONSE / COMMENTS:
Congratulations on the new camper! We are looking forward to having you back soon!
May 10, 2021
So grateful for friendly and kind staff ! Great job cleaning up the campground !
CAMPGROUND RESPONSE / COMMENTS:
We are certainly grateful for them as well! We have a great crew that works very hard, and I will let them know that they're hard work has not gone unnoticed.
May 10, 2021
Very pleasant stay! Friendly staff we really enjoyed the coffee shop .
CAMPGROUND RESPONSE / COMMENTS:
We are so glad you enjoyed your stay with us! Come back again soon!
Dec 23, 2020
No longer a family campground. Its unimaginable how they can do what they did to the seasonal campers there. 2 years in a row with only a 2 week notice. Shame on you!!!!!!
Dec 23, 2020
The campground was great, but, at the end of the season, they told a bunch of us seasonals that we could no longer have our sites for another season. They waited until last minute to tell us, so everyone had to scramble to try to find a campground and site for next year. Very bad business. It's too bad. The people who worked there were great, and it's a really nice spot, but I wouldn't go back.
Dec 16, 2020
30 seasonals had less than 2 weeks to pack up and get OUT due to corporate taking away seasonal sites. How would you rate this campground? NOT OKAY!!!!
Dec 09, 2020
We had at this campground for 14 years the last two was the worst . It seems that if you was a seasonal camper you didn't count all 35 of us this year and 25 people who was asked to leave . A child or adult is going to hurt because of people speeding with the rent golf cart s and drinking and driving.the rules are not being in force also the drinking around the pool while in the pool 5 mile not
Nov 09, 2020
The staff and grounds at KOA Strafford/Lake Winnipesaukee South are wonderful. We spent the whole season there and made some wonderful friends and memories. Thank you!
Nov 06, 2020
Nice campground, a bit pricey for the few amenities it has. Sites are good size and facilities are very clean. Many changes while under new ownership & corporation misleading and not up front. Park staff is great; friendly and responsive. Too many rental carts and not enough staff to ensure they are following cart rules. Kids driving, speeding, racing. People have been hit/hurt.
Oct 24, 2020
Lack of management to many kids running the show . Dumpsters always full and smell . No security many speeding vehicles .
Oct 23, 2020
Caleb was very helpful and the campgrounds are well maintained
Oct 22, 2020
Seasonal prices were raised very high at the very end of the season with only 7 days to decide for the second year in a row. Obviously they are trying to drive the seasonals out. Very disappointing after being there for so many years.
Oct 18, 2020
Another great weekend at this campground with a group of friends. My only suggestion is that the office improve communication. Required several calls to get questions answered and promised return calls never happened.
Oct 18, 2020
We had a very nice time, very clean, children enjoyed themselves. Hope to be back next memorial day weekend
Oct 15, 2020
We were seasonal for 5 yrs Last yr rent rose from $3,400-$4,100 They told us this with 17 days left in the season & 24 sites were eliminated WAY late to find another campground I was lucky that OUR site was NOT eliminated I was told no mass reduction and no big jump in site fee next year Well our rent jumped $4,100-4,999 and 35 sites Gone 2 weeks notice Greedy Untrustworthy Judge for yourself
Oct 14, 2020
Me and my family had a great time over the weekend so much we already booked it for the same weekend next year and sure it will be just as much fun thanks to all the staff and to Ryan who worked there we will miss you the Fortin family Mike Michelle Cariella and Edgar
Oct 14, 2020
We had an amazing time. Already booked 2 visits for 2021 and also got a friend to book also. The office staff was awesome to say the least. Attentive, receptive, and understand are some words that come to mind. I checked out on 13 Oct at 5am and stopped my the restroom closest to Site B. Absolutely clean and outstanding!!!! See you soon!!!
Oct 14, 2020
Enjoyed very much.
Oct 14, 2020
We were looking for a clean, well run campground and we found it. The staff was very friendly and accommodating even with our late arrival. Thank you for a wonderful stay!
Oct 13, 2020
Always love staying here. Nice people and always clean
Oct 13, 2020
Our first and last time at your place thank god! The worst experience in our life! Was there for 5 months as a seasonal. Nothing but kids running all over the place, no control anywhere, racing around in golf carts, hanging off the back, pretty sure they are required to have drivers license, many don't. Big loud parties in the rentals up in the back, laundry room sucked. Couldn't wait to leave :(
Oct 13, 2020
Friendly and helpful staff. One negative, extremely dusty roads, could of been watered or otherwise treated occasionally.
Oct 13, 2020
This place is the best! We spent 6 out of 8 trips here and were so sad that the season is over. Our grandson made a great friend and spent hour upon hour swimming, exploring and just having a ball with him! Hoping he is back next season for more adventures. Thank you for making 2020 the best summer, yet!
Oct 13, 2020
I loved here on Columbus weekend because of Foliage and friendly staffs. Also I went there same last year..�� Thanks all of u..
Oct 13, 2020
Staff extremely friendly and helpful. Sites nice and spacious. Beautiful pond with many amenities. Location is somewhat out of the way but within an hour to Kittery Main and the lakes region attractions.
Oct 12, 2020
Usually happy at this KOA, but we were told that the specific site we requested wasn't available. Instead, we were put between 2 other campers while the site we requested remained open both nights at a time when the campground wasn't even close to being full. I also don't understand the $4.99/night "resort fee" at this time of year when there isn't a lot available.
Oct 11, 2020
Staff are very friendly and helpful. Campsite was very spacious, clean and neat. I liked all the amenities and available, extra curricular activities.
Oct 10, 2020
We love the campground, and the patio Site, but next time we would not be by the playground LOL we would prefer to be at the other end at the top of the hill, but we would definitely come back!!
Oct 10, 2020
Beautiful place �
Oct 10, 2020
Awesome personnel and we'll kept
Oct 09, 2020
This was are second time staying at this campground everything was nice had a real good time. the staff was very friendly and helpful we booked again for next year before we left can't wait to go back next year
Oct 09, 2020
Spent two weeks here in one of the large back-in patio sites. We have a 41 ft with towing and our site was perfect. Lots to keep families of all ages busy from swimming, to fishing, paddle boarding, kayaking and more. The staff is friendly, helpful and the grounds are well maintained. We will be back!
Oct 09, 2020
Pleasant staff...clean facility....convenient location...great sites..
Oct 08, 2020
the staff was excellent, and campground was spotless! We love coming here, and will be back for sure!!!
Oct 07, 2020
We had the most amazing time, our site was pefect! We loved the swing and the adorondack chairs and the firepit. Bathrooms were absolutely spotless, staff was friendly and helpful. so many activites for the kids, loved having the halloween theme that kids could be kids and trick or treat without worrying about a covid mask! Would highly recommend for any age! Thank you! Shoemakes/Flemings
Oct 07, 2020
Very impersonal check in. Couldn't get the wifi to work. Too close to a cattle ranch; lots of flies. No services open due to Covid. Expensive night considering what services we got
Oct 06, 2020
It was great!!!
Oct 06, 2020
Bathroom very clean. Very peaceful until the campground filled up on the weekend. Our site would have been very big, except we parked more in the middle of the site to avoid the apples dropping from the tree onto the camper! Very family friendly!
Oct 05, 2020
Only thing I wish was that when I booked our stay we were told it would be during a Halloween weekend! We didn't know until we arrived and hadn't brought anything to decorate with, or costumes for our kids to wear for trick or treating. Great weekend overall though!
Oct 05, 2020
Friendly staff. Very clean sites.
Oct 05, 2020
Trick or treat / haunted trail were a hit for kids
Oct 05, 2020
I fell in love with this place!
Dec 30, 2020
We love it here staff are amazing😍😍🤩👍 bathrooms always clean! Speedy services. Yes services!! Pizza ice or wood they'll bring it to you! They handled COVID great
- Brittany McCabe on Google
Oct 17, 2020
Fabulous campground for a family with kids. Great water park. Had a nice cabin. Friendly staff
- Scott Patefield on Google
Oct 12, 2020
They out do themselves ever time. Went back for a second time in as many months. Will be returning next year. We found a place we really love to vacation at. Will be telling everyone about it.
- Brian Cannella on Google