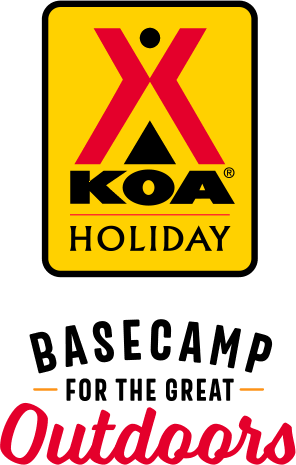 KOA Holiday Campgrounds
Whether you're exploring the local area or hanging out at the campground, KOA Holidays are an ideal place to relax and play. There's plenty to do, with amenities and services to make your stay memorable. Plus, you'll enjoy the outdoor experience with upgraded RV Sites with KOA Patio® and Deluxe Cabins with full baths for camping in comfort. Bring your family, bring your friends, or bring the whole group – there's plenty of ways to stay and explore.
KOA Holidays Feature:
RV Sites with a KOA Patio®
Deluxe Cabins with full baths
Premium Tent Sites
Group meeting facilities
Directions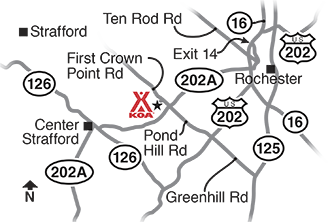 From Route 16 North take exit 14 Ten Rod Road. At the end of ramp bear right then turn right at lights. Go 1/8 mile between Home Depot and Burger King turn right on Twombley St. Go 4/10 mile to end. turn Right on 202A West . Go 2 1/2 mile to a blinking light at 4 corners go straight threw in 1/2 mile bear left on 202A go 2 more miles to First Crown Point road turn right. Campground is on your left in a 1/4 mile. (If coming from Route 16 south take exit 15 turn left at the end of ramp.)
GPS: N43.284099, W71.070311
Get Google Directions
May 10, 2021
We had stayed here last year after we bought our new camper. We had a small problem with our camper at last minute and the staff was wonderful about helping us find a solution for the weekend we had reserved. Ended up in one of there cabins, very clean, firewood delivered immediately really can't say enough good things. Very clean restrooms and something for everyone!
CAMPGROUND RESPONSE / COMMENTS:
I'm sorry to hear about the issue with your camper, but I'm glad you go to experience one of our cabins. We hope to see you again soon with your camper!
May 10, 2021
Came camping with family to celebrate my birthday and Mother's Day. We had a fantastic time and really enjoyed our stay. Every staff member we interacted with were amazing and we'll definitely be coming back.
CAMPGROUND RESPONSE / COMMENTS:
Happy Birthday and Mother's Day! Thank you for choosing to spend those special days with us.
May 10, 2021
Everything was a disaster from start to finish. From the charges, to renting an RV, the staff, & golf carts. It was just a hot mess. Would never go there again.
CAMPGROUND RESPONSE / COMMENTS:
Thank you for taking the time to let us know your thoughts about your stay. We will use your feedback to continue to improve each guest's experience.
May 10, 2021
We had a great time. The staff at the different things held making of tie dye, bingo, and mothers day crafts were very nice and helpful. Everyone was pleasant and friendly. The cabin was very clean! my kids had a blast. we will definitely be back. thank you!
CAMPGROUND RESPONSE / COMMENTS:
Thank you for letting us know about your experience! I will be sure to pass your kind words on to our awesome team members.
May 10, 2021
Overall just a bad experience. Night one - no heat or hot water. Toilet was broken. Golf cart was broken. Never fixed the toilet all weekend, never turned on the heat, staff blasted ac for an hour before calling again to find out the propane tank was off. Water side was down and staff was rude about it. When checking out I brought it up and Lauren just looked at me like I was stupid.
CAMPGROUND RESPONSE / COMMENTS:
Thank you for taking the time to share some thoughts about your stay. We are always happy to know where we can improve the guest experience, and your feedback will help us get better. I hope that you will give us another try sometime.
Oct 13, 2020
We always enjoy our stay at your KOA. The only thing that was not enjoyable was the temperature of the bathhouse. Since it was a cold weekend the bathhouse door was always left open and the bathhouse stayed pretty chilly. Maybe if you put some kind of spring on the door so it remains closed. Other than that your place is great!
Oct 13, 2020
We used the rental trailer Was very nice . We would recommend the stay here
Oct 10, 2020
Awesome! Super clean, great staff, beautiful view! We could not have asked for a better couple of days away. Camping is always the way, but this is one of the best KOA's and campgrounds we've ever stayed in! Thank you to the awesome staff for the work they do to make every camper feel special.
Oct 06, 2020
Everything was great except for the wear and tear on the camper we stayed in: outside light strip wasn't working, clicker to light stove top wasn't working, large pan had only one handle.
Oct 06, 2020
Stayed only one night in an RV (had to work late Friday but paid for 2 nights). Used to be a seasonal camper years back and I am very impressed with all of the positive changes. very clean, organized and friendly staff. Will definately come up again. Too bad you are doing away with the seasonal sites as it is a great way to get to know your neighbors.
Oct 05, 2020
Stayed in one of the safari tents and loved it! So much space and loved having a view of the pond. Great activities for kids and the haunted trail walk was a blast!
Sep 29, 2020
Wow......very comfortable and well-equipped cabin! Loved the screen in porch, the outdoor dining and firepit and indoor accommodations. We were there for three nights and had friends come and spend one night with us. We were all surprised how much fun "glamping" could be. Would definitely love to go again!
Sep 26, 2020
Enjoyed the grounds the peaceful setting. The cabin was cozy and well equipped. The patio and fire pit were very nice and a great way to spend the day. The short hike by the lake was a nice walk. Had a very enjoyable time.
Sep 24, 2020
A couple of things to address: grab bars in the shower area would improve on safety. The mattress in the main bedroom is WAY TOO soft.
Sep 22, 2020
We stayed in one of the nice and pleasant glamping tents. Number 16 was more remote and quiet and we loved that. Activities offered were appreciated by our kids. Overall good stay and perfect for what we were looking for.
Sep 21, 2020
I loved your campground!!! It was our first time there and we had so much fun we will be back in summer 2021 to try it again!! We just went up this past weekend for VRK weekend for members!!! We were not disappointed
Sep 21, 2020
Wonderful place to get away. The RV was lovely and clean and had so many things to make you feel at home. Issue with tv was fixed right away and staff came by and sang happy birthday to my son. Great weekend!
Sep 18, 2020
Very nice, wish they had koa rental bikes other koa's have. Love their pool area. Nicest staff of all koa's we have been to.
Sep 17, 2020
First time; Great experience.. The staff were awesome!!!
Sep 16, 2020
Small campground. Pool was good size, somewhat clean, had to wait for slide monitor. Cabin was clean and everything worked. Game room outdated (but don't use much anyway) pond was very small. Not much locally to do, did take a nice hike 15 minutes away. NOT near Lake Winnie (misleading name) Went off season so not sure how activities are. very quiet.
Sep 16, 2020
Great location nice and quiet
Sep 14, 2020
Excelent, my family and i had a great time there
Sep 11, 2020
We stayed in a RV. The inside was stinking very badly. The bathroom was unbearable. There were flies all over. I will not recommend anyone to stay in a RV. However, the staff was very friendly and the campgrounds were nice.The place is very peaceful.
Sep 09, 2020
We stayed in the deluxe cabin which was really nice! Except I'm not so sure if the people before us had pets. There was pet hair on the throw pillows on the couch and on the floor. But overall it we enjoyed our stay there friendly staff and my kids enjoyed it! Definitely going to go back again �
Sep 08, 2020
Overall, great stay, great amenities and environment. We already rebooked! Worth following up though: please pull couches apart to clean in deluxe cabins between stays (dry food/wrappers from prior customer), maintain the rec room area and those restrooms a bit better, and lastly-please train staff at desk consistently..lots of confusion/issues with paying, booking,etc. thanks!
Sep 08, 2020
Though we had a great time, we were disappointed in the quality of the RV. We opened the door to an overpowering smell of mothballs. To the point where we immediately drove to Walmart to buy two bottles of Glade spray. After that stench went away, there was a fishy smell that lingered from the bathroom all weekend. We would not rent one again - especially for such a high price.
Sep 08, 2020
Not very happy with our RV rental at this particular site. From the moment we walked into the RV there was an awful smell from bathroom. We ended up using the bath house for our duration. It really spoilt our stay. The oven and coffee maker didn't work. The RV wasn't very clean with bread stuck in the bottom of toaster, a dirty used dish cloth. Very disappointed for what we paid!
Sep 08, 2020
We had a great time. Staff was awesome, sites were clean and other campers friendly
Sep 08, 2020
We rented an rv. We paid quite a bit of money to stay there. The actual campground was very clean and the staff were very friendly. However, our rv that we rented wasn't the cleanest. There was dried up toothpaste from the previous guests on the bathroom sink and floor. The cold water in the bathroom also smelled like rotten eggs so we had to brush our teeth with bottled water.
Sep 04, 2020
Outstanding staff and very nice campground. We loved it! RV's we rented were nice looking. 118 smelled terrible upon check in. 119's water smelled really bad. So much so that we went to the store to buy glade candles and tried to stay outside as much as possible (which was unfortunate as we were looking forward to the rv experience). The staff was great! You should be proud of them. Best in cla
Sep 03, 2020
It was so awesome and we can't wait to come back!!!!! :)
Sep 02, 2020
Grounds are meticulous, pool and lake are great. Lots of outdoor fun.
Sep 02, 2020
I stayed in the cabin August 2020. My family was very comfortable the accommodation and grounds were clean. The kids had a ball on the water slide and pool were their favorites. I would highly recommend and look forward in returning 2021.
Sep 02, 2020
I really enjoyed my RV, and time at this camp site.
Aug 31, 2020
Had a great time. Friendly staff. Family oriented.
Aug 30, 2020
We loved staying here so much that we booked again for next year. Very clean, employees are so nice and accommodating. Great place for kids of all ages. So nice and peace,cant wait to come back. Thank you for making this a place to recommend and want to come back.
Dec 30, 2020
We love it here staff are amazing😍😍🤩👍 bathrooms always clean! Speedy services. Yes services!! Pizza ice or wood they'll bring it to you! They handled COVID great
- Brittany McCabe on Google
Oct 17, 2020
Fabulous campground for a family with kids. Great water park. Had a nice cabin. Friendly staff
- Scott Patefield on Google
Oct 12, 2020
They out do themselves ever time. Went back for a second time in as many months. Will be returning next year. We found a place we really love to vacation at. Will be telling everyone about it.
- Brian Cannella on Google