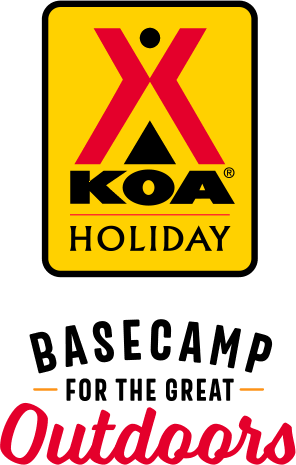 KOA Holiday Campgrounds
Whether you're exploring the local area or hanging out at the campground, KOA Holidays are an ideal place to relax and play. There's plenty to do, with amenities and services to make your stay memorable. Plus, you'll enjoy the outdoor experience with upgraded RV Sites with KOA Patio® and Deluxe Cabins with full baths for camping in comfort. Bring your family, bring your friends, or bring the whole group – there's plenty of ways to stay and explore.
KOA Holidays Feature:
RV Sites with a KOA Patio®
Deluxe Cabins with full baths
Premium Tent Sites
Group meeting facilities
Directions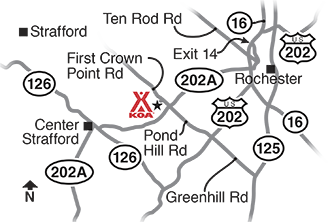 From Route 16 North take exit 14 Ten Rod Road. At the end of ramp bear right then turn right at lights. Go 1/8 mile between Home Depot and Burger King turn right on Twombley St. Go 4/10 mile to end. turn Right on 202A West . Go 2 1/2 mile to a blinking light at 4 corners go straight threw in 1/2 mile bear left on 202A go 2 more miles to First Crown Point road turn right. Campground is on your left in a 1/4 mile. (If coming from Route 16 south take exit 15 turn left at the end of ramp.)
GPS: N43.284099, W71.070311
Get Google Directions
Sep 15, 2020
Great weekend, love that they deliver wood to the campsite, and a store had anything that we accidentally forgot.
Sep 08, 2020
The site was large and we love all the activities offered. The tent ground stated it would be grass, however, it was gravel and ended up poking a hole in our tarp and tent. We would visit again post-coronavirus. We were disappointed that masks were not encouraged more. The pool area was overcrowded and people could not keep socially distanced. The paddle boats were a lot of fun!
Aug 26, 2020
We enjoyed our tent site and the grounds. The only thing I would recommend is providing more soap in the bathrooms. There was no soap in any of the dispensers so we weren't able to properly wash our hands. We loved the fact that you could call the store and they deliver right to your campsite! Would definitely visit again.
Aug 25, 2020
We loved every minute of it
Aug 25, 2020
The staff was super friendly and the everything was clean! BUT it was really crowded and It's a campground for RVs or cabins, only a few sites for tents (surrounded by RVs��) And also the lake, and amenities Are smaller than they look in the video.
Aug 13, 2020
Scenic, curtoues employees, decent amenities however very dirty bathrooms often out of toilet paper, trash left under pavilion for 2 days, trash on ground. Informed office via email and in person twice to bo avail.
Aug 13, 2020
Loved it! First time staying here and had a blast. Tons of things for the kids to do, as well as the adults. Will definitely go back.
Aug 08, 2020
Very friendly staff, facilities very well maintained and clean. My only suggestion is to add some shrubs around tent sites for greater privacy. Very impressive campground!
Aug 05, 2020
A great hidden gem of a KOA campground in Strafford, NH. What a wonderful experience great accommodation s, friendly and experienced staff, both a sandy beach pond and a pool with all kinds of activities and spacious campsites will be bringing our family back again.
Aug 05, 2020
I have stayed at koas around the country, this was my second visit to steafford the staff here is truly amazing!!!
Jul 21, 2020
Great place for families!
Jul 20, 2020
Great time! Loved the clean site, firewood delivery, and the pond was refreshing on a hot day!
Jul 10, 2020
We had such a lovely time at Strafford/Lake Winnipesaukee South KOA!
Jul 09, 2020
Firewood and pizza delivered to tent site was a major plus, allowing us some time to enjoy the pond and pool on a one night stopover at a tent site. All 4 tent sites are close to bathhouse, which was goid and bad-The septic cleaning service truck arrived at 7:30 AM to dig out and pump out septic system! We had to evacuate the tent and area for an hour because of the stench! I'd recd do at chko
Jun 29, 2020
Very clean sites. Heather and Matt were very friendly and helpful.
Jun 26, 2020
Facility is ok but they don't care about the enjoyment or comfort of their guests. We travel all over at KOAs and this one has by far the rudest staff. The gm are quick to make excuses and blame others but when they condone one of their staff members leaving their young kids (about 2, 3 & 4yo) unattended by the pond and then ask us to leave when we voiced concern it's bad. Always an excuse fro
Jun 20, 2020
I LOVED the campground. Everything was so pristine and clean, I thought it had just been built. Then I asked and found out they just celebrated their 50th anniversary, never would've guessed it! Only complaint I do have is we stayed on a tent site, there was no stand up charcoal grill or grate over the fire for cooking and our site was very rocky and had a lot of roots, Besides that we Loved it!
Jun 09, 2020
Great people. Everything was clean and the service was outstanding. We alredy booked our next trip.
May 27, 2020
This was my family's first stay at a KOA resort. We went tent camping for only one night but were very impressed with the cleanliness and friendly staff! We'll definitely be back and will recommend to friends and family! Thank you!
Oct 16, 2019
Went for the Halloween weekend. On Columbus day weekend Office/store awesome... So clean .bathrooms clean. Staff. Friendly and helpful ���
Oct 15, 2019
Could not have had a better time , thank you.
Aug 13, 2019
Perfect.
CAMPGROUND RESPONSE / COMMENTS:
Thank you!
Jul 14, 2019
I must say staff was beyond friendly and pleasant the campground end to end was extremely clean I would definitely stay again if I was to say any negative it would be the game room need ac omg hot in there
CAMPGROUND RESPONSE / COMMENTS:
Thank you for your kind words! We are working to see what can be done about the temperature in the arcade.
Jun 24, 2019
Great stay. Very accommodating. Tent spots were awesome. Bathrooms are very very clean
CAMPGROUND RESPONSE / COMMENTS:
We are glad you enjoyed your stay, and we hope to see you again soon!
Oct 12, 2018
Facilities and campground was great. Our problem were our neighbors who were drunk and played music until 2:30 in the morning. I avoided any problems so we just tried to go to sleep and ignore.
Sep 27, 2018
7 dollars for 7 pieces of well seasoned wood went up so fast had to buy 5 bundles for one night campfire otherwise we loved the site was clean and the staff friendly
Sep 27, 2018
I was there after the busy summer season. My tent sight was large and near the water as requested, however it was muddy and very musty/moldy smelling. I have stayed at other KOA's and find them to be very consistent and well maintained. As a side note, I checked in after the office closed and got settled in just fine, but it would have been nice to have staff check in with me the next morning.
Aug 27, 2018
What a beautiful campground! The bathrooms were spotless and staff were great! We can't wait to stay next year!
Aug 23, 2018
We had another wonderful vacation at your wonderful campground. We hope a new bocce game will be ready for next years visit.
Aug 21, 2018
We have been coming here for 6 years now and love it! Lots for the kids to do with boat rentals, pool, slide, fishing and splash pad. The wifi AMD arcade is great for the rainy days. Campground and bathrooms are very clean and well maintained. Staff is friendly. Bathrooms were a bit overcrowded this year but was excited to see they are building more for next season!
Aug 08, 2018
All the facilities were extremely clean and well kept. The tentsite near the pond was right opposite the very toddler friendly playground which was really convenient. Everyone who works at Strafford KOA was very friendly and helpful. The dishwashing station wasn't on the map so they should mention where it is at checkin. The seasonal campers were really friendly, lots of really nice kids!
Aug 06, 2018
Location was excellent, always something for our 6 year old son to do, this was his second camping experience and he loved it. The pool, splash pad, water slide, fishing, scheduled activities made for some great memories! Thanks for the friendly staff KUDOS to Everyone!
Dec 30, 2020
We love it here staff are amazing😍😍🤩👍 bathrooms always clean! Speedy services. Yes services!! Pizza ice or wood they'll bring it to you! They handled COVID great
- Brittany McCabe on Google
Oct 17, 2020
Fabulous campground for a family with kids. Great water park. Had a nice cabin. Friendly staff
- Scott Patefield on Google
Oct 12, 2020
They out do themselves ever time. Went back for a second time in as many months. Will be returning next year. We found a place we really love to vacation at. Will be telling everyone about it.
- Brian Cannella on Google