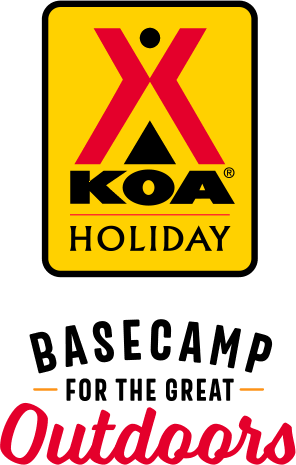 KOA Holiday Campgrounds
Whether you're exploring the local area or hanging out at the campground, KOA Holidays are an ideal place to relax and play. There's plenty to do, with amenities and services to make your stay memorable. Plus, you'll enjoy the outdoor experience with upgraded RV Sites with KOA Patio® and Deluxe Cabins with full baths for camping in comfort. Bring your family, bring your friends, or bring the whole group – there's plenty of ways to stay and explore.
KOA Holidays Feature:
RV Sites with a KOA Patio®
Deluxe Cabins with full baths
Premium Tent Sites
Group meeting facilities
Directions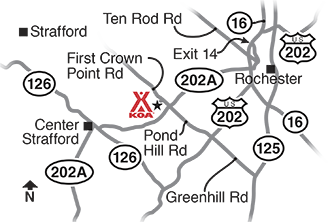 From Route 16 North take exit 14 Ten Rod Road. At the end of ramp bear right then turn right at lights. Go 1/8 mile between Home Depot and Burger King turn right on Twombley St. Go 4/10 mile to end. turn Right on 202A West . Go 2 1/2 mile to a blinking light at 4 corners go straight threw in 1/2 mile bear left on 202A go 2 more miles to First Crown Point road turn right. Campground is on your left in a 1/4 mile. (If coming from Route 16 south take exit 15 turn left at the end of ramp.)
GPS: N43.284099, W71.070311
Get Google Directions
Sep 16, 2021
Everything was perfect except the smell of the water It smelled so bad like rotten eggs I didn't even want to bath in it Just washing dishes made me gag and there was no way I would drink it or cook with it!
Sep 16, 2021
Great stay. Many positive changes since our last visit a year ago.
Sep 16, 2021
When I took an early morning shower the water was NOT HOT. There was NO soap in the sink dispensers to wash my hands. I'm a KOA reward member. I go to KOA because of clean bathrooms. Your bathroom was clean BUT with no hot water and no soap to wash my hands I was very disappointed.
Sep 14, 2021
Plenty to do for both kids and adults; Good, level sites. Pleasant and helpful staff; always available to deliver firewood, pizza and more.
Sep 14, 2021
Love this campground! The staff rocks!
Sep 14, 2021
The welcome when we arrived was less than friendly. We were presented with forms to sign removing them from all liabilities for water activities, forbidding us to use our wood bought from NH, and then told we had to sign an agreement allowing them to take photo's of us and if we didn't want to let them then we had to tell the person taking the pictures not to take out. Really kind of bizarre.
Sep 14, 2021
Campgrounds are beautifully maintained and restrooms and showers impeccably clean, staff is very helpful and responsive BUT I give it 4 stars because the trailer we rented was not clean. Floors and bathroom (especially toilet) were found dirty upon checking in. We didn't request to change campers because we liked the site and we were tired from traveling, so we cleaned it ourselves.
Sep 13, 2021
It was awesome. We had a tree tent and it was so comfortable! The only issue was it was very cold Friday night so next time I would bring more sleeping bags. The pool was gorgeous and warm. We saved a bunch of money by joining rewards program. The staff are amazing, the other campers are chill. Just another great weekend at KOA. One more trip left in October! I can't wait! We love this campgroun
Sep 13, 2021
The campground is immaculate, quiet and the staff are so friendly. we have a 38ft toyhauler and we fit into a back in site with ease. the sites are very large also. i can't wait to come back again.
Sep 13, 2021
Nice quiet campground. Big sites so you are not on top of your neighbor. Water slide was awesome! Bummer was our wood was wet.
Sep 13, 2021
I actually loved the campground…but. We were told at our stay 2 weeks prior that we were "locked" in with our friends near and and they werent and then the people next to us had two dogs that barked the whole time. They woke us up both mornings before 8am. We complained twice but nothing happened No one could walk by with the dogs barking for an hour after. I might think twice before comi
Sep 13, 2021
3 Great Things: - Spacious sites - Golf cart rentals are so fun - Staff is friendly 2 Improvements - Empty trashes in bathrooms/outside more often; they were overflowing on the ground - Carry more shirts/hoodies in 2XL or even 3XL, I know it is end of season, but there were tons of Small and Mediums. We love camp hoodies and want to support you!
Sep 13, 2021
Great staff, so many fun things to do at this campground. We stayed at the glamping tent and it was super clean and fun to stay in!
Sep 11, 2021
Enjoyed are stay immensely. Our first time camping. Would certainly return. At our ages it was nice to have quiet and truly enjoyed watching all the campers and the go-carts. A very well run campground.
Sep 11, 2021
Our stay was nice and quiet except for Friday morning since we were located right near the playground. The only thing I found odd was the hours of your store and the minimal staff in the store.
Sep 10, 2021
Had a great time. We'll be back.
Sep 09, 2021
This was our first visit and we had a very nice stay. The campground was clean and offered plenty to do. Our site was very nice and had plenty of room and a nice view of the pond.
Sep 09, 2021
It was great!!
Sep 09, 2021
It was a wonderful time. The staff is amazing.
Sep 09, 2021
Epic! Love it there. The only thing is the gravel roads are really rough but we've had a lot of rain so it's understandable.
Sep 09, 2021
great sight for camper great people that work there,
Sep 09, 2021
Our camper was too big for the site we were given. There were tree branches hitting our awning due to the branches not being maintained.
Sep 09, 2021
We loved the campground and the bathrooms were immaculately clean. We did not use any other amenities. My only suggestion would be that when you have folks checking in that do not have children, like us, maybe do not put them directly across from the playground. We don't have kids because we don't want kids so listening to kids scream all day was not the most ideal site location for us.
Sep 08, 2021
Stay was fun, bathrooms are clean, prices are too high.
Sep 07, 2021
Should include quiet hours. Had guests around us up til 1am and then other guests up at 6am making noise. We could never sleep.
Sep 07, 2021
It was a perfect long weekend! Beautiful and clean campground with lots to do. The staff was AMAZING!!!! We will be back!
Sep 07, 2021
We had a very nice stay. The whole campground and its amenities were clean. The staff was extremely helpful with all of our inquiries. Definitely looking forward to our returns trips.
Sep 07, 2021
This is our third time staying at this location and we will be likely returning next summer!
Sep 07, 2021
Very friendly staff We had a nice big site Pool and water playground nice
Sep 06, 2021
Great sized RV spaces. Lots of trees. Privacy. Clean. Lots of activity for kids (swimming pool, pond, game room, etc.). Out of the way a little, but worth the trip.
CAMPGROUND RESPONSE / COMMENTS:
Thank you for your review! We hope we see you again soon!
Sep 06, 2021
We enjoyed the campground very much.
CAMPGROUND RESPONSE / COMMENTS:
Thank you! Please come again soon!
Sep 06, 2021
We had a wonderful stay and enjoyed the facilities completely. We stayed at site 117 and the location was wonderful. Our unit had some issues but overall the staff, the facilities and the stay was awesome. We will definitely be back!!
CAMPGROUND RESPONSE / COMMENTS:
Thank you!
Sep 06, 2021
Great time lots of activities for the little ones. Close to stores if needed, Very. Clean and for park being really full was quite.
CAMPGROUND RESPONSE / COMMENTS:
We are very glad you enjoyed your stay with us! Please come see us again soon!
Sep 05, 2021
Can you explain why when you rent a golf cart for 3 days, pick it up on Monday at check in at 3, why is it due back at 11 am on Wednesday? I paid for 3 days but only got one full day. Shouldn't I have been able to keep it until 3 on Thursday? For this reason we won't be back again!
CAMPGROUND RESPONSE / COMMENTS:
Golf cart rentals are from 3pm one day until 11am the next day to allow time for charging and cleaning in between guests. If the cart is ready before 3pm, we are more than happy to get you in your cart early. We will work to make sure that information is more clear at booking.
Sep 05, 2021
Everything was clean and well maintained.
CAMPGROUND RESPONSE / COMMENTS:
Thank you! We hope you visit again and give us the opportunity to earn that 5th star!
Sep 13, 2021
This close to home getaway is our go to. It's professionally managed and has yet to let us down. Thanks for everything!
- Jeremiah Colbath on Google
Sep 11, 2021
My husband and I are checking out the KOA campgrounds in order to choose one as a seasonal site. Stafford is very nice with the lake, but pretty small 142 sites.
- Vicki Walkling on Google
Sep 06, 2021
This was the nicest KOA my family has stayed at. They are pet friendly so we got to bring our family cat. The cabins were amazing. Looked brand new. And the screened porch and fire pit were just as nice. The pool is huge and the slide was a bonus. Already booked to go back.
- meagan richmond on Google