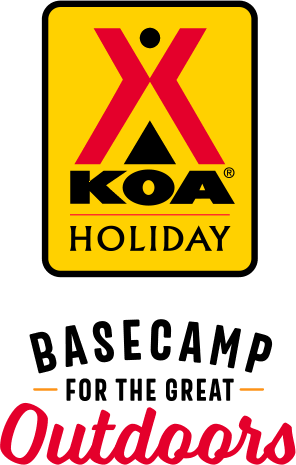 KOA Holiday Campgrounds
Whether you're exploring the local area or hanging out at the campground, KOA Holidays are an ideal place to relax and play. There's plenty to do, with amenities and services to make your stay memorable. Plus, you'll enjoy the outdoor experience with upgraded RV Sites with KOA Patio® and Deluxe Cabins with full baths for camping in comfort. Bring your family, bring your friends, or bring the whole group – there's plenty of ways to stay and explore.
KOA Holidays Feature:
RV Sites with a KOA Patio®
Deluxe Cabins with full baths
Premium Tent Sites
Group meeting facilities
Directions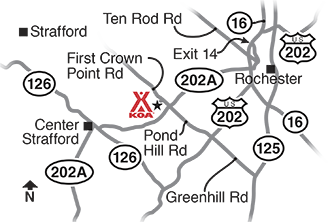 From Route 16 North take exit 14 Ten Rod Road. At the end of ramp bear right then turn right at lights. Go 1/8 mile between Home Depot and Burger King turn right on Twombley St. Go 4/10 mile to end. turn Right on 202A West . Go 2 1/2 mile to a blinking light at 4 corners go straight threw in 1/2 mile bear left on 202A go 2 more miles to First Crown Point road turn right. Campground is on your left in a 1/4 mile. (If coming from Route 16 south take exit 15 turn left at the end of ramp.)
GPS: N43.284099, W71.070311
Get Google Directions
Sep 21, 2018
Wish we would have been there earlier in the season to use all the facilities.
Sep 20, 2018
We had a wonderful time, loved the spacious sites and patio and swing... very nice campground.. we will be back..
Sep 20, 2018
Campground was clean; sites were well laid out and spacious. They are adding more bathrooms, which is good. The pool area was great. Things from other KOAs that could improve this KOA: firewood delivery to sites; more dog bag dispensers/trash cans; better lighting (hard to find on the road when getting to the bathroom); early check-in or late check-out for 1/2 day fee. We'd go back!
Sep 20, 2018
Super friendly staff. Super clean clean from the bathrooms to the beach.
Sep 18, 2018
Beautiful sites. Very nice owners. Definitely will go back:)
Sep 18, 2018
We enjoyed our week very much. Your park is beautiful, very clean and quiet, we certainly would recommend it to anybody looking for a good place.
Sep 18, 2018
relaxing. everyone had something to do. staff easy to deal with
Sep 14, 2018
Stayed 9/9 thru 9/12. Very quite place! Rest rooms were extremely clean and staff was friendly.
Sep 14, 2018
Very nice and comfortable
Sep 13, 2018
We liked the site but would have enjoyed more trees. Also, there were SO many barking dogs at all times of the day and night. Not peaceful.
Sep 13, 2018
We just stayed one night as we were traveling, we stayed in a cottage and it was comfortable. This is a place that has many permanent seasonal guests.
Sep 12, 2018
Staff was very friendly and plenty of activities for the kids
Sep 12, 2018
Very clean, nice campgrounds. Will be back!
Sep 12, 2018
We had a great time. Everyone was so friendly
Sep 10, 2018
Second time at Strafford KOA. Great upgrades to the site we stayed on last year. Would highly recommend this campground and will be returning for sure!
Sep 10, 2018
Site # 127 No wifi. Cable. Excellent.
Sep 08, 2018
I LIKED ALL THE UP GRADES, IT IMPRESSED ALL OF US
Sep 08, 2018
The site was phenomenal (#125). The park is extremely clean and neat. Our grandson very much enjoyed the very clean water park area. Nice job!
Sep 08, 2018
Had a wonderful stay over the Labor Day weekend. Special thanks for finding us a spot in the seasonal section after the site we had reserved was made with our small trailer and we had bought a much larger trailer a few weeks before the holiday weekend. Staff was very helpful and friendly with all our needs.
Sep 08, 2018
Very very clean and the staff was polite and friendly. That's what makes a good campground.
Sep 07, 2018
Beautiful, scenic campground with top-of-the-line amenities ... Deluxe RV sites have concrete pad, outdoor dining table/chairs, utility table for grill. Great staff and well-stocked store, too. Would definitely come back and recommend to others.
Sep 07, 2018
We had a blast with our kids and friends for Labor Day Weekend. The grounds were beautiful, the cabin was immaculate, and the activities were above our expectations!
Sep 07, 2018
We love this campground! Excellent customer service! Excellent activities! Very clean and well kept. A family favorite!!
Sep 07, 2018
Excellent sites, well maintained. No outside wood rule annoying for in-staters, but understandable. Wood for sale was a bit high. Site patio and furniture was comfortable and inviting.
Sep 05, 2018
We thoroughly enjoyed our time at this KOA. Site was large, nice fire pit, and patio furniture. Would definitely come again!
Sep 04, 2018
Great place nice people. Always clean
Sep 04, 2018
Very nice campground however I was told it was a pull through site and it was not. Other than that it was very good.
Aug 31, 2018
Beautiful and clean campground! Wish we could have stayed longer then a night!
Aug 31, 2018
Very clean and nice camp and the campground Employees were friendly and helpful. First time in the last two weeks of camping to find s hairdryer in the bathhouse. Would definitely recommend this KOA!
Aug 30, 2018
Although I feel it was a little pricey, you do get a lot for your money. It is definitely a great place for a family vacation. There is so much to do and such a great atmosphere. I will come again. The bathrooms were very clean and the staff is super friendly.
Aug 30, 2018
There were issues checking in, I was over charged and still have not received my refund. I signed the CC refund slip but it has been over a week and still has not hit my account. They do not offer late check out because they cannot tell if someone is checking into your sight that day which I find strange giving that they don't guarantee sites
CAMPGROUND RESPONSE / COMMENTS:
Thank you for your stay you were never overcharged unfortunately you were sold a value card at check in but you already had one. We were able to get corporate to refund the 2nd value card and we do show you received a refund that day please contact your bank to see why they don't show it on your end. We also don't offer late checkout as we then are not able to rent those site to other campers.
Aug 29, 2018
Great stay and facility.
Aug 29, 2018
We rented a Deluxe Campsite and was very impressed with the layout and cleanliness of the patio area. We are new to RVing and found it pretty easy to back into the space. Looking forward to our next visit.
Aug 29, 2018
Loved it! Ground were very clean and well kept. Staff were friendly and helpful.
Aug 29, 2018
Very large site, clean park and friendly staff.
Aug 29, 2018
Overall nice campground with a good family vibe. The pool was nice though, the campsite clean, all the rental equipment in decent shape and quite hours were adheared to. Were a little disappointed by the size of the "lake". The pictures really misrepresent the size, it's really more of a pond. Also appears the seasonal campers get to bend the rules quite a bit which seems unfair.
Aug 29, 2018
My first time at a KOA. This was easily one of the nicest campgrounds I have ever been to. The pool area was fantastic, water slide and splash pad. The campground was neat as a pin, everything was clean and tidy. The staff couldn't have been nicer. All the sites were level and the hookups were all in good shape and well taken care of. The store/check in area was very nice as well. We'll be back.
Aug 29, 2018
The check in process seems to take longer than normal, I believe that was due to training a new employee. Thecampground itself is very clean and the owner stopped by our site twice during our stay to chat (personal touch). We used the pool and it was very nice and clean same as the campgroind. Everyone at the campground is friendly and courteous. I would recommend the Campground to everyone.
Dec 30, 2020
We love it here staff are amazing😍😍🤩👍 bathrooms always clean! Speedy services. Yes services!! Pizza ice or wood they'll bring it to you! They handled COVID great
- Brittany McCabe on Google
Oct 17, 2020
Fabulous campground for a family with kids. Great water park. Had a nice cabin. Friendly staff
- Scott Patefield on Google
Oct 12, 2020
They out do themselves ever time. Went back for a second time in as many months. Will be returning next year. We found a place we really love to vacation at. Will be telling everyone about it.
- Brian Cannella on Google