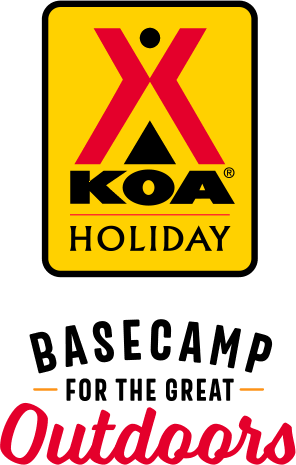 KOA Holiday Campgrounds
Whether you're exploring the local area or hanging out at the campground, KOA Holidays are an ideal place to relax and play. There's plenty to do, with amenities and services to make your stay memorable. Plus, you'll enjoy the outdoor experience with upgraded RV Sites with KOA Patio® and Deluxe Cabins with full baths for camping in comfort. Bring your family, bring your friends, or bring the whole group – there's plenty of ways to stay and explore.
KOA Holidays Feature:
RV Sites with a KOA Patio®
Deluxe Cabins with full baths
Premium Tent Sites
Group meeting facilities
Directions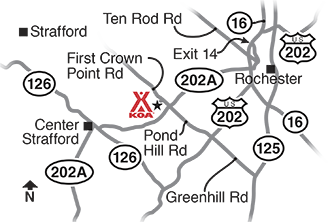 From Route 16 North take exit 14 Ten Rod Road. At the end of ramp bear right then turn right at lights. Go 1/8 mile between Home Depot and Burger King turn right on Twombley St. Go 4/10 mile to end. turn Right on 202A West . Go 2 1/2 mile to a blinking light at 4 corners go straight threw in 1/2 mile bear left on 202A go 2 more miles to First Crown Point road turn right. Campground is on your left in a 1/4 mile. (If coming from Route 16 south take exit 15 turn left at the end of ramp.)
GPS: N43.284099, W71.070311
Get Google Directions
Oct 15, 2019
Could not have had a better time , thank you.
Oct 15, 2019
We love the RV rental option. Beds made, utensils provided, we show up with food and drinks and enjoy our stay. Friendly staff, very convenient!
Oct 15, 2019
The mgmt. team was spectacular. They were friendly and welcoming. (at 61) this was my first camping trip. We will return.
Oct 14, 2019
The camp ground staff was very helpful. There is however a problem with the water quality. We changed our sediment filter on arrival and by the time we left it was clogged with orange colored clay. This is the worst water quality that I have encountered in the last 7 years.
Oct 14, 2019
Very nice, the site we had was near the playground. Several children were there to all hours of the night unattended. Other than that it was very good
Oct 11, 2019
Great and very helpful staff...quiet and clean!
Oct 11, 2019
Enjoyed our stay and Gary was fabulous!
Oct 09, 2019
everyone was very friendly and the place was clean we look forward to staying here again
Oct 08, 2019
Nice campground. Great bathroom facility. Magnetic card allowed easy access after hours.
Oct 08, 2019
Nice campground. Very nice new bathroom facility. Best shower we had on our trip!
Oct 08, 2019
Well maintained campground, great staff, really large and pretty sites nestled in the trees. We were impressed to see staff blowing leaves and raking pine needles off sites. Great location for visiting Portsmouth and driving around Lake W! The negative: wood has to be purchased there (State law) and is $7 for a small bundle (good for 2 hr fire). Seemed pricey to us. Otherwise, highly recommend.
Oct 07, 2019
enjoyed our time there
Oct 07, 2019
I asked to have a site near the playground as I have 3 small children.... Last year I made the same request and was right next to it.... This year I was 3 streets away and plenty of open sites near the playground
Oct 07, 2019
The staff was friendly and helpful. The grounds were very well maintained and I was very impressed that once a site became vacant the grounds crew were immediately cleaning it. I will be back next season for sure!
Oct 07, 2019
They had many fun activities for the kids including hayrides and trick or treating which our son loved!! We had a spacious site with a grassy area for the kids to run. What really stood out for us though was the great customer service- when we couldn't get the heater in our camper working the owner came out to try to help. We couldn't fix it and he loaned us a space heater saving our trip! Tha
Oct 07, 2019
enjoyed our stay, good to get away.
Oct 07, 2019
Very pleasant. WiFi did not work for us at our campsite. The cable was very much appreciated.
Oct 07, 2019
Pricier and cold showers not a good combination.
Oct 06, 2019
Nice sites, awesome staff
Oct 04, 2019
Very pleasant very helpful staff
Oct 03, 2019
Very nice, clean, very friendly and will stay there again when in the area
Oct 03, 2019
Always nice to be greeted with a perky smile! Everything was fine, but campground is a bit off the beaten path (I-95). Great price for full hookups!
Oct 01, 2019
Nice campground but little to do nearby outdoors. Lake Winni is over 30 miles away.
Sep 30, 2019
Nice campground with good lots, family activities, clean bathrooms and friendly staff.
Sep 30, 2019
Great spot. We stayed on 103 in a TT. Good site, level and clean! Bathrooms are wonderful here, always clean. Staff is great. We'll be back
Sep 30, 2019
We've been coming here for the last 3 years and will be staying here alot more mext year. Everyone is super friendly and the kids always have a blast.
Sep 30, 2019
Love the activities firvour 6 year old granddaughter!
Sep 29, 2019
Park was beautiful and accommodations good but sites tight to get into with the tight turns and the price was high. For the price we felt as though there should have been a concrete pad. Staff was fabulous. Very friendly and helpful.
Sep 25, 2019
Very welcoming. Great place for families.
Sep 25, 2019
Nice. Quiet campground. Very kid friendly place for families.
Sep 24, 2019
The roads need a lot of work, very rocky and not smooth. the exit needs to be wider as its a very tight squeeze. Very dark roads at night, no lighting if walking back from the pavilion. Not many activities for the children. The pool chairs are falling apart and need to be replaced. Staff was very pleasant. Disgusted at the kids that were swearing up a storm when taking my son fishing. No good.
Sep 23, 2019
Great place, very kid friendly if you have kids. If you don't still very nice quiet at night and morning campground. Lots of golf cart traffic that do not follow speed limits. Dangerous at night. A few lights on roads would be good for walking campers. Overall great place!
Sep 23, 2019
As always we had a great time, Heather and Matt kept the pool open for the beautiful weekend. Can't wait for our next camping trip.....���
Sep 21, 2019
Very good, accommodating, and friendly staff. Gary was especially helpful in helping us get set up. We would definitely spend time at this KOA again if in the area.
Sep 20, 2019
wonderful stay great staff !
Sep 19, 2019
Clean restrooms, friendly staff even helped back our trailer in Kudos to all
Sep 17, 2019
Loved the water park and so did my granddaughters. Also loved the spacious sites and the staff everyone was very friendly. I thought it was great all the activities they had planned for the weekend. We will definitely be back.
CAMPGROUND RESPONSE / COMMENTS:
We are so glad that you and your granddaughters enjoyed your stay with us! Please visit us again soon!
Sep 16, 2019
Great stay. Very friendly staff!
CAMPGROUND RESPONSE / COMMENTS:
Thank you for your kind words! I will be sure to pass them along to the rest of our staff!
Sep 16, 2019
This is a GREAT family KOA. Our kids loved it and want to go back next year! The pool, slide and splash pad areas were a HUGE hit!! Very clean facilities and super fun camp activities. We look forward to coming back �
CAMPGROUND RESPONSE / COMMENTS:
We are so glad that you were able to enjoy our water activities and heated pool! Please come visit us again soon!
Sep 16, 2019
Very clean, quiet, and convenient campground. We will br back next season
CAMPGROUND RESPONSE / COMMENTS:
Thank you! Looking forward to seeing you again next summer!
Sep 16, 2019
Very nice management! Very clean, nice staff. Maintain lodging & grounds.
CAMPGROUND RESPONSE / COMMENTS:
Thank you for your kind words! We are so glad that you chose to stay with us, and we hope you will come again soon!
Sep 16, 2019
Awsome trip except i got poison oak on my arm from the wood in bought form there sucks ! But all and all good times !
CAMPGROUND RESPONSE / COMMENTS:
We are glad you enjoyed your stay in spite of the poison oak. I will pass your comments regarding the firewood on to our supplier.
Sep 14, 2019
The staff was very friendly and helpful. The grounds were beautiful
CAMPGROUND RESPONSE / COMMENTS:
Thank you! Our maintenance staff works very hard on the grounds; I will pass your kind words along to them!
Oct 17, 2020
Fabulous campground for a family with kids. Great water park. Had a nice cabin. Friendly staff
- Scott Patefield on Google
Oct 12, 2020
They out do themselves ever time. Went back for a second time in as many months. Will be returning next year. We found a place we really love to vacation at. Will be telling everyone about it.
- Brian Cannella on Google
Oct 09, 2020
The safari tent sites are amazing! Very instagram-esque. There's even a space heater insider for those cold nights. Loved the pond for peddle boating. There was also a scavenger hunt when we were there. Would come back again!
- Briana Kan on Google