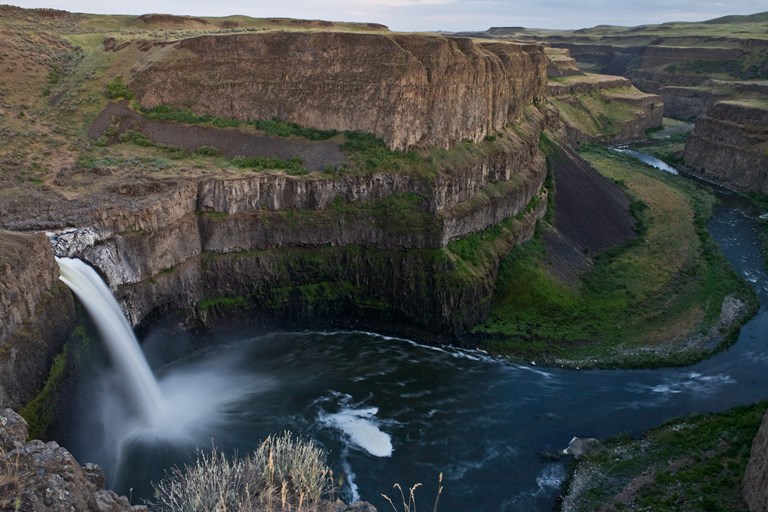 Starbuck / Lyons Ferry Marina KOA Reviews
Directions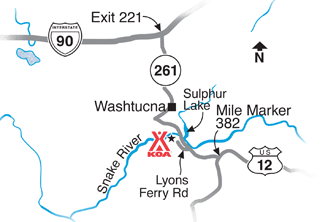 From I-90: Exit 221 to Hwy 261 south to Washtucna. Traveling south and west on both Hwy 260 & 261 approximately 6 miles, turn left (south) on Hwy 261. Go 15 miles, cross Snake River on Vantage Bridge, entrance on right. From Hwy 12: Turn north near mile marker 382 onto Hwy 261. Go 15 miles north. Entrance on left.
Get Google Directions
Jun 08, 2020
Very nice hosts. Always a great adventure
Jun 08, 2020
The tent sites are large and close to the bathroom.
Jun 06, 2020
Incredible stay! Joanne and her husband are 100% available and constant supporting every person around. They are going way and beyond! We were welkomed and helped by parking our large RV and responded and supported immediately to our needs. The location is amazing. Quiet, relaxing and near the water. We love that! Our site #7 had an excellent view on the River and train bridge, which was fun!
Jun 04, 2020
Very clean campsite! Owner was lovely! And made sure we were taken care of ����
Jun 03, 2020
Very well maintained. Had a bad storm come through, high winds and rain. A lot of limbs broke of and fell close to RVs. The very next day they were out bright and early cleaning up the mess, getting power back on and communicating with us campers. They did everything possible to help us out. Great job.
Jun 02, 2020
Very peaceful and quiet in a beautiful setting. We will definitely be back.
Jun 02, 2020
Enjoyed our stay there, unfortunately, the power at the campground was out due to windstorm and we couldn't be outdoors, but the staff was lovely and helpful. We will be back as it was a beautiful location.
Jun 01, 2020
First day was always good at LYONS FERRY very well run part
Jun 01, 2020
We had a great stay this past weekend. The RV space was clean and well kept. The cabin was also very clean and great for a weekend stay. There happened to be a big thunderstorm with significant winds (hit the entire northwest) during our stay. The staff did an excellent job of clearing tree limb debris and checking in on us to ensure all was OK. Will definitely be staying here again. Thanks!
Jun 01, 2020
The staff was awesome and park was clean. Will be back for sure
May 31, 2020
Staff was ok, Marina was nice, quiet. Bathrooms could use work
May 30, 2020
Clean sites, quiet area . Efficent friendly staff. A great base camp to see the area. Thanks for the upgrade much appreciated
May 30, 2020
3 nights tent camp. Good separation tents and large RVs. Good/clean bath facilities - gel soap liquid, auto-feed towels, hot water, secured entrances, well kept grounds. Excellent location. Staff helpful, prompt/polite in all interactions. May become too popular with more RVs on road with Covid 19 situation.
May 28, 2020
Day construction made it very hard to relax. Also if the store is closed on Tuesdays I feel that should be told prior to booking. Felt I paid for something I wasn't able to use.
CAMPGROUND RESPONSE / COMMENTS:
We had a water main break and needed to be fixed ASAP. Day construction is not typical during the summer season unless it's necessary, and we apologize for the inconvenience.
May 27, 2020
Friendly and helpful staff. My first travel trailer and first time backing into a campsite. Staff helped guiding me into place without incident. We loved Palouse Falls!
May 26, 2020
It was real good
May 26, 2020
It is a beautiful place to stay along the river always clean bathrooms the people are super friendly if I had to complain it would be they ran out of food by 3pm in the afternoon at the restaurant and the guy that checks over the campgrounds kept driving his quad around way passed 10 pm other than that it was perfect
May 26, 2020
Enjoyed staying at the Starbuck/Lyons Ferry Marina KOA. The tent site was of adequate size and grassy. Restrooms were clean. Nice having a store/restaurant on site. We took advantage of the nearby state park a couple days and would have loved to seen the nearby falls except they were very crowded due to the holiday.
May 26, 2020
Our site was nice with a partial view of river. Sites are very close to other tenters and music could be heard that was not on very loud and early morning, 5am, convos woke up many neighbors. Also, a few dogs were aggressive and that was scary. No firewood for Memorial Day was strange. Overall, it was fine.
May 26, 2020
Great people and eveything was super clean. The only knock on the camp gound is there is no privacy. The sites are stacked one on top of the other. For a fishing trip it was great, but for camping and relaxing its difficult when everyone is that tight together.
May 26, 2020
Campground is small, quite and clean. Biggest complaint we had is the rv sites are very close to each other. You have no privacy and we even had people walking through our site to access trail to upper camping area. That is not what we want when camping. We did not know the sites were that close because there are no pictures of rv sites on website.
CAMPGROUND RESPONSE / COMMENTS:
I'm not sure what site you visited, but it shows that we have pictures on both of our KOA websites. Please let us know which site you used so that we can fix this issue.
May 23, 2020
Windy but very nice
May 18, 2020
We stayed at the Deluxe Cabin at the Lyons Ferry Marina KOA. The Campground was well maintained, our Cabin was clean when we arrived and sheets and towels were provided for the beds (we brought sleeping bags for the bunks). The cabin is equipped with dishes and some pots a propane grill and propane fireplace. Everything was clean and in working order. Staff was super friendly and helpful.
May 18, 2020
Remote, clean well kept grounds, great location if you plan on water sports or fishing.
May 18, 2020
The showers can use a little attention overall had a great day
May 18, 2020
Really enjoyed our stay at the Lyons Ferry KOA. Facilities super clean, great service, friendly hosts, and they ensured that the necessary precautions were in place for Covid and folks followed them.
May 17, 2020
Great location for fishing. Convenient Store and restaurant. Boat launch, moorage, bait. Great staff!!!
May 11, 2020
Another great stay! See you again soon. ��
May 11, 2020
Always a good experience at Lyons Ferry KOA!
May 10, 2020
I love this place , this was our second time here I must say though we were here two days and no hand soap in the women's bathroom the whole time we were there, also it wasn't as clean as the first time and smelled dirty.
May 04, 2020
It was higher than our expectations, cabin extremely nice, like new, and clean. Loved the experience! Owners were very friendly. We will surely go back for another visit.
Apr 27, 2020
Lyons Ferry KOA is a local favorite, with it's hidden beauty and family friendly environment. There are several hidden gems within just a few miles of the KOA that make this destination great. The staff has always been very friendly and inviting, while providing any help that is needed. We will stay many times in the future for sure.
Apr 26, 2020
The owners/ caretakers are so very nice Everything so clean we appreciate that Thank you
Apr 14, 2020
A beautiful place, peaceful and quiet. Everybody's so friendly
Mar 23, 2020
Friendly helpful people, great view from our camping spot. We will definitely come back again!
Mar 14, 2020
Friendly staff and good food
Jul 06, 2020
Great Place....
- Jeffrey Hott on Google
Jul 01, 2020
Well run and cared for. Clean and green
- Orrin Frederick on Google
Jun 28, 2020
This place is awesome! Great place to hang out with family and friends. Owners are super nice and always accommodating. The food is great and they also sell beer and all the necessities for a great day in the water, bathrooms are super clean.
- Arturo Martinez on Google

Starbuck / Lyons Ferry Marina KOA
Open All Year
102 Lyons Ferry Road
Starbuck, WA 99359
Check-In/Check-Out Times
All Sites
Check-in: 1:00 pm, Check-out: 11:00 am
Accommodations
Check-in: 1:00 pm, Check-out: 11:00 am
Operating Hours
Sunday: Open 8:00 AM to 5:00 PM
Monday: Closed
Tuesday: Open 8:00 AM to 5:00 PM
Wednesday: Open 8:00 AM to 5:00 PM
Thursday: Open 8:00 AM to 5:00 PM
Friday: Open 8:00 AM to 9:00 PM
Saturday: Open 8:00 AM to 9:00 PM
Starbuck / Lyons Ferry Marina KOA
Get Google Directions

© 2020 Kampgrounds of America, Inc.