Directions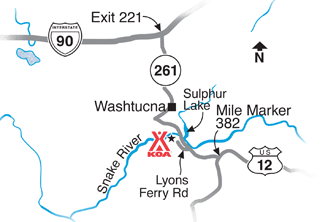 From I-90: Exit 221 to Hwy 261 south to Washtucna. Traveling south and west on both Hwy 260 & 261 approximately 6 miles, turn left (south) on Hwy 261. Go 15 miles, cross Snake River on Vantage Bridge, entrance on right. From Hwy 12: Turn north near mile marker 382 onto Hwy 261. Go 15 miles north. Entrance on left.
Get Google Directions
Apr 06, 2021
We stayed in one of the cabins with Queen bed and bunk beds. It had just enough amenities to make our stay enjoyable. Coffee pot, microwave, toaster and mini fridge. Having the propane grill and fire pit was a nice bonus. Being able to spend the day on the water and come back to a heated cabin was great. We will be back.
Apr 05, 2021
The cabins were well appointed - we packed too much that we didn't need. Coffee maker, toaster, microwave, refrigerator, grill, fire-ring, dishes, glasses, silverware, towels.... it was awesome. Kids had lots of places to ride their bikes while also being out of possibility of traffic. Only recommendation is to check the hours of the store/restaurant and pack food accordingly.
Apr 03, 2021
The place was great. It was kept clean and tidy. Our only criticism had nothing to do with the operations of the place: if you didn't bring a boat there wasn't a lot of other activities and there was zero cell phone coverage. But the KOA WiFi was strong and consistent and there is a lot of natural beauty to see!
Apr 01, 2021
Nice clean bathroom and a good camp spot.
Mar 31, 2021
Great fishing. Beautiful place. Great hosts. Will be back.
Mar 31, 2021
Friendly staff
Mar 25, 2021
nice stay, clean bath rooms and the deli has great food. we will be back
Mar 25, 2021
We camped with our tent. The campground was clean, the shower and bathroom very warm, the fire wood nice and dry. It was windy, but we had a great time.
Mar 22, 2021
Excellent cabin, clean and comfortable. Office support was great!!
Mar 22, 2021
The camp site was clean and remarkably level for a gravel/all weather surface. The restroom was adequate but I have to say that the showers were in poor repairn and dirty.
Mar 21, 2021
Clean and quiet stay.
Mar 15, 2021
Amazing cabin. Small but it had everything, would just recommend a lock for the bathroom
Mar 15, 2021
It was great stay and looking forward to go there again.
Mar 12, 2021
The staff and food was wonderful. Joanne went that extra mile to make sure everything was perfect.
Mar 09, 2021
Fun location very close to Palouse Falls, but our campsite #3 wasn't that well maintained and seemed to be near people who live there full time. The view of the river was great and the people were very kind though so we had a wonderful weekend trip there.
CAMPGROUND RESPONSE / COMMENTS:
During the winter we have a limited number of Full hookup sites available (5) and they are in the area with long term campers. I'm glad you had a nice trip here anyway.
Mar 08, 2021
Quiet, clean and friendly! Great marina!
Mar 05, 2021
Nice and clean - great camp host !! Thank you
Jan 20, 2021
We had a very relaxing stay. The owners were very friendly!
Jan 16, 2021
Good stay will do it again ! Shower stalls appreciated yet need upgraded or deep deep cleaned though
Dec 08, 2020
It's winter no one camping strong Wi-Fi signal. ���
Nov 24, 2020
Lovely grounds and friendly hosts. Thank you!
Nov 10, 2020
Great camp hosts and place to stay!
Nov 06, 2020
IT WAS BEAUTIFUL WITH THE FULL MOON, COYOTES HOWLING AND OWLS HOOTING! If the mens showers were not cold, then a 5 star!
Nov 05, 2020
Managers were very friendly and professional. The site was neat and clean. We plan on going back
Nov 02, 2020
We had a great time with family during this pandemic. Staff was very helpful. Site was clean.
Oct 22, 2020
Wonderful hospitality.
Oct 21, 2020
Great campsite and liked the restaurant and store too
Oct 21, 2020
Great time! Friendly staff. Great spot to camp for deer hunting!
Oct 19, 2020
Perfect for hunting at nearby farm. Cabin was clean and kitchenette was well stocked. Friendly, helpful staff. I thought we had reserved the largest cabin so we're surprised when we didn't have a futon. cabin name "deluxe" is confusing when it is actually the smallest cabin size available.
Oct 16, 2020
Great place to stay! Clean and beautiful scenery. Joanne and Walley are very friendly. Thanks for another great stay!
Oct 14, 2020
Clean,quiet,great staff,convient to the falls. Did not use marina,but looked easy to use and protected well from elements.
Oct 10, 2020
Lovely area and the campsites were excellent. Great people too
Oct 10, 2020
No convenient dump station for RV sites that are only electric and water. You have to back into a full service site to dump. No way to turn off the light at your site if you wish to star gaze. Code to bathroom not given on check in and no, it is not on the map they gave me. Why are they locking up a bathroom anyway? Bathrooms closed at 9 AM for cleaning. Site was not level, no shade.
CAMPGROUND RESPONSE / COMMENTS:
We lock the bathrooms up top because of misuse by non-campers. We have not been giving out bathroom codes to RVs because of the public health concern this year. We apologize that this was not made clear upon check-in.
Oct 09, 2020
Quiet & comfortable.
Oct 06, 2020
The koa staff were very helpful in our last stay. Got help with an rv issue and a boat trailer flat tire. Well run and clean campground during virus season. The store is well stocked and the cafe has a great food!!
Oct 05, 2020
You are needing TV channels. It is nice to be able to watch the news while drinking your morning coffee. Or have it as an option if the weather turns bad. Your KOA rates do not include the amenities that should come with the higher rate. Most have swimming pools and hot tubs. We've always enjoyed the pancake breakfasts. So at a minimum your wifi should be top notch and have some basic TV channels.
Oct 05, 2020
Nice and quiet stay. Weather was outstanding.
Oct 05, 2020
Bathrooms should have been cleaned everyday, cigarette butts left in campsite, beautiful site, loved the marina, new owners are working hard, we will visit again, little store was well stocked, employee was knowledgeable and friendly
Oct 01, 2020
I have been using lyons Ferry for years....there is no better place on the Snake river. Always helpful with breakdowns...have the snacks or even a fantastic restraunt!!!
- JJ Harrison on Google
Nov 03, 2020
Campsites in unusual terraced layout. Nice view of Snake River bridges. Dog park functional but a little small for bigger dogs
- Davo Holl on Google