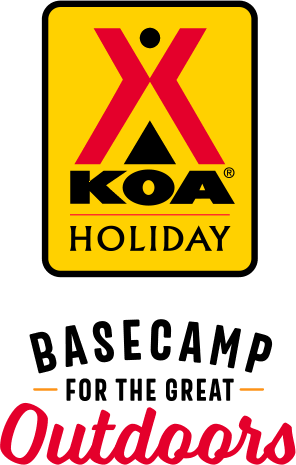 KOA Holiday Campgrounds
Whether you're exploring the local area or hanging out at the campground, KOA Holidays are an ideal place to relax and play. There's plenty to do, with amenities and services to make your stay memorable. Plus, you'll enjoy the outdoor experience with upgraded RV Sites with KOA Patio® and Deluxe Cabins with full baths for camping in comfort. Bring your family, bring your friends, or bring the whole group – there's plenty of ways to stay and explore.
KOA Holidays Feature:
RV Sites with a KOA Patio®
Deluxe Cabins with full baths
Premium Tent Sites
Group meeting facilities
Directions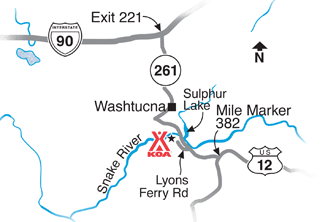 From I-90: Exit 221 to Hwy 261 south to Washtucna. Traveling south and west on both Hwy 260 & 261 approximately 6 miles, turn left (south) on Hwy 261. Go 15 miles, cross Snake River on Vantage Bridge, entrance on right. From Hwy 12: Turn north near mile marker 382 onto Hwy 261. Go 15 miles north. Entrance on left.
Get Google Directions
Sep 16, 2021
50 bucks a nite, the park was not even 20% full and they put us up by the highway and there were much nicer empty sites closer to the marina. To top it off the site was not even level. How hard is it to at least have a level site! First and last time there
Sep 14, 2021
The cabin, grounds and setting are great and the view of the Joso Bridge is amazing. The cabin, for all intents, was neat and tidy. However, dead insects were on most window sills and the windows had not been cleaned in a while. Outside on the windows were dusty cobwebs. Housekeeping should have taken care of that. Otherwise, a great stay. Quiet and relaxing.
Sep 10, 2021
Nice and clean restroom.
Sep 09, 2021
Great amenities and beautiful scenery. My only gripe was that the lots were right next to each other. Bring earplugs as the trains that pass by get fairly loud.
Sep 07, 2021
We had so much fun! This was our first camping trip in a trailer. Wally was very helpful in making sure we were hooked up correctly. We ate breakfast and had happy hour appetizers in the restaurant. Both were yummy and served with a smile. On Saturday night there was karaoke outside and our kids just loved it! There were a lot of kids that participated and it was so cute to watch. We will be back!
Sep 07, 2021
The place is fantastic we spent 3 amazing days in Boyer Marina KOA. However, there're a couple things to improve: consider puting one honey bucket to the far side of the camp and you need one extra wifi hotspot+ increase bandwith.
Sep 04, 2021
Your place is fabulous, we'll be back next year! Thank you Debbie
Sep 01, 2021
What beautiful views from this place!! My hubby can't wait to return...perhaps with our boat next time!
Aug 30, 2021
Loved it! Wish our little hook up lot had a little more privacy and or trees for shade.
Aug 30, 2021
Very nice, clean campground. Everything you need for a comfortable stay despite it's remoteness. I really like the the fact that they have good wifi and a restaurant available for 3 meals a day.
Aug 29, 2021
Tent camper. Good things: Bathrooms were clean. Check-in easy. Bad things: Why place our group of 3 adults right next to a big family when the entire upper area was empty besides our two groups. Why a two tent limit? I understand limiting the number of people but the tent limit is silly, especially when the group next two us had two large tents, each occupying more space than three of ours.
Aug 29, 2021
Nice quiet park.
Aug 29, 2021
The people running the place where soooo nice
Aug 27, 2021
Everyone very friendly and willing to make your stay enjoyable.
Aug 25, 2021
I love staying with Lyons Ferry, nice and clean friendly people
Aug 24, 2021
Great staff, great place and very clean!
Aug 24, 2021
We were told to be quiet even before quiet hours. The staff made our stay un-enjoyable.
CAMPGROUND RESPONSE / COMMENTS:
While everyone likes music, not all like the same kind of music. Your music could be heard on the other side of the building. All we asked was that you turn it down so others would not be disturbed.
Aug 23, 2021
We love staying at this KOA because we can go boating so easily. We have a trailer and have stayed at the top of the hill (no sewer hookups) and like how we can also have tents out for our large family. This year we stayed in the RV only section (full hook ups) and loved the views, the full hook ups, a little quieter- but no tents. That made things difficult for our family. But we love it there!
Aug 22, 2021
Went fishing with family and ate at the restaurant, very friendly staff.
Aug 20, 2021
Nice and quiet
Aug 17, 2021
I love having grass instead of a concrete pad. Our pets and humans loved not burning our paws walking outside the motorhome. This is the best campground we have stayed at. The staff made our stay even better. We are making plans to come back next year!
Aug 17, 2021
Love the place and the staff are helpful and friendly.
Aug 17, 2021
I'm so impressed with this place! Facilities were extremely clean and well maintained. Sites were big, easy to back into! Very quiet.
Aug 17, 2021
Traveling from Oregon back to Montana this was a nice overnight stop in a cabin with a bath/shower. Pretty view of the river & the parks nearby were nice.
Aug 16, 2021
Wonderful experience!
Aug 16, 2021
Awesome place & people. Marina and camp area well maintained. Bathrooms cleanest I've seen. I'll be back! Thanks
Aug 15, 2021
The shower house had a horrible order and lots of dead bugs on the floor! Touch!!
Aug 14, 2021
You have a beautiful facility and everyone is so friendly!! Thank you.
Aug 11, 2021
Beautiful views, trees for shade, campsites grass - not dirt, very clean. Boat moorage is so nice, easy to make reservations, gas on-site - friendly, helpful staff. Restaurant on-site. 3 nights tent camping with moorage, under $140... This place has my vote! We did not want to leave. There is a train track right there, and trains do come by in the middle of the night, but kids loved it!
Aug 11, 2021
Great stay brill location although campsite buildings reception area is a bit shoddy and could do with tidying up.
Aug 10, 2021
We have a new (to us) 5th wheel and appreciated the staff help in getting it parked. The areas around the campers are well maintained and make being outside enjoyable.
Aug 10, 2021
Will return next time with fishing gear.
Aug 09, 2021
As always, we had the best vacation thanks to the owners and their staff. Joanne was accommidating and provided excellent service. After 10+ years we have never been disappointed and look forward to next year.
Aug 09, 2021
The accommodations were great! The staff are really friendly and answered my questions. I recommend going late summer/early fall. 83°F is perfect. Also, it's located at in a serene area.
Aug 08, 2021
Cabin was very nice, not much for the kids to do. There was a small play structure but would have been nice to have horseshoe pits. It is in a pretty remote location right on the water which was beautiful. The camp had WiFi but it was not very strong
Aug 08, 2021
I would not recommend this location. I've stayed at plenty of koa locations, and this place was a very different experience. We felt very stuck out in the middle of nowhere, and there wasn't even large amounts of water available for purchase. No stores for miles. There was a burn ban yet they allowed people to burn fires.
CAMPGROUND RESPONSE / COMMENTS:
The fires that were burning in the campsites near you were propane fires and are approved by the burn ban. However, those same campers expressed concern over your aggressive behavior towards them. That is why you were asked to leave. Aggressive behavior is not tolerated at this campground.
Aug 07, 2021
The cleanliness of the bathrooms was great. The only thing I would improve on is the store making more available. We had to drive an hour into town to get anything we needed. We weren't sure about the area so we originally weren't sure what to pack. We needed things like lunchmeat, other grocery items. Although emergency items were there, I wished there was a lot more.
Aug 21, 2021
Beautiful setting on the Snake River. We stayed here so we could visit Palouse Falls. Unfortunately, the road getting to the Falls was so bad we had to turn around. We did enjoy our stay at this RV Park. The people running registrations and the store were very helpful. We would stay here again.
- Pat W on Trip Advisor
Aug 11, 2021
It was so nice and clean and relaxing. We enjoyed ourselves very much!!
- DesireeD. LaMorte on Google
Aug 03, 2021
Great well maintained campground
- Craig Sivley on Google