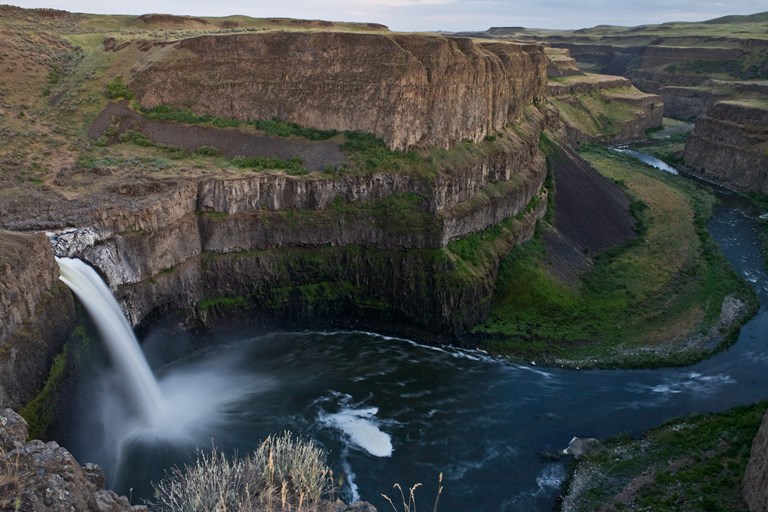 Starbuck / Lyons Ferry Marina KOA Reviews
Directions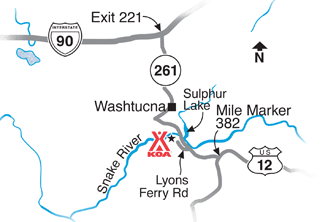 From I-90: Exit 221 to Hwy 261 south to Washtucna. Traveling south and west on both Hwy 260 & 261 approximately 6 miles, turn left (south) on Hwy 261. Go 15 miles, cross Snake River on Vantage Bridge, entrance on right. From Hwy 12: Turn north near mile marker 382 onto Hwy 261. Go 15 miles north. Entrance on left.
Get Google Directions
Jul 08, 2020
Super helpful people, nice marina, easy to reserve and register, clean and neat! Beautiful location! Palouse Falls nearby is gorgeous.
Jul 02, 2020
Wally and JoAnn are the best.
Jul 01, 2020
Everything is good, except the showers. They are in need of repair and they stink.
Jul 01, 2020
Place is clean and quiet. Our dogs really enjoyed the fenced dog play area!
Jun 29, 2020
the location is very windy, no access to swimming beach from KOA
Jun 26, 2020
Short and sweet
Jun 23, 2020
Easy to get into our spot and set up, plus the site was plenty large for our tent and car. Check-in was super easy and the bathrooms were cleaned twice in the single day we were there. Great job!
Jun 22, 2020
The bathrooms are nasty. The shower stalls are dirty. The surrounding are loud. Quiet hours are NOT enforced.
Jun 15, 2020
We chose this campground as it's about the only option that's close to Palouse Falls. The store and staff were nice but the experience wasn't great. We slept terribly due to loud people, children, headlights and late arrivals showing up. If you're in an RV, you'd probably be fine. We will never tent camp here again and would rather do dispersed camping next time we're in this area.
Jun 15, 2020
Well I did not agree with price showed up late at night friday got charged Friday Saturday and sund and left sunday morning and did not realize I was charged for a boat slip tell after I already paid and showed up was asked if I had a boat I said yes the lady said okay and that was all that was said about it nice campground tho just wish they were more reasonable on price and how they charge
Jun 10, 2020
Positive: the bathroom was clean and the sites were nicely spaced. Plenty of room for social distancing. Negatives: the noise level was bad. People came and went before and after "quiet hours." No mention on booking site of train tracks directly next to campground. Trains with alert horns went by twice in middle of night. Office and store closed on Mondays, no firewood for purchase when we arrive
CAMPGROUND RESPONSE / COMMENTS:
Sorry about the train, it normally doesn't run that late or twice in one night. Due to COVID, our vendors are having a tough time getting us some items and firewood is one of those items. This has also affected our summer help. We are doing our best with the limits put on us. Hoping that will chang
Jun 08, 2020
The tent sites are large and close to the bathroom.
Jun 04, 2020
Very clean campsite! Owner was lovely! And made sure we were taken care of ����
Jun 01, 2020
The staff was awesome and park was clean. Will be back for sure
May 30, 2020
3 nights tent camp. Good separation tents and large RVs. Good/clean bath facilities - gel soap liquid, auto-feed towels, hot water, secured entrances, well kept grounds. Excellent location. Staff helpful, prompt/polite in all interactions. May become too popular with more RVs on road with Covid 19 situation.
May 28, 2020
Day construction made it very hard to relax. Also if the store is closed on Tuesdays I feel that should be told prior to booking. Felt I paid for something I wasn't able to use.
CAMPGROUND RESPONSE / COMMENTS:
We had a water main break and needed to be fixed ASAP. Day construction is not typical during the summer season unless it's necessary, and we apologize for the inconvenience.
May 26, 2020
It is a beautiful place to stay along the river always clean bathrooms the people are super friendly if I had to complain it would be they ran out of food by 3pm in the afternoon at the restaurant and the guy that checks over the campgrounds kept driving his quad around way passed 10 pm other than that it was perfect
May 26, 2020
Enjoyed staying at the Starbuck/Lyons Ferry Marina KOA. The tent site was of adequate size and grassy. Restrooms were clean. Nice having a store/restaurant on site. We took advantage of the nearby state park a couple days and would have loved to seen the nearby falls except they were very crowded due to the holiday.
May 26, 2020
Our site was nice with a partial view of river. Sites are very close to other tenters and music could be heard that was not on very loud and early morning, 5am, convos woke up many neighbors. Also, a few dogs were aggressive and that was scary. No firewood for Memorial Day was strange. Overall, it was fine.
May 26, 2020
Great people and eveything was super clean. The only knock on the camp gound is there is no privacy. The sites are stacked one on top of the other. For a fishing trip it was great, but for camping and relaxing its difficult when everyone is that tight together.
May 18, 2020
The showers can use a little attention overall had a great day
Oct 14, 2019
The hospitality here in this area is unlike anything I've experienced before it was a great time with great people will be back in the spring!
Sep 21, 2019
3 trains pass in the night
Sep 11, 2019
We had a late checkin and the process went very easy without the camp host being on duty. We had a pleasant stay except I should have used more insect spray to avoid getting bitten.
Aug 20, 2019
Sites were pretty well maintained. Only complaint is that sites were a little close together. Bathrooms were cleaned regularly and showers were nice too. Staff was very friendly and helpful.
Aug 19, 2019
Need better wifi everything else is good nice staff friendly.
Aug 12, 2019
all the staff go above and beyond to make your stay very enjoyable. We had 13 of our family come and stay and it was great.
Aug 03, 2019
We have been coming to Lyons Ferry Marina for the last 14 years before it was even a KOA and when they put it into a KOA there was so much more done to it that was nice and accommodating we've always loved our trip there it's a big family reunion and the people who own and work there have become family I will always bring new people and family there to be able to experience the time that we have.
Aug 02, 2019
First time staying at this campground. Our hosts and the facility was great! Everything was clean and our stay was really relaxing.
Jul 31, 2019
Large shade trees in sites & high desert near the campground are beautiful. Beware, the campground is not a simple right turn & you're there. I was lost... It's 45 min on a back road w no services incl. no cell service for most of it. No one at the campground answered the phone, nor responded to v.m. Also, drunk male campers woke me & again no help. Not recommended for females camping alone.
Jul 30, 2019
It was mostly good, but people didn't really respect quiet hours, especially in the morning.
Jul 28, 2019
Tent sites are large, and there is real grass! And staff is so friendly!
Jul 25, 2019
Great place, well kept!
Jul 25, 2019
Beautiful, well maintained campground and very friendly and helpful employees!!
Jul 17, 2019
Coffee before 8:00 would be great
Jul 11, 2019
Nice little spot on the river with a fishing pier.
Jul 10, 2019
They had water going on my tent site when I got there and the guy ignored me when I asked him to help because he was helping some guy back in his million dollar motorbike, and the BLT was $13 Won't be back!!!!
Jul 08, 2019
Great staff presence throughout the holiday weekend. Very nice set up for camping! Will definitely come back
Jul 08, 2019
The staff were amazing! Very accommodating. The campsite is definitely set up with the campers in mind.
Jul 06, 2020
Great Place....
- Jeffrey Hott on Google
Jul 01, 2020
Well run and cared for. Clean and green
- Orrin Frederick on Google
Jun 28, 2020
This place is awesome! Great place to hang out with family and friends. Owners are super nice and always accommodating. The food is great and they also sell beer and all the necessities for a great day in the water, bathrooms are super clean.
- Arturo Martinez on Google

Starbuck / Lyons Ferry Marina KOA
Open All Year
102 Lyons Ferry Road
Starbuck, WA 99359
Check-In/Check-Out Times
All Sites
Check-in: 1:00 pm, Check-out: 11:00 am
Accommodations
Check-in: 1:00 pm, Check-out: 11:00 am
Operating Hours
Sunday: Open 8:00 AM to 5:00 PM
Monday: Closed
Tuesday: Open 8:00 AM to 5:00 PM
Wednesday: Open 8:00 AM to 5:00 PM
Thursday: Open 8:00 AM to 5:00 PM
Friday: Open 8:00 AM to 9:00 PM
Saturday: Open 8:00 AM to 9:00 PM
Starbuck / Lyons Ferry Marina KOA
Get Google Directions

© 2020 Kampgrounds of America, Inc.