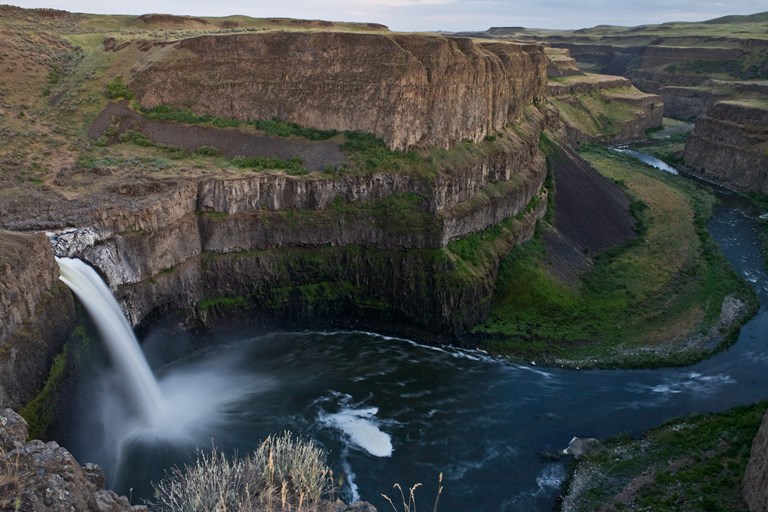 Starbuck / Lyons Ferry Marina KOA Reviews
Directions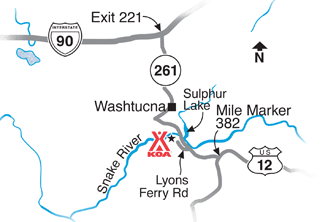 From I-90: Exit 221 to Hwy 261 south to Washtucna. Traveling south and west on both Hwy 260 & 261 approximately 6 miles, turn left (south) on Hwy 261. Go 15 miles, cross Snake River on Vantage Bridge, entrance on right. From Hwy 12: Turn north near mile marker 382 onto Hwy 261. Go 15 miles north. Entrance on left.
Get Google Directions
Jul 02, 2020
Excellent visit, we will return! We can't think of anything that would need to be improved on, we had zero issues. The weather wasn't the greatest, it was extremely windy. Because of the wind we were limited on fishing so we will definitely come back and bring more family. Great campground!
Jun 29, 2020
Cabin was cute and clean. Food was over priced. Our stay was uncomfortable as we were all the NOs right up to don't steal the dishes. We stayed there before 20 years ago. not much changed.
Jun 29, 2020
Our cabin was very clean. The only drawback was that the bathroom wastebasket wasn't emptied prior to our check in. The staff was very friendly and helpful. We enjoyed the easy access to the marina and the playground. We plan on returning--it was an enjoyable experience. We will recommend this location to our friends.
Jun 22, 2020
Small campground, cabin was really nice! Had propane grill and fire pit. The waterfall is close and so is the state park with a swimming area! Highly recommend.
Jun 22, 2020
Another great stay at the Snake/Palouse! Fishing was awesome and the cabins are the way to go.
Jun 08, 2020
Beautiful, relaxing and fun! Hosts were very friendly and accommodating! We had a great weekend!
Jun 02, 2020
Very peaceful and quiet in a beautiful setting. We will definitely be back.
May 18, 2020
We stayed at the Deluxe Cabin at the Lyons Ferry Marina KOA. The Campground was well maintained, our Cabin was clean when we arrived and sheets and towels were provided for the beds (we brought sleeping bags for the bunks). The cabin is equipped with dishes and some pots a propane grill and propane fireplace. Everything was clean and in working order. Staff was super friendly and helpful.
May 11, 2020
Another great stay! See you again soon. ��
May 04, 2020
It was higher than our expectations, cabin extremely nice, like new, and clean. Loved the experience! Owners were very friendly. We will surely go back for another visit.
Mar 07, 2020
The kabin was clean and had a great view. Complete with some basic dishes in the kitchenette, a grill on the porch, and it even had a little propane firepit with a couple Adirondack chairs. Will definitely be back again!
Mar 02, 2020
It was great cabin was awesome!!!!!!!!!!!
Aug 27, 2019
Cabin was clean and very nice. Everything was awesome while there. Only complaint was people next cabin over stayed up till almost 2 am drinking and had fire ring right next to our cabin bedroom window so got to listen to them being drunk n laughing until middle of night. Other then that it was great stay and special trip with my grandsons. I will be back again.
Aug 05, 2019
Joanne and Wally make you feel like family. The park is in better shape than it has been since 1990...
Jul 24, 2019
Fabulous kabin - best we have ever stayed at, by far. Quiet, easily accessible. Friendly staff. It's pretty far out, and the store could benefit from more edible selections - and better options for Palouse Falls postcards.
Jul 11, 2019
Great place for a family get together
Jun 25, 2019
Rented a cabin for the first time. It was great! Best part was having our own bathroom!! Will definitely book at Lyons Ferry again! Wally & Joanne are super people!
Jun 03, 2019
Cabin s are very adequate and comfortable. Need to be better stocked with trash bags. Boat slips are associated with cabin #'s, in event such as ours, when having to move cabins during our stay, would be much nicer to stay in same slip and give other cabin person the other slip. There is effort to properly securing boat and have dock lines properly adjusted, then lines remain at dock until return.
May 29, 2019
It's our favorite place. And we come back year after year.
May 17, 2019
The staff at this KOA is like no other, very simular to the setting..simply amazing very nice people ,they assist in getting you too your site and set up ,super clean sites very well taken care of and the facilities are flawless.Thank you and we hope too see you again soon.
May 08, 2019
A quick trip to Palouse Falls and Steptoe Butte led us to this beautiful oasis in the desert. We stayed in a deluxe cabin and had a beautiful view of the river from our deck under a large tree which provided much needed shade. The hosts were very accommodating and hospitable. We plan on returning soon and would highly recommend this KOA as the place to stay�
Jul 06, 2020
Great Place....
- Jeffrey Hott on Google
Jul 01, 2020
Well run and cared for. Clean and green
- Orrin Frederick on Google
Jun 28, 2020
This place is awesome! Great place to hang out with family and friends. Owners are super nice and always accommodating. The food is great and they also sell beer and all the necessities for a great day in the water, bathrooms are super clean.
- Arturo Martinez on Google

Starbuck / Lyons Ferry Marina KOA
Open All Year
102 Lyons Ferry Road
Starbuck, WA 99359
Check-In/Check-Out Times
All Sites
Check-in: 1:00 pm, Check-out: 11:00 am
Accommodations
Check-in: 1:00 pm, Check-out: 11:00 am
Operating Hours
Sunday: Open 8:00 AM to 5:00 PM
Monday: Closed
Tuesday: Open 8:00 AM to 5:00 PM
Wednesday: Open 8:00 AM to 5:00 PM
Thursday: Open 8:00 AM to 5:00 PM
Friday: Open 8:00 AM to 9:00 PM
Saturday: Open 8:00 AM to 9:00 PM
Starbuck / Lyons Ferry Marina KOA
Get Google Directions

© 2020 Kampgrounds of America, Inc.