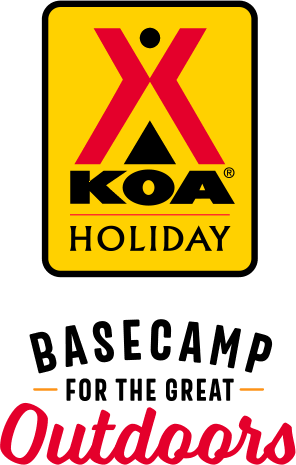 KOA Holiday Campgrounds
Whether you're exploring the local area or hanging out at the campground, KOA Holidays are an ideal place to relax and play. There's plenty to do, with amenities and services to make your stay memorable. Plus, you'll enjoy the outdoor experience with upgraded RV Sites with KOA Patio® and Deluxe Cabins with full baths for camping in comfort. Bring your family, bring your friends, or bring the whole group – there's plenty of ways to stay and explore.
KOA Holidays Feature:
RV Sites with a KOA Patio®
Deluxe Cabins with full baths
Premium Tent Sites
Group meeting facilities
Directions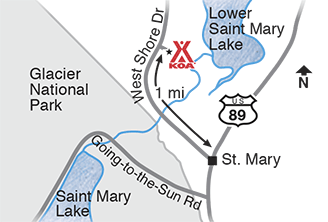 From St. Mary on Hwy 89: 1 mile west of town on West Shore Rd.
From Browning, MT:32.8 miles on US 89 N 
From Yellowstone National Park, WY:https://goo.gl/maps/xTHLW
From Billings, Mt:https://goo.gl/maps/OuQox
From Missoula MT:https://goo.gl/maps/iGON7
GPS: N48.75746 W113.43755
Get Google Directions
Oct 17, 2021
we stayed in a tent site. it was very spacious and isolated, yet also very windy. I wish I knew about the wind factor, I wouldn't have stayed in a tent had I known. The staff was super nice and helpful, showers are clean and warm (water were amazing and so was the flow), dishwashing spots had room to wash as well as benches fort those waiting in line. We had a very nice stay :)
Oct 14, 2021
Beautiful setting surrounded by mountains.Checkin was great,guided to our site.Huckleberry ice cream was perfect addition to our stay
Oct 09, 2021
Really friendly staff; great dog walking park and open areas by the campground; great ice cream; decent amount of space between sites; very convienent to East entrance of Glacier and "downtown" area.
Oct 09, 2021
We had a very nice site with a view of the mountains. The pad could have been a little better leveled off. Check in was quick and the staff very friendly. The only amenity we used was the laundry. It was clean, the machines we used were in good shape.
Oct 08, 2021
Beautiful campground with VERY convenient car rental access. Helpful and friendly staff
Oct 07, 2021
Was very windy during our late September stay. However, the sunrises were spectacular! Enjoyed the cabins, close water source and bathrooms by the main building. Very nice showers, especially the bench. Bathroom always available. Overall enjoyed our stay, except for one very windy day.
Oct 06, 2021
very nice and well maintained campground. Check-in staff was a bit cold and not super helpful with local info.
Oct 04, 2021
So glad we caught your last few days. Beautiful !
Oct 03, 2021
Place was empty with about 7 cars and Koa placed everyone next to each other , also they only made the most expensive spots available for the stay wanted to buy stuff but office closed before 5pm ! bathroom/shower check inn was awesome but had a much better experience in West glacier location
Oct 01, 2021
Nice amenities. Very crowded. Location is great. Check in took a little while because there was a line.
Oct 01, 2021
Excellent stay, perfect location for Glacier national park
Oct 01, 2021
We really enjoyed our stay at the St. Mary KOA. The property is large with spacious, extremely well appointed campsites. Everything was in great working order and exceptionally clean. The dog park is a huge, fenced in area. The Wifi was great, which is a huge plus if like us you're working from the road. The location can't be beat - it's right down the street from the National Park!
Sep 30, 2021
Very helpful staff .the sewer hook up was too high for my class c a little pricey but close too Glacier I would stay again
Sep 30, 2021
This is a great KOA park in a great location to Glacier National Park. The staff was friendly and helpful at all times. They were always keeping the grounds in order. The pool, sauna and showers were always clean. The internet was great.
Sep 30, 2021
Everyone was so nice and the campground is truly beautiful! Without a doubt I would stay again! Thank you!
Sep 30, 2021
We stayed 3 nights and wish it was longer! We were going to tent camp but opted for the sleeping cabins and were very happy we did. Ours was clean with a big lot. The bathrooms and showers were nice and clean which is important to us. The location was perfect. We'd like to visit again!
Sep 30, 2021
Our stay here was amazing! We loved the small cabin where we brought our own bedding. The heater kept us nice and warm especially from all the wind outside. Definitely will stay at a KOA again!
Sep 30, 2021
Very clean, well run campground!! The most employees I've seen working anywhere (restaurants, stores, etc)! They were cleaning constantly and very courteous! Had a great stay!!
Sep 29, 2021
Our site was nice because we backed up to a large green space looking right at the mountains. Staff were pleasant and helpful. Very close to the entrance of the park. I would stay there again.
Sep 29, 2021
Always enjoy our stays at your KOA! Love the amenities, helpfulness and friendliness of staff, and of course, the views! We really appreciate the ongoing upgrades to your facilities, Thank you! See you next year! Joe &. Cindy Straka, Whitefish, Mt
Sep 29, 2021
Beautiful campground! Stayed the last week of September and wasn't overly crowded. Very friendly and accommodating staff. They offered fresh coffee every morning. Good selection in the office/gift shop/grocery area. Bathrooms were immaculate. WiFi available. Highly recommend this KOA!
Sep 29, 2021
Great location to Glacier entrance, and staff very likable.
Sep 28, 2021
We had a very nice stay. Everyone was friendly and helpful. It's very clean and taken well of. We loved the store where we could get great coffee and ice cream!!! The laundry facilities were great too! We came late in the season after the pool and sauna closed down. The small cabin was clean and we slept well knowing we were safe and warm!
Sep 28, 2021
We stayed in one of the deluxe cabins. It was absolutely perfect. The cabin was supplied with everything you would ever need. It was nice to have a half bath besides the full bath. The private deck in the back with the table was so nice. The location to Glacier NP is perfect. This is the best kept secret for lodging in St. Mary!!
Sep 28, 2021
Thank you for being open this late in the season!
Sep 28, 2021
Lovely staff and lovely campground and kamping kabin. Clean and comfortable and welcoming And BEAUTIFUL!!!
Sep 27, 2021
Friendly helpful staff, nice store with yummy ice cream! Beautiful mountain views.Clean bathrooms, love the showers.Great laundry facility. Only thing that didn't make sense to us was our site was right next to dog park. Neither we nor the kampers next to us had dogs. Also need fence or something to separate site from dog park pathway, to avoid walkthru or droppings in our site. Otherwise great!
Sep 27, 2021
Very friendly andhelpful staff. Very good camp store with a nice ice cream and coffee bar. Only complaint would be the ratio of campsites versus restroom/showers. I will be back though. Great place to access the NP.
Sep 27, 2021
Nice campground. The few bathrooms available were quite busy in the mornings. Nice views and good facilities.
Sep 27, 2021
Great location. It is quiet at night and we like the fact, that the lights are not casting up, so it is possible to see the stars. We would have liked to soak in the hot tub after our hike, but it was closed.
Sep 27, 2021
Friendly staff, excellent accommodations and facilities, surrounded by gorgeous views. Will be back!
Sep 27, 2021
Friendly staff, everyone masked up, super clean bathrooms with removable shower heads and fold-down benches in the shower. We took the trail down to the river. Although we were only there one night, we'll go back next time we are in the area.
Sep 26, 2021
Amazing Place!
Sep 26, 2021
The people were great and very helpful
Sep 26, 2021
Awesome campground with gorgeous views and a wonderful friendly staff.
Sep 26, 2021
Stayed in a basic cabin with fridge, microwave, heat and air. Beautiful views. Friendly staff. Nearby single bathroom/shower facilities which were clean and comfortable temperatures. Very close to Going to the Sun Road at entrance to the park.
Sep 26, 2021
Very clean, well take care off, and very nice staff
Sep 26, 2021
Lovely place and super cozy cabin!
Oct 04, 2021
Family atmosphere with friendly accessible owners and staff . Outstanding gift shop with coffee and ice cream bar, dog friendly park , very clean bathrooms and hot hot showers , lots of options for tents , trailers , and cabins ….. plenty of amenities and convenient access to Glacier National Park / St Mary's entrance .
- M Price on Google
Sep 28, 2021
We decided to head to Glacier on a wild hair and didn't think about needing wifi for work until about halfway through the journey. We usually disperse camp, but once we saw KOA had wifi, we immediately booked a cabin for a few days. The price was super reasonable for a cabin, cozy with its own heater, a surprisingly soft mattress which was needed after half a week of driving, had its own wifi in the cabin with great signal, and didn't experience any slow internet speeds. The bathrooms were extremely clean and looked recently renovated with fancy tile, the shower pressure was strong, water was hot, and there was plenty of room to hang clothes or keep toiletries off the ground with the benches in there. Also - I didn't see this anywhere online, but if you have pups, there's a little dog bark park spot to give your pups some off-leash time. Talk about a slam dunk find. Definitely will be back, even if we don't need wifi work next time! (Ps - the views there are magnificent and magical)
- Shaun Ridgway on Google
Sep 26, 2021
We spent 5 nights there while visiting Glacier
- Bill T on Google