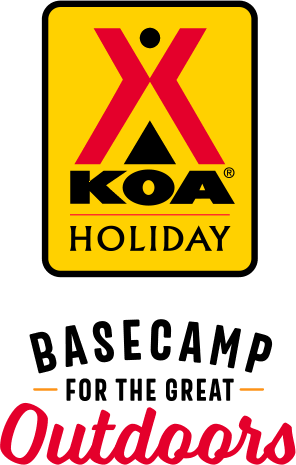 KOA Holiday Campgrounds
Whether you're exploring the local area or hanging out at the campground, KOA Holidays are an ideal place to relax and play. There's plenty to do, with amenities and services to make your stay memorable. Plus, you'll enjoy the outdoor experience with upgraded RV Sites with KOA Patio® and Deluxe Cabins with full baths for camping in comfort. Bring your family, bring your friends, or bring the whole group – there's plenty of ways to stay and explore.
KOA Holidays Feature:
RV Sites with a KOA Patio®
Deluxe Cabins with full baths
Premium Tent Sites
Group meeting facilities
Directions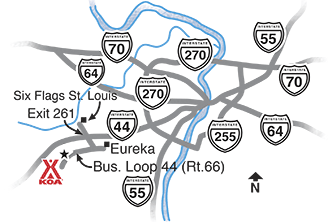 I-44 (Westbound) Exit 261, left on Six Flags Road to Bus Loop 44 (Historic Route 66), right 3/4 mile to KOA. I-44 (Eastbound) Exit 261, right at traffic light to Business Loop 44 (Historic Route 66), right 3/4 mile to KOA.
GPS - friendly address is:
18475 I-44 Business Loop
Pacific, MO 63069
-OR-
18475 Old US Highway 66
Eureka, MO 63025
N38.50093, W90.688946
Get Google Directions
May 07, 2021
great place, and great property overall
May 07, 2021
Returning to our home in Texas from Wisconsin and needed a place to stop in Missouri. Decided to try this KOA and was pleased with the location. Due to rain did not use the restroom/showers.
May 07, 2021
We're only here one night as we travel across the country but we wish we're there longer! It was very clean and the people were helpful! My teen kids had fun on the jumping pillow... we did as well as this took out some of their energy! The bathrooms were also very well taken care of and we liked the layout!
May 06, 2021
They claimed our cabin was "cleaned" & ready for us however it didn't look like they even swept the floor. Nothing was wiped down. There was dead bugs all over the floor. The bed /mattress was uneven & VERY uncomfortable. The mattresses definitely need replaced. We tent camp a lot & our air mattress is more comfortable than their bed. On a positive note, it was quiet & the staff was polite
May 06, 2021
The people were very nice and helpful. The site I was on could of been much more level. This is what you pay for a level site. All other accomdations were acceptable. My water facuet leaked and I did not report it. My mistake as I am sure they would of fixed it. I will be back for others stays.
May 05, 2021
Not a very nice pull through. Don't recommend this KOA.
May 05, 2021
Spent 4 nights on our way east. Camp was clean and had a nice level drive through site with shade. A little road and train noise, but not bad. Easy access to and from highway about 25 miles from downtown.
May 05, 2021
We loved it! The deluxe cabin was perfect for our family of 5, with extra space! The location was easy to find, but yet backed up to the trees which made it have the real camping feel to it. Love the gas fire pit (not sure that's correct name) on the porch! We can't wait to return!
May 05, 2021
Staff was great. Sites were good. Our stay included a couple of rain storms. Drainage was an issue after the rain.
May 05, 2021
Too many sites not level
May 04, 2021
This was the first time out with a new trailer. We were pleasantly surprised with our welcome. First, we were waiting for our KOA card...they told us KOA doesn't mail them and they gave us one. They led us to the site and the man stayed with us and guided us through our first hookup. Their store had the equipment that our dealer had neglected supplying us. Clean place, nice ammenities.
May 04, 2021
Upkeep low, confusion in store on arrival, sites were very tight. Will stay again cause close to family.
May 04, 2021
Cant remember the site number but it was not lvl at all. Required some major work on my part to get my 32ft trailer lvl while allowing for my 4ft pop out to extend. The only place I stood a chance to get the trailer lvl required me to park rather close to the electrical box - it also smelled a lot like dog poop. A positive - The childrens entertainment was great.
May 04, 2021
Staff was helpful, lots for children to do.... Very clean bathroom
May 03, 2021
Under construction- was pretty loud but nice.
May 03, 2021
Campground and sites are clean and well maintained. Our issue was with the group in the cabins next to us. They drank, played loud music and yelled at each other well after 2 am. We arrived at 6:30pm for a one night stay. Had to be up at 6am to continue our trip. The noise and disruption kept us up most of the night as with our neighbors. No phone # to call for help was extremely concerning.
May 03, 2021
Trash everywhere around the site when we arrived. Either it wasn't checked prior to arrival or management believes trash on the ground is acceptable. Additionally, quiet hours not managed. Large Party in area until after 11pm. Space and size of site were reasonable.
May 03, 2021
Great sites. We had a patio with wonderful furniture and fire pit. Very comfortable!
May 03, 2021
Excellent time! The Deluxe Cabins are amazing!!! DC3 was the best. Campground was very clean and employees were very friendly. Thank you for the fun memories
May 03, 2021
Very clean camp ground. Super easy to find and super close to Six Flags. Staff was great and SUPER easy to work with. We will stay here again as my kids loved the extras that the camp ground has. I wish we had more time to spend at this site but we were so busy with other events during the weekend.
May 03, 2021
Lots of fun for the kids. Very, and I mean VERY small sites that's are EXTREMELY close together. Like right on top of each other. We stayed in the small camper cabins. Cabins were clean and as expected. The bathrooms in this place were amazing! We usually stay at state parks, which are quite underfunded, and usually have kind of gross facilities. The kids never complained of being bored!
May 03, 2021
We love this place & stay as often as possible! Usually we're in our RV but have family in Barnes Hosp this time so decide to stay in a deluxe cabin so we had a vehicle to go to and from there. LOVED LOVED THE CABIN! What a bargain.. way better than a hotel room for comparable price! This is THE MOST KID FRIENDLY PLACE TO STAY THAT WE HAVE EVER BEEN TO. Thank u�� The Parrish Family,
May 02, 2021
The stay itself was quite nice. The facility was clean and well maintained. The firewood we purchased at the office was wet and smoked heavily which put a damper on our trip, but we're willing to give it another try.
May 01, 2021
The site that was sold to me as a pull through was too short for my RV and Tow car and I hung out on both ends. Additionally the site was that a 20% incline and I had to put four blocks of wood under each front Jack in order to even attempt to get level. When I expressed my displeasure and disappointment to the teenagers running the office they basically told me that's the way it was.
May 01, 2021
Staff was great. Some of the spots could use better drainage, but great overall experience.
May 01, 2021
Will stay here again when in the area. Site easy yup get into. Beautiful surrounding. Great place to stay. Quiet and peaceful.
Apr 30, 2021
The campground is a bit run down and spaces were tight. The dog park was large and great to use that it was divided in two since we have dogs that don't always do great with other dogs. The location is a straight shot down the highway to downtown St. Louis but fairly far from most things we wanted to do. It would be just fine for passing through but we wouldn't stay for a long stay again.
Apr 29, 2021
I have stayed there a couple of times a year for the past 3 years, but probably won't come back. Sites a1-a9 are so unlevel that my front wheels come off the ground, A young blonde woman was particularly unhelpful in finding me a site that worked. Finally another dark haired woman helped me find something.
Apr 29, 2021
We always like staying at this KOA. We have been coming here for 40 years. It appears that new upgrades will be in place when we stop by next time.
Apr 28, 2021
Great service and friendly staff!
Apr 28, 2021
Neat park. Close to lots of things. Staff very polite. Nice stay.
Apr 28, 2021
We stayed in Deluxe Cabin #3, it was great! Thank you, KOA, for making our stay so relaxing. We will definitely recommend to family and friends.
Apr 28, 2021
We have stayed here numerous times before and were pleased. Due to utility construction, this time we found it to be very noisy! We realize this is something beyond your control. Hopefully the work will be done soon!
Apr 28, 2021
All good with our visit, thanks!
Apr 27, 2021
Very knowledgeable staff, comfortable stay...
Apr 26, 2021
Great for families. I just wish there were some trails to hike.
Apr 26, 2021
Excellent Campground with friendly staff. They have lots of activities for the children. They have a train that they ride the children around in pulled by a golf cart. We would definitely stay here again ���� The Burrells from Bogart Georgia ���������
Apr 26, 2021
This place is wonderful! It rained the first night we were supposed to camp so they graciously let us switch to a cabin for one night they day of and the 2 room cabin was PERFECT. So clean and 2 bunk beds for our kiddos. They LOVED everything we could do (gem mining, jumping pillow, riding in the train car, movies) so much and everyone was so helpful and nice. We will DEFINTELY be back!!
May 08, 2021
Beautifully shaded rv Park near St Louis and Six Flags. Nice and quiet during the week (this is before summer so kids and young families not here on weekdays) Pool and fun activities for young families ready to open in a few weeks. Train tracks are nearby but did not blow whistle.
- Janet Jensen on Google
May 04, 2021
This is the second KOA. Very nicely kept. Everyone is extremely nice. The campsites are a nice size and looked like most of them are pull through. The bath houses were spotless all the time. The playground was unfortunately under water and a lot of the campground was under construction. But would definitely stay again.
- 34denaem on Trip Advisor