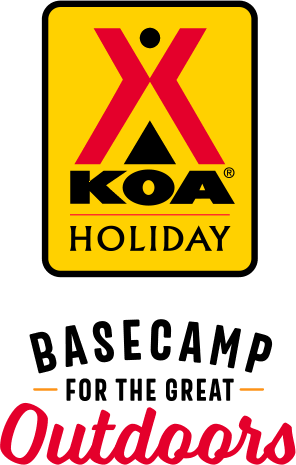 KOA Holiday Campgrounds
Whether you're exploring the local area or hanging out at the campground, KOA Holidays are an ideal place to relax and play. There's plenty to do, with amenities and services to make your stay memorable. Plus, you'll enjoy the outdoor experience with upgraded RV Sites with KOA Patio® and Deluxe Cabins with full baths for camping in comfort. Bring your family, bring your friends, or bring the whole group – there's plenty of ways to stay and explore.
KOA Holidays Feature:
RV Sites with a KOA Patio®
Deluxe Cabins with full baths
Premium Tent Sites
Group meeting facilities
Directions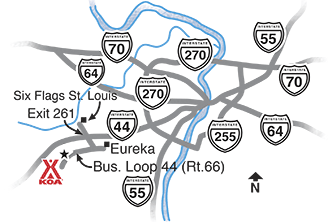 I-44 (Westbound) Exit 261, left on Six Flags Road to Bus Loop 44 (Historic Route 66), right 3/4 mile to KOA. I-44 (Eastbound) Exit 261, right at traffic light to Business Loop 44 (Historic Route 66), right 3/4 mile to KOA.
GPS - friendly address is:
18475 I-44 Business Loop
Pacific, MO 63069
-OR-
18475 Old US Highway 66
Eureka, MO 63025
N38.50093, W90.688946
Get Google Directions
Feb 21, 2021
We only stayed one night but it was a cute and clean campground. We would definitely come back and spend more time here.
Feb 20, 2021
Nice place! Friendly staff and nice level sites.
Feb 18, 2021
We got there during a snow storm which left them unequipped. However they could have been available and more helpful. I wasn't impressed. Desk worker seemed to be a high schooler who could care less. Text messages on their text line were never answered, though this is how they said they'd address questions. I'd give them another chance minus the storm, but wasn't impressed.
Feb 16, 2021
Exceeded expectations
Feb 16, 2021
It was very cold in there could not stay overnight left there about 8pm very cold
Feb 12, 2021
I've stayed here multiple times and have always had a pleasant stay. Employees are friendly and very helpful. I will be staying here in the future for sure! Thanks!!!
Feb 01, 2021
Porch light was on all night and illuminated the room all night, remote to TV did not work. We brought these issues to the attention of staff and was never resolved. Bathroom door stuck. The worst was the attitude of staf it seemed they just didn't care. One employee stated that previous guests mentioned the porch light and yet not resolved.
Feb 01, 2021
Quite clean weekend
Feb 01, 2021
Absolutely loved the deluxe cabin! It was clean and felt very comfortable! We will definitely be back!
Feb 01, 2021
Billing Sucks. Rates vary over two stays in 6 days. Three charges for first stay Sunday. Price different second stay, following Friday. All in January winter season. Back men's restroom is poor. Roof leaked and light fixture was dangling from the ceiling.
Jan 30, 2021
Loved the site amenities.
Jan 26, 2021
I should have asked ahead of time,but was very surprised at the 50 dollar pet fee. I just called the koa deluxe cabin that we are staying at in Alabama and their pet fee is 10 dollars and much more what we are used to at koa. Otherwise everything else was good.
Jan 22, 2021
We stayed at a deluxe cabin for the first time with our kids. It was so cozy during the wintertime! Thanks for helping us make good memories.
Jan 21, 2021
Wonderful large private patio lot. Wish we were there longer. Very clean and beautiful location.
Jan 21, 2021
It was a great overnight stay, very accommodating with a propane tank fill up before leaving
Jan 20, 2021
This is a wonderful KOA and the people there are terrific. Highly recommend it anyone wanting to stay in the St. Louis area.
Jan 19, 2021
Awesome location far enough away from the city but near some neat small towns. No issues at all!
Jan 19, 2021
Clean cabin, quiet campground.
Jan 16, 2021
Clean, quiet, with nice bluff view. Very relaxing
Jan 11, 2021
just an overnighter but spot was good sized, quiet, lots of room.
Jan 10, 2021
Good cable reception
Jan 09, 2021
love the place and the help from the employees
Jan 09, 2021
We stayed four nights we enjoyed the park we were in the area to visit family it is a nice KOA Park we enjoyed it a lot thank you
Jan 04, 2021
Clean, friendly staff, good stay!
Jan 03, 2021
Responsive to our concerns, nice Halloween activities, happy to use your dog park.
Jan 03, 2021
We had a great time. Cabins were well kept and clean. Would recommend adding a lock to the bathroom door, but other than that we really enjoyed our stay!
Jan 03, 2021
The campground is in a very convenient location. Our dog enjoys sniffing around.
Dec 31, 2020
Love the KOAs. Always work with us to make our stay awesome. The staff here worked extra for me so I could get my family in for the weekend too. That was wonderful as I had not seen them in over 10 years and had yet to meet my 2 great nieces. Thank you
Dec 31, 2020
We arrived at the cabin at around 10p. The front door was wide open. Heater was broken. It was 56f inside when we went to bed and 45f in the cabin when we woke up. Worst night of sleep in recent memory.
Dec 29, 2020
The staff were great. Very helpful. We are new to camping. The slope of the campsite was a challenge but we worked thru it. Not used to the road noise.
Dec 28, 2020
Quick overnight stay but smooth check in and cleanest restrooms we have seen
Dec 27, 2020
Greeted by friendly host and quick check in. The unisex bathroom was extremely dirty. Main restroom area and cabin were clean and comfortable. Overall, great KOA!
Dec 27, 2020
We did a overnight stay. Not bad for the winter. We arrived late and our reservation was waiting and no problem pulling into the site and no neighbors in our row to bother. The restrooms were clean and the KOA store had some nice items. We did not use the sewer or water hook ups. Only electricity. I would definitely stay again.
Dec 24, 2020
Very convenient location, very clean restrooms, and nice staff
Dec 24, 2020
cooperative staff, easy facility to find. a bit older with the water service. I would go back easily.
Dec 23, 2020
Great location. Sites are nice size. I wished we'd known to choose the site with patio table, chairs and Chairs around fire pit. We had family come by a few times.
Dec 22, 2020
I rated it a 4 as the staff were VERY responsive to our water problem but I had significant difficulty sleeping with the train tracks so close. I will have to do a better job at investigating sound hazards in the future.
Dec 21, 2020
Stayed from September through December. Very clean place, lots of space! Staff was helpful and courteous! The lots aren't the easiest to find if arriving after dark but they provide a map with each lot labeled. Staff kept us updated on any disruptions with water or electricity. Would gladly stay again.
Dec 21, 2020
Need a new cable provider. Too many channels snowy. Went to get propane tank filled on Saturday and told the guy who fills it wouldn't be back until Mon!! Absurd... the guy there said he wasn't trained. This is like going to a restaurant and told the cook will be back in two days. Not only did you lose propane sales, you really pissed off a long time customer. Phil Bagby
Dec 21, 2020
Always a great place to stay. We will definitely be back.
Feb 09, 2021
Very friendly service. I would highly recommend.
- John Dolde on Google
Jan 24, 2021
Nice cabin.
- Stephen Dorrell on Google
Jan 10, 2021
Had an awesome visit! Had to check in after hours and it was nothing but smooth. Very clean restrooms and a quiet campground. Definitely on our list to revisit!!
- Melissa Corkins on Google