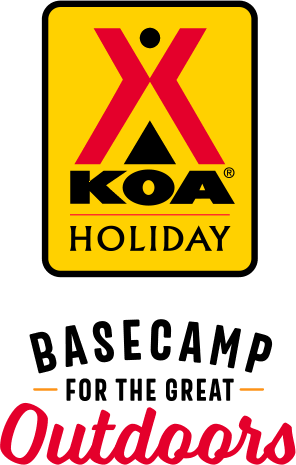 KOA Holiday Campgrounds
Whether you're exploring the local area or hanging out at the campground, KOA Holidays are an ideal place to relax and play. There's plenty to do, with amenities and services to make your stay memorable. Plus, you'll enjoy the outdoor experience with upgraded RV Sites with KOA Patio® and Deluxe Cabins with full baths for camping in comfort. Bring your family, bring your friends, or bring the whole group – there's plenty of ways to stay and explore.
KOA Holidays Feature:
RV Sites with a KOA Patio®
Deluxe Cabins with full baths
Premium Tent Sites
Group meeting facilities
Directions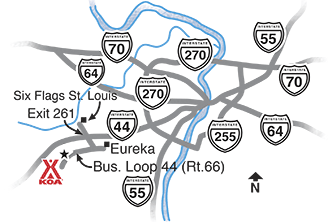 I-44 (Westbound) Exit 261, left on Six Flags Road to Bus Loop 44 (Historic Route 66), right 3/4 mile to KOA. I-44 (Eastbound) Exit 261, right at traffic light to Business Loop 44 (Historic Route 66), right 3/4 mile to KOA.
GPS - friendly address is:
18475 I-44 Business Loop
Pacific, MO 63069
-OR-
18475 Old US Highway 66
Eureka, MO 63025
N38.50093, W90.688946
Get Google Directions
Dec 01, 2020
Arriving on a cold afternoon, needed propane but was told during check in there was no there on the week ends to pump propane. We were guided to are site, but after getting parked noticed there was a lot of trash on the site. Fire pit was full of trash and cigarette buts all over the site, the site was clearly not tuned over between guest.
Dec 01, 2020
Just a short over night. Very nice would stay again.
Nov 30, 2020
Disappointed with the fact that there is no late arrival help to find site since there are no signs indicating where sites are except for a paper map. Intersections are not lite and large rocks are not painted for easy night seeing.
Nov 29, 2020
Always very helpful with any needs that come up.
Nov 29, 2020
Convenient and well equipped!
Nov 29, 2020
Just stayed one night, but very clean bathrooms, nice lots and dog park!
Nov 29, 2020
We had level site.
Nov 29, 2020
We just stayed one night but what a nice park! Would definitely stay again.
Nov 27, 2020
I was going to stay a month but after moving me to a permanent site that was flooded around the utilities and was littered with cigarette butts and trash I requested to be moved. I was told there were no long term sites left—translation—no place for trailer trash. So I found another campground, no flooding, a choice of about 15 sites, and $200 less for the month as well as a weekly rate.
Nov 25, 2020
Everything worked great. Our surge protector showed some electrical issues, but they were intermittent.
Nov 25, 2020
The campground host was so gracious and accommodating. The best
Nov 24, 2020
Excellent campgrounds! Very helpful staff!
Nov 24, 2020
Perfect!!! Requested cabin near the restroom and porch light and heater on and they delivered. Staff is always friendly!!!
Nov 24, 2020
Your restrooms were very clean and the woman who scheduled me was very kind!!!
Nov 22, 2020
The cabin was spotless, comfortable and quiet, and the bathroom was honestly cleaner than my own at home! This is a great place to stay!!
Nov 22, 2020
Sites were well kept up. Very pleasant at the check in counter.
Nov 21, 2020
Very helpful staff!
Nov 21, 2020
Staff was very friendly and helpful. Facility was clean
Nov 20, 2020
Clean park. Level site for our Big Rig
Nov 20, 2020
Great park and great staff!
Nov 19, 2020
Really friendly staff. Great camp ground.
Nov 18, 2020
we stayed in a deluxe cabin was nice and clean while spending two days at six flags nicely located to the park.
Nov 18, 2020
Broken bathroom fixtures, dirty linen and mice in cabin. Do better!
Nov 17, 2020
In late Sept I started my camping adventure to LA, California and back to Eaton, Oh. I had over 20 boxes of my son's "stuff" and I decided to drive/camp and take it to him. Well I found the KOA trip planner and everything fell into place. I stayed in eight different KOA camps and all were terrific. Of the 8 I found the St. Louis West to be the best! Can't wait to take my grandkids camping!
Nov 17, 2020
Nice and clean site, friendly staff and easy trails to walk the dog. We'll see you again 4/1st The Nevad's
Nov 17, 2020
Nice facility, nice people, great places to walk at the campground, and a great little playground for the kids. The cabin was very nice, super clean, and well maintained. Definitely recommend!
Nov 17, 2020
I was locked out of my cabin because someone forgot to leave the key available when arriving late. Additionally, it took the key holder 30 minutes to arrive after telling me he would be 'right up.' It's hard to describe the frustration when utterly exhausted from 880 miles of travel. Those old cabins need renovation and repair. The screen door banged in the wind all night, (the hook was missing).
Nov 17, 2020
We've stayed often & have enjoyed each visit with our grandkids
Nov 17, 2020
Staff were friendly, helpful, and masked. Beautiful grounds. Really close to Six Flags, which may someday be useful. Only problem - long pull-through site was level for half, then a downward 6% grade for the other half. I had to drop my car and tow dolly to park my Class A on the level ground. At least half their sites are like that. Would have been horrible to arrive after dark and deal w/ that.
Nov 15, 2020
Campground was full and they found a spot for us because we're smaller (18' trailer and pick up). Nice facilities.
Nov 15, 2020
Water didn't seem to work. Staff very nice. Check out at 11???? Clean! Hooked up water but no water possible human error! Would stay again. Ordered bbq quick delivery to our site and very good ribs!!!
Nov 14, 2020
Just there for a couple of nights. Easy check-in and the site was perfect your needs.
Nov 13, 2020
Great KOA. Very clean and well maintained park with a nice staff. If I pass thru the area again I will definitely return.
Nov 11, 2020
Very nice sorta level site.
Nov 21, 2020
We booked the caboose for one night (Saturday in November) . We paid $119 including our membership discount. The caboose is fun, our 2 year old was very excited and thinks it is very neat. There is a full bathroom with a tub, which is great for little ones. The lofted twin bed is up quite high and not suitable for a 2 year old but an older child would be perfect. The checkin process was a breeze. The caboose also has a nice gas grill on the back deck that has chairs and is covered. Thank goodness it was, we arrived about 4pm and it rained all evening. It was nice to grill and sit outside listening to the rain. I recommend this KOA but the caboose could be updated and some minor repairs are needed.
- Sugar Laing on Google
Nov 21, 2020
We have stayed here several times. Have always enjoyed our time there.
- Marianne Simpson on Google
Nov 04, 2020
Reasonably priced, close to anything you may need. Will return.
- michelle clark on Google