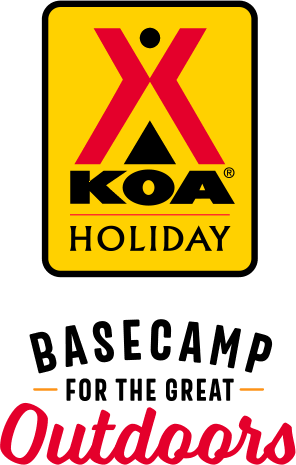 KOA Holiday Campgrounds
Whether you're exploring the local area or hanging out at the campground, KOA Holidays are an ideal place to relax and play. There's plenty to do, with amenities and services to make your stay memorable. Plus, you'll enjoy the outdoor experience with upgraded RV Sites with KOA Patio® and Deluxe Cabins with full baths for camping in comfort. Bring your family, bring your friends, or bring the whole group – there's plenty of ways to stay and explore.
KOA Holidays Feature:
RV Sites with a KOA Patio®
Deluxe Cabins with full baths
Premium Tent Sites
Group meeting facilities
Directions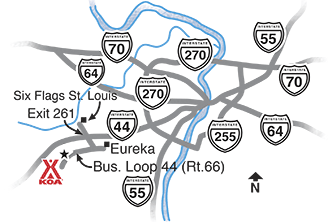 I-44 (Westbound) Exit 261, left on Six Flags Road to Bus Loop 44 (Historic Route 66), right 3/4 mile to KOA. I-44 (Eastbound) Exit 261, right at traffic light to Business Loop 44 (Historic Route 66), right 3/4 mile to KOA.
GPS - friendly address is:
18475 I-44 Business Loop
Pacific, MO 63069
-OR-
18475 Old US Highway 66
Eureka, MO 63025
N38.50093, W90.688946
Get Google Directions
Jul 27, 2021
Campground was good. Disappointing that the pool was closed 2 of the 3 days we were there. Bathrooms could have been more clean. Otherwise it was great!
Jul 27, 2021
Fun stay! Showers were a little scary (part of being a busy KOA), but more disappointing than that is tbere was no where to put your shower stuff i.e. a bench or chair, which means we had to put our shower stuff on scary shower/bathroom floor. Staff was friendly and helpful �.
Jul 27, 2021
Poor management. Mold in women's showers. Mold, filth and feces in the men's shower/restroom area. Pool too small for the number of campsites. Amenities were not as advertised. We love KOA campgrounds. This one however was a huge disappointment. Would not rent a bike for my 6 year old grandson because he had sandals on, not closed-toe shoes. We counted 10 people a few hours later...sandals! Not ok
Jul 27, 2021
My family and I were very happy with our stay. My only complaint would be an alarm of some kind going off repeatedly in the very early morning somewhere in the campground. I don't know how such a thing could be addressed though. Otherwise, everything was great! We stumbled across KOA because Jellystone was full and ended up preferring it. We will be switching to KOA going forward.
Jul 27, 2021
Easy in and out. The gals in the office were very organized and knew what they were doing. And friendly.
Jul 26, 2021
Squirmy worm train was my daughter's favorite. We were sad pool was closed during our stay however, we made do with the worm train instead.
Jul 26, 2021
The pool was down for 2 days. This is an amenity that I love about this KOA. I still love this place and I hope it won't Happen next time
Jul 26, 2021
Camping with 3 kids. Pool was closed most of stay except last two days,,, one of those it rained (main reason we chose this was the pool for the kids). WIFI was intermittent ( kids alternative to pool = devices). The kids were miserable, made for a bad experience. Not to mention the proximity to a busy road and train tracks. Not a quiet place. Considering canceling our next trip next month.
Jul 26, 2021
We were excited to stay at KOA for the first time after reading about all the amenities. Unfortunately we were very disappointed. Upon arrival, the pool was closed due to chemical imbalance. We anticipated attending the activity time, but when we went to the spot no on was there. Lastly the jump pad was closed our entire trip. Luckily the pool opened the next day but the water was cloudy and dirty
Jul 25, 2021
The staff are phenomenal. My kids loved the "wiggle train". Very clean facility.
Jul 25, 2021
We were only able to use the pool 2 of our six day stay. We booked this site because it had a pool and we had our grandkids with us. Is there any compensation in situations like this? The kids were very disappointed.
Jul 25, 2021
Nothing special about this campground. No pool in the middle of July?! Train comes through frequently but isn't too loud. The road makes more noise. Got lucky with our site but lots of scrapes from RVs bottoming out in a lot of other sites. We'll try Jellystone next if we ever stop in this area again.
Jul 25, 2021
Only stayed one night, easy in-easy out. Clean and well maintained. Would definitely stay again….
Jul 25, 2021
Pool shut down for our date of stay
Jul 25, 2021
Campground itself was average. Seemed to have a lot of young people working that weren't very helpful or informed. Pool not operational until last morning of our stay and jumping pillow down for another month. Wish we would have been informed before stay. Seemed like all activities were aimed for weekend guests. Ok for an overnight stay.
Jul 25, 2021
Grounds were great and conveniently located to other things. Staff was always great and helpful. My biggest issue which is why I wouldn't stay here again is that the WiFi was terrible. Before I arrived I had talked to the office and indicated that that was the most important thing for me so that I could work during my stay. WiFi was non existent at my site, and very weak if I went up by the offi
Jul 25, 2021
Very nice campground, sites were well spaced apart with plenty of shade. Quiet except for the occasional train. Very friendly and helpful staff. They did not have propane available to fill my tank during my visit. Showers and bathrooms were ok.
Jul 25, 2021
Nice pull through. Great service by staff. Very quiet and comfortable. We will stay here again!
Jul 25, 2021
Beautiful campground
Jul 25, 2021
We only stayed one night but we arrived late. Our paperwork was organized & waiting for us it was quiet and maintained well.
Jul 24, 2021
It was amazing! Very family friendly kampground! Friendly professional staff. Very clean bathroom/shower area. Water was good and hot. Great place to stay for an over night or extended stay.
Jul 24, 2021
Great place, needs lots of road repair and should not use weed killer around dog pen. Our dog eats grass and started foaming.
Jul 23, 2021
Everything was nice and clean. People were friendly and quiet. We only did an overnight and it was a bit loud from traffic/rollercoasters? One suggestion to move the bicycle rental away from the main entrance... little kids on those low to the ground go cart type bikes are really hard to see when driving big trucks with trailers and these kids were not smart enough to not zip directly infront.
Jul 23, 2021
We stay exclusively at KOA campgrounds and this place does not meet the minimum KOA standards. The pool was infested with water bugs, then closed for 2 of the three days we visited. The internet was completely down 2.5 days of our stay. The kids bouncy dome was out of service. In addition, the pull through sites are very close. The septic drain for the next site was 4 ft from our picnic table.
Jul 22, 2021
other than the.pool closed for the last 2 days we were there, the sites being very off level, the movie starting early one night and late another night (the same movie 2 nites in a row) it is a convenient location to St. Louis activities.
Jul 22, 2021
What a lovely place!!
Jul 22, 2021
This is the best place to stay your rate are very good stayed two nights wil not be back because my health isn't good
Jul 22, 2021
Nice campground. Restrooms could use an update and cleaning. Lots of room in the pool.
Jul 21, 2021
Overall, facility is very nice and family friendly. The sites are mostly level, with a bit of a drop off, but manageable. Unfortunately, they are struggling with employee resources like the entire area and staffing is light. As a result, the sites are not always cleaned between visitors. But that's more on the campers than the staff. Your momma don't work here! Clean up after yourselves!
Jul 21, 2021
We stayed 2 nights and we all enjoyed the camp ground very much. Our site was shaded and level and our kids loved the pool. The proximity to six flags was perfect which we were there to visit. We would definitely stay here again!!
Jul 20, 2021
It was a nice campground met our expectations
Jul 20, 2021
Great place to stay.
Jul 20, 2021
Great location. Staff was friendly.
Jul 19, 2021
Clean park with a very friendly staff.
Jul 19, 2021
Great Stay but very frustrated that the WiFi didnt work the entire time we were there. Most of the time it wouldnt even show up as an available option. If the KOA could get the WiFi to work better/stronger that would really help out for our next visit
Jul 19, 2021
Our tent spot was great. Our fire ring and grill sucked. That would be the only complaint. Bathrooms were amazing for a campground. Will return.
Jul 19, 2021
Your bathrooms were really Disgusting. They really need cleaned. We watched a few spots on the floor and in shower to see if it was cleaned. We was there for 3 days and the spots never got touched.
Jul 19, 2021
Awesome family week thanks koa
Jul 19, 2021
Very clean and quiet. Plenty to do to keep the kids busy. Very pleased
Jul 18, 2021
Campground was clean and the people were friendly. We had noisy neighbors but that wasn't the campfru's fault. We took our pups and it was nice let them at the dog park they had. Overall a really good experience fo a first time tent camper.
Jul 18, 2021
We really enjoyed our stay at st. Louis west KOA . It really felt like a state park with all the big trees and shade. The pool was always clean and big enough for many people. The grounds were well kept and most sites were level. This was a good location for us to visit the city and the interstate was easy access from the campground. I would definitely recommend this KOA and would visit again .
Jul 27, 2021
Staff was very friendly and helpful! We ended a 9 day road trip at this KOA and this is the best KOA we stayed at. It's tucked away enough to feel secure and safe and the only noise we heard was a train that goes by quite frequently. Most of the tent areas were around trees so we had plenty of shade. The pool was great to swim in and there were plenty of activities to do around the campground.
- Ryan on Google
Jul 23, 2021
What a fun KOA to stay at! Very family friendly with many options for fun. Very clean and run by a friendly and professional staff.
- Brenda Hull on Google
Jul 21, 2021
Everything we've come to expect from KOA. A great place to stay.
- sarah brown on Google