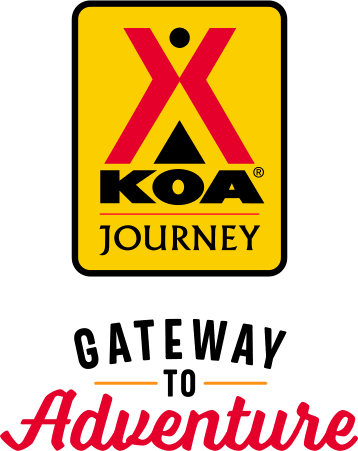 KOA Journey Campgrounds
KOA Journey campgrounds are the perfect oases after a day on the road. Whether it's along the way or a quick getaway, they've got you covered. Located near the highways and byways of North America with long Pull-thru RV Sites, they deliver convenience to the traveling camper. Pull in, ease back and take a load off.
KOA Journeys Feature:
Pull-through RV Sites with 50-amp service
Premium Tent Sites
Well lit after hours check-in service
Directions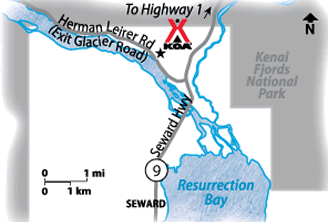 From Seward Highway (highway 9): Turn onto Herman Leirer Rd (Exit Glacier Rd). Can only turn one direction. 1 mile down the road on the right.
Get Google Directions
Sep 30, 2020
Perfect accommodations for our two-night stay in Seward - thank you for your hospitality!
Sep 29, 2020
Owners are VERY friendly and extremely helpful.
Sep 29, 2020
Great new campground with variety of hookup/levels available, unusual in Alaska. Nice bath-house, laundry facility, small playground for kids, fenced dog-walk. It's new, so at present looks mostly like a parking lot with spots marked off, but trees have been planted, so in a few years there will be even more character. The scenery is of mountains and especially nice in the row near the road.
Sep 29, 2020
Clean bathrooms!!
Sep 27, 2020
Beautiful and convenient location for so many activities in Seward. Camp host was friendly, professional and helpful. The facilities were well maintained, with the cleanest laundry and bathrooms I've ever seen. Lastly the Eagle's nest in the tree on the grounds gave us an excellent opportunity to see a Golden Eagle family.
Sep 27, 2020
Lovely property, great coffee and a cute children's playground. We enjoyed our time and all the amenities at our disposal. We will be back next year!
Sep 27, 2020
Beautiful place with an amazing view. Perfect location, close to town but still away from hard winds. Great wash facilities, playgrounds for lodge worn an espresso bar. Definitely will visit again. Keep up the good work.
Sep 23, 2020
Bathrooms, outdoor games and game room were awesome! You cannot best the amenities or the VIEWS! Wow! HOWEVER...the campground is right next to a dog kennel! The dogs howled and barked ALL. NIGHT. LONG. because they are dogs! This is what they do! Building a campground next to an active kennel was a ridiculous idea. We will not be back nor will we recommend
Sep 23, 2020
Very friendly staff! We are new to the RV life and the owner was so helpful.
Sep 17, 2020
So new and clean. Loved the showers and common areas..
Sep 16, 2020
Friendly and helpful. Awesome view! Kept very clean. We would definitely stay here again. Little too pricey!
Sep 16, 2020
This campground is very well maintained, and has scenic views. The staff was extremely helpful and pleasant to talk with. Unfortunately, I am unable to recommend, nor rate higher due to the kennel next door. My wife and I could not get any decent sleep because the dogs would bark for hours at all hours of the day and night. If the noise could be muffled I would rate this KOA 5 stars.
Sep 14, 2020
very nice camp ground
Sep 10, 2020
The thing we disliked about our stay had nothing to do with the park by the annoying dogs barking in the kennel next door. Everything else about the stay was good.
Sep 09, 2020
Great amenities, great view, great times!
Sep 09, 2020
We had a great time. The facilities are very clean and convenient. The views from the campground are stunning and it's a very short drive to Exit Glacier in Kenai Fjords Nat'l Park.
Sep 09, 2020
great place wide spaces.
Sep 09, 2020
Very clean and nice.
Sep 09, 2020
Very comfortable
Sep 08, 2020
Really nice campground! Great views of the mountains, clean bathrooms and showers, great coffee in the gift shop/office, and very friendly staff. Will definitely be back!
Sep 08, 2020
Spacious sites. Clean. Great bathhouse. Espresso bar! Gorgeous view. Our new favorite Seward campground!!!
Sep 06, 2020
Great facilities, everything well maintained and spotless clean. Avtive Eagles nest where the adults were teaching the Eglets to fly was exciting and a bonus!! Will be back���������ϋ��ϋ�
Sep 06, 2020
Nice facilities.
Sep 03, 2020
The campground was great, clean, well maintained. The drawback was the large number of dogs right next to the campground that woke us up a few times during the night and early each morning when it was presumably feeding time.
Sep 01, 2020
Great staff and facilities, pretty views, but the campground is just a huge gravel parking area - not really our type of camping.
Aug 31, 2020
The Seward KOA was the greatest find when we were looking for a place to stay. The comfort and warmth of the facility and the people (Staff and campers) was the best. Bill and Breann were the best hosts. Knowledgeable about the area around them, great suggestions for places to visit and see the sights, both scenery and animals.
Aug 30, 2020
We stayed at Seward KOA for 19 nights and we really enjoyed our stay. Very clean park and facilities. The owners are great!
Aug 30, 2020
The hosts were great! They knew the local sites to see and things to do. The campground itself is in impeccable shape! The showers|restrooms and laundry are very clean. The views are incredible. We will be back!!!!!
Aug 30, 2020
I think you have a beautiful place. It's all new and clean and you did a great job laying out the grounds. The one tree saved for the eagles was just the best thing. I will be back in 2022 so save me a spot. We thank you for being so knowledgeable on places to fish, that helped us out. Stay safe.
Aug 29, 2020
As an Alaska resident this site was one of the better campgrounds available during the current situation. Check in was very easy even though I had prior reservations. Staff was cheerful and helpful . Amenities were clean and very thought out. I am a life long Alaskan and have come to Seward for many years.Welcome as another option to enjoy this beautiful part of our state. Chris Arndt
Aug 28, 2020
We canceled our reservation 4 months in advance---the Seward KOA proceeded to take our entire deposit of 189.52. We will be seeking retribution. How disappointing for a national camping organization to treat customers like this. Appalling!!!
Aug 26, 2020
Great campground. New and clean facilities. Great staff and very helpful. Downside - there is a gun range a mile away and a large, vocal dog kennel adjacent to campground. Very noisy location.
Aug 19, 2020
Very nice park in a great location. Will definitely go back
Aug 18, 2020
Everything was very clean and well maintained. The campground was very quiet at night. We will definitely stay there again!
Aug 18, 2020
Clean facilities, quiet area, close enough You can bicycle to town.
Aug 18, 2020
We are from Colorado, so loved the Alaska experience! The bald eagle nest up in the tree by the office, the musher's dog kennel next door, the salmon fishermen in camp telling stories of their day's successes: all made for a fascinating time in Seward. The bath house was immaculate, the staff was pleasant and helpful. Thank you for a great stay!
Aug 18, 2020
Very clean. Great Mountain View's. They owners and staff were great !!. Would stay there again.
Aug 18, 2020
Great place to stay. Very helpful at desk. Only concern was on how loud the dogs got barking.
Sep 14, 2020
We just stoped here one day to take showers and make some food. Best $10 we spent on our trip. Facilities are beautiful! Great location very close to exit glacier. Would have skipped the campgrounds in town and stayed here had we found it sooner.
- Jenn Nagel on Google
Sep 10, 2020
We had a great time. Campground is well maintained and had all the amenities. Showers/bathroom areas were very clean. Gorgeous Mountain View's. Haha all game area was a big hit with my 10-year-old son!
- Tiffany Lund on Google
Sep 06, 2020
Very nice kept Campground
- Ethan Brenegan on Google