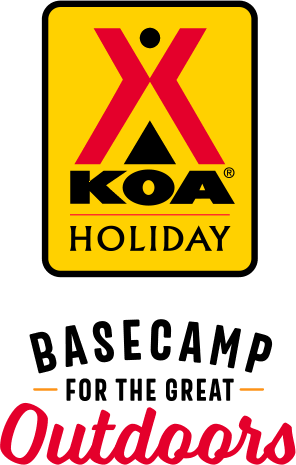 KOA Holiday Campgrounds
Whether you're exploring the local area or hanging out at the campground, KOA Holidays are an ideal place to relax and play. There's plenty to do, with amenities and services to make your stay memorable. Plus, you'll enjoy the outdoor experience with upgraded RV Sites with KOA Patio® and Deluxe Cabins with full baths for camping in comfort. Bring your family, bring your friends, or bring the whole group – there's plenty of ways to stay and explore.
KOA Holidays Feature:
RV Sites with a KOA Patio®
Deluxe Cabins with full baths
Premium Tent Sites
Group meeting facilities
Directions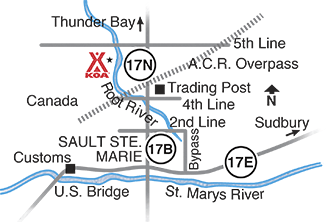 5 miles north of downtown Sault Ste. Marie. West on Fifth Line off Hwy 17N. Note: If following GPS, please turn west on Fifth Line, NOT east as GPS may indicate. When leaving Customs at bridge from USA, turn right just out of Customs booth through the gate on the right onto Queen St and go under the bridge you just came over. Follow signs for 17N truck route to Fifth Line per above. If arriving from the east (Sudbury) follow signs for 17N and west to Thunder Bay. This will direct you on a bypass around downtown, following Black Rd, Second Line and 17N. Continue to Fifth Line per above. Note: Some GPS may not accept "Fifth Line" try "Five Line".
GPS Coordinates N46.57938 W84.328977
Get Google Directions
Oct 18, 2020
Because of Covid and late in the season there were lots of rules, doors locked, masks required, etc. Seemed we paid more money for a campsite with less services than we saw in other campsite travelling across Canada.
CAMPGROUND RESPONSE / COMMENTS:
Covid protocols have been in place all season, requiring masks and social distancing guidelines. Guests with their own washroom facilitie such as these guests, did not have access to our washroom facilities in order to minimize contact with other guests in tents and cabins requiring the washrooms. This was stipulated on the website when guest made their reservation. All services were available.
Oct 17, 2020
Staff not the friendliness
Oct 15, 2020
It was fine a little expensive.
CAMPGROUND RESPONSE / COMMENTS:
Guest requested a full hook up 50 amp site ($65.50) and does not have a KOA Value Kard, which would save 10%. Guest was given a complimentary upgrade to a patio site.
Oct 13, 2020
Pulled in late. They had my info at the front door. Easy to pull in and hook up. No problems!
Oct 13, 2020
Quiet and restful stay. Campground showed signs up closing for the winter however the stay was most enjoyable. Thank you
Oct 13, 2020
Had a wonderful stay. Park very clean and easy to get to. It's unfortunate that with covid activities were unavailable.
CAMPGROUND RESPONSE / COMMENTS:
All activities were available. Not sure what this is referring to.
Oct 13, 2020
Very minor downgrade due to the pot-holed condition of the road into and throughout the campground, though it is the end of the season and hopefully maintenance is arranged during the winter. Otherwise, a very nice campground, especially for pet owners!
CAMPGROUND RESPONSE / COMMENTS:
The roads are maintained regularly; however, we have had incredible amounts of torrential rain over the last few weeks, making the road maintenance impossible.
Oct 12, 2020
Very nice and well maintained park.Large dog park area,lots of large sites, friendly staff. When we arrive we were escorted to our site which was great. Lots of amenities,you name it they had it.
Oct 12, 2020
The best campground by far, great staff very friendly and helpful and most importantly very welcoming. Before booking i called and inquired about their bathrooms the rep said "our bathrooms have better ratings than holiday Inn bathrooms" and INDEED they were as said.
Oct 11, 2020
They were very helpful in booking in and getting us to our location. A very nice woodland setting. Our dog loved the fenced dog parks.
Oct 10, 2020
Nice clean dog and people friendly park would highly recommend.
Oct 08, 2020
Beautiful. Wonderful staff ,immaculate campground.
Oct 07, 2020
Great Place for a stop on a road trip. We would use this KOA again.
Oct 06, 2020
Very courteous staff. Clean grounds. Loved the doggy station !Very convenient!
Oct 06, 2020
The hosts are awesome, great people. The site is very clean, well cared for. Wifi is great. I will be back.
Oct 06, 2020
Many many potholes on the road making it very hard to drive either a trailer. Other than that, nice place. First time we have been to a KOA.
CAMPGROUND RESPONSE / COMMENTS:
The very heavy rain recently has affected our roads, right after we graded them (again)!
Oct 05, 2020
Friendly , clean , immaculate grounds
Oct 05, 2020
Great place, wifi and welcoming
Oct 05, 2020
Loved the campground. Very clean and tidy, would love to return and spend a little more time. Loved the mature trees and a good amount of separation between the sites. Very pleased with the stay - and dog friendly too.
Oct 04, 2020
Doing the best they could, after a month of rain!
Oct 04, 2020
Park was easy to drive around and site gorgeous. Leaves were dynamic.
Oct 03, 2020
Staff was very helpful and considerate. Clean grounds, loved the acceptance of dogs and the off leash area for them. bigger than most! Thank You
Oct 03, 2020
We were camping our way across Canada this fall and stayed at KOA Sault Ste Marie both directions. Very well kept campground and the staff is very nice. Really like how they assist you to your site from the registration office. We arrived late both times and were not able to use the facilities to there fullest. Would highly recommend and the easy access of #17 is great. Will be back..!
Oct 03, 2020
Very nice campground. Quick and efficient check In
Oct 02, 2020
The best KOA in Canada
Oct 01, 2020
Friendly staff. Very helpful. We had a mix up with our date due to COVID but staff accommodated us. Grounds are clean. Extra charges for niceties such as trailer wash, wood, etc but which weren't included in nightly fee. You would pay for those on the street anyway. Strict visit policy due to COVID-19. Very clean place.
Oct 01, 2020
Excellent customer service. Sites were the cleanest we have seen. K9 area was spotless and made our furry family members very happy.
Oct 01, 2020
Well organized check-in, excellent COVID protocols and beautiful park.
Sep 30, 2020
The staff was very efficient during check in. The campground was very well kept, and good activities for the children. The best was when our van broke down an hour away and my towing service would not help arrange a way back. I spoke with the owner who phoned a taxi service who came and picked us up. Later that night he phoned to make sure we were back safe. I am for ever great full for his help
Sep 30, 2020
trees were beautiful this time of year
Sep 30, 2020
Good site, courteous staff, excellent facility
Sep 30, 2020
No problem, all went well
Sep 29, 2020
We found your KOA camp quite accessible to the Sault Ste Marie down Town section and Hyw. 17 East or West.. Very important for us when we travel. Enjoyed Stress free Covid Camping in your clean, accommodating and friendly KOA ,Thank You
Sep 28, 2020
This is a very clean and well-managed facility. Not that I have stayed at a great many KOA campgrounds (3 to be exact), but this one is far and away the best. I was travelling alone on this trip but I can see that there are many facilities for families with children. Also, the location is very close to Sault Ste. Marie, making it an excellent place to stay for visitors to that small city.
Sep 28, 2020
First time visit will be back for sure welcomed like we were part of family highly recommended something yous should be proud of thank you
Sep 28, 2020
Very relaxing and beautiful
Sep 28, 2020
Beautiful park; and all the amenities, very well run.
Sep 27, 2020
Friendly helpful staff. Escorted us to our site. Nice sites with beautiful trees. Will be back
Oct 14, 2020
One of the nicest RV campgrounds that I have stayed at. Clean and very well run by great people.
- Wayne Hosaki on Google
Oct 09, 2020
Organized,escorted to your site so no guessing.
- Lori Wagner on Google
Oct 06, 2020
A real find, lovely RV park. 5 stars!
- Dan R on Google