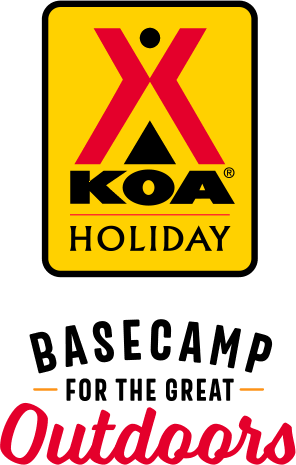 KOA Holiday Campgrounds
Whether you're exploring the local area or hanging out at the campground, KOA Holidays are an ideal place to relax and play. There's plenty to do, with amenities and services to make your stay memorable. Plus, you'll enjoy the outdoor experience with upgraded RV Sites with KOA Patio® and Deluxe Cabins with full baths for camping in comfort. Bring your family, bring your friends, or bring the whole group – there's plenty of ways to stay and explore.
KOA Holidays Feature:
RV Sites with a KOA Patio®
Deluxe Cabins with full baths
Premium Tent Sites
Group meeting facilities
Directions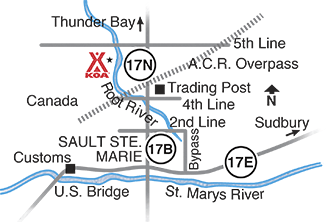 5 miles north of downtown Sault Ste. Marie. West on Fifth Line off Hwy 17N. Note: If following GPS, please turn west on Fifth Line, NOT east as GPS may indicate. When leaving Customs at bridge from USA, turn right just out of Customs booth through the gate on the right onto Queen St and go under the bridge you just came over. Follow signs for 17N truck route to Fifth Line per above. If arriving from the east (Sudbury) follow signs for 17N and west to Thunder Bay. This will direct you on a bypass around downtown, following Black Rd, Second Line and 17N. Continue to Fifth Line per above. Note: Some GPS may not accept "Fifth Line" try "Five Line".
GPS Coordinates N46.57938 W84.328977
Get Google Directions
Jul 22, 2021
Excellent campground. Loved the patio site we had (although the 50A box couldn't keep up to the trailer demand). The bike rentals were a big hit. Pool was nice to relax in. Great walking trail for the pooch.
Jul 22, 2021
Friendly staff. Manager was too busy with a large number of weekend campers to assist us with the weigh service we requested ahead of time; however, it's a clean and orderly campground with no issues. We would stay again next time we're in the area.
Jul 22, 2021
Stayed and participated in the CPE agility trial July 2021. Check in was fast and friendly staff. Hosts Bill and Joan are very professional and take pride in the campground. Grounds are well cared for and washrooms and showers are immaculate. Thanks again for a great weekend! Paris On
Jul 22, 2021
As always we enjoyed our stay this is a beautiful sight the maintenance is Magnificent the staff are so helpful and kind the washrooms are updated constantly beautifully clean lots to do great for kids close to everything keep up the good work my dog loves it too.
Jul 22, 2021
Amazing! The best KOA wr have stayed at in Canada. Friendly staff, well kept, fun amenities. Will be back one day!
Jul 22, 2021
Perfect as usual
Jul 22, 2021
Beautiful park, spacious lots and numerous amenities. The nicest RV park we have been to yet.
Jul 22, 2021
This was a really clean, lovely place to stay. Level sites, good size, nice setting.
Jul 22, 2021
Clean but a bit tight
Jul 22, 2021
I would have rated this 5 star however I came away feeling cheated. I came to the Soo to visit with my brother and his wife. After my credit card info was taken I was then advised of your no-visitor policy. On arrival I notified the clerk that my brother and his wife would be staying with us for a total of 4 adults. I was charged $23.00 extra because I did not state this when booking. Sad.
CAMPGROUND RESPONSE / COMMENTS:
The site rate includes 2 adults/2 children. Each additional adult is $10 plus tax. As you had 4 adults, there was an additional charge of $20 plus tax, for a total of $22.60. You were not cheated, and paid the same rate as everyone else who has 4 adults on site.
Jul 21, 2021
Had a deluxe patio site. Awesome service. Bill took time to chat. Best Koa we've been in so far.
Jul 21, 2021
Great campsite, very nice campground. Our dog loved the dog runs. Wished we could have stayed longer and definitely hoping to come back.
Jul 21, 2021
Great park. Very friendly and accommodating staff. I would recommend an extra dump station(we only saw one at the main office area) but that would never deter us from staying here again
Jul 21, 2021
Pleasant as allways. A really excellent experience every time
Jul 21, 2021
Beautiful park excellent staff can say enough nice things about it. Will definitely be back many times
Jul 21, 2021
I hurt myself at the pool and Bill and his staff were amazingly helpful.
Jul 21, 2021
nice stay, dog heaven.....lots of dogs...
Jul 21, 2021
Just wonderful. Clean and quiet
Jul 21, 2021
Came for 1 night and decided we would like another night, they were fully booked but went the extra mile and found a spot and squeezed us in
Jul 21, 2021
Our campsite was number 72, it was just lovely, if it had sewer connection you would see us stay longer.
CAMPGROUND RESPONSE / COMMENTS:
Our full hook up sites are always the first to book. Advance reservations are recommended in order to get the desired site amenities.
Jul 21, 2021
It's not a family campground, it's a dogs campground. If you like concert, barking Dogs Do IT. Last time for us.
CAMPGROUND RESPONSE / COMMENTS:
Approximately 80% of campers in North America travel with a family pet!
Jul 20, 2021
Another excellent Bark Avenue CPE agility trial. A top notch facility, as are the campgrounds, the staff and the hosts.
Jul 20, 2021
Amazing hosts and staff. We had a fabulous time. It was great seeing so many enjoying be outside at this beautiful park.
Jul 20, 2021
It was fantastic. Joan and Bill are great hosts. The campground is beautiful. Friendly staff. The patio site that we had was spectacular. We were there also for the agility trial and everything was well organized. Definitely will be returning.
Jul 20, 2021
It was perfect! The staff at this KOA is excellent, all very polite and willingly to help in anyway. The campgrounds are clean and each campsite is different. Lots of shade for the RV to park under or near. Joan and Bill are excellent hosts and always there to answer any questions and help when needed. I would definitely stay there again
Jul 20, 2021
We had reserved a pull-through campsite for 5 nights.( have a small motorhome and pulling a Honda CRV). The campsite #13 ,was much to short to hold both the car and the RV. We asked the staff is there was another site , a bit longer and were advised no other site was available. We were told that if we didn't like it we could leave and get our money back. Decided to stay and make the best of it
CAMPGROUND RESPONSE / COMMENTS:
Guest's site was approximately 50' in length, which is adequate for a 24' motorhome and a tow vehicle. Guest was rude and dismissive of staff trying to assist with parking. Was offered the KOA one hour satisfaction guarantee, but insisted on staying. No other sites available; park full.
Jul 20, 2021
Awesome.. so friendly... so accommodative... activities for everyone...!! Have provided 5/5 on Google review too.
Jul 20, 2021
Beautiful campground, staff very friendly and accommodating, heated pool had it to ourselves the majority of our stay.
Jul 20, 2021
We booked a pull thru that you couldn't pull out of. We had to back out. Maybe they shouldn't rent it as a pull thru.
Jul 20, 2021
super clean and well maintained. Thank you!
Jul 20, 2021
I would give them 10 stars if I could. The most accommodating people we have ever dealt with on our travels. A must destination when in Sault Ste. Marie. Beautiful well maintained park. You get what you pay for and more.
Jul 20, 2021
Koa Sault has always been a beautiful stay with nothing but friendly, helpful Staff and great surroundings. Always love our stays at KOA Sault.
Jul 20, 2021
For a pull through, question why you have to disconnect your trailer. First stay couple weeks prior was great. Site 52 was horrible.
CAMPGROUND RESPONSE / COMMENTS:
Disconnection was not necessary had this guest not parked in the middle of the site.
Jul 19, 2021
It was a very relaxing stay and conveniently located just off the highway. The gift shop was full of unique gifts! We will be back! Thank you
Jul 19, 2021
We will definitely be back
Jul 19, 2021
Great place ,clean pool
Jul 19, 2021
Generally a good stay, though we hadn't anticipated the unusually large number of dogs, which was a slightly mixed blessing. We had 2 of our own, and mostly enjoyed the encounters with other dogs and their people, though there were a few moments when the barking became slightly annoying. We would certainly use the camp ground again if we should be looking for a camp site in the area.
Jul 19, 2021
Beautiful campground - excellent staff and facilities! Very quiet at night!
Jul 19, 2021
Excellent- extremely clean and friendly. The hosts Bill & Joan could not be more approachable or accommodating. Sites and cabins are well kept everything is in good repair and the washrooms/showers were excellent
Jul 19, 2021
It was short but the staff were very pleasant and helpful. We had 2 nights booked but had to change sites for the second night. Our original second site was not a drive through but they worked hard to try to get us into a drive through site. We decided to leave that day anyway to try to get our travelling time to Ottawa spread over 2 days.
Jul 19, 2021
Dogs very funny to see them Pool perfect Kitchen wooow !!! Employees very very nice
Jul 19, 2021
We gave it a 3 & not a 5 because when we booked on line it stated 15 amp permitted with our van. When we checked in, we were informed that it would not work with our adaptor. So we paid to have power & could not use it. No discount applied. Please revise your website as this is how 98.5 per cent of people now have to reserve these spots. Plus not all are professional campers. Very clean place!
CAMPGROUND RESPONSE / COMMENTS:
Our website states no 30 amp units on this site, but guest booked it anyway.Upon arrival, they insisted on having the site, despite being offered a site without power at a reduced rate (only site available).When making a reservation guests are welcome to call us and we are happy to answer questions.
Jul 18, 2021
Thoroughly enjoyed it
Jul 18, 2021
Excellent Campground
Jul 18, 2021
Very pleased with the Sault KOA. By far so much better than the KOA we've came to right after the Sault KOA. 5+ STARS!
Jul 19, 2021
We enjoyed our one night stay, great to stay at if traveling on through. Very clean, quiet and pet friendly.
- Cindy Fleming on Google
Jul 17, 2021
Wonderful clean campsite. Beautiful pool are. Great site if you love dogs.
- Francine Regaudie-McIsaac on Google
Jul 17, 2021
Perfect campground among all the campgrounds that I were from eat to west of Canada.
- Ameneh Feizollahi on Google