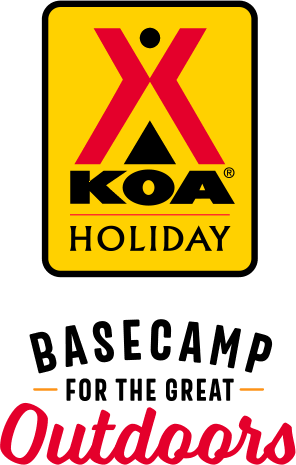 KOA Holiday Campgrounds
Whether you're exploring the local area or hanging out at the campground, KOA Holidays are an ideal place to relax and play. There's plenty to do, with amenities and services to make your stay memorable. Plus, you'll enjoy the outdoor experience with upgraded RV Sites with KOA Patio® and Deluxe Cabins with full baths for camping in comfort. Bring your family, bring your friends, or bring the whole group – there's plenty of ways to stay and explore.
KOA Holidays Feature:
RV Sites with a KOA Patio®
Deluxe Cabins with full baths
Premium Tent Sites
Group meeting facilities
Directions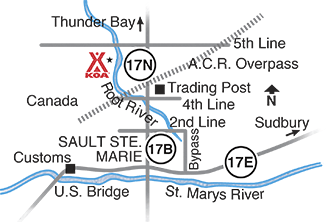 5 miles north of downtown Sault Ste. Marie. West on Fifth Line off Hwy 17N. Note: If following GPS, please turn west on Fifth Line, NOT east as GPS may indicate. When leaving Customs at bridge from USA, turn right just out of Customs booth through the gate on the right onto Queen St and go under the bridge you just came over. Follow signs for 17N truck route to Fifth Line per above. If arriving from the east (Sudbury) follow signs for 17N and west to Thunder Bay. This will direct you on a bypass around downtown, following Black Rd, Second Line and 17N. Continue to Fifth Line per above. Note: Some GPS may not accept "Fifth Line" try "Five Line".
GPS Coordinates N46.57938 W84.328977
Get Google Directions
Sep 17, 2021
Great park, run by great people
Sep 17, 2021
Unfortunately we stayed after labour day and the pool was closed… overall, great stay!!
Sep 17, 2021
We had a very nice stay and they were very accommodating
Sep 16, 2021
The only thing to say negative was my firepit was 4 feet from neighbours slide on his new 180,000 rv .Because of this i did not have a fire to close to his rv and his slide was his dining table with a huge window which they could see me by fire
Sep 16, 2021
First time for us staying in a KOA campground. We found the attendant to be super helpful, directing us to our site and dropping off an order of wood at the same time. Nice touch!
Sep 15, 2021
The campground is absolutely gorgeous. Lots of trees. Perfect for dogs. The people are very friendly. We will be back.
Sep 15, 2021
Great staff, efficient and friendly. Super clean and well laid out. Loved the dog friendliness- would have love to get onto the agility course but we arrived too late but enjoyed the walks around the woods. Highly recommend it.
Sep 14, 2021
One night stop over but the park is as good as it usually is!
Sep 14, 2021
Excellent facility and staff
Sep 14, 2021
Clean, neat and tidy from the campsite to the showers and washrooms. Easy access to city and highways.
Sep 13, 2021
We enjoyed having a fire on the nights of our stay which was extremely peaceful, calm and thoroughly relaxing. Be there again in two weeks
Sep 13, 2021
Best campground ever. The grounds and campsites are immaculate, and the service from the staff is great. Hope to have the pleasure of staying there again soon.
Sep 13, 2021
First cabin stay was perfect. Everything was as stated on the website and the kitchenette was well stocked. The cabin was clean and very nicely kept. Will stay in a cabin again, particularly for fall camping. Close to the mountain bike trails.
Sep 13, 2021
Wish we would have been told the pool was closed. Staff were friendly and places is very clean.
CAMPGROUND RESPONSE / COMMENTS:
We would have been happy to share that information had we been asked; dates of the pool are also shown on our website under "amenities". Temperature has been below 16 Celsius.
Sep 13, 2021
This is a lovely campground. Check in took mere minutes as everything was prepared and waiting for our arrival. We were guided to our site, which was clean and level. Our dog enjoyed the dog park. We would certainly stay again.
Sep 13, 2021
Hi pool was not open and told it would be when booking store not open in morning. We left 1 day early. Had to Pay $25 to reserve spot as was told no other sites available for 5 days in row where we were at site 9 but there was lots available every day. Have been here 2 times before but not sure about returning after this time
CAMPGROUND RESPONSE / COMMENTS:
The $25 fee is only paid when you want to hold a specific site number; otherwise it's not necessary. Store opens at 9 am. Pool closes after Labour Day. Weather has been too cold to swim.
Sep 11, 2021
Very clean, well laid out. Sites were very nice, staff friendly and helpful!
Sep 11, 2021
It was a pristine park in cleanliness and landscaping. Our stay was very peaceful and relaxing.
Sep 11, 2021
Nice spot, friendly and helpful management.
Sep 11, 2021
Clean, great service.
Sep 11, 2021
We arrived and we're greeted promptly and asked if we needed firewood or anything else. One of the staff showed us to our lovely tent/cargo trailer site and guided us as we backed in. The washrooms were spotless and well maintained. The grounds are pretty with lots of amenities. We will stay there again.
Sep 11, 2021
I like how clean and tidy your park is . Very easy for hooks. And ok course how friendly every one is . Thanks for the care you take for the camper who wish to stay with you . I often recommend to people travelling to eastern canda to stay at the Kia in the sault. Thanks look forward to may return home stay with you. James
Sep 10, 2021
Always an organized check-in and assistance in parking. Clean washrooms. Access to garbage was good.
Sep 10, 2021
Loved this KOA. Clean and well kept. Great dog parks that were clean as well. Great!!!! Customer service. Big rig friendly. Would stay again.
Sep 09, 2021
Great place, would go there again. Stay away from Root River Golf club if you want a good meal!
Sep 09, 2021
Great! Spacious back in campsites, clean, well designed.
Sep 09, 2021
Very clean park, friendly and helpful staff. Would definitely stay there again!
Sep 09, 2021
Probably the cleanest, nicest KOA we have stayed at
Sep 09, 2021
Lovely quiet area. Very well kept.
Sep 09, 2021
This was supposed to be a quick overnight sleep for me but I found myself wanting to go back to my campsite sooner just so I could relax and enjoy it. The tent sites are very spacious and offer a firepit and picnic table. The campground in general is also very beautiful and the amenities are all nearby and very clean and aesthetically pleasing. I will definitely be staying here again!
Sep 09, 2021
Great park but the driveway entrance was horrible. Full of pot holes. Really hard on my trailer!
CAMPGROUND RESPONSE / COMMENTS:
The very heavy rain has made a mess of the driveway. We were able to contract a grader, and the potholes have been repaired. It's difficult to keep up with Mother Nature!
Sep 08, 2021
It's ALWAYS a genuine treat to stay at this particular campground. We usually stay going and returning from a northern Ontario outing. Thanks so much for maintaining the grounds and services at such a high standard. .
Sep 08, 2021
We had a 1 night stay in a 2 bedroom log cabin - it was perfect! The staff was super helpful. We forgot a blanket and they provided us with one at a discounted rate as we did not need all of the linens. The campground was nice and quiet - plenty of activities to do with our little guy, also!
Sep 08, 2021
All good, excellent, very well maintained.
Sep 08, 2021
Tres bel acceuil, courtois, site tres propre, douches tres propres. Le proprio reconnait les habitués qui reviennent deux fois par année . Merci, à l'an prochain ! Nelson B
Sep 08, 2021
It was awesome! Much needed R&R! Will be the crown jewel of the trip for the kids!
Sep 07, 2021
We had a great stay, despite the rain. We were with a group of 8 families and Bill & Joan proactively offered us the use of an additional site/area for our group to use as a common area for fires, kids to play, etc. It was greatly appreciated.
Sep 07, 2021
AWESOME!!! Can't wait to go back next year!!!!!
Sep 07, 2021
Great place to stay and relax
Sep 07, 2021
Driveway into the campground was not a good first impression with many unavoidable large potholes. Other than that, campground is great.
CAMPGROUND RESPONSE / COMMENTS:
The very heavy rain that we've had over the last few weeks has played havoc with the driveway. It will be graded again once the equipment provider is available.
Sep 12, 2021
Great laundry room and washroom... Shower was old but clean.. Area was clean and everything was in place... They have a very nice souvenir shop and small convenience store... They could have some trash bin around as it was only one big bin next to office...anyway was not a big..deal just as a suggestion...
- Elham Shahbandy on Google
Sep 07, 2021
Wonderful Place lots of friendly staff, very clean But, a bit pricey, as most KOAs are. You get what you pay for
- dennis bullen on Google
Sep 04, 2021
Outstanding! Wonderful stay, amazing experience and grateful to make memories at the Sault KOA!
- Vikki MacDonald on Google