Local Area Attractions Near Sault Ste. Marie KOA Holiday
We are conveniently located just 10 minutes from downtown Sault Ste. Marie and the International Bridge; closest campground to the Agawa Tour Train station. Close to all area attractions including fishing, hiking and biking trails, museums, golfing, etc. A great place to use as a base camp for exploring the local area, including Michigan's Mackinac Island which is less than an hour away! Sault Ste. Marie...your gateway to Ontario's north.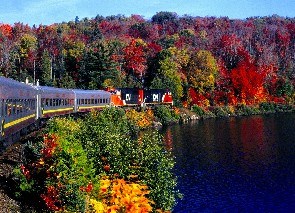 Agawa Canyon Tour Train
Covid 19 Notice: A message from the Algoma Central Railway due to the COVID-19 Virus,
and in accordance with guidance from the Government of Canada.We have made the decision to delay the start of the Agawa Canyon Train Tour Season until, September 1, 2020.
We will re-evaluate the situation after the province of Ontario lifts the mandatory shutdown order.This is a difficult, but necessary decision to take.
We must act responsibly and to do our part to help curb the spread of the COVID-19 pandemic.
Accommodation Packages and tickets will be cancelled with a full refund within 30 business days.For questions, email visit@saultourism.com or agawacanyontours@cn.ca
Welcome aboard one of the most popular train tours in North America. This one-day wilderness excursion will transport you 114 miles north of Sault Ste. Marie, Ontario, over towering trestles, alongside pristine northern lakes and rivers and through the awesome granite rock formations and vast mixed forests of the Canadian Shield.Through the large windows of our newly refurbished coaches the beauty of the region will unfold and you will experience the same rugged landscapes that inspired the Group of Seven to create some of Canada's most notable landscape art.As the train winds its way through this immense land a GPS triggered commentary, available in five languages, will tell you about upcoming points of interest and share some of the rich history of the region with stories of the Ojibway, fur traders, explorers and entrepreneurs that opened up this vast wilderness and called it home. As well, locomotive mounted digital cameras will provide an engineers 'eye view' on the flat screen monitors installed throughout the coaches.Just when you thought you'd experienced it all, the train will begin its descent into the canyon at Mile 102 and as the rail line hugs the top of the canyon wall you will travel down 500 feet over the next 10 miles to the floor of the Agawa Canyon, created over 1.2 billion years ago by faulting and widened and reshaped by the last ice-age that retreated 10,000 years ago.As the train pulls to a stop at Mile 114, you will have an hour and a half to experience the pristine beauty of Canyon Park up close. The whole family can enjoy scenic walks on gravelled trails leading to several waterfalls or experience an invigorating climb up over 300 stairs to the breathtaking Lookout, perched 250 feet above the canyon floor. For those who are looking for something a little more relaxing, you can visit the Souvenir Car for that special memento of your trip, enjoy a peaceful lunch in the many picnic areas located throughout the park or just pull up a bench and watch the Agawa River slowly flow peacefully by.Though well maintained, this is a wilderness park setting and we recommend seasonal recreational clothing and footwear. There is also plenty to photograph during your excursion so be sure to pack your camera.
Fall Colour Season:
Algoma Country is ablaze with colour during autumn and for decades the Canyon Tour has been a favourite way for fall 'leaf peepers' to experience some of the most spectacular fall colour in North America. Though peak colour varies each season, typically the last two weeks of September and the first week of October can offer the best colour and should be considered when planning your excursion. Please note that due to popularity, the Railway
recommends making your 'fall colour' booking early.
Upgrades Include:
Bigger windows with all new tinted glass

New carpeting/wall coverings

GPS triggered tour narration in 5 languages (English, French, German, Japanese & Mandarin)

Locomotive mounted digital cameras

Flat screen monitors

Please Note : Tour Train is a smoke-free environment.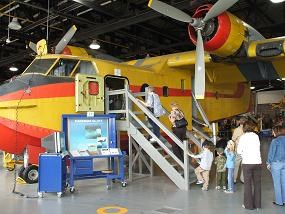 Canadian Bushplane Heritage Centre
Where Adventure Takes Off!
Welcome to the Canadian Bushplane Heritage Centre!
What better way to explore the history and adventure of flight than with a visit to the Bushplane Centre? Located in beautiful downtown Sault Ste. Marie, this waterfront hangar offers more than 25,000 square feet of interactive, hands-on aviation and forest fire displays.
Why should you visit?  Every member of your family will find something to enjoy!  With a flight simulator, a completely hands-on Children's Flight Centre, two theatres and special plane-specific supplement displays, we offer more than the average museum! 
We are one of only a few aviation museums that allow visitors to actually climb aboard the aircraft, take the pilot's seat in a passenger plane's cockpit, and climb into the cargo holds of a real waterbomber.  There's no better way to learn -- and have fun - than through these hands-on experiences!!
There is ample parking available for even the biggest RVs.  Have a picnic outside, enjoy the view of the historic St. Mary's River, and make a day here at the CBHC.
The Canadian Bushplane Heritage Centre:  it's just PLANE fun!
Lock Tours Sault Ste Marie Michigan
The Soo Locks have been referred to as one of the great wonders of the world and it is still the largest waterway traffic system on earth. On the Soo Locks Tour you'll be in for a two-hour live narrated excursion that will actually take you through the Locks, right alongside the big freighters. Your tour boat will ride the water as it is raised twenty-one feet, straight up, to the level of Lake Superior. You will then cruise under the International Bridge and railroad bridge before crossing into Canadian waters where you'll see one of Canada's largest steel plants in operation. You will return to the lower harbor through the historic "newly restored" Canadian Lock and cruise past the St. Mary's Rapids. Your boat will continue along the international shoreline of the lower harbor letting you experience all the sights, sounds, and excitement of Michigan's oldest city, Sault Ste Marie. Soo Locks Boat Tours is one of Michigan's top attractions and is recognized by AAA as a GEM® attraction. Many departure times are available.Our fleet of five tour boats are U.S. Coast Guard inspected and operate with a US Coast Guard certified Captain, Senior Deckhand, and Deckhand. All vessels have enclosed climate controlled lower decks with restrooms, snack bars, and covered open upper decks. Box lunches are available with two hours advance notice.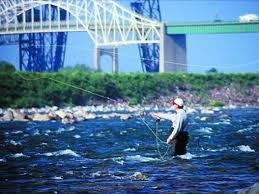 Fishing
Deep water and fly fishing are readily available. Fish in the St Mary's river right downtown or along the rapids near the bridge or in one of the many lakes in the area. All within 15 min to 1 hour from KOA.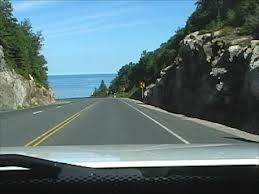 Wawa Drive Along Lake Superior
Take a beautiful drive on the Trans-Canada Hwy along the eastern shore of Lake Superior and enjoy breath taking views on the way to Wawa.