Local Area Attractions Near Sault Ste. Marie KOA
We are conveniently located just 10 minutes from downtown Sault Ste. Marie and the International Bridge; closest campground to the Agawa Tour Train station. Close to all area attractions including fishing, hiking and biking trails, museums, golfing, etc. A great place to use as a base camp for exploring the local area, including Michigan's Mackinac Island which is less than an hour away! Sault Ste. Marie...your gateway to Ontario's north.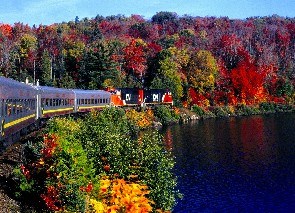 Agawa Canyon Tour Train
Covid 19 Notice: A message from the Algoma Central Railway due to the COVID-19 Virus,
and in accordance with guidance from the Government of Canada.We have made the decision to delay the start of the Agawa Canyon Train Tour Season until, September 1, 2020.
We will re-evaluate the situation after the province of Ontario lifts the mandatory shutdown order.This is a difficult, but necessary decision to take.
We must act responsibly and to do our part to help curb the spread of the COVID-19 pandemic.
Accommodation Packages and tickets will be cancelled with a full refund within 30 business days.For questions, email visit@saultourism.com or agawacanyontours@cn.ca
Welcome aboard one of the most popular train tours in North America. This one-day wilderness excursion will transport you 114 miles north of Sault Ste. Marie, Ontario, over towering trestles, alongside pristine northern lakes and rivers and through the awesome granite rock formations and vast mixed forests of the Canadian Shield.Through the large windows of our newly refurbished coaches the beauty of the region will unfold and you will experience the same rugged landscapes that inspired the Group of Seven to create some of Canada's most notable landscape art.As the train winds its way through this immense land a GPS triggered commentary, available in five languages, will tell you about upcoming points of interest and share some of the rich history of the region with stories of the Ojibway, fur traders, explorers and entrepreneurs that opened up this vast wilderness and called it home. As well, locomotive mounted digital cameras will provide an engineers 'eye view' on the flat screen monitors installed throughout the coaches.Just when you thought you'd experienced it all, the train will begin its descent into the canyon at Mile 102 and as the rail line hugs the top of the canyon wall you will travel down 500 feet over the next 10 miles to the floor of the Agawa Canyon, created over 1.2 billion years ago by faulting and widened and reshaped by the last ice-age that retreated 10,000 years ago.As the train pulls to a stop at Mile 114, you will have an hour and a half to experience the pristine beauty of Canyon Park up close. The whole family can enjoy scenic walks on gravelled trails leading to several waterfalls or experience an invigorating climb up over 300 stairs to the breathtaking Lookout, perched 250 feet above the canyon floor. For those who are looking for something a little more relaxing, you can visit the Souvenir Car for that special memento of your trip, enjoy a peaceful lunch in the many picnic areas located throughout the park or just pull up a bench and watch the Agawa River slowly flow peacefully by.Though well maintained, this is a wilderness park setting and we recommend seasonal recreational clothing and footwear. There is also plenty to photograph during your excursion so be sure to pack your camera.
Fall Colour Season:
Algoma Country is ablaze with colour during autumn and for decades the Canyon Tour has been a favourite way for fall 'leaf peepers' to experience some of the most spectacular fall colour in North America. Though peak colour varies each season, typically the last two weeks of September and the first week of October can offer the best colour and should be considered when planning your excursion. Please note that due to popularity, the Railway
recommends making your 'fall colour' booking early.
Upgrades Include:
Bigger windows with all new tinted glass

New carpeting/wall coverings

GPS triggered tour narration in 5 languages (English, French, German, Japanese & Mandarin)

Locomotive mounted digital cameras

Flat screen monitors

Please Note : Tour Train is a smoke-free environment.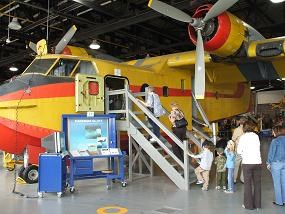 Canadian Bushplane Heritage Centre
Where Adventure Takes Off!
Welcome to the Canadian Bushplane Heritage Centre!
What better way to explore the history and adventure of flight than with a visit to the Bushplane Centre? Located in beautiful downtown Sault Ste. Marie, this waterfront hangar offers more than 25,000 square feet of interactive, hands-on aviation and forest fire displays.
Why should you visit?  Every member of your family will find something to enjoy!  With a flight simulator, a completely hands-on Children's Flight Centre, two theatres and special plane-specific supplement displays, we offer more than the average museum! 
We are one of only a few aviation museums that allow visitors to actually climb aboard the aircraft, take the pilot's seat in a passenger plane's cockpit, and climb into the cargo holds of a real waterbomber.  There's no better way to learn -- and have fun - than through these hands-on experiences!!
There is ample parking available for even the biggest RVs.  Have a picnic outside, enjoy the view of the historic St. Mary's River, and make a day here at the CBHC.
The Canadian Bushplane Heritage Centre:  it's just PLANE fun!
Lock Tours Sault Ste Marie Michigan
The Soo Locks have been referred to as one of the great wonders of the world and it is still the largest waterway traffic system on earth. On the Soo Locks Tour you'll be in for a two-hour live narrated excursion that will actually take you through the Locks, right alongside the big freighters. Your tour boat will ride the water as it is raised twenty-one feet, straight up, to the level of Lake Superior. You will then cruise under the International Bridge and railroad bridge before crossing into Canadian waters where you'll see one of Canada's largest steel plants in operation. You will return to the lower harbor through the historic "newly restored" Canadian Lock and cruise past the St. Mary's Rapids. Your boat will continue along the international shoreline of the lower harbor letting you experience all the sights, sounds, and excitement of Michigan's oldest city, Sault Ste Marie. Soo Locks Boat Tours is one of Michigan's top attractions and is recognized by AAA as a GEM® attraction. Many departure times are available.Our fleet of five tour boats are U.S. Coast Guard inspected and operate with a US Coast Guard certified Captain, Senior Deckhand, and Deckhand. All vessels have enclosed climate controlled lower decks with restrooms, snack bars, and covered open upper decks. Box lunches are available with two hours advance notice.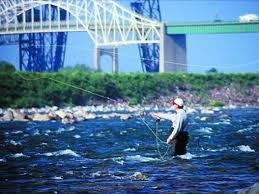 Fishing
Deep water and fly fishing are readily available. Fish in the St Mary's river right downtown or along the rapids near the bridge or in one of the many lakes in the area. All within 15 min to 1 hour from KOA.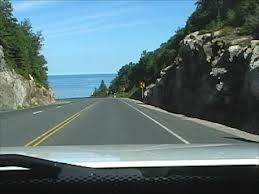 Wawa Drive Along Lake Superior
Take a beautiful drive on the Trans-Canada Hwy along the eastern shore of Lake Superior and enjoy breath taking views on the way to Wawa.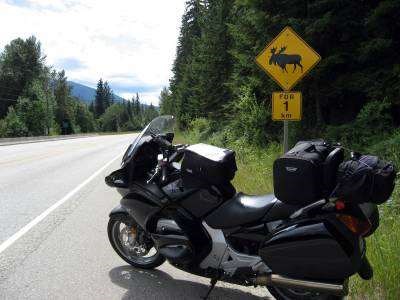 Great Motorcycle Rides
There are many great bike roads in Algoma and the surrounding areas to explore. Visit this Ontario Tourism website for more info and maps.
http://www.algomacountry.com/398/algoma-shorelinetour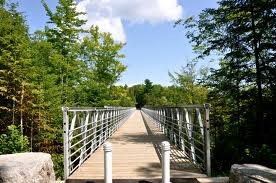 The Hub Trail
The Hub Trail system is a combination of both on and off-road recreational amenities.TRAIL STATSLENGTH:20 km DIFFICULTY:•• ACTIVITIES:Hiking & Walking, Running, Cycling - Roads & Paths, Cycling - Off-Road, Snowshoeing & Backcountry CHARACTER:Urban SURFACE:Asphalt AMENITIES:Parking, Designated Rest Areas OTHER:Partial Wheelchair Access Bellevue park
Bellevue Park is Sault Ste. Marie's main passive park. It is 17 hectares in size and consists of a large playground, 2.4 kilometres of asphalt walkway, floral beds and a display greenhouse as well as many other natural attractions.

Hiawatha Park
Crystal Falls has one of the higher vertical drops of the falls around Lake Superior. It stair-steps down about 90 feet. It is located in Hiawatha Park on the city's NE edge. Located less then 5 minutes from the KOA.
A decent network of hiking trails surrounds the area.
Picture of Crystal Falls from http://www.superiortrails.com/ss-marie.html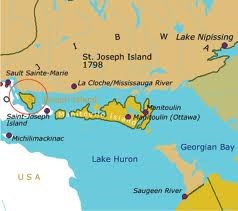 Historic St. Joseph Island
St. Joseph Island has been a favorite stopping point of travelers for well over 200 years. First Nations people have camped on its shores, fished its waters and hunted game for generations. In 1796 when Fort St. Joseph was constructed, it became Britain's most remote base in North America, a place where First Nation people and traders came to meet. As Canada opened up in the 1800's, hardy settlers looking to make a new life in a new land cleared the forests, built farms and communities and raised their families. Today, "the Island" is home to a growing number of artists and artisans, retired folks and families who are inspired by its natural beauty and tranquility. St. Joseph Island . . . a great place to be for a day, a week or a lifetime.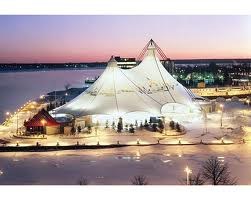 Roberta Bondar Park Pavilion
During the summer season, the Pavilion hosts concerts featuring local orchestras, high school bands, church choirs, and many exciting events!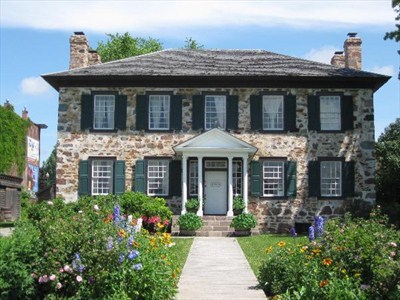 The Ermatinger Old Stone House
Located at 831 Queen Street East, the Ermatinger Old Stone House is the oldest house northwest of Toronto.
Constructed in 1812-14 of rough cut fieldstone this house is a classic example of a vernacular Georgian house incorporating the stylistic principles of a well proportioned, balanced and symmetrical facade.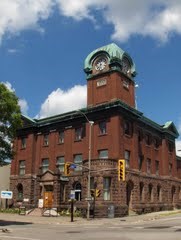 Sault Museum
The Sault Museum located in downtown Sault Ste Marie is a great place to explore the history of the city.
Vision Art Gallery
The AGA was founded as a non-profit public art gallery and incorporated on July 7, 1975. Established by a group of dedicated volunteers and arts enthusiasts, the AGA honours its roots as a community organization with its mission statement - to be a gathering place that celebrates and preserves cultural expression. The AGA moved to its present location next to the scenic and historic St. Mary's River in 1980, a 10,000-square-foot facility including four exhibition spaces, the Ken Danby Education Studio, the Minutia Cafe and the AGA Gallery Shop. With the appointment of Director Jasmina Jovanovic in August 2011, the AGA looks forward to the next phase in its evolution: establishing and implementing exciting new initiatives, becoming more involved on the national contemporary art scene, and continuing to uphold its multifacted mandate.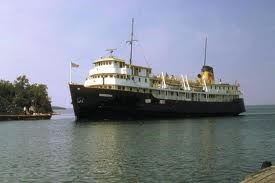 Museum Ship Norgoma
Museum Ship Norgoma
This marine museum is located on the last passenger vessel built on the Great Lakes. Completed in 1950, the Norgoma was the last passenger and freight ship to supply the settlements from Owen Sound to Sault Ste. Marie, along the north shore of Lake Huron and the North Channel. The museum is dedicated to preserving this marine history through displays and tours of the ship. Guided tours are available on request.
Location: Roberta Bondar Park, Sault Ste. Marie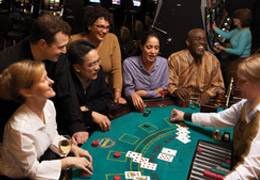 Gateway Casino Sault Ste Marie
Located less than 15 min from KOA.  This Casino offers slots, tables and more.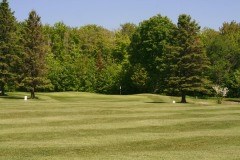 Root River Golf Club
Family Hospitality For Over 65 Years"The Root River Golf Club is one of the prettiest nine hole golf courses anywhere" (Richard Barsanti)Harvey Sr. and Jane Barsanti purchased Root River Golf Club in 1944. The original course was pre-war design, following the natural contours of the farmland. Trying not to detract from the natural beauty of the way things were, Richard has kept three of the original greens.The early years encouraged hard work and planning for the future. Harvey Sr's. first undertaking was to install a pipeline to water the greens. The lifeline of every golf course, the irrigation system has evolved over the years.  The original system in1950 drew water from the Root River and was upgraded in 1972. In 2000/2001, a series of ponds and wells were added and in 2009 additional irrigation lines were put down.Richard and his grounds crew work diligently to better the course.

Stock Car Racing
Laird Raceway is located east of Echo Bay on Lake George Road (Laird Fairgrounds). From Sault Ste. Marie head 25 KM east on Hwy 17E to Lake George Rd, turn left (east). The track is located approximately 1/2 km down Lake George Rd. We have five divisions to meet everyone's interests - Late Model, Factory Stock, Open Wheel Modified, Stock Four, and Super Four. We also have "Outlaw Modifieds" every second or third week.A children's play area is located behind the grandstands with full concessions and restroom facilities close by.Running on Thur and some special events on Mon and Fri. Check website for full schedule Shopping
Shop at many shops and malls in the Sault Ste Marie area. Station Mall is only 15 min away.
Algoma Farmers Market
This is a seasonal open air market. Located at Roberta Bondar Park in Sault Ste. Marie, Ontario
Saturdays, 8am - noon
Wednesdays, 2 - 5pm
June - October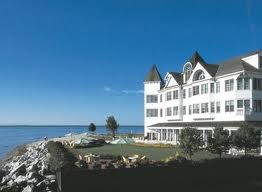 Mackinac Island
Mackinac Island is nestled in the straits of Mackinac where the upper and lower peninsulas of Michigan meet.
Mackinac Island is the truly "all natural" theme park of America. Limited to transportation of horse and buggy, bicycle or foot, surrounded by water, it has escaped the vast changes of time.Its real Victorian image is preserved and enhanced by a small population of 500 permanent residents and scores of summer residents, maintaining bluff cottages in original state. Families, especially children, love their relatively new found "mobility", exploring the historic, natural beauty of Mackinac Island State Park, honored by National Geographic as one of the ten finest in America.
A short 45 min drive to ferry docks from the Bridge in Sault Ste Marie.
Valley Camp Museum Ship
SS Valley Camp is a lake freighter that served on the Great Lakes for almost 50 years and is currently serving as a museum ship in Sault Ste. Marie, Michigan.
Tree Top Adventures
Tree top tour and obstacle course and Paintball! All Ages! Located 15 minutes north of KOA on Hwy 17.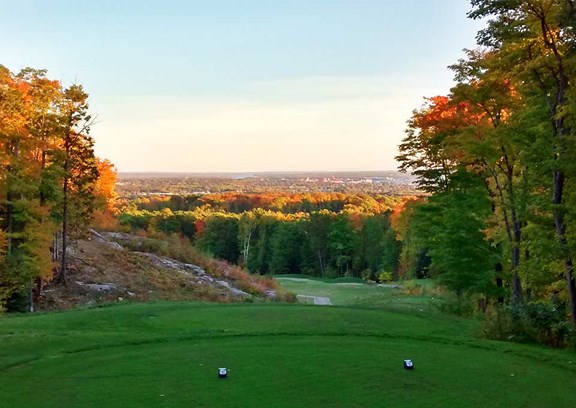 Crimson Ridge Golf Course
Enjoy a game at an 18 hole Championship course located 10 minutes from the KOA in scenic northern Ontario!
Canadian Locks (Sault Ste Marie Ontario Canal)
Right downtown in Sault Ste Marie Ontario on the water front you can visit the Canadian locks and historical site! The locks are active all day long every day!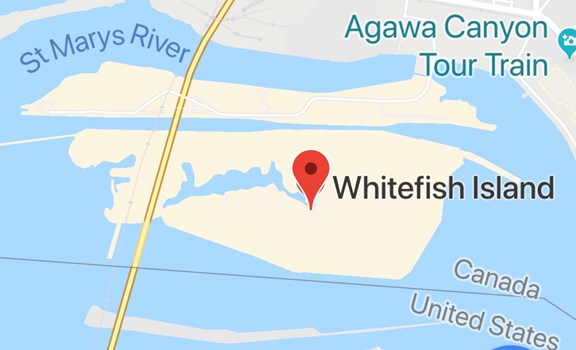 Whitefish Island and Rapids!
Visit Whitefish Island nature area located at the waterfront in downtown Sault Ste Marie, Ontario! See wildlife while you walk the boardwalk trails and see the rapids where you can try your luck at fly fishing in the waters of the St. Mary's river! World renowned for Salmon and Walleye fishing.
Fort Creek Conservation Area
Visit the Fort Creek Conservation Area located 6 minutes from the KOA in Sault Ste Marie. This 191 Acre park has paved/boardwalk trails with bridges. Wind your way through this wonderful park. It is located at the northern end of the Hub Trail system.