9 HACKS TO MAKE PACKING FOR A CAMPING TRIP EASIER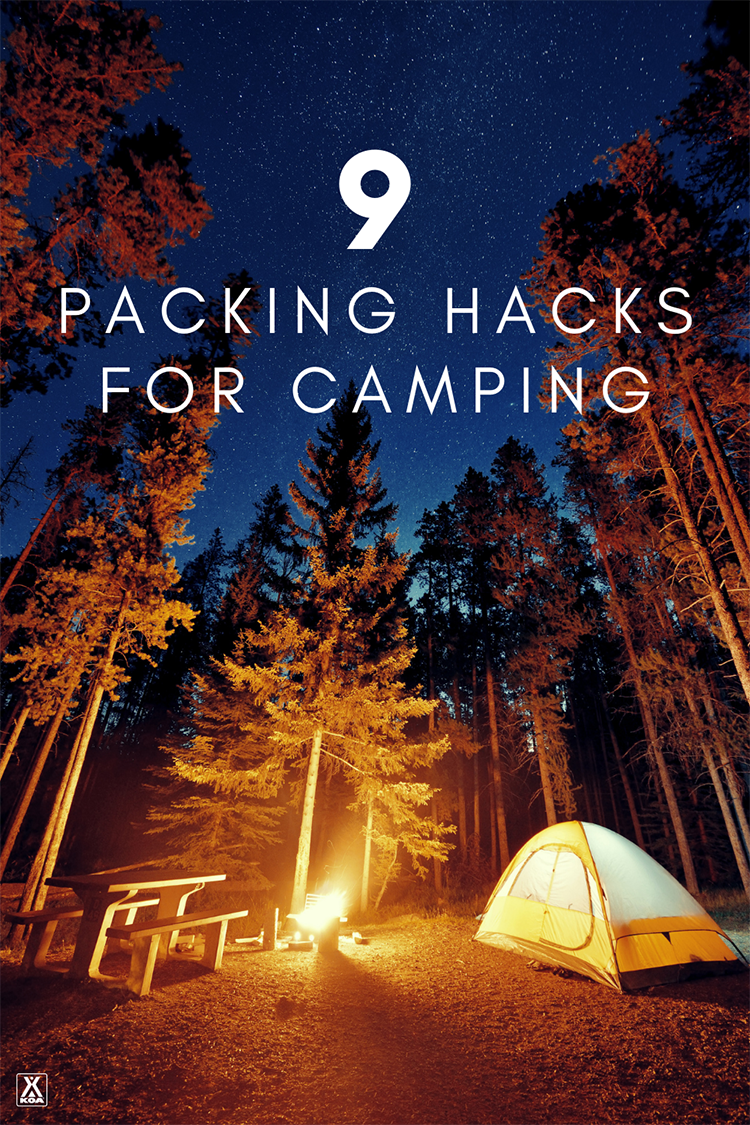 9 HACKS TO MAKE PACKING FOR A CAMPING TRIP EASIER
Having a pre-camp packing plan in place will help you avoid feeling overwhelmed. Camping is supposed to be fun and relaxing; let's shoot for the same while packing. The following is a list of things you can do to make sure you're organized, bringing what you need and have set yourself up for a good time.
1. MAKE A LIST OF WHAT YOU NEED TO PACK
In actuality, your camping trip packing list might turn into a few different lists. Start a master packing list by listing the different categories you need to pack for, like essential items, sports and recreational activities, camping gear, toiletries, clothing, food and cooking implements. Then break each category down into the individual items you need to bring for each person in your party.
2. PREP YOUR VEHICLE FOR THE TRIP
Make sure your vehicle is ready for a nice long or short road trip to the campground. If needed, get it serviced, the oil changed and tires inflated. Clear out the trunk and back seats to make room for all your gear. If RVing, organize the storage pantries and track what needs to be replenished.
3. GET AN EARLY START ON GATHERING CAMPING SUPPLIES
You don't need the last-minute stress of packing everything the night before your trip. Give yourself a few days, a week, maybe even two to figure out what you have and what you need to find. Consult your list and flag the things you need to pull out of storage or go out and buy. Give yourself time to either clean and fix up gear or buy new equipment if something is worn out.
4. USE ROOF RACKS AND BIKE RACKS
External vehicle racks create more storage capacity to pack oversized sporting items like bikes and kayaks on the outside of your vehicle.
5. USE SPACE SAVING GEAR
Think of ways to save space and still bring all the items you need. A collapsible water dispenser or a backpacking cooking set that nests a kettle, pot, frying pan, bowls, plates and spoons inside each other take up less room in the trunk and are easier to tote around camp.
6. PREPARE FOR ELEVATION CHANGES
When you drive from lower elevations into higher ones, the air inside bottles, sealed bags and air mattresses expand and could cause these items to pop. So you might want to hold off on inflating your air mattress until you arrive at camp or partially inflate it, leaving room for air to expand. If you don't want your bag of chips to scare you if it bursts, open it yourself and use a bag clip to keep the contents fresh. Put toiletry items like shampoo and lotion into sealable plastic bags, so if they pop open during the ride, they won't goo up other things.
7. PLAN YOUR MEALS
Aim to create meals using versatile ingredients like tortillas, eggs and cheese. Using the same ingredients for several meals will cut back on the number of items you'll need to bring with you. Also, meal planning will help you figure out what essential cooking gear to pack.
8. PREP FOODS IN ADVANCE
Make cooking at your campsite easier by getting much of the food prep work done before you go. Wash and cut leafy greens and other vegetables and even cook pasta, rice and other grains if you will be eating them within a few days. Consider dehydrating some veggies and fruit to save space and make them easier to transport. Another trick is to break eggs into a sealable container and pour them out as needed when cooking. This way, you won't have to worry about soggy egg cartons or eggs breaking in the cooler.
9. FREEZE BOTTLED WATER
Before you take off, freeze bottled water and other freezable items to help extend your camping cooler's coldness. Use the frozen bottles to chill camping cooler items along with bagged ice. Pre-chill room temperature items before putting them in the cooler to avoid accelerating ice melt.
---
Eva Barrows is an accomplished San Francisco Peninsula freelance writer and editor. She writes for regional magazines like PUNCH and Edible Silicon Valley and is editor-in-chief of Live&ThriveCA magazine. She founded the online literary journal Imitation Fruit in 2007 and has enjoyed promoting fellow writers and artists ever since. Read more of her travel writing at www.evabarrows.com.