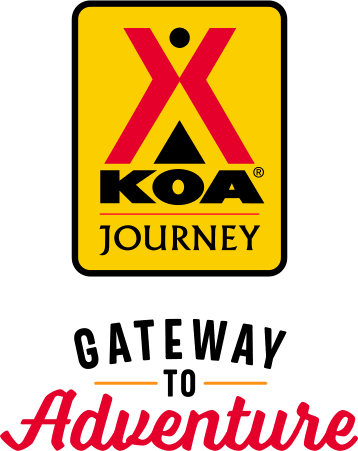 KOA Journey Campgrounds
KOA Journey campgrounds are the perfect oases after a day on the road. Whether it's along the way or a quick getaway, they've got you covered. Located near the highways and byways of North America with long Pull-thru RV Sites, they deliver convenience to the traveling camper. Pull in, ease back and take a load off.
KOA Journeys Feature:
Pull-through RV Sites with 50-amp service
Premium Tent Sites
Well lit after hours check-in service
Directions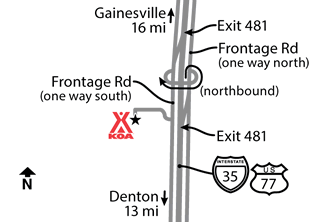 The Sanger/Denton North KOA is located 3 miles North of 455.
Northbound: If you are going North take Exit 481, then take the overpass to the service road going South. Go past View Road and turn right at the McClain's RV/KOA sign.
Southbound: If you are headed South take Exit 481, go past View Road and turn right at the McClain's RV/KOA sign.
GPS coordinates: Lat. 33.401429 Long. 97.177151
Get Google Directions
Jun 16, 2021
friendly staff and listened to my needs and made sure that our stay was a good experience. restrooms were clean and the entire facility was clean and very well kept.
Jun 16, 2021
Nice parking lot. Too many mud pots for such a "new" looking park. The showers were dirty and a extra long walk. Looked like all they did was empty the trash. Shower mats looked like they hadn't been moved in a month. Looks like it was built for the convenience of the staff with minimal convenience for the guests. Not what we generally expect from a KOA! Didn't like writing this.
Jun 16, 2021
Nice park with reasonable space between sites. Some sites paved, others are rock. Minimal shade.
Jun 16, 2021
Clean and quiet park. Friendly staff.
Jun 16, 2021
EASY TO ACCESS THINGS WE WERE THERE TO ATTEND
Jun 16, 2021
Great pull through concrete pads! Great customer service! Spotless camp site!
Jun 15, 2021
As usual, office staff very pleasant. Nice to see new dog park. Need bathroom on other side of park, closer to campers .Would improve camping experience Been coming to this KOA 3 times year for 5 years, except 2020. In all that time security codes on bathrooms have not changed. Wonder how secure those facilities really are? especially with move of dealership. Invest in convenience of customers.
Jun 15, 2021
The park was very tidy. New concrete was laid out well and easy to maneuver. The hookups were clean and easy to use.
Jun 15, 2021
Everything was perfect. Staff is super friendly. We will be back. Thank you
Jun 15, 2021
The outside smelled like sewer and not enough trees for shade. It gets really hot in the Texas sun in summer. Besides that, we loved the concrete pads and newness of the campgrounds.
Jun 15, 2021
Bathrooms were very dirty
Jun 15, 2021
Great park, very clean and the customer service from the staff was amazing. Would definitely stay there again and recommend to others!
Jun 14, 2021
Nice pull-thru pad for overnight - quiet and restful! Thank you!
Jun 13, 2021
It was very disappointing that this koa had little to no trees. On top of that our tent area was surrounded by rocks that only helped to absorb more heat. We were the only ones staying in a tent, for that matter we could have been assigned the only tent space with one small tree. It would not have sheltered our tent, but it would have at least given us some nearby shade.
Jun 12, 2021
Clean, well spaced sites. Good grounds crew. Definitely a place to stay
Jun 11, 2021
The RV park and its employees were VERY nice and good. The stay was good. I had thought the RV service was going to be able to help us but they are no different than any other RV service place and said it would take 3 weeks to get us scheduled for some needed repairs we were hoping to help us get back on the road again with full functioning Motorhome,
Jun 11, 2021
Friendly staff. We had a back in site. It was supposed to rain for the next few days and they suggested a pull through site because with all the rain the back in site had a lot of water standing. The camp grounds pool, playground, laundry room are all very well kept.
Jun 10, 2021
Great park. Great staff. Kinda soggy but nobody can do anything about the weather. Will be back.
Jun 10, 2021
Above and beyond great staff
Jun 10, 2021
We were looking for a replacement when the floods forced cancellation of a scheduled visit to a Corps of Engineers park. Very happy with the value we found at KOA. Kudos for the clean bathrooms! One down-tick for the muddy conditions around our pad (#8, I believe). You need another cubic yard of gravel on that site, especially around the utility sites and the very back of the area.
Jun 10, 2021
Stayed one night on our way home from Galveston very quiet nice park
Jun 10, 2021
Staff were very helpful & wonderful. We had to wait for a part for our trailer from McClains which didn't arrive until noon day of departure. They were accommodating to allow us to stay a little past check out so we could install part. Thank you. Dogs enjoyed being off lead in dog area!
Jun 09, 2021
We always stay at this KOA when we're in the area. Generally the campers are very respectful of everyone else and its a great place to stay. We have another trip planned in the fall and we'll be staying here.
Jun 09, 2021
Nice place, clean friendly helpful staff
Jun 07, 2021
Jackie the manager was very friendly and went out of her way to welcome us. 5 STAR ���� ���� ���� ���� ����
Jun 06, 2021
The pads were too narrow and the turning of rigs went into the grass/mud.
Jun 05, 2021
Clean, friendly staff, many pull through sites.
Jun 04, 2021
Nice place! Clean and nice big pull through sites. Everyone is so nice and friendly. Will definitely stay again!!
Jun 04, 2021
Everyone was friendly and helpful. Brock was ready to help me with setting up because it was my first time since purchasing my RV at the dealership next door. Overall a good experience.
Jun 04, 2021
Nice site and worked well with late arrival. Clean restrooms and nice roads.
Jun 03, 2021
It was our first time to camp in our RV, enjoyed the ground.
Jun 02, 2021
We stayed there while visiting friends in Frisco,, we enjoyed the park except for the rain, but that isn't your fault ;o) The park is beautiful and well kept, the employees were always very friendly and helpful,, We will definitely stay here again, probably later this year,,
Jun 02, 2021
We pulled in after hours. Our packet with space # written on it was taped to the office door. Our site was a concrete pad. Electric and water were accessible, however the sewer cap was under water and surrounded by 6" of mud. Luckily, we didn't need to hook up to it. Grounds are clean and well kept. Quiet at night. Easy access to I35 north and south. I would definitely stay again.
Jun 01, 2021
The office personnel are so friendly!
Jun 01, 2021
Had a great time, met some fantastic people.
May 31, 2021
People in the office are the best.
Jun 18, 2021
This was our first time using our new motorhome and everyone here was so helpful and nice!! Jackie was the best!! Thank you for a wonderful stay!!
- Elisabeth Johnson on Google
Jun 02, 2021
Very nice well kept RV resort
- Danny Redin on Google
Jun 01, 2021
Miss Jacquie and the rest of the KOA staff are amazing!!!
- Ray Wheeler on Google