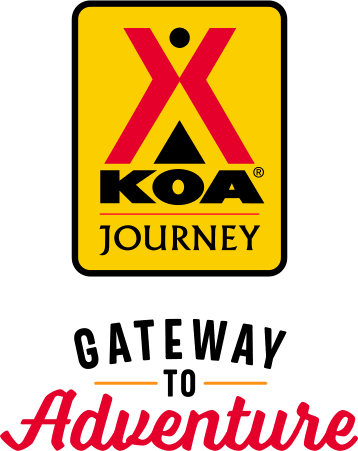 KOA Journey Campgrounds
KOA Journey campgrounds are the perfect oases after a day on the road. Whether it's along the way or a quick getaway, they've got you covered. Located near the highways and byways of North America with long Pull-thru RV Sites, they deliver convenience to the traveling camper. Pull in, ease back and take a load off.
KOA Journeys Feature:
Pull-through RV Sites with 50-amp service
Premium Tent Sites
Well lit after hours check-in service
Directions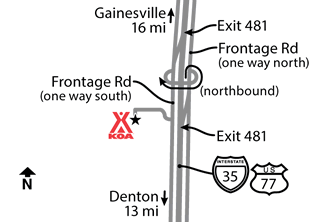 The Sanger/Denton North KOA is located 3 miles North of 455.
Northbound: If you are going North take Exit 481, then take the overpass to the service road going South. Go past View Road and turn right at the McClain's RV/KOA sign.
Southbound: If you are headed South take Exit 481, go past View Road and turn right at the McClain's RV/KOA sign.
GPS coordinates: Lat. 33.401429 Long. 97.177151
Get Google Directions
Sep 16, 2021
Easy access to I-35. Long concrete pads make for quick setup. Good overnight or extended stop.
Sep 16, 2021
Park has been re-done. Park hosts are awesome! Visit frequently as it's a quick getaway! Something for everyone.
Sep 14, 2021
The campsite was very quite and clean
Sep 14, 2021
We enjoyed this KOA. Large concrete spaces, well maintained, close to shopping. Would stay here again.
Sep 14, 2021
Large big clean spots. Fairly quiet. It's a good stopping point for us so we've stayed here a few times. What's with all the closed up campers that appear abandoned? Otherwise no concerns.
Sep 14, 2021
Nice park Plenty of room
Sep 14, 2021
Simple overnight stop but very nice stay. Very clear and well worth kept. Host "Cecil" was very helpful and really enjoyed chatting for a bit. Will definitely make it a stop when traveling thru the area and need a place to rest.
Sep 12, 2021
Pad was not level but was able to make adjustments. We were only there for 1 night
Sep 12, 2021
jackie and Cecil Are excellent hosts, they make you feel right at home.
Sep 10, 2021
We had a great stay. We recommend that you put a hand rail to get into the pool for Older folks like us. We have bad knees and soaking in the pool was great just very hard to get in and out of.
Sep 10, 2021
Nice amenities
Sep 09, 2021
The sites were level, easy to pull into. The park is well maintained and easy access from I-35.
Sep 08, 2021
Sometimes, last minute decisions are a disaster, but not this time. We decided on a whim to give this KOA a try. It was after hours, and they were prepared for us just like they knew we were coming. The place is clean, the park is nice, and the people are friendly. What else can you ask for...nothing. I will definitely stay with these folks again.
Sep 07, 2021
Nice, quiet campground with great folks!
Sep 07, 2021
Very nice location well situated. Would stay again.
Sep 05, 2021
A nice spot to stay that is near the metroplex. Staff is friendly and park is very large. Would be a good spot for an RV rally with a big clubhouse and lots of sites.
Sep 05, 2021
We enjoyed our 2 night stay very much. Well laid out, clean , quiet and reservation handled professionally. Thank you..
Sep 03, 2021
Grounds were well maintained, swimming pool was nice and it was pretty quiet despite being so close to the highway.
Sep 02, 2021
50 amp plug was not secured in the electrical box. Needs maintenance. Entire park needs mowing.
Sep 01, 2021
It was uneventful. Could have used a few more trees
Aug 29, 2021
Stay was pleasant and the pool was excellent, crowds were small. Park well kept and they pick up trash daily from each pad site. Country Store was not well stocked, and tended to not be open after 6pm on Thursday. Other then that it met all our expectations.
Aug 29, 2021
Super nice, super helpful team at Sanger KOA. We had to extend our stay due to a maintenance issue. No problem. Offered additional help in addressing our maintenance issue, kind suggestions, etc. Campground was clean, orderly and quiet. All good!
Aug 29, 2021
Enjoyed my stay, convenient easy access!
Aug 23, 2021
It was only one night but very pleasant. The staff. ..Cecil & Jaclyn.. were extremely helpful.
Aug 20, 2021
Nice clean place
Aug 19, 2021
We really enjoyed our stay at the campground. We will be back,
Aug 17, 2021
Great staff!
Aug 17, 2021
It was a Fantastic experience and we will stay there next time we go see our Grandsons. The managers were Great and the pads were also Great.
Aug 17, 2021
My husband and I enjoyed our 2 night stay and will surely come back
Aug 16, 2021
Had a great time! The hosts were incredibly nice. Warm, welcome smiles and a great Texas greeting. The pull-through sites are spacious and beautiful dog parks. Easy access on and off I-35. Great view of sunsets. Definitely will be visiting again.
Aug 14, 2021
There wasn't much for food supplies in the store . The dog park was nice It was very hot and we only stayed over night , so didn't do any activities .
Aug 11, 2021
Nice people and clean sites. Nice dog parks.
Sep 12, 2021
The staff and managers are so nice and helpful. Have a good set up and everything is nice and clean. Pool and bathroom are clean and nice.
- Dewey Sutton on Google
Sep 02, 2021
The folks at this KOA are the best! The spaces are well maintained. Love it here.
- Norma Gann on Google
Aug 28, 2021
The spots are a nice size and the backup spaces were easy to back into for our 22' rv. The pool was clean, the playground was a nice size, the dog park was nice with a table or 2 in shady areas and pretty quiet. The older gentleman that checked us in was very polite and waved us goodbye on our way out. We ended up staying here twice on our vacation. Once on our way there and again on our way home.
- Ally Henry on Google