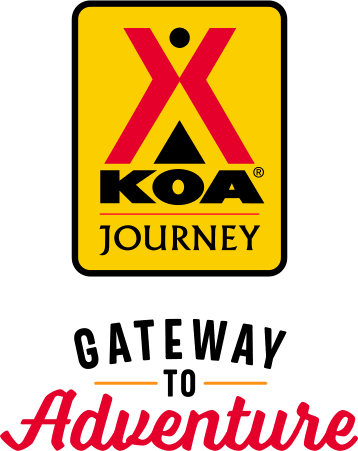 KOA Journey Campgrounds
KOA Journey campgrounds are the perfect oases after a day on the road. Whether it's along the way or a quick getaway, they've got you covered. Located near the highways and byways of North America with long Pull-thru RV Sites, they deliver convenience to the traveling camper. Pull in, ease back and take a load off.
KOA Journeys Feature:
Pull-through RV Sites with 50-amp service
Premium Tent Sites
Well lit after hours check-in service
Directions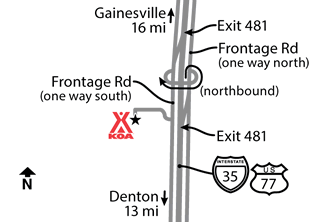 The Sanger/Denton North KOA is located 3 miles North of 455.
Northbound: If you are going North take Exit 481, then take the overpass to the service road going South. Go past View Road and turn right at the McClain's RV/KOA sign.
Southbound: If you are headed South take Exit 481, go past View Road and turn right at the McClain's RV/KOA sign.
GPS coordinates: Lat. 33.401429 Long. 97.177151
Get Google Directions
Jan 21, 2021
Nothing like staying in a construction zone! Should look nice very soon but the new concrete sites are not level. What about USPS deliveries?
Jan 19, 2021
Great place to stay. while there was work going on, they made sure to not be in the way. Will be top rated when completed.
Jan 19, 2021
Quite, the property is still going through growth, it was a good getaway for the weekend.
Jan 19, 2021
The construction of the sites seems to just follow the contour of the land so that there are very few level sites. Even the long concrete pads are done this way, it seems no consideration has been given to level, strictly amatuer planning. RV folk want a site they can roll into without additional leveling. these are even beyond the limits of the onboard leveling system.
Jan 17, 2021
We had a great stay at the Sanger KOA. Jacque and Cecil were both very friendly and helpful to us! It was our first time to use our 5th wheel and they answered all our questions and made us feel welcome and let us know they would help us if we needed it.
Jan 13, 2021
Very clean and well maintained. Courteous staff. Highly recommend
Jan 12, 2021
The best part of our stay was dealing with Cecil, the man working there. He was very nice and helpful. He even came out and helped us with a problem we were having. Very nice and personable guy.
Jan 12, 2021
We always stat here on our way to and from So. Texas as winter texans. Great place!!
Jan 10, 2021
Our stay at Sanger KOA was wonderful. The sites are great for big rigs. We have a 45ft 5th wheel and it was very easy to get in and out! The staff was outstanding and very friendly. They made us feel at home. We look forward to our return in March. Thank you Sanger KOA.
Jan 08, 2021
Always like this campground. Clean and easy to get too.
Jan 07, 2021
The staff was friendly and helpful. The campground was clean and peaceful.
Dec 30, 2020
CECIL WAS THE MOST THOUGHTFUL HOST WE HAD AT ANY KOA WE HAVE STAYED AT IN A LONG TIME ,
Dec 30, 2020
Big, clean campground but not much to do, good for one night stay
Dec 30, 2020
Found you on my Maps app when I typed in 'campgrounds near me'. Arrived when office was closed. Instructions for choosing available campsite was a little confusing. We just made sure not to go into one of the reserved sites. Lovely RV park! Clean & well kept. Stayed only one night. Did not use restroom or laundry facility but imagine they were very clean�
Dec 29, 2020
For the price you would expect to have tv hookups also the electrical water and sewage is too far apart for the average RV without having extra equipment to get to it
Dec 18, 2020
it will be great once all of the construction is finished, great staff and a caring attitude. Well done
Dec 18, 2020
Site was nice. Experienced no hot water in men's shower.
Dec 18, 2020
Great place but kind of expensive.
Dec 17, 2020
Super friendly and helpful staff.
Dec 13, 2020
The only negative comment I have is about the construction guys, they parked next my unit. They allowed their garbage to blow all over, didn't see anyone picking up after themselves.
Dec 13, 2020
The staff is friendly and helpful. The facilities are clean. My only concern is the lack of notice that occupied sites would receive work with heavy equipment.
Dec 08, 2020
Excellent as always. Friendly and helpful staff. We've been coming here since 2013. Look forward to seeing all the updates that are in progress.
Dec 05, 2020
The Sanger / Denton KOA is on our "a place to stop at again" list. The site we had was number 19 and it was perfectly flat. Our class C does not have jacks and I didn't need to block it up for the night. I did see some new sites being installed that would be for motorhomes with leveling jacks. And due to the new construction work we could not access the dumpsters that you were supposed place trash
Dec 02, 2020
This KOA is convenient for overnight stays with plenty of pull through sites available. Jackie and Cecil are friendly, helpful, and accommodating. We have moved into a monthly site while we figure out where to go next. The park is under construction right now and we knew that when we made our reservation but the noise and construction is limited to the day time hours.
Dec 01, 2020
Friendly, easy in, easy out. No problems.
Dec 01, 2020
The staff was very friendly. This KOA is well kept and peaceful. Playground was nice. We will defiantly be back.
Dec 01, 2020
We paid for the premium wifi never could sign in on the the TV. We had to watch on our cell phones wasn't much fun..
Nov 29, 2020
We were told our stay would be $36 a night with the discount. We paid for the 1st night, got in late and were given the number for the campsite. we were then charged an extra $9 for campsite upgrade which we did not ask for. We called on the phone and he was rude and snobbish. Koa is usually top grade but this manager was not.
Nov 29, 2020
Convenient location right off Interstate I35, great staff, nice flat drive through concrete camp sites. Facilities look a bit tired and in need of updating. A good stop-over site, but not much to do if you are staying multiple days.
Nov 24, 2020
Just one night, the park is still under construction and should be really nice when finished.
Nov 22, 2020
Hosts were awesome, nice place close to everything you need and plenty of entertainment.
Nov 19, 2020
Very convenient to our RV dealership so we can make sure all repair items were taken care of. Park is under construction so it was a bit loud & congested but it will look great when it is all complete.
Nov 19, 2020
We stayed there two nights. For the most part, everything was good. The people in the office were friendly and helpful. We were without water our first night. When we were ready to leave, we still couldn't figure out where the dumpsters were, even though the office lady tried to explain it to us. Nice park overall .
Nov 18, 2020
It was a great stay. We stayed there 3 years ago.
Nov 17, 2020
Wonderful people. Warm and very friendly!
Nov 17, 2020
We really enjoyed our 4 day stay at Sanger KOA. The concrete pad at site 30 was very long and services were excellent. The campsite is in process of converting several sites from gravel pad and road to concrete. Cecil and Jacguie Putnam are extremely helpful and friendly.
Nov 16, 2020
This park is always improving. Being right next to the new McClains Longhorn RV store is a real plus. Office personnel at this park are very friendly and caring. They even remembered us from our stay two months ago!
Dec 01, 2020
Wonderful and friendly staff; clean and well kept campground.
- Michael Hydorn on Google
Dec 01, 2020
Stayed here for 5 nights while getting our new 5th wheel ready. Very enjoyable experience! Friendly staff, good amenities, quiet, and relaxing!
- TheHerrin on Google
Nov 17, 2020
This KOA is really nice. Its behind an RV dealer and more on the industrial side so not scenic. Its well kept. Comfortable. Kids park. There is currently a lot of construction in the campground but once it's done it'll be nice.
- Rhonda at Dog Days Social Media Management on Google