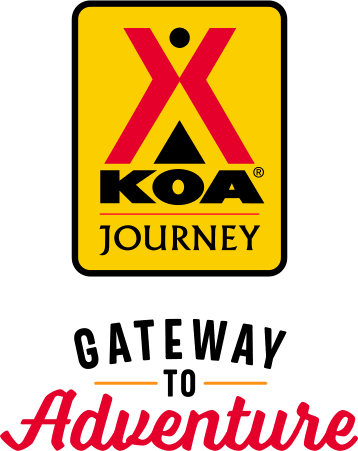 KOA Journey Campgrounds
KOA Journey campgrounds are the perfect oases after a day on the road. Whether it's along the way or a quick getaway, they've got you covered. Located near the highways and byways of North America with long Pull-thru RV Sites, they deliver convenience to the traveling camper. Pull in, ease back and take a load off.
KOA Journeys Feature:
Pull-through RV Sites with 50-amp service
Premium Tent Sites
Well lit after hours check-in service
Directions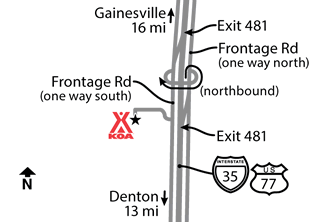 The Sanger/Denton North KOA is located 3 miles North of 455.
Northbound: If you are going North take Exit 481, then take the overpass to the service road going South. Go past View Road and turn right at the McClain's RV/KOA sign.
Southbound: If you are headed South take Exit 481, go past View Road and turn right at the McClain's RV/KOA sign.
GPS coordinates: Lat. 33.401429 Long. 97.177151
Get Google Directions
Apr 06, 2021
only one observance, as some still cut off corners when driving, I would plant bushes on either side of the pad sites, I thought it was a shame to see brand new sod run over. I appreciate all of your hard work to make this campground a nice place.
Apr 06, 2021
Nice, concrete pull-thru site with full hookups. The sod was freshly laid and the park has been updated in the recent few years so the trees are not very big right now. Easy access to the interstate. Could hear the interstate, but did not bother us. Park host, Cecil, was very pleasant and Jacque, the office manager, were very accommodating. Would recommend this park to everyone.
Apr 06, 2021
Nice, clean campground, concrete roads and sites. Nice people (Cecil) running the show! Only thing, not all sites have picknick tables - not sure why. Ours was a nice pull thru site. Anyway, good job!
Apr 06, 2021
Brand new camper and we live close by and KOA is a great place for us to learn how to use our camper
Apr 04, 2021
Excellent location for day trips to sights around Dallas. Beautiful long concrete pads!
Apr 04, 2021
Need fire pits at the campsites.
Apr 04, 2021
We loved our stay the little bar and grill was a highlight we will go back to stay there one of our top picks
Apr 03, 2021
Nice site and helpful office people
Apr 03, 2021
No complaints. Saw the people from KOA staying their Momentum trailer, taking pictures.
Apr 03, 2021
Very nice park and very friendly when I made the reservation. Disappointed though after a long day that the don't offer TV hookup.
Apr 02, 2021
Loved it But need more access to throw garbage when leaving. Make it more convenient
Apr 02, 2021
Outstanding KOA .We stayed here for 1 week. Staff is very friendly and helpful. Park is being totally modernized. There are times when 5 stars is just not enough.
Apr 01, 2021
good value and staff was excellent
Apr 01, 2021
Site was set up well.
Mar 31, 2021
Great improvements !!!! Hard Surface Pads Additional planted tree's Easy on/Off access from I-35 Available RV Services close by
Mar 31, 2021
Staff was friendly and helpful...facilities were clean and convenient
Mar 31, 2021
Love the improvements that have been done, it was awesome! Thanks tons for making it better than it already was.
Mar 31, 2021
The WIFI has been upgraded and the stay was much more pleasant as a result. The campground is to be commended for the improvements of the overall site.
Mar 27, 2021
Campground and Jacque were very nice. Concrete pads at most sites but most are not even close to level. Bring blocks for your leveling system.
Mar 23, 2021
Our stay was as expected, no issues. Thanks.
Mar 23, 2021
Not having a bathroom/ shower in our camper, we were disappointed that the facilities were so far from the campground, not convenient.
Mar 23, 2021
My sweetheart had no idea of camping at this Denton KOA as it was a planned surprise with a new camper. The site was perfect for open space and the sunset. Lot 25...wow according to my sweetheart! The place was quiet which is exactly what Carmen needed. Peace and calm. Concrete pad with easy drive thru. Sewer hookup on site and worked great. Thankyou KOA.
Mar 23, 2021
The park is very well kept. The management in the office is exceptional. We had an emergency stay and we're accommodated wonderfully. This is a go to park for us now. Thank you very much for the wonderful stay and making it calm for us in our situation.
Mar 23, 2021
Location, price, amenities and cost make a perfect place to stay. I would recommend it.
Mar 22, 2021
Good stay good folks working it
Mar 20, 2021
We have stayed here several times. Very clean, level sites, and friendly people
Mar 20, 2021
Great KOA! Well kept and maintained. It is a pretty big park and easy to get in and out of. The office staff was super nice and very accommodating. We didn't make it to our checkin date the first day and they even were kind enough to send us a text to make sure we were ok. I will definitely be staying here again and would recommend this park.
Mar 19, 2021
We came to the Sanger KOA knowing we would be there for a few weeks while waiting on parts to repair our RV but that actually turned into almost five weeks! We can't say enough about how wonderful Jackie and the staff were about working with us from week to week, so sweet and accommodating. The park was well maintained and the laundry and bathrooms always clean, we'll definitely be back!
Mar 18, 2021
Very long and paved sites. Just off the interstate, clean and safe.
Mar 17, 2021
Arrived on Sunday before office had opened. Was pleased that my reservation envelope with site number was taped to the door. Concrete sites are nice & would be helpful it there was wider radius on entrance to site. My toad tires went over edge of concrete & I noticed others had same problem.
Mar 16, 2021
What a wonderful place..It started with checking and given great information about the camp and surrounding areas. We stayed in a gravel back in and it was very level and all hook up worked great. Looking at the paved pull through sites and they looked very nice also. The restrooms and laundry building was very nice and clean. Great campground and will stay here again.
Mar 16, 2021
Great sites, super friendly staff, nice little town very close.
Mar 16, 2021
Nice office staff. Great long paved pull thru sites. Clean park.
Mar 16, 2021
Quick overnight stay, but super easy after hour sign in. Very clean and updated facilities.
Mar 15, 2021
Everyone there was amazingly helpful, friendly and informative! Absolutely LOVED that place!
Mar 13, 2021
We always stay here for a week at a time when visiting the area. Campground is maintained to the max and friendly staff
Mar 09, 2021
The park was clean. Jackie and Cecil were a delight to deal with. We enjoyed our stay.
Mar 09, 2021
We only stayed one night on our way to Galveston. Sanger KOA was a great place to stay. Staff were friendly, the camp was clean, great experience.
Mar 23, 2021
We stayed here 3 nights. Jacquie was so nice and helpful. It was convenient, clean, quiet and easy to get to. We will be back!
- Linda Vercher on Google
Mar 18, 2021
We've stayed here several times and every time it's wonderful! Even though the park is right off the freeway, the sites are far enough away that we don't here any road noise at all. The sites are spacious and level. We travel in a 40 ft motorhome, so we appreciate the concrete pads. Jacquie in the office is simply amazing! She is always friendly and very eager to accommodate park guests. The pool is small, but always clean. There is an RV dealership near the park which is really handy. We love the open feeling at this KOA because all the pull throughs face the same direction and lots of rows to take long walks! Keep up the good work and we'll be there again this year!
- Terry Meyer on Google
Mar 15, 2021
Everyone there was super helpful, friendly & informative. They helped us with so many things (because we were not from the area). They were great! I highly recommend this campground!
- William Burns on Google