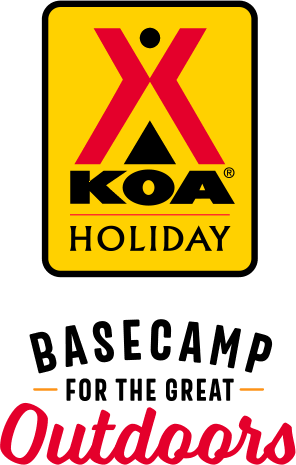 KOA Holiday Campgrounds
Whether you're exploring the local area or hanging out at the campground, KOA Holidays are an ideal place to relax and play. There's plenty to do, with amenities and services to make your stay memorable. Plus, you'll enjoy the outdoor experience with upgraded RV Sites with KOA Patio® and Deluxe Cabins with full baths for camping in comfort. Bring your family, bring your friends, or bring the whole group – there's plenty of ways to stay and explore.
KOA Holidays Feature:
RV Sites with a KOA Patio®
Deluxe Cabins with full baths
Premium Tent Sites
Group meeting facilities
Directions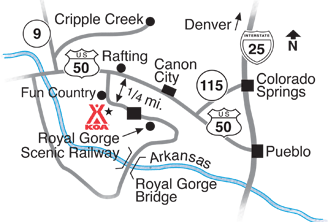 From Hwy 50, 8 miles west of Canon City: Take Royal Gorge Exit , Proceed 1/4 mile south.
Do not use GPS. Follow the signs for the Royal Gorge Bridge and Park, and you can't miss us. Please call for directions.
Get Google Directions
Apr 05, 2021
Super clean bathrooms and great campground!
Apr 05, 2021
Very clean and well maintained. Staff is very friendly and accommodating. Definitely recommend staying here!!
Apr 04, 2021
Great proximity to the Gorge and an abundance of beautiful scenery. The store manager was extremely nice and helpful.
Apr 04, 2021
Great park manager
Apr 03, 2021
Came in late. Directions to site left us unable to get in properly which damaged our camper. We called & were told to pick any site. We tried 1 more time at different angle & got into our reserved site. Then we found there was only 1 water spout & the other camper had it. We then decided to pick one like told. We stayed in the same row but were charged extra. I have pics of map.
Apr 03, 2021
We love coming back to this KOA. The staff is so dedicated. Thanks Jenn for making our stay great!
Mar 31, 2021
They need more help down there. Bathrooms were empty
Mar 31, 2021
Not the best hospitality
Mar 31, 2021
We had a wonderful time. Thank you!
Mar 31, 2021
Beautiful area and campground
Mar 27, 2021
No hot water for shower or washing dishes. Called and let management know about the problem. They responded in the morning. saying they would refund my money. That was a week ago and so far no refund! This is unsatisfactory. The KOA south of Pueblo was great.
Mar 27, 2021
Beautiful and quiet. Definitely will stay here again
Mar 21, 2021
It was quiet and peaceful. We enjoyed the activities around canyon city.
Mar 13, 2021
We stayed in both a deluxe cabin and the "apartment." Both were well-equipped with coffee maker, eating utensils, internet TV, etc. Wifi was great. We have stayed here many times before and we have never been disappointed. This is a well-run park in a beautiful setting.
Mar 11, 2021
The Cabin itself is great! Had everything we needed and was very clean! I was impressed and would definitely consider going again!
Mar 09, 2021
What a wonderful weekend celebrating our birthday boy! This campground goes above and beyond with making you feel right at home. We will be back for sure! Thank you again for being so accommodating and welcoming!
Mar 09, 2021
Staff was outstanding. But, the campground needs a lot of work. Playground had old equipment that needs to be replaced or cleaned up. The bridge to the slide had numerous boards that were rotten. The giant slide had been neglected as well. We have stayed at a few KOAs, and this one does not meet the same standards.
Mar 09, 2021
Had a great stay, host was super friendly and helpful. Great location.
Mar 09, 2021
The woman who lives on site and manages the property... she made a good visit absolutely fantastic. She was so attentive and caring.
Mar 08, 2021
Really liked this KOA! Great views! Some of the most spacious sites we've ever seen. At many other RV parks, when you step out of your RV you only take a few steps to your neighbor's RV. This is not the case here. Bathrooms were clean however there was a cigarette smoke smell in the men's room so taking a shower felt like I was bathing in wet cigarette smoke. Not sure if from stall or outsi
Mar 04, 2021
Great service from Jenn and Jill Thanks for a great stay!
Mar 02, 2021
I have stayed here several times. Staff is always friendly and helpful. They are able to accommodate my late arrivals. Great place.
Mar 02, 2021
We had a wonderful weekend and we appreciate everything (Jen.) did she was a marvelous camp host. well tell all my friends and family about what a great place to stay we will also be staying Memorial weekend and throughout this year
Feb 25, 2021
2 great day's in the middle of winter! JENN and JILL or great and went above and Beyond! Will be back for summer!
Feb 15, 2021
This was our first KOA experience & we were so impressed by how kind & caring the management was. It was an incredibly cold weekend w/ lows around -10. Jenn went out of her way to check-in on us, make sure we were staying warm, & brought us an extra space heater. It was well appreciated and we would absolutely go back. The bathrooms were warm and clean and the location is awesome!
Feb 10, 2021
The cabin was dirty and the host was unprofessional. Would pay more to stay at another campground or cabin in the area.
Feb 09, 2021
Jennifer it's the best host ever! She take care of us like home! We will come back again thank and amazing
Feb 02, 2021
I enjoyed my stay. It was very quiet being January and campfires were allowed and that was nice! The cabin was cute, plenty of light, heat, shower. My rating of 4 stars instead of 5 is because the fridge had food left in it from the last person that I had to clean out. Also, the floor could have been swept a bit better (crumbs under the table.) The host was very nice as well. Thank you!
Jan 26, 2021
It appears there is very little attention to cleaning protocols for this facility. We were surprised at the smell and site facilities for a KOA
Jan 20, 2021
The cabin was perfect for us! We definitely will return to this site. It was better than we expected it would be! Super clean, warm and cozy in January, and plenty of amenities.
Jan 14, 2021
The staff and management are very friendly and helpful. The grounds are immaculate. Beautiful views from the entire campground.
Dec 31, 2020
We really enjoyed our stay. The deluxe patio sites are very nice! Jen was very friendly and helpful. We will definitely be back.
Dec 30, 2020
GREAT PLACE TO STAY I WILL GO BACK FO SURE. MANAGMENT ON DUTY WAS AWSOME
Dec 29, 2020
This KOA is amazing! The lodging and amenities are fantastic, but what really brings this 5 Star Rating home is the customer service and that's all due to Jenn! She goes above and beyond w/customer service. She doesn't miss any details in making a stay here feel like home! Thank you so much for your friendliness Jenn and for always making this KOA a wonderful place to stay!
Dec 28, 2020
Campground, restroom, and showers were clean! Would definitely stay here again!!
Dec 23, 2020
We had a GREAT time! The campground was beautiful and well-maintained. Bathrooms were very clean and heated, which was nice on the cold days. The cabin was clean and we were cozy and warm. We loved the outdoor seating area - tables, chairs and a great fire pit! Jennifer was present and available if we needed anything. We will be back this summer and we can't wait!!
Dec 19, 2020
We loved everything about our stay and our cabin except the bottle of softsoap was more water than soap. Definitely should have adequate soap especially during a pandemic. That was the ONLY thing that was negative. LOVED the cabin!
Dec 15, 2020
Even in snowy winter it's a great place
Dec 12, 2020
Like the previous KOA campground, I stayed in, this one needs updating/repair. It is clean. My campground did have dog poop and trash on it when I arrived, however after speaking to the person at the office, they sent someone over right away to clean it up. WiFi was poor, even though I was parked near the office and antenna. They have winter hours which I didn't see on the website.
Dec 08, 2020
My husband and I stayed at this KOA with our teardrop trailer at an electric site. Campsite and grounds were tidy. Very quiet. Bathrooms had nice showers. They were heated and clean. Reservation process was easy - could actually do over the phone. The views of the snow capped mountains were wonderful! If weather behaves, We will be back in January!
Dec 08, 2020
It was really cold inside the cabin. The little heater did not work well at all. I had several blankets but it didn't matter. I put a towel at the bottom of the door to try and keep the cold air out, that didn't help much either. I didn't get any sleep and left very early in the morning as soon as it got light out. I had hoped to be there longer but I was too tired and cold to stay. Heat nee
Dec 06, 2020
The 1st night we were in our cabin we had a rat come up the drain pipe of the toilet, he didn't make it in to the cabin because he drowned but it did make it a little disconcerting when you went to bed at night wondering if another was going to be able to get in. Mattress needs to changed rolls you to the middle of the bed.
Apr 04, 2021
Jenn had everything ready for us to check in. The map showed us where to go. We stayed in one of the deluxe cabins. We had a question and called her, and she fixed us up. Private Queen bedroom. Pullout couch, and a bunk room. Everyone had their own space. The views were so pretty. We saw bluebirds! So much nicer than a hotel. It was a busy campground, but everyone was friendly. Nice Putt Putt. Thanks for a great weekend!!
- Lois T on Trip Advisor
Jan 04, 2021
Always a wonderful time. This time we took the while family and the kids really loved the views.
- Mindy Hackler on Google
Dec 04, 2020
We arrived late at night and I was worried about check in but they have a night arrivals station outside right when you pull in. Check in was very easy and they gave a map with your assigned spot. I like that no one came to "bother" us. The park was very clean and quiet. The park is conveniently down the street from the Royal Gorge Park. Also a plus is that they allowed children (some other parks in the area were only for adults 21 and older). If we are ever in the area we will be staying here and we will recommend this park.
- Ruby Rodriguez on Google