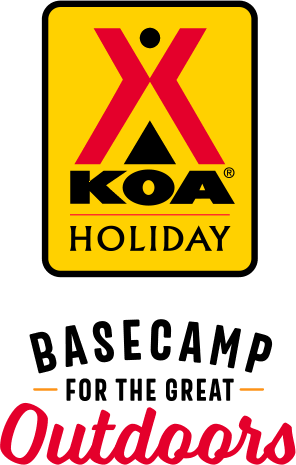 KOA Holiday Campgrounds
Whether you're exploring the local area or hanging out at the campground, KOA Holidays are an ideal place to relax and play. There's plenty to do, with amenities and services to make your stay memorable. Plus, you'll enjoy the outdoor experience with upgraded RV Sites with KOA Patio® and Deluxe Cabins with full baths for camping in comfort. Bring your family, bring your friends, or bring the whole group – there's plenty of ways to stay and explore.
KOA Holidays Feature:
RV Sites with a KOA Patio®
Deluxe Cabins with full baths
Premium Tent Sites
Group meeting facilities
Directions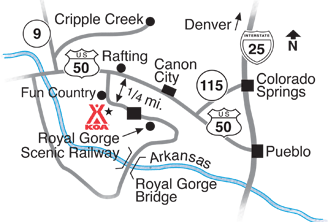 From Hwy 50, 8 miles west of Canon City: Take Royal Gorge Exit , Proceed 1/4 mile south.
Do not use GPS. Follow the signs for the Royal Gorge Bridge and Park, and you can't miss us. Please call for directions.
Get Google Directions
Sep 24, 2021
no dog runs and dog litter every where
Sep 24, 2021
Not up to scale with other holiday koas that we have stayed
Sep 22, 2021
We had the best site with a tree for shade. Narrow drives present a challenge and utilities not placed well. Good overall except when they got full for the weekend. Pulling out a challenge
Sep 22, 2021
For the price paid here vs other KOA's, we were somewhat disappointed.
Sep 21, 2021
The only issue we had with this campsite was the massive amount of ghoat heads that was on all of the campsites. And the patchy internet
Sep 21, 2021
Staff was very friendly and helpful. Wish that the pool was open it was in the 90s.
Sep 21, 2021
Excellent customer service from everyone especially Schuyler! Employees went above and beyond to accommodate us, including making icebags for my arthritic knees.
Sep 21, 2021
Only regret is no dog park.-
Sep 20, 2021
Wonderful,had an RV and a tent, loved it.
Sep 20, 2021
Very quiet location. Well off the main road, and other campers were quite cognizant of their neighbors. Managers graciously moved us to a different spot as the one that was assigned had a tree that was in the way. Would definitely stay here again!
Sep 20, 2021
Very professional and friendly staff they went out of their way to help us. I'm a disabled veteran and have some limitations and they were more than happy to help me and my wife. I highly recommend them. The site was very clean and well maintained A+ they went above and beyond the call of duty as we say in the Army. Keep up the good work.
Sep 20, 2021
Friendly staff, clean restrooms,overall. I have one issue…the restroom water spigots for the sinks are ridiculous. You literally have to hold the spigot open to get ANY water flow. I understand the need to conserve water but this this is extremely unsanitary -you are forced to hold a contaminated spigot to rinse, allowing recontamination of your hands . This absolutely ineffective and disgusting
Sep 20, 2021
No dire tional highway signage.
Sep 19, 2021
Great location! Great communication. Fun mini golf ��.
Sep 19, 2021
Great place to stay. Friendly staff.
Sep 17, 2021
Bathrooms could have been cleaner, pool was green m.
Sep 17, 2021
Really appreciated the clean, hot shower and bathroom facilities. Great views from the campground during my after dinner walk. Friendly and helpful staff
Sep 16, 2021
I stayed in the glamping tent. The view was amazing but the tent and some of the furnishings have seen better days. Due to stormy weather it was necessary to move into a cabin which was also very cute but didn't have the view. It might be time to retire the old tent and replace it with a sturdier one and add an awning to protect it from the elements since they aren't meant to be permanent.
Sep 14, 2021
My only complaint is all of the goathead stickers. They are way out of control, and it was hard to keep them out of the camper.
Sep 14, 2021
Everything was great, except we had no way of getting in the shade.
Sep 14, 2021
everyone was very nice, loved the slide and the pool. We enjoyed our secluded campsite too!
Sep 14, 2021
Very nice sites and the people are great.
Sep 14, 2021
AWESOME. Staff was very friendly and helpful.
Sep 13, 2021
Nice time. Had a few things but would still come back to this KOA. Wish they still had the adult things. Like the Holy Cross or any wine tasting @ the western town. Nice friendly people.
Sep 13, 2021
We stayed in a deluxe cabin that had bathroom and microwave, fridg but full bed mattress was extremely soft like a pillow, there was not hot water in cabin even after we addressed it first day it didn't get fixed and the miniature golf course needs some work. The bathrooms were very clean and the staff was very friendly.
Sep 13, 2021
The first thing I and "1" emphasis the "I" would like to see is better signage on the main road and where the check in office is once the campground is reached. While "I" recognize the first problem requires approval of the County, probably the State and the City itself ALL of the businesses in that area could use better signage and at least a 15 mile per hour reduction in the speed limit to ...
Sep 13, 2021
Friendly staff. Clean campground and lots to do!
Sep 13, 2021
Great place to stay. The staff is friendly. Bathrooms and showers and clean and sanitary. Will definitely stay again.
Sep 13, 2021
Everything that I needed... plus I checked in very late yet was taken care of by the onsite personnel with a friendly smile... Always come back whenever I am in the Canon City area!!!
Sep 12, 2021
Sites were roomy but maneuvering around campground quite challenging. We were first put in a site which hardly fit the RV leaving no room for our truck. We were switched to a patio site which of course cost more money. Staff really needs some training on how to place larger units.
Sep 12, 2021
The people were great, bathrooms clean, and the pool was nice and cool after we got back from our hike at the Royal Gorge. Will be back soon!!
Sep 12, 2021
It is a nice site. Wide open with really neat buildings. I didn't get to walk around everywhere but what I saw was nicely taken care of. Met wome fun people and had a bonfire with them. That's memories…. Oh and did get to see a tarantula too.. it was harmless. Actually pretty cool.
Sep 11, 2021
Koa site was gorgeous and facilities very clean. Wonderful place to look at the stars. Staff very helpful —Skylar helped a lot. Canon city a cute town and we loved the Skyline Drive. The Royal Gorge was spectacular- took tram across and walked bridge back and had no qualms. We took the KOA shuttle to and from the Gorge. Very convenient and prompt. Great visit
Sep 11, 2021
Overall we like the Royal Gorge/Canon City KOA. This time we stayed in their new area, site M4. VERY disappointed. It was very tight maneuvering with a 5th wheel and the layout for hookups and slide outs, etc. was poor in our opinion. We were a short distance from the very busy and noisy road to the Royal Gorge with no barriers for noise or privacy. Recommend the KOA but not the new sites
Sep 11, 2021
Had everything that we needed, had that great outdoor camping feel, a lot of things to do, golfing, horse shoes, basket ball, volleyball, big slide. felt like a kid again. Great location with lots of great cabins.
Sep 10, 2021
Campground was nice, staff were friendly, and the shuttle to town was a great help. If we're ever in the area again we will definitely stay here again.
Sep 09, 2021
Check in was great. A young person took us to our spot and left. There was only inches to spare between us and the camper beside us. That camper was parked too far in the road and we couldn't pull out. We had to back up many times to get out of our spot. My husband had told the folks running the KOA we would have trouble getting out.Nothing was done to assist.
Sep 08, 2021
Staff were all very helpful. The site was larger than expected, which was nice. The only thing that made it a 4 is that the giant slide and mini golf were in poor repair and the slide was an extra 8.00 a day for use. Other koas we have stayed at have included all "fun" activities in the price. Kudos to the cleaning staff, the bathrooms were well appointed and sparkling clean each use.
Sep 08, 2021
This would be a better place with out a mean bitter worker called Betty ! She has no customer service skills at all, was rude to me before I even showed up and continuously rude wile there, she deleted my reservation by mistake, luckily I called, I had to fight with her and beg her to make some thing work , as I already paid 6 months prior , she was mad she had to help me fix her mistake !!!
Sep 20, 2021
Well maintained very clean campground .The staff were very friendly and professional service is 100% excellent. I'm a disabled veteran and have some limitations and they went out of their way to help me. I highly recommend them.
- Melvin Alejandro-Rodriguez on Google
Sep 09, 2021
Good KOA. Lots of activities, trees to tether dogs at some sites. Kids loved it. Wish they still had go karts that are in website photos and map on website. But still had fun.
- Ilene Feldmeier on Google
Sep 17, 2021
Very nice place. Lots to do at camp ground and lovely surrounding area. Fantastic old buildings in Old Town Canyon City. Skyline Drive scenic. entrance to Skyline Drive very interesting! However I couldn't give it a 5 star because of all of the cigarettes butts everywhere!
- Mona Answer on Google