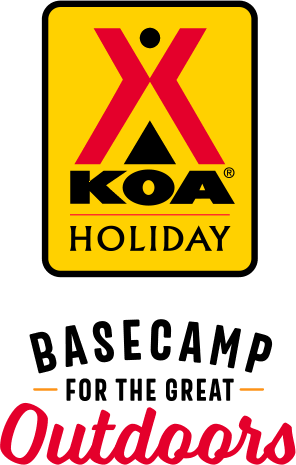 KOA Holiday Campgrounds
Whether you're exploring the local area or hanging out at the campground, KOA Holidays are an ideal place to relax and play. There's plenty to do, with amenities and services to make your stay memorable. Plus, you'll enjoy the outdoor experience with upgraded RV Sites with KOA Patio® and Deluxe Cabins with full baths for camping in comfort. Bring your family, bring your friends, or bring the whole group – there's plenty of ways to stay and explore.
KOA Holidays Feature:
RV Sites with a KOA Patio®
Deluxe Cabins with full baths
Premium Tent Sites
Group meeting facilities
Directions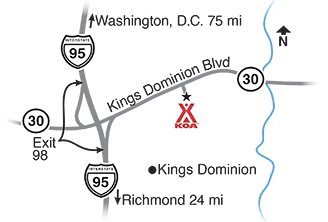 Located off Exit 98 on I-95 north of Richmond, past the entrance to Kings Dominion and the railroad tracks.
GPS: N37.84917, W77.43954
Get Google Directions
Sep 16, 2021
Extremely friendly staff!!! Considerate, kind and very customer oriented. Highly recommend this facility.
Sep 16, 2021
Very good!! Sites were somewhat difficult to pull in and out of
Sep 16, 2021
Very nice setting, but the roads are narrow and tricky to navigate. It would have been helpful to have an escort help us get into our pull-thru site. Also, the pool was so dirty (full of dead bugs, spiders and who-knows-what), we weren't comfortable swimming in it. Got the feeling they didn't want to put in the effort because the pool will close before long, but we still wanted to swim!
Sep 15, 2021
Outstanding campground. Concrete pads and reliable full hook ups even with full campground during our stay. Staff very friendly, helpful, and professional
Sep 15, 2021
Stay for the Richmond race was a very good stay. The campground is clean and most roads paved. The only downside is that sites are unlevel and some need gravel add.
Sep 15, 2021
We have stayed at this campground every year for about 20 years, we have always been happy there.
Sep 15, 2021
I love the cabin, the staff was very friendly. We will be back.
Sep 14, 2021
Really enjoyed staying in the cabins! I read the reviews ahead of time and picked up a few points to pass on: KOA provides towels, sheets, blankets, small bar soaps, shower shampoo/conditioner. Recommend bringing dishes/cutlery, dish soap, charcoal (only the deluxe cabins have propane bbq). I saw a couple ants on the floor so we used ant traps but so minor. Staff were wonderful! Stay at this KOA!
Sep 14, 2021
Stay was great campground was very clean and the staff were very friendly. My only issue was with the cable my antenna had a better picture.
Sep 14, 2021
Enjoyed the campground. Wish it had more pull through concrete pad spots. The first spot assigned had hookups on the wrong side. Fortunately i got the last remaining site with hookups on the correct side.
Sep 14, 2021
I found the campground at King's Dominion not up to the standards that I've come to expect at KOA's typically. There were many sites that I would have expected to be full hook up, and were not, and along with that, the number of restrooms/shower houses was very low, so that folks were often waiting to use facilities.
Sep 14, 2021
everyone was helpful and very friendly, it was a wonderful weekend
Sep 14, 2021
Great as always. Staff is very helpful and friendly
Sep 14, 2021
Just stayed for the local Nascar race.
Sep 14, 2021
We have been coming to this campground since before it was KOA and I have to say it was better before KOA took over. The prices went up and some sites where paved or concrete added but not much else. When we got there our site was a back in with the water and electric hookups on the front side. All our hookups are on the back so we barely where able to hook up our electric and water.
Sep 14, 2021
Excellent customer service. Staff extremely friendly and helpful
Sep 14, 2021
When we arrived someone was already on our assigned site probably in part due to unclear designations as to the site boundaries. From what we saw, the campground looks old and run down. Our section only had two (2) bathrooms/showers, which is far too few given number of potential campers (campground seemed to be < 50% capacity during our stay).
Sep 14, 2021
Awsome birthday and graduation present thanks
Sep 13, 2021
Great stay, perfect location!
Sep 13, 2021
We stay here about once a year. Most often when going to Richmond raceway which is only a few exits away on 95. Pleasant atmosphere clean and very wheelchair friendly.
Sep 13, 2021
We arrived at 3am due to construction and accidents on I95. Everything we needed was right there at the night box. It was hard to see the site numbers painted on the concrete. That was a little bit of a issue. But other than that, our concrete pad was pretty level. So no issues there. It can be a little tight with your neighbor when hooking up your water, electricity, etc... Overall good stay. T
Sep 13, 2021
Pool needed serious cleaning. Water pressure at sites was way too high. Sewage smell throughout the camp. For a premium spot it had a very unlevel picnic area. No enforcement of quiet time. Campers near us played console until 1 am, unacceptable.
Sep 13, 2021
This campground is very well maintained and the staff is very friendly. We stayed in a cabin and it was very clean and had everything we needed. The shuttle to Kings Dominion was great. We will definitely come back!
Sep 13, 2021
Site was unkempt, dark, no cable, mice scurrying everywhere
Sep 13, 2021
Cabins are nice, gives people who don't have an RV a way to experience camping.
Sep 13, 2021
Nice site, clean, very personable staff. Our stay was quite enjoyable! Cant wait to return...
Sep 13, 2021
The park was nice but our back in spot wasn't clearly marked where to park. Coming in late at night it was hard to tell where the camper was on the gravel
Sep 13, 2021
Site was very unlevel and where power / water Pedestal was located , felt like you were invading neighbors campsite. Staff was very friendly and helpful!
Sep 13, 2021
Would have given a full 5 stars if the bathrooms were kept up with a little better. Shower stall doors weren't wiped down the whole weekend we were there. Bathrooms appeared to be disinfected but not actually wiped down. Overall, experience was great! I would def recommend this campground to friend and family. Have fun and camp on!
Sep 13, 2021
Can never go wrong with KOA. Richmond North is no exception. We were coming in late from Georgia…they left our reservation information out for us and it was easy to get in and get to our spot after hours. Thank you for your welcoming, no hassle after hours acceptance. Beautiful grounds, pool, dog park, etc. ��
Sep 12, 2021
Extremely small sites. Not enough space for rig and tow vehicle.
Sep 12, 2021
Our only issue with the campsites is they are close together. We had to ask someone to move their vehicle in order to get out of our campsite, which was the only way we could maneuver our trailer out due to all of the sites being filled. The person was very kind and was happy to move their vehicle but I didn't like the fact we had to bother someone during their relaxing time.
Sep 12, 2021
Great stop on way to Myrtle Beach
Sep 12, 2021
Nice wooded sites. Clean bathrooms, friendly staff
Sep 11, 2021
Great place to stop for overnight or more
Sep 10, 2021
Nicely keep, mostly paved, concrete pads. Not made for longer rigs. Tight turns, sites not long enough to keep tow car hooked up. Sites are close together. Very nice staff.
Sep 10, 2021
We were traveling I95 and needed a one night stay for our journey. The campground was neat, and the sites large enough for our 40 foot motorhome. However, the water pressure was very low, and the cable TV did not provide a clear reception.
Sep 08, 2021
There was a slight mixup on our site due to another guest in ability to vacate. I will say the manager took excellent care of us and quickly.
Sep 08, 2021
The services and hospitality are top notch as always. My family had a blast!
Sep 08, 2021
Richmond North KOA's best quality is its proximity to Kings Dominion. This KOA provides a free shuttle that takes you to and from Kings Dominion, as well as selling discount tickets. My family stayed in a deluxe cabin with a double loft for kids&lots of room. The pool is large and clean. One suggestion for this KOA is to organize events for kids like scavenger hunts, art activities & games.
Sep 08, 2021
Very nice campground. Sites are a little close but overall good. My only complaint is the WiFi which was completely unusable unfortunately.
Sep 11, 2021
Cabins are ALWAYS spotless very clean good supply of towels wash cloths and soap and shampoo, Quiet and friendly staff during check in and buying from the store. This place is ran by a amazing team of people that keep it in great shape. Great selection of movie channels for free. Small mini fridge & microwave. Tons of cabinet space. Clean bathroom. Outdoor seating and firepit/ grill area is always clean. Downside: Outdoor tent/camping areas are filled with ticks not sure if anything can be done about this other bugs don't really bother us as much as the ticks do and this very last camping trip I had to get my truck detailed because there was a bunch of ticks that got into my vehicle. Rise in ticks is awful ‼️ there aren't any grocery stores or food options in this area come prepared or you'll have to drive out to get food. Tent campers have shared bathroom and showers are clean and nice. Pool is nice
- Tina Slawson on Google
Sep 05, 2021
Hidden in the gems of land in Richmond. Amazing park. Amazing camping!!!!Definitely a must see. Look for me. Ill probably be there
- Susan Jones on Google
Aug 17, 2021
Been some years since my last visit and still had a blast bringing my kids for their first time. Great day with an overcast and Soak City was the icing on the cake. Lines for the rides weren't too long.
- Eric "Sicclove" Scurlock on Google