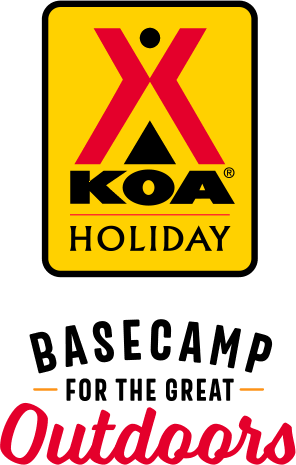 KOA Holiday Campgrounds
Whether you're exploring the local area or hanging out at the campground, KOA Holidays are an ideal place to relax and play. There's plenty to do, with amenities and services to make your stay memorable. Plus, you'll enjoy the outdoor experience with upgraded RV Sites with KOA Patio® and Deluxe Cabins with full baths for camping in comfort. Bring your family, bring your friends, or bring the whole group – there's plenty of ways to stay and explore.
KOA Holidays Feature:
RV Sites with a KOA Patio®
Deluxe Cabins with full baths
Premium Tent Sites
Group meeting facilities
Directions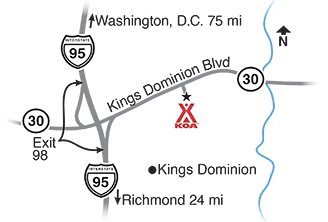 Located off Exit 98 on I-95 north of Richmond, past the entrance to Kings Dominion and the railroad tracks.
GPS: N37.84917, W77.43954
Get Google Directions
Jun 14, 2021
The cabin was filled with dead and alive bugs. Spiders, ants, cockroaches, beetles. It was like a horror movie. I could never stay here again. The housekeeping lady tried to help but there's only so much that can be done with a towel and disinfectant. She needed a shop vac for the dead bugs and bug spray for the live ones. Seriously gross.
Jun 14, 2021
If there is no life guard on duty pool should close later than 7 on weekdays and 8 on weekends also open earlier than 10.
Jun 14, 2021
Great for kids.
Jun 14, 2021
The trees in campground need to be trimmed throughout the park. When pulling into my assigned spot, the tree branches scraped the top and sides of my fifth wheel. I had to get out and cut the branches in order to prevent further damage
Jun 14, 2021
Wonderful campground! Clean, immaculate camp store, playground and great sites! A+++++
Jun 14, 2021
The staff were friendly. The facilities were clean and water was hot. The sites flood when it rains and the sites are uneven. Leveling my camper was a pain. For my first stay at a KOA, I was not impressed.
Jun 14, 2021
Badly out of level back-in site . Please note, despite a management rule regarding dogs being left unattended, and a note to state that there is a kennel at Kings Dominion itself, there is no way to prevent people leaving their animals locked up while they are in the park all day. We had to listen to the dog in the next rig bark constantly for 5 hours, and I mean constantly! One and done for us
Jun 14, 2021
Always a great time!
Jun 14, 2021
The staff were friendly and helpful. The park was clean and well maintained. Our site (222) has a tree on the awning side that would not allow us to put it up. It was raining and it would have been great to be able to sit under the awning.
Jun 14, 2021
Not entirely happy with my stay. When I reserved online the only option was one site left which only had electric/water and no sewer. In addition, it was a back-in gravel site that was very steep and surrounded by trees which were very close to my RV. During my stay, I noticed many patio sites available near me which had full hookups which were vacant for my entire stay. Not a happy camper.
Jun 14, 2021
This review has been removed by KOA due to profanity.
Jun 14, 2021
Great, helpful and kind staff! Thank you!
Jun 13, 2021
The location, store staff, atmosphere and cabin amenities were great. The only negative was the cleanliness of the cabin itself. We found Takis, food wrappers and other debris in the loft of our cabin upon arrival. I realize it's probably difficult to clean up there with the low ceilings but if you're going to have the space for guests, it needs to be clean for them.
Jun 13, 2021
Nice and quiet good wifi and cable very clean
Jun 12, 2021
We just stayed the night on the way home, but very happy. Nice clean shady spot. Staff very nice. We will definitely be back.
Jun 12, 2021
One of the best KOA'S I ever stayed at, neat, clean and friendly. Rest room and showers were extremely clean and neat. Sites were clean and easily accessible!! Will definitely come back here.
Jun 11, 2021
1st visit. Staff was extremely friendly and helpful. Campground was clean, quiet, comfortable. We loved our stay.
Jun 10, 2021
Just an overnight stop heading north. Very nice park.
Jun 10, 2021
Only stopped for the nite , didnt see or due anything and left early . Could have used a gas grill , but it was only one nite . Kevin Carlin
Jun 09, 2021
Cabin very clean and campground quiet. Kids loved the jumping pillow! Friendly and helpful staff. Stayed in deluxe cabins. Kids loved bunk beds. Full fridge and freezer nice. A/C was extremely loud but we were thankful to have it.
Jun 09, 2021
The park is great. People are very nice and helpful. We have a 45' 5th wheel and was able to maneuver through the park. The pull through they gave us was ok we fit tight but we fit. We have been here before and that's why we came back.
Jun 08, 2021
Loved this KOA. One of the best we've ever stayed at, and we've stayed at many. Clean, friendly, bright. Many places are dark and dingy. My only issue was for the 2 nights we were there the toilets in the bathroom weren't cleaned.
Jun 08, 2021
Amazing setting, clean restrooms and friendly staff
Jun 08, 2021
Mi familia y yo disfrutamos la estadía estamos esperando volver y quedarnos mínimo unas 3 noches
Jun 08, 2021
Not a place for an overnight stay. Big amusement park next door. Way too many unsupervised kids on bikes going thru everyone's sites. Very noisy even late at night. Sites were not well kept.
Jun 08, 2021
We stayed for one night traveling from FL to NY. It rained so we didn't get a chance to enjoy the amenities
Jun 07, 2021
The Campground was extremely nice and maintained. The pool bathrooms were extremely clean and we had a lot of fun.
Jun 07, 2021
This is my first year as a KOA member and Travel Trailer Camper. I have tent camped at KD many times and always had a great experience. I have to say that KD KOA is one of the best. The staff is wonderful and when I had a plumbing issue, a plumber was sent to my site and he went above and beyond to help us resolve our issue by pointing out things that we could do to avoid issues in the future.
Jun 07, 2021
We had the best stay ever! Had a plumbing problem and Brock, an employee of Kings Dominion, came out to help us. He was the most pleasant, professional, knowledgeable person who went above and beyond to help us . He deserves recognition for a job well done and representing the Kings Dominion Company in such a positive way. We will be telling everyone about our great experience!!
Jun 07, 2021
Went to concert �� at After Hours!! Great show & great place to stay�
Jun 07, 2021
We only stayed one night in Richmond North KOA on our way to Cape Hatteras. It was a nice campground. We would like to come back with our grandchildren and visit King's Dominion in the future.
Jun 07, 2021
Good for a quick trip and a day at the park. Premium sites are way to close together. Ultra are ok. Will stay again
Jun 07, 2021
Beautiful campground. Clean, awesome camp store. Next to King's Dominion. Plan to return.
Jun 07, 2021
The sight I was in had little to no shading. The high volume of sun and heat made our AC unit ineffective and the trip was not enjoyable.
Jun 07, 2021
Everything was clean and nice. Staff was wonderful and considerate
Jun 07, 2021
The campground was great! There were a lot of people staying there but it never felt overcrowded. I love that they offer shuttle service to Kings Dominion!
Jun 07, 2021
This was our first time staying in a cabin. It was absolutely amazing. The ladies at the front gave my mom free ice cream because it was her birthday. The cabin was awesome and clean. The only thing I would suggest is the locks on the bathroom doors. If a child goes in and does not know how to get out they will definitely get stuck. I can't wait to go back. Love love loved it.
Jun 07, 2021
Nice. Clean. Quiet
May 31, 2021
It was a beautiful place with very friendly staff. Well kept up ,clean and fun!' Bathrooms were great also! Especially if you like privacy.
- Kevin Boyce on Google
May 26, 2021
Work there
- Sandra Morris on Google