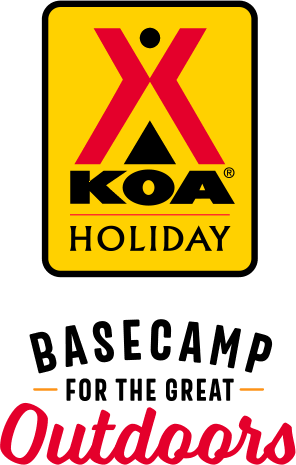 KOA Holiday Campgrounds
Whether you're exploring the local area or hanging out at the campground, KOA Holidays are an ideal place to relax and play. There's plenty to do, with amenities and services to make your stay memorable. Plus, you'll enjoy the outdoor experience with upgraded RV Sites with KOA Patio® and Deluxe Cabins with full baths for camping in comfort. Bring your family, bring your friends, or bring the whole group – there's plenty of ways to stay and explore.
KOA Holidays Feature:
RV Sites with a KOA Patio®
Deluxe Cabins with full baths
Premium Tent Sites
Group meeting facilities
Directions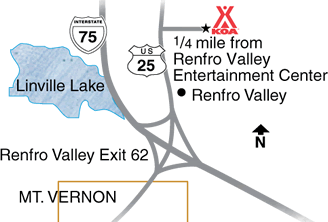 Renfro Valley Exit 62 off I-75. Proceed North on Hwy 25 for 1.5 miles (just past the Kentucky Music Hall of Fame and Museum).
Get Google Directions
May 08, 2021
Great park! Lots to do, nice little store. Love the cement patios and swings! Love the Giant Chair for photo memories!
May 06, 2021
From making reservations to the "Guide" (Jon) leading us to our site, folks were SO friendly & helpful. We were given a pizza menu for a place that would deliver. Blessings as it had been a long, rainy drive.
May 06, 2021
We had a lovely site ...we had survived a harrowing flash flood in another state...and it was comforting to be at this koa...to reorganize before we continued home. Everyone was so nice..we are appreciative. Highly recommend.
May 05, 2021
We enjoyed our stay at Renfro Valley. The space between campers is a bit small.
May 05, 2021
Perry was a great help. All the staff were friendly and knowledgeable. All the updates and remodeled office look so nice. Love the paw pads.
May 05, 2021
It was a uneven, muddy mess. With so many open spots I couldn't understand why we had to be in a spot with out a blade of grass to be found out side the motor home door.
May 05, 2021
Absolutely beautiful place,friendly helpful staff this KOA is the best one we've ever stayed at Loved your own personal dog run on your site. Very nice touch and the hounds loved it also
May 04, 2021
the sites were to close together couldn't enjoy the outside.
May 04, 2021
We enjoyed the stay. Kids enjoyed the playground and activities. Staff was very friendly and helpful. We will be back in October for Halloween if not sooner
May 03, 2021
We had a really good site - loved having the wide open field behind us. Bathrooms were very clean. The communication via texts was very helpful. Our grandkids really enjoyed all the activities. The staff was extremely pleasant and helpful. Thoroughly enjoyable stay!
May 03, 2021
Great facilities easy in & out very restful. Nearby paw pen was noisey and pet owners were loud and rude. Yelled at there dogs but they didn't behave
May 03, 2021
enjoyed everything about it
May 03, 2021
Had an excellent weekend there this past weekend! Only suggestion I have is the dog park gate are a little high off the ground and had an escape while the dogs were playing! Lol... love all the pet friendly things this park has! Dogs are our kids!!! Thanks for all you do!!!
May 03, 2021
Renfro KOA host and facilities are top notch!! Always friendly, helpful and deliver anything from the store to your site. Scott and Justin also took a few minutes to talk with us about their host experience. I see being camp host in our future retirement! The campground is super clean and the patio sites are beyond amazing!! We will definitely spend several weekends there each year.
May 03, 2021
Very friendly and helpful staff. Nice amenities. Not real keen on the side by side sharing camp sides thing. I would also recommend a sign put up that says Dead End or No Thru Traffic behind site 12/13 as we had a few late night arrivals almost hit our motorhome.
May 03, 2021
This was 4th time we stayed at the valley on way to and from Florida. excellent rv stop.
May 03, 2021
Our family really enjoyed our stay at KOA Renfro Valley. The grounds were nicely kept, all staff was very friendly and they really take pride in their facilities. We will be back!
May 02, 2021
We came in after dark and left first thing in the morning. Ann was great, I called her twice when we were delayed on our way to the park. The park seemed a little tight to turn a big rig that is towing.
May 01, 2021
Very friendly. Clean and kept up. Helpful and informative.
Apr 30, 2021
One of the nicest, cleanest, KOA's ever. Friendly staff. Hope to return in a few months..
Apr 30, 2021
Narrow roads for a 43' Tow Hauler..but still possible. Really Awesome Staff and GREAT amenities for kids!! We stopped for one night. My 3 year old loved the play ground and the super size chair! We recommend reserving a pull thru w/ a porch swing !!
Apr 28, 2021
Excellent, roomy overnight accommodations.
Apr 28, 2021
Friendly and clean
Apr 28, 2021
Love this campground. So family friendly. Staff is amazing and lots to do. We had a full day of rain, but planned activities by staff helped with great get away!!
Apr 28, 2021
Only one night traveling south. Will stop again
Apr 28, 2021
We were just spending one night on our way back home. I have to say this Campground had the friendliest staff we have encountered! Everyone was very helpful!!!
Apr 27, 2021
Very nice campground, staff was friendly and very helpful.
Apr 27, 2021
We stayed one night on our drive home. The people were awesome directing us right to our site. Text them and they bring ice and firewood right to your campsite
Apr 27, 2021
Great place to stop over on our way back home. Amenities are very nice and new.
Apr 26, 2021
loved the place
Apr 26, 2021
Even in the rain, the staff worked hard to make it fun for the children. We loved it!!!
Apr 26, 2021
You all were just wonderful! Preston went above and beyond in helping us, as we are very new newbies! Thank you so much! We will definitely stay with you again.
Apr 26, 2021
This was my first time visiting a KOA campground and we enjoyed it very much and will return very soon. All staff was very friendly and had a great atmosphere.
Apr 26, 2021
Always a great bnb place to stay. Especially with kids. They always have something for them to do and the playground is well kept and all in good repair every time we have stayed.
Apr 26, 2021
Very friendly and accommodating staff. Clean campground, family friendly. We were at site 36B. Our only complaint was lack of grass/gravel at our site. Once it rained it was so muddy. We saw where some seed had been planted but with people constantly walking on it, it's impossible for it to grow. We will definitely be back to KOA Renfro Valley!
Apr 26, 2021
Friendly staff, very nice facilities, upgrades have been made since our stay last year.
Apr 25, 2021
This absolute gem cut into the hills of Kentucky is gorgeous. From the remodeled office/store to the landscaped immaculate grounds, there are attractions in the park for everyone. Stay here. It's wonderful; and, It has friendly helpful staff.
Apr 25, 2021
We reserved a 80 foot long sit and it was not 80 foot. My class A and tow dolly with my car is 70 foot long and I couldn't park straight. Had to leave my car off angle from where I parked.
Apr 24, 2021
Only stayed one night. Never had a bad experience at any KOA. Like the escort to your site. I only wish someone would have told us about the pet paws next to some of the sites. We have 3 large dogs. Will return in the future.
Apr 24, 2021
Very friendly and helpful staff. One staff member picked up our propane tank, filled it and returned to camper which was much appreciated. There were only two things that were a problem...the road noise from the interstate was very loud, and the smell from the dog park. However, the dog park must have been cleaned as the smell subsided. Good location for the historical sites visited.
May 10, 2021
Very nice place to take kids lots of things to do for all ages. They had a ball. Before we left they said they had to come back.
- VICKI WOODS on Google
May 10, 2021
We LOVE Renfro Valley KOA Holiday. The owners and staff are wonderful. It doesn't matter what the question or need is the staff are willing to help. This is our second trip this year and we are looking to schedule another trip soon. I highly recommend this campground.
- Jaime Lunsford on Google
Apr 26, 2021
Staff were very friendly and accommodating. They waited for us to get there a bit late so we could fill our propane tank in order to have heat for the night (first trip of the season). Bath house was clean. The only complaint we had was the lack of grass/gravel at our site. It rained one day and our site was very muddy. Still recommend this campground. We will be back!
- Kristen O'Neill on Google