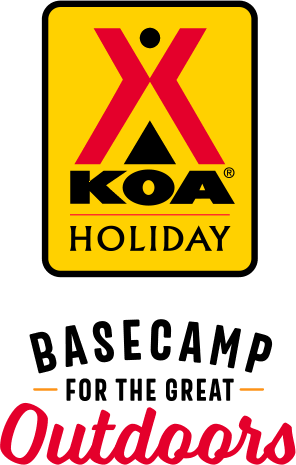 KOA Holiday Campgrounds
Whether you're exploring the local area or hanging out at the campground, KOA Holidays are an ideal place to relax and play. There's plenty to do, with amenities and services to make your stay memorable. Plus, you'll enjoy the outdoor experience with upgraded RV Sites with KOA Patio® and Deluxe Cabins with full baths for camping in comfort. Bring your family, bring your friends, or bring the whole group – there's plenty of ways to stay and explore.
KOA Holidays Feature:
RV Sites with a KOA Patio®
Deluxe Cabins with full baths
Premium Tent Sites
Group meeting facilities
Directions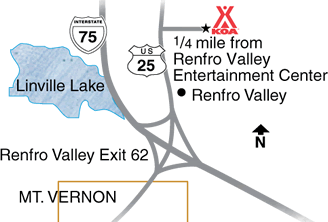 Renfro Valley Exit 62 off I-75. Proceed North on Hwy 25 for 1.5 miles (just past the Kentucky Music Hall of Fame and Museum).
Get Google Directions
Sep 14, 2021
A great time as always. Weather was perfect, and so relaxing. Enjoyed spending time and making great memories with family. Looking forward to our next trip in October. We love our camping trips at Renfro Valley KOA. The staff are always so nice and go out of their way to make it even better. Holly and Kevin are the best and have an awesome campground!!
Sep 14, 2021
Always friendly, customer service is great! SUPER clean! Bathhouse is great!
Sep 14, 2021
The staff was very friendly! They have a lot of activities for kids and adults alike Very clean and well run! Loved how the texts kept you completely up to date on everything!
Sep 14, 2021
Staff there is great, very friendly, but Some of the sites are very uneven. Ours was bad enough we couldn't get near to level. They moved us to a better site, but as we walked around, we saw a lot of campers that were really jacked up.
Sep 13, 2021
Fantastic Park. The staff is friendly and always ready to help out. The owners are very involved in the community sponsoring local events that draw in the camper crowd and provide for things to do around the area. We will also make time to stay at Renfro Valley KOA whenever we have a free weekend!
Sep 13, 2021
We always enjoy Renfro Valley all the staff are extremely friendly and helpful. We had a small issue with our septic and Preston went out of his way to help us. Thank you for always making our stay memorable. Tiffany and Preston done a great job with candy bar bingo made it a little more interesting and made us use our brains a little more �Ϝ. Looking forward to Halloween � �
Sep 13, 2021
As we were coming up the hill to the campground, our rear axle broke on our Class A motorhome and we were powerless to go up the hill! Luckily, Kevin, the owner of the KOA, pulled up behind us and quickly called a tow truck and in less than 45 minutes we had been towed into a campsite. We ended up staying in the campground for just short of 2 weeks. Owners and Staff were the best! Best ever!
Sep 13, 2021
Just pull in for night everything was
Sep 13, 2021
Love the staff and how everyone feels like family! The facilities are clean and modern! Appreciate the kid activities!
Sep 13, 2021
Love all the things for the kids to do. Clean and friendly. I put a nice post on the "Kentucky camping group" on Facebook for you.
Sep 13, 2021
Wonderful as always!
Sep 13, 2021
It was Amazing we loved it would have loved to stay longer and will definitely be back again! Everyone was so nice and friendly and it was our best camping experience we have had anywhere.Thank you all for your Hospitality!
Sep 13, 2021
Every stay is a great stay, but this was the best so far. Upgraded site, which is now our new favorite. Perfect weather. Good company!!!!!
Sep 13, 2021
Very nice campground. Clean, well maintained. Courteous staff.
Sep 13, 2021
Lots of activities for the kids! Very friendly staff. Terrible water pressure. We had to fill our tank and use our water pump. Cable tv was very fuzzy as was some friends in other sites
Sep 12, 2021
We were given personalized service & would recommend. The amenities fit the needs of a variety of campers
Sep 11, 2021
Very unlevel sites but a beautiful park.
Sep 11, 2021
Fabulous staff, beautiful grounds, our 45ft bus fit nicely on our site. Very level. The road up and down to the park are a bit narrow but we made it! The camp office/store had a very nice selection of things. You can tell someone cares about this campgrounds! Would definitely stay again.
Sep 11, 2021
Amazing facility. Very clean and staff was super friendly
Sep 11, 2021
Friendly managers and accommodating but the sites were not level and truly in need of being corrected. So disappointed with this KOA. Contacted Corporate Office and there response was, not my problem because the KOA was independently owned. The franchise should have this site inspected and either insist that they be corrected or lose their franchise. We all know this won't happen MONEY����
Sep 09, 2021
Fairly nice, unlevel sites.
Sep 09, 2021
I have already written a review on several groups I belong to raving about this gem of a park! We were just passing thru but can't wait to come back! Actually might be the best KOA we have stayed at.
Sep 08, 2021
Renfro Valley KOA is the best! The activities are awesome, the restrooms are always clean, and the Campground is immaculate! Kevin and Holly Richards and the staff are always friendly, courteous, and professional in everything thing they do. Best KOA campground ever!!
Sep 08, 2021
The sites were great and location super. Staff was great and grounds very well kept. Will be back.
Sep 08, 2021
Perfect for an overnight pull-through. Everyone was super nice. Second time stay on our travels .
Sep 07, 2021
Holly, Kevin and the entire staff are incredible, they treat everyone like family. So many fun things to do around the campground. Very clean. Stocked camp store. We have stayed the past three Labor Day weekends and are already booked for next year.
Sep 07, 2021
Holly, Kevin and staff are wonderful. This KOA campground is one of the best we've been to. They're so friendly, accommodating and very organized with their themed weekends. Catering to every age group, from kids to adults. Campground is clean and well taken care of. Thanks for an awesome Labor Day weekend, we'll see you next year!!
Sep 07, 2021
Love staying here. As always Kids (and adults) enjoy the activities. Wet and wild hayride was the favorite. We will be back
Sep 07, 2021
We had a great time!
Sep 07, 2021
First time staying at a Paw Pen site...what a game changer!! Made the weekend so much more enjoyable with our pups along! We will definitely reserve this site again and again!
Sep 07, 2021
Everything was great!
Sep 07, 2021
The staff was very friendly and helpful. The campground was clean and well maintained. Will definitely visit again
Sep 07, 2021
80's weekend was AMAZING!!!!! Thank you so much Holly, Kevin and ALL of the Renfro Valley KOA staff for being so wonderful to us!!!!! See you again this weekend!!
Sep 07, 2021
Nice place, friendly staff.
Sep 07, 2021
Overnight stay while in transit - campground clean, very interesting - would stay again.
Sep 07, 2021
had a great stay. enjoyed the entertainment. staff was great. very helpful. .family atmosphere
Sep 06, 2021
My family always enjoys their time at Renfro valley. I never hear "I'm bored". Even in the rain and somewhat chilly temp yesterday they had a great time.
Sep 06, 2021
Enjoyed our stay. Look forward to staying again sometime. Host and personal very accommodating ���
Sep 06, 2021
Rented a camping cabin. They are decent. Beds are terrible. Thin mattress on beds with slats. So you feel every board. Wouldn't be any trouble to put plywood over slats to give a little stability. Nice for kids but if you want quiet get away stay away. We were on our cabin porch and they had a hay ride kids squirting each other and my wife was on a business call and they soaked her. Kids gone wild
Sep 06, 2021
Nice KOA and people. We spent one night as we were headed north. Will try and stay here again as we head south. Highly recommended
Sep 05, 2021
Staff were friendly and helpful. They went overboard to make sure our stay was enjoyable. Camp ground and washrooms were immaculate. We will definitely visit this facility again
Sep 05, 2021
We really enjoyed camping at renfro valley KOA it's the best we been to the staff are very friendly and it's a very clean campground can't wait to visit again
Sep 03, 2021
We loved the wooded area with easy in and out. The store was well stocked. We will have this on our list for future stays!
Sep 07, 2021
Holly, Kevin and the entire staff are super friendly and treat everyone like family. Super clean campground with a stocked camp store.
- Kathy Moser on Google
Sep 05, 2021
Very nice place. Everything was clean and the people were so friendly!! Great little getaway!
- Melissa Milburn on Google
Sep 01, 2021
I had very good experiences there, peaceful stay and good sleep. There're a couple of things that should be addressed. First, that giant inflatable jumping pillow placed right in front of some the cabins creates crazy amount of noise, this needs to go forever (luckily I stayed far away from it, but can't imagine being in the cabins close to it). Secondly, bathroom desperately needs ventilation, there's none and it gets filled with heavy vapor making it hard to breathe and floor extremely wet and slippery. Little windows on top can be opened but they don't do enough, as seems like many people are using showers. Other than that I really like this campground. It has nice grounds and I had pleasant walks around them, friendly woman at the front desk. There're some neighbors, but they're quiet, one has cattle and I could watch the animals from back window. Mountains are very close and there're a lot of things to do in them.
- MountShasta011 on Trip Advisor