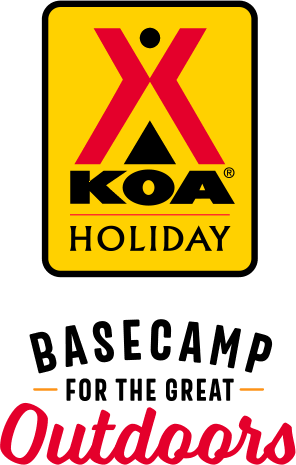 KOA Holiday Campgrounds
Whether you're exploring the local area or hanging out at the campground, KOA Holidays are an ideal place to relax and play. There's plenty to do, with amenities and services to make your stay memorable. Plus, you'll enjoy the outdoor experience with upgraded RV Sites with KOA Patio® and Deluxe Cabins with full baths for camping in comfort. Bring your family, bring your friends, or bring the whole group – there's plenty of ways to stay and explore.
KOA Holidays Feature:
RV Sites with a KOA Patio®
Deluxe Cabins with full baths
Premium Tent Sites
Group meeting facilities
Directions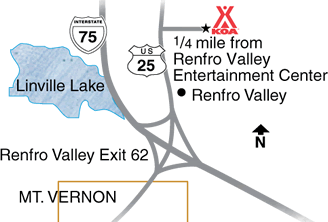 Renfro Valley Exit 62 off I-75. Proceed North on Hwy 25 for 1.5 miles (just past the Kentucky Music Hall of Fame and Museum).
Get Google Directions
Apr 18, 2021
All the personnel that I spoke to were extremely welcoming. All expressed their concern that if I need anything just give a call. My stay was excellent although I did have a dilemma upon leaving. My neighbor's truck was parked in such a way that I would not make the immediate right hand turn needed to access the exit. I had to go through an empty campsite that would allow me to exit.
Apr 18, 2021
I would rate the people there are great.I would rate the people 10. The park it self I would rate 7.Need work on.The site need work on.I still love the people
Apr 17, 2021
We overnighted on our way to Florida and were happy with the accommodations.
Apr 16, 2021
Very clean nice campground
Apr 16, 2021
Not a good spot. We hoped for a better pull thur. Not muddy.
Apr 15, 2021
Stayed two nights service was very good very clean sight.
Apr 15, 2021
No thank you
Apr 15, 2021
New to camping, our stay at Renfro Valley Holiday KOA was only our second camping trip. The staff was extremely helpful and courteous. In addition to answering all questions from new campers, the staff made a point to check on us numerous times just to see if we were okay or if we needed anything. Renfro Valley Holiday KOA is on our absolute re-visit list!
Apr 15, 2021
We love this campground! They have made great improvements, and there are more on the horizon. The staff members are all very friendly and helpful. They take great pride in making sure your stay is the best that it can be! We cannot say enough good things about the facility and those that keep it running!
Apr 14, 2021
Friendly staff willing to go above and beyond to assist. Clean facilities. Clean campground.
Apr 14, 2021
was told the only site available was a deluxe site for $67.00. Parked next to our site was a motorhome that had mold and mildew on the entire front and high weeds surrounding it. Don't know if it was occupied or abandoned or what. Not good when you pay the top dollar.
Apr 13, 2021
This place is very clean. The people go out of their way to help you. All the people that works there are very friendly, they will stop and talk to you. Great store. The bathhouse is very clean.
Apr 12, 2021
Everything was absolutely wonderful, the only negative thing I have to say was there was security light that shines directly on the private fire pit and it made it hard to enjoy the fire. I understand needed security but the sensitivety was too high and a leaf would trigger it. The staff was amazing and very helpful, it was very clean and I would recommend it even with that small complaint.
Apr 12, 2021
Love this place, staff is super friendly and helpful and spots are well taken care of spacious. Staff is always improving facilities and putting a lot of work into the grounds.
Apr 12, 2021
Clean! Super staff! Everything delivered to your site! We will be back!
Apr 12, 2021
We had a great stay! Campground was clean and all of the staff was friendly and helpful. Lots of kid oriented things to do., which was good for us and our grand baby. We knew the pool would be closed since it was early April, but we are already looking forward to coming back at a time when we know the pool will be open. I have no problem at all recommending to stay at this campground.
Apr 12, 2021
Very steep hill to get into and out of park. Sites were very un-even. Very little room to maneuver. Some sites had drop offs that you can not pull forward to leave-had to back up to get out. Only 1 RV could fit past office to get in and out. For the price, definitely not worth it. Try one down the road.
Apr 11, 2021
We stayed with you for three nights to be closer to some of the state parks for camping. The staff was very friendly as were the other campers. It looks like you are starting the season with several projects to continue to improve your campground.
Apr 11, 2021
Restrooms and showers are pristine �ϋ� really super clean... The place looks great the staff is super friendly we love staying at this KOA
Apr 11, 2021
Hilly entrance and exit. Our site (65) was a back in patio site. Our 30 ft camper had a hard time getting in - tough to back in to and close to neighbor on that side. Water pressure was the worst we've had at a campground. Sites were rather unlevel. Staff was super friendly, nice store, cute games for the kids. Not bad for a night stopover. Close to the freeway. Nice walking trails.
Apr 11, 2021
Our gravel site was level and we had a nice cement patio. It wasn't a real big lot but it did the job. Very nice and clean bathrooms. Good cable and internet.
Apr 11, 2021
VERY expensive compared to other campgrounds
Apr 10, 2021
This was our first time camping. Everything was so clean and well ran. The staff was super friendly and helpful. We will certainly come back again!
Apr 10, 2021
Pleasant stop, clean and well maintained
Apr 09, 2021
Staff was unbelievably nice and constantly made sure our stay was perfect. Our site was maintained perfectly and the dog corral was a great touch and made our trip a lot easier. We will be back!
Apr 09, 2021
Staff were helpful and extremely friendly.
Apr 09, 2021
The workers were incredibly friendly. Lots of upgrades being completed. Hopefully the putt putt will be on the upgrade list.
Apr 09, 2021
Enjoyed it. Nice park.
Apr 09, 2021
Nancy is great!! My son did inform me at 10:03 he was finishing up a basketball scrimmage there at the court, and there was a gentleman that worked there, was really rude to him and his friend,yelled at them, i would love to talk to this gentleman
Apr 08, 2021
Looks like you have and are making lots of improvements. Looks great!
Apr 08, 2021
Great place to stay. Extremely clean. Friendly staff.
Apr 08, 2021
Very nice family friendly campground. Staff was more than amazing. Clean, updated shower facilities. Can't wait to go back!!
Apr 07, 2021
The stay was lovely and the staff was very welcoming. We paid extra $15 to choose site 64 only to find out that there is no flat surface next to the RV. This means kids couldn't enjoy the outside as much as anticipated. In my view site 64 is something that should have been lease expensive and definitely not extra $15 worth.
Apr 06, 2021
Fun place with great staff.
Apr 06, 2021
We had a nice stay. The only things that could have been improved were the parking and the bathrooms. The parking behind our camping cabin was pretty narrow and on a relatively steep hill. We were okay in our SUV, but it would have been a challenge in a smaller car. The bathroom was very damp throughout- maybe not enough ventilation when people shower? And the sink was clogged, holding water.
Apr 06, 2021
It was very nice . Very helpful staff will be returning.
Apr 06, 2021
Love you guys �ϋ� Everyone made us feel so welcome and comfortable! You made us feel special and most of all you acknowledged us! You had time for whatever need we had or a small conversation!!!!! Thank you and may God Bless all you do!!
Apr 06, 2021
convenient They management works constantly to keep activities for kids. They are constantly checking to see if you need anything and keep the grounds clean and neat.
Apr 05, 2021
Absolutely loved our stay at the 2 person deluxe cabin! Was just the right size for 2 people and the added bathroom/shower was perfect after a long day of hiking. We really appreciated the extra space heaters provided for the cold nights too. Employees were all very friendly and eager to make sure we had everything we needed to make out stay comfortable. Can't wait to go back!
Apr 21, 2021
Awesome
- David Barncard on Google
Apr 18, 2021
Seem like a nice place. We are on the way back from Tennessee and stopped her for the night. Cool amenities like a pet pen for a few sites and a community kitchen. The sites seemed nice and spaced out. Playground is cool for the kids and overall would like to see it during the season. Our site had its own propane grill and swing set.
- Joseph Powell on Google
Apr 18, 2021
Nice people!
- Cassandra Foster on Google