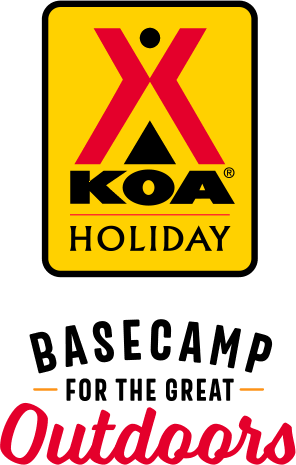 KOA Holiday Campgrounds
Whether you're exploring the local area or hanging out at the campground, KOA Holidays are an ideal place to relax and play. There's plenty to do, with amenities and services to make your stay memorable. Plus, you'll enjoy the outdoor experience with upgraded RV Sites with KOA Patio® and Deluxe Cabins with full baths for camping in comfort. Bring your family, bring your friends, or bring the whole group – there's plenty of ways to stay and explore.
KOA Holidays Feature:
RV Sites with a KOA Patio®
Deluxe Cabins with full baths
Premium Tent Sites
Group meeting facilities
Directions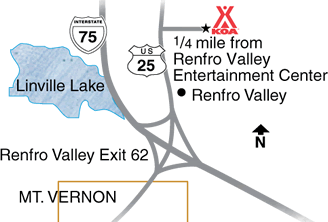 Renfro Valley Exit 62 off I-75. Proceed North on Hwy 25 for 1.5 miles (just past the Kentucky Music Hall of Fame and Museum).
Get Google Directions
May 05, 2021
We Stayed in a Deluxe cabin that advertised a Queen bed but had a full bed. Cleanness could have been a little better (dead bug piles). We could have stayed at a nice motel for the same cost of the cabin.
May 03, 2021
Great campground and great staff. Went above and beyond to make our stay comfortable. We will be back.
Apr 22, 2021
We enjoyed the very friendly staff. They answered all our question as well as our needs.
Apr 19, 2021
This is our 3rd time staying here. We absolutely love it! The best part is they plan several activities for the kids on the weekends and my kids love doing them! The owners are super nice as well as the employees! We will continue to come back!!
Apr 19, 2021
We stayed in the little cottage and it was so clean and nice, bed was comfortable, check in after 9PM was very easy, we will definitely be back again! Very pet friendly also which is important to us!
Apr 12, 2021
Everything was absolutely wonderful, the only negative thing I have to say was there was security light that shines directly on the private fire pit and it made it hard to enjoy the fire. I understand needed security but the sensitivety was too high and a leaf would trigger it. The staff was amazing and very helpful, it was very clean and I would recommend it even with that small complaint.
Apr 09, 2021
Nancy is great!! My son did inform me at 10:03 he was finishing up a basketball scrimmage there at the court, and there was a gentleman that worked there, was really rude to him and his friend,yelled at them, i would love to talk to this gentleman
Apr 08, 2021
Great place to stay. Extremely clean. Friendly staff.
Apr 06, 2021
We had a nice stay. The only things that could have been improved were the parking and the bathrooms. The parking behind our camping cabin was pretty narrow and on a relatively steep hill. We were okay in our SUV, but it would have been a challenge in a smaller car. The bathroom was very damp throughout- maybe not enough ventilation when people shower? And the sink was clogged, holding water.
Apr 05, 2021
Absolutely loved our stay at the 2 person deluxe cabin! Was just the right size for 2 people and the added bathroom/shower was perfect after a long day of hiking. We really appreciated the extra space heaters provided for the cold nights too. Employees were all very friendly and eager to make sure we had everything we needed to make out stay comfortable. Can't wait to go back!
Apr 05, 2021
Enjoyed our stay very much and the ability to order firewood via text and without unnecessary contact was much appreciated
Apr 04, 2021
It was wonderful. We had a great time. Will definitely come back.
Apr 04, 2021
Renfro Valley Holiday KOA is the perfect campground. We have camped at the tent sites in the past. This time we rented an amazing little cabin. It was so clean and for lack of a better word "adorable" We will always stay there when in the area. The grounds- 5 stars! The staff- 5 stars! The area- perfect! Bring the family. Bring the pups and have an awesome camping experience!
Apr 03, 2021
we had to clean the cabin before our stay and when we got ready to clean up and leave, we found dirty diapers under the bed, otherwise everything was acceptable.
Apr 02, 2021
No light in the loft of the deluxe cabin made it tricky for our kids to safely navigate the ladder in the night. We went out and bought a nightlight but the outlet up there was in too rough shape so it wasn't able to stay in there. Otherwise loved our stay.
Mar 31, 2021
Everything was nice. Staff was nice. No issues with my late check in. Text messages were nice. Everything was as good as expected or better.
Mar 28, 2021
Renfro Valley KOA is in a beautiful location and easy access to the Interstate and amenities. The accomodations and grounds are well kept and the staff are welcoming and caring. We felt right at home and enjoyed every minute of our stay. We are looking forward to more vacations at Renfro Valley so we can enjoy more of their history and local attractions.
Mar 28, 2021
Truly a home away from home. We loved our time in Kentucky and didn't want to go home! Normally after a few days, I'm counting the days "just 2 more nights and I can go home". This trip it was " only 2 more nights and we have to go home".
Mar 24, 2021
Easy late checkin Very clean
Mar 06, 2021
Great park. Love the spacious and convenient kamp kitchen. Nice walking trail and bark park. Convenient to bluegrass music venue, good food, vineyards, and distilleries. We will be back soon and often.
Nov 02, 2020
Me and my family come every year and have for the past 10 years we always rent cabins. About 4 or 5. We love the KOA. This year though me and my sister had to clean our cabin and my daughters cabin. There was a lot of dirt on the floor and melted chocolate on the table and little bench. I totally understand that they can not be spotless, but they were dirtier than usual when we got there.
Nov 02, 2020
I've been coming to this Koa for years . It was cleaner with the previous owners. Upon arrival my cabin was so full of pet hair and filthy . Smelled and muddy pet prints, hair on mattress. I had to go to store and buy cleaning products. Bathrooms closed for cleaning but after it didn't look like it had ever been clean. Lady at front desk was not very friendly. The other staff members were nice
Nov 02, 2020
The staff was friendly and very helpful, and the facilities and grounds were very clean. We had a great time! I also appreciate that the staff took all Covid precautions. We will be back!
Oct 31, 2020
Nice place, we had a good time.
Oct 26, 2020
Excellent campground!!! Very well laid out, modern bathroom facilities, super clean throughout. Very friendly owners/employees. Highly recommend the Renfro Valley campground!!!
Oct 22, 2020
We just had an amazing vacation at this campground! Nice staffs and very professional
Oct 18, 2020
the deluxe cabin was very nice . the futon could use a new mattress. you can feel the bars when sleeping. frig sound like a helicopter all night long. lol
Oct 15, 2020
Great spot. Great stay. We will be back soon.
Oct 15, 2020
Our family had a much needed relaxing time filled with fun. There was never a dull moment. The playground, bouncing pillow, basketball court, and corn hole boards got lots of attention. The available and convenient wood delivery and pizza with wings rapidly delivered with a simple text. We are actually going back this weekend. Great spot!
Oct 12, 2020
I stay here once or twice a year, and have got others to come also. The owners do a VERY nice job of making a family friendly, very clean and inviting place to stay. It is very much appreciated, and thanks for making it easy!
Oct 12, 2020
Our children love this KOA, they beg us to stay every year. It is so clean and has so many socially distant activities for the children. As a mom of 3 vacations can be crazy but coming to the Renfro Valley KOA is like a breeze, my kids are just so happy and entertained. We stay here as often as we can, we truly love this campground. The cabins, bathrooms, and all areas are super clean and nice.
Oct 11, 2020
I love this campground. It has a lot of activities for the kids. However, the mattress was not comfortable and hard to get out of. My husband has some medical issues and he couldn't get out of bed. I went to the office to try and rent an extra mattress. I was willing to pay. I was told "we don't do that." Other cabins were obviously empty. (During week) Seemed uncaring about our situation.
Oct 03, 2020
we loved the cabin accommodations. The K-9 campground was awesome. We would go there again. The staff was friendly and helpful.
Sep 25, 2020
There was so much to do and the staff was friendly
Sep 21, 2020
We loved our stay, wished more activities were open for kids but can't help that because of COVID. Loved the cabins!
Sep 09, 2020
Everything was perfect for family get together. So many great activities. Fun for all ages.
Aug 31, 2020
Very accomodating staff. Lodges were well stocked with expendibles and kitchen appliances. Highly recommend.
Aug 24, 2020
Everything and everyone was very nice! Enjoyed a weekend of just relaxing with family.
Jul 29, 2020
We enjoyed our stay. The cabin was nice and clean. The restrooms were clean and well taken care. We felt everything was well maintained. All the employees was friendly and helpful.
Jul 29, 2020
We needed a quick overnight cabin with our dogs and were very pleased with this campground. The bathrooms are incredibly clean and the staff in the camp store were so friendly. Lots for the kids to do outside too. Highly recommend.
Jul 28, 2020
Very relaxing weekend. Extremely helpful and friendly staff. Will definitely stay again
May 10, 2021
Very nice place to take kids lots of things to do for all ages. They had a ball. Before we left they said they had to come back.
- VICKI WOODS on Google
May 10, 2021
We LOVE Renfro Valley KOA Holiday. The owners and staff are wonderful. It doesn't matter what the question or need is the staff are willing to help. This is our second trip this year and we are looking to schedule another trip soon. I highly recommend this campground.
- Jaime Lunsford on Google
Apr 26, 2021
Staff were very friendly and accommodating. They waited for us to get there a bit late so we could fill our propane tank in order to have heat for the night (first trip of the season). Bath house was clean. The only complaint we had was the lack of grass/gravel at our site. It rained one day and our site was very muddy. Still recommend this campground. We will be back!
- Kristen O'Neill on Google