Directions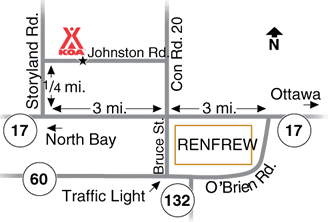 5 km or 3 miles west of Renfrew on Hwy 17: exit North Storyland Road then right on Johnston Road. Our GPS location is on most units but Garmin and Magellan require 2826 Johnston Rd Horton Township unlike Tom Tom which uses 2826 Johnston Rd Renfrew.  GPS:  N45.529969, W76.687335
Get Google Directions
Nov 03, 2020
Great stay. Nice camp site would definitely return.
Oct 25, 2020
Nice that it is on a lake.
Oct 21, 2020
Nice park. Great staff. Lots to do in the park and the surrounding area. Such a pretty lake!
Oct 20, 2020
It was a cold but beautiful weekend in October so we stayed in a cabin. It was clean and nicely situated. With no other campers around, we had a nice view of the water and the pine forest. The washroom was located nearby and clean and warm. Our only complaint was the trailer nearby playing LOUD music from about 4pm until 9pm. But we know this is unavoidable when at a campground.
Oct 16, 2020
Super clean, our cabin was great and the host were very nice! I would recommend this KOA!!
Oct 14, 2020
Very clean bathrooms. Very nice staff. Loved the deluxe site with deck!
Oct 14, 2020
The staff and seasonal campers. Are amazing. A fantastic family
Oct 13, 2020
Very nice sites and lots of places for the kids to play. Very close to everything. Nice staff.
Oct 13, 2020
It was a great time except for the Saturday night when a campsite directly across from us decided to extend the noise curfew start from 11pm to 1:30am. These were seasonal campers so they may be looked at differently. Fortunately that was the only night.
Oct 13, 2020
We love this small family oriented campground. It is clean, safe, fun and beautiful.
Oct 13, 2020
Wonderful campground with wonderful staff! We will be going back next year!
Oct 12, 2020
Home away from home... fantastic staff.
Oct 09, 2020
The staff were excellent, friendly & helpful. Bathrooms were spotless. My grandkids loved the bouncy pillow, playground & lake. My only recommendation would be lights on the roads, coming back in the dark it was hard to see where to drive.
Oct 07, 2020
We had a great time. Management and staff are very friendly and helpful. Look forward to going again!
Oct 05, 2020
Washrooms were closed to trailer users; this was not communicated at time of booking. There was lots of noise very late into the night (past 1 am).
Oct 05, 2020
It was very enjoyable and relaxing. The staff are very friendly and helpful. The cabin was cozy. Paying for children from 10 yrs and up is not right. At 10 they are not considered an adult and have to be with you. I can see 16 and up like most campgrounds are is reasonable. Other than that it is a great place to stay.
Oct 04, 2020
I booked a pull through and was put in a back in, although I could "pull" though because there was no one there at the time. The Wifi did not work the whole time, lthough thte pull through site description said wifi was good, and I asked the KOA rep to move me but she said there were no other sites available and to go to the store to access wifi. That should not be an option considering covid.
Oct 04, 2020
We first stayed there in July and the staff were very accommodating as we needed to do laundry and it was incredibly hot that week. The dryers were not to be used during the day, which was fine as we had racks. The mini golf was great and the driving range was also handy. This time when we stayed they were aslo very accommodating. It was a brief stay over this time. Overall great experience.
Oct 02, 2020
Fantasic...the camp sites are large, very well maintained and with the delivery of the fire wood at your site makes your stay that much better. See you in the spring of 2021.
Oct 01, 2020
Great service internet and people
Sep 30, 2020
Great staff. Very friendly. Good location for golf and groceries. Park is not loud with kids.
Sep 30, 2020
Well managed and maintained park. Within a reasonable distance to Canada's capital.
Sep 30, 2020
Beautiful place, well kept and lots of activities for all ages
Sep 28, 2020
On a beautiful lake. Campers very friendly. Park full, meaning owners doing something right. Owner just the best
Sep 28, 2020
My stay was very pleasant at your facilities and found site #48 was OK for waste dump to accommodate my hose hook up. I saw your new DOG PARK installation Thank You. The Dog Park gate requires in my view some adjustments as my Dog being a Beagle several times tried to squeeze under it. The waste for Dog Park in my view is great, however if you were walking in large area the disposal container no
Sep 28, 2020
Beautiful waterfront site with the magnificent fall colors reflecting over the water. Spectacular. We really enjoyed our stay. The staff was great. Also enjoyed playing horseshoes even though I lost.
Sep 28, 2020
The KOA was very nice, only issue is reservation- multiple phone calls to get it right (I reserved 3 sites), many issues right up to time of check in. They were very apologetic.
Sep 28, 2020
Some of the lots are very small and you are often facing your Neighbour with awnings almost touching. So there is little to no privacy. Having said that, the park is clean and friendly. It is a great location for anyone wanting to visit are free and the surrounding areas.
Sep 28, 2020
Initially there was a mix up with which site we thought we had booked versus which site was actually booked for us. Luckily we were able to be with our group in the end. The front desk staff were super nice about it and even comp'd us a load of campfire wood which was above and beyond our expectations! Happy campers!
Sep 28, 2020
Wonderful stay. Staff was friendly. Mini putt was a blast. Kids loved the little store. Will be back for sure again next season
Sep 28, 2020
A nice little campground. Washroom facilities were very well maintained during these Covid times and much appreciated. Good, friendly customer service by park staff. A bit expensive for a tent site with no services however.
Sep 28, 2020
We has a great stay at Renfrew KOA! There were lots of acivities to keep the littles ones entertained and the campground was well-kept. I would recommend this campground to anyone looking for an outdoors getaway.
Sep 27, 2020
The KOA was fine, however I was on a working holiday and we rely on WIFI to stay in contact with our operations. Most of stay we had to leave the site to gain contact. Please improve Thanks
Sep 27, 2020
Whole campground was tidy and the facilities very clean
Sep 27, 2020
Place was very nice and clean, people were friendly and helpful. The only disappointment was the Wi-Fi. We were on lot 100 and could not connect at all. We had to go near the office to get connection.
Sep 27, 2020
its great for families with kids
- Tung Nguyen on Google
Sep 23, 2020
Beautiful park! Lots of space and areas where kids can play. Mature trees and well manicured gardens are so pretty. The lake is a bonus! I recommend this park 🌞😎
- mark&fran Chevrier on Google
Sep 15, 2020
Quiet, clean,family oriented camp ground
- Jean Campbell Priest on Google