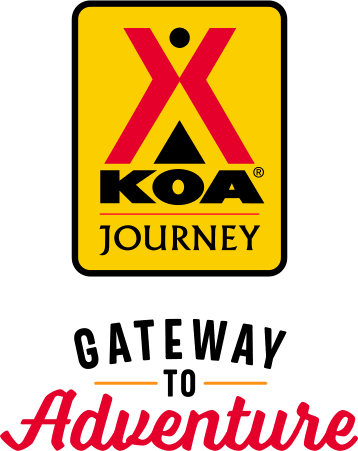 KOA Journey Campgrounds
KOA Journey campgrounds are the perfect oases after a day on the road. Whether it's along the way or a quick getaway, they've got you covered. Located near the highways and byways of North America with long Pull-thru RV Sites, they deliver convenience to the traveling camper. Pull in, ease back and take a load off.
KOA Journeys Feature:
Pull-through RV Sites with 50-amp service
Premium Tent Sites
Well lit after hours check-in service
Directions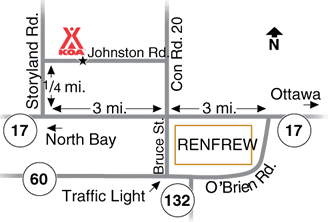 5 km or 3 miles west of Renfrew on Hwy 17: exit North Storyland Road then right on Johnston Road. Our GPS location is on most units but Garmin and Magellan require 2826 Johnston Rd Horton Township unlike Tom Tom which uses 2826 Johnston Rd Renfrew.  GPS:  N45.529969, W76.687335
Get Google Directions
Oct 17, 2022
great fall camping for a week Oct. 8 to 15. This is our 4th or 5th time here and we will be back. The field was good for this time of year, but in the summer a bit of shade would be appreciated.
Oct 16, 2022
Nice big camp sites. Clean and friendly staff. Will recommend it to any one heading that way.
Oct 14, 2022
Comfortable - friendly staff
Oct 13, 2022
The hosts were friendly and welcoming. The beach and grounds are nice. The washroom facilities are older and the campsites are very close together.
Oct 12, 2022
No WiFi, otherwise good.
Oct 12, 2022
Nice quite stay. Facilities were clean and well maintained. Would have liked a little better Wifi connection but it wasn't a deal breaker.
Oct 12, 2022
The campground was nice and clean. Owners were friendly and accommodating, I would definitely stay there again.
Oct 11, 2022
Enjoy the site and people running the park are very nice and friendly. We have been coming here for several years and back next year. We have been too lots of othe KOA's but this is the best!
Oct 11, 2022
The stay was fantastic! We come here every Thanksgiving with our group and we already booked our sites for Thanksgiving next year. Everybody at the Renfrew KOA are a pleasure to deal with.
Oct 11, 2022
Unfortunate that the store/office closed early (12pm) on Thanksgiving Sunday, which meant that for pretty much the whole day on a holiday weekend, no activities were available (i.e. mini putt and boat rental), and wood was not available for purchase.
Oct 11, 2022
We came over the thanksgiving long weekend. We have been to other KOA's and never seen this before but on Sunday the office closed at noon. That was unexpected and we had to make a trip into town for wood and last minute items that we could have purchased at the store. I get it that you want to have your own TG meal but you run a KOA. The people camping there are counting on you to be there.
Oct 11, 2022
Quite a bit of confusion about new sites in field. We were guided to our site by staff. Everyone else that came in after were left to figure it out. People facing wrong way, people on other peoples sites. The drama! Somebody even tried to get an extra night, and cause a commotion when the real camper showed up after a long trip. Water pressure way too low. Nice campground, dog friendly
Oct 11, 2022
Bit disappointed as they didn't have any organized activities that are offered at the other KOAs we have stayed.
Oct 11, 2022
Wifi is the only drawback for our stay. I was working and couldn't get anything on the wifi.
Oct 11, 2022
This KOA is in a lovely setting and we really enjoyed the mid week time there as it was quiet and we felt we had space around us. However, once Friday night came, the campground filled up and the campsites are way too small. We felt like we were having our campfire under our neighbour's trailer and there was no view out the windows except people very close and other trailers backed right into ours
Oct 05, 2022
Lovely place.
Oct 03, 2022
We have been camping at Renfrew KOA for a few years and love the area and the activities available.
Oct 02, 2022
My only complaint we had a very sandy site not the best with a wet dog
Oct 02, 2022
Feel like camping in a baseball field , no privacy at all , there have been some work in the site , covered by sand , witch brought lot of dirt in VR . Bad experience after 8 hrs ride . Site #109
Sep 30, 2022
Friendly helpful staff and lots of amenities. Physically beautiful location and in a quiet rural area. i camped here the last week of September so not busy with young families. I think it would be an ideal place for young families given all the child friendly equipment.
Sep 30, 2022
Staff was friendly Nice little lake and lots of areas to enjoy
Sep 29, 2022
It was just an overnight stay. The people were friendly, it was a good location, nice lake. The only problem was the wifi, we couldn't get on to the one they told us to use.
Sep 28, 2022
This is a fantastic KOA. Sonya is amazing to deal with. Steve is also a great asset to the team.
Sep 27, 2022
Nice clean quiet campsite
Sep 26, 2022
It was perfect and staff are very friendly and helpful.
Sep 26, 2022
Beautiful park. Friendly staff. loved the view of the lake.
Sep 26, 2022
Probably the nicest KOA we stayed at during our road trip… very woodsy and rustic… the shower facilities could use an upgrade but did the job. Internet was pretty much non existent for us… constantly dropping but not a deal breaker for us
Sep 26, 2022
Pretty park gave it a 4 out of 5 because there's no Wi-Fi
Sep 26, 2022
disappointed that we could not connect to wifi. Check in was great. We asked to move to a different site because the one we had didnt accommodate our trailer and truck. The washrooms are dated but useable. Not a fan of back ins meaning back to back with another rv. Otherwise our stay was fine
Sep 26, 2022
Had the most wonderful time! Beautiful large, clean site, right on the water- which our dogs loved! Plenty of activities throughout the park, but we enjoyed the listening to the Canadian Geese most. Neighbors were wonderful; a welcoming community of "regulars". We will be back and will definitely recommend!
Sep 25, 2022
We didn't stay long . Just over night but very nice ! The staff were very friendly and accomidating. Would definitely recommend and will come back but for longer next time. Thank you
Sep 24, 2022
The campground was nice and the hosts are excellent but the highway noise was pretty loud. On the positive side, it is very close to the Levis-Quebec ferry.
Sep 20, 2022
Seasonal we camped next to we're unfriendly and stuck up. Rest of seasonals were very friendly
Sep 20, 2022
Nice campground. Only stayed one night. Did laundry and the dryers weren't great. Everything else was good.
Sep 19, 2022
I would like to Thank Sonja, Beverly, Steve for understanding my trip this time to get a repair done on my RV. I had to get a cabin which was just awesome experience. My repairs took a extra day, which Sonja understood and had hold on cabin. Your Kampsite is just awesome and my dog just loves the grounds to go for walk. Hopefully it will be awesome next year when I return. Thanks to everyone
Sep 18, 2022
Great staff and very friendly,
Sep 18, 2022
Bathrooms are in dire need of updating. Other KOA's have the same cabin with table and 2 chairs inside as well as fridge microwave and television. Dog park was pretty small. There were no instuctions as to where to leave key when checking out as office was closed until 10am.
Sep 16, 2022
I loved the location and how peaceful it was. I was there to relax and I did..
Sep 15, 2022
Great campground. Great staff. Nice area
Sep 15, 2022
When we made the reservation there was no description of the full-service sites. We were directed to an area in what appeared to be a baseball field. Someone had dragged the fire pit barrel into the middle of our site and when we drove in we couldn't see the barrel and damaged our levellers. The site should have been inspected prior to our arrival. the manager said he's not responsible
Sep 15, 2022
We come here regularly, always clean and quiet
Nov 05, 2022
Nice family campground.
- Peter Gignac on Google
Oct 01, 2022
Late season camping. Was beautiful and trees full of colours.
- jean-christian dupont on Google
Sep 03, 2022
Friendly and accommodating staff. I would definitely stay there again.
- Wayne on Google