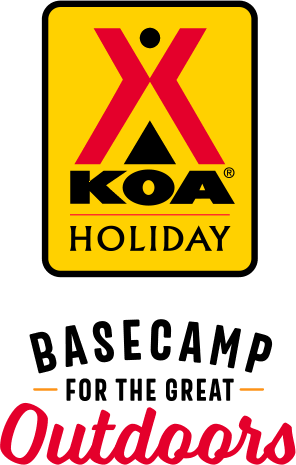 KOA Holiday Campgrounds
Whether you're exploring the local area or hanging out at the campground, KOA Holidays are an ideal place to relax and play. There's plenty to do, with amenities and services to make your stay memorable. Plus, you'll enjoy the outdoor experience with upgraded RV Sites with KOA Patio® and Deluxe Cabins with full baths for camping in comfort. Bring your family, bring your friends, or bring the whole group – there's plenty of ways to stay and explore.
KOA Holidays Feature:
RV Sites with a KOA Patio®
Deluxe Cabins with full baths
Premium Tent Sites
Group meeting facilities
Directions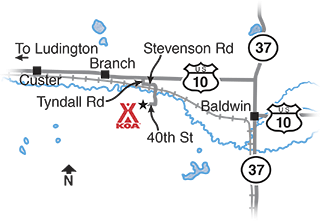 Please Note: GPS systems will sometime try and take you down some off road trails.  Compare your GPS to the following directions and there is only One Dirt Road which you turn 40th St our main entrance.
*Road Closures/Detour:  OK for THROUGH/LOCAL traffic.  Any sized rig can get by and this is the most direct route.  Please proceed at your own risk.*
Get Google Directions
Oct 28, 2021
A little miscommunication when I was supposed to receive a text regarding my stay including site number and the fact that I could still get through the road closed sign. Despite it being a weekend we never saw the camp store opened if we needed anything. That being said the campground itself is fantastic with lots of camping options, large sites. the owner was helpful getting us on our site
Oct 27, 2021
Great stay, nice property with a mix of amenities to cater to various travelers. We chose the more remote section bordering the national forest and had a blast, but the main section of the park had lots of fun for families with lots of playground equipment, a pool, and even an outdoor movie night. Had a nice fenced dog park. Staff was extremely friendly and helpful. We'll be back!
Oct 27, 2021
The campsite was clean and I was very impressed with the cabins. They were nice and heated(!) which we weren't expecting. The outside area was nice as well. Overall the campgrounds are nicely taken care of and the staff was very friendly.
Oct 26, 2021
We had a great time! We missed out on all the usual activities because it was off season but we will have to come back another time :)
Oct 25, 2021
Very clean lots to do and very helpful staff!
Oct 25, 2021
Firewood was wet - unusable, which was very disappointing. linens were not sufficient for cold weather. Cabin was lovely and clean. It would have been good to be informed that there was no store.
Oct 25, 2021
They were so great! Thank you!
Oct 23, 2021
We enjoyed spending the summer and looked forward every weekend to going back up. If we had problems it was always taken care of right away. Loved spending time with our kids and grandkids there and making memories. Can't wait for next summer.
Oct 21, 2021
The cabin is outdated and the bathroom condition is poor and not very clean. It's spacious though and great space for entertainment.
Oct 21, 2021
When I needed my propane tanks filled and firewood delivered it was done quickly.
Oct 18, 2021
Not impressed - 1st time ever camping at a koa, and I'll be avoiding them at this point. Employee's sold us awful wet wood (couldn't bring your own wood in) $8 per bundle?! What a rip off. Just fyi - bundles run $5 on average. The kids enjoyed the blow up pillow. Employee came out one evening and deflated it (kids were going to lay on it and look at the stars.) At noon the next day - still flat.
Oct 17, 2021
Stayed 3 nights… last few days park open. Nice quiet park. Good facilities. Lots of patios, fire pits, picnic tables and Adirondack chairs. Very personable host. We were gone most of the time sightseeing in Ludington and Manistee, so not really aware of any problems. The site we were in might need more gravel before next season.
Oct 16, 2021
Had a great time. Love camping in the woods with full hook-up. Owner is super nice and accommodating. Ongoing improvements are being made which is nice. The only downside right now, the roads are stone and hard to bike on but that wouldn't stop us from returning. Also a bit pricey, although maybe the norm for KOA - not sure.
Oct 16, 2021
To put it short, horrible communication.
Oct 15, 2021
Very nice sites!
Oct 14, 2021
Clean, scenic, spacious area. End of season stay so not much after the trick or treating for kids but they had fun. A little pricier than some other KOAs but a nice location. The only negative may be too many texts but they were informative.
Oct 13, 2021
Everyone was very friendly and went out of their way to make sure everyone had a great time and lots to do
Oct 12, 2021
This is our favorite place to stay, it gives you the safe feeling like being at home. Thiers so much fun for the kids, everyone's happy.
Oct 12, 2021
Prices were too high, staff was friendly, lots of activities for the kids
Oct 12, 2021
We had a blast. Everything was perfect... from the beautiful RV we stayed in... to the activities the KOA staff did for the kids and us. Our grandkids really loved the wagon ride and pumpkin painting. The staff was really friendly and went out of their way to make sure we were happy and we were. I Will be coming back next year with more family, already booked. Thank you and see you opening day!
Oct 12, 2021
Great KOA. Staff is friendly and lots of activities throughout the day. Great atmosphere in the woods
Oct 12, 2021
Had a great time! The people that run this KOA go way above anybody's expectations! They are there very early in the day and stay very late at night to make sure everyone's needs are taken care of. All the events they setup and run are always an unexpected great experience. All kids always have a large variety of things to do. The campsites are meticulously maintained and large. Thank you
Oct 12, 2021
Huge campsite , very friendly and helpful staff. Lots of fun for kids. Wonderful campground
Oct 12, 2021
30 amp breaker did not work
Oct 11, 2021
Pros:Great campground, very nice staff. Super clean bathroom. Awesome kid activities. Cons: only one bathroom not close to the cabins. Rustic cabin is very rustic no air, not even a mini fridge or microwave. A mini fridge would greatly improve the stay. Wish the store had more food than just pizza to order. Can't wait to go back next year, hopefully we will be able to get a deluxe cabin next tim
Oct 07, 2021
It was our first camping trip in our new to us RV. Actually, our first camping trip ever in an RV. We couldn't have asked for a nicer campground. All the facilities were in tip-top shape, clean and neat. We had a great time.
Oct 06, 2021
This is such a great place to camp. It's very well maintained, lots of activities & the patio lots are awesome. We will definitely be back.
Oct 06, 2021
Bradley said he had a great time so did I
Oct 04, 2021
As always had a great time and great service by the crew. Will for sure be back again!
Oct 04, 2021
The owners are amazing. We have been coming here since they first bought it and it only a gets better! So positive, uplifting and just plain fun! Kids love all activities they put out there. You rock!
Oct 04, 2021
Hobbit cabin was super cute. It would be nice if ceiling fan could run with the lights off. The small ceiling light would need to be on its own switch. There was no smoke detector in the cabin which concerned me. The bed was not great to sleep on. Adding a porta potty near the cabins with no toilets would be helpful for late night bathroom trips. Solitude of the campground was great.
Oct 04, 2021
Everything was amazing—staff was outstanding, park was clean and we loved all of the texting and of course the cinnamon rolls.
Oct 04, 2021
great campsite with awesome amenities!
Oct 03, 2021
Hard to find with road closed from west approach. Directions sent were from east. Just stayed over night but campground was well kept and the events planned for weekend sounded great!
Oct 01, 2021
When we checked in we were 2 hours early, they charged us an extra $25 for that. Not necessary. The firewood was very expensive and the wood obviously was not seasoned and wouldn't burn. The nightly rates were more expensive than surrounding campgrounds, that must me why they had so many vacancies. Very dissatisfied
Sep 30, 2021
I reserved a 30amp site, elec only. Got there late as getting there was on horrible roads. Our site had 20amp and we could not use it. Moved to an empty site with 30amp, and also water and sewer that we did not use. When I told them about it, they charged us more money. I only wanted what I reserved and feel I should not have had to pay any extra, when I didn't get what my reservation said.
Sep 29, 2021
We stayed in a deluxe site and it was wonderful. We plan to book a lot more trips.
Sep 28, 2021
We enjoyed our cabin - it was a tidy clean space for us. The employees were very helpful!
Sep 25, 2021
This campground has a lot of really nice wooded/ secluded spots. We had a patio site which was nice but more of a parking lot feel. We picked patio in case of rainy weather so we could keep our dogs drier. All in all we enjoyed our stay.
Nov 23, 2021
Great!
- Brian Bourne on Google
Oct 27, 2021
We had a great time at this well run KOA. The hosts and staff were very friendly and attentive, and the campground has a lot to offer for guests. We were looking for nature and isolation and enjoyed the upper part of the campground with a site that bordered the national forest. We could go hiking directly from our site. In the middle we're some nice amenities like sites with patios, swings, and fire pits. Then the lower part of the campground was very well set for families with playground equipment, the pool, a jump pad, games, and even an outdoor screen where they did movie night with a bonfire. There was also a nice dog park where our pup could stretch her legs. Overall we enjoyed the variety offered at the campground, and the welcoming staff. We'll definitely be back.
- Chris Sparrow on Google
Oct 24, 2021
We had a wonderful time at this Campground! The owners are not only welcoming, but they go out of their way to make sure you are enjoying your visit. They even let us know via text, about the large bonfire and outdoor movie night! Which was a lot of fun1. This was our first visit here, and can easily see why it is highly rated, clean and lots of activities! Will definitely return! Thanks!
- X7840FFrobertr on Trip Advisor