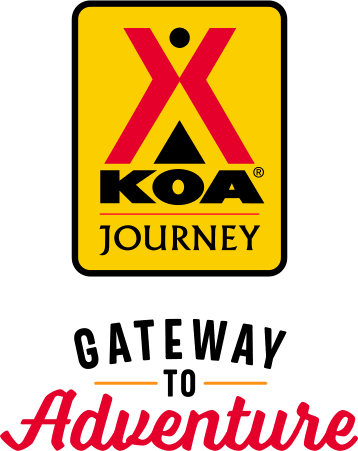 KOA Journey Campgrounds
KOA Journey campgrounds are the perfect oases after a day on the road. Whether it's along the way or a quick getaway, they've got you covered. Located near the highways and byways of North America with long Pull-thru RV Sites, they deliver convenience to the traveling camper. Pull in, ease back and take a load off.
KOA Journeys Feature:
Pull-through RV Sites with 50-amp service
Premium Tent Sites
Well lit after hours check-in service
Directions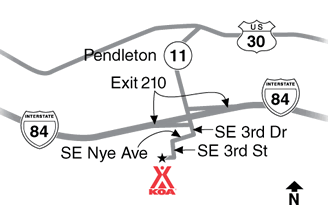 I-84: Take Exit 210.

Head uphill (South)

Take the first right (SE Nye St.)

And then the first left (SE 3rd St.)

Get Google Directions
Jun 09, 2021
Great KOA, very well maintained, quiet, super good wifi and customer service!
Jun 08, 2021
Everything was pristine and the people were friendly and helpful. Beautiful view. If you had a pool, it would be perfect!
Jun 08, 2021
The Pendleton KOA is very clean and immaculate. The "dog park" is a patch of grass the even the dogs don't want to use. The KOA workers in the yellow shirts were very nosy and obtrusive; they gave you no privacy. I will not be staying at this KOA again.
Jun 08, 2021
Great location and phenomenal staff. The hosts of this park are very nice to talk to and are very helpful.
Jun 08, 2021
Everyone was very helpful.
Jun 08, 2021
We just stopped in overnight. Nice, clean campground. We would love to stay longer.
Jun 07, 2021
We just made a quick over night. The park is very clean but the spaces are very tight. Neighbors very close. Dog park very small. Nice that it is so close to the Wool factory and store.
Jun 07, 2021
Easy check in and well kept KOA.
Jun 06, 2021
We really enjoyed our night with you. The only disappointment was not being able to have a wood fire. Overall though it was private, quiet and a relaxing place to rest.
Jun 06, 2021
Nice and clean KOA with trees and grass at most sites. Nice dog yard. Personnel were helpful and friendly.
Jun 06, 2021
Staff was friendly and the KOA was clean including camp k9. Things that could be improved: site sewage dumps should not be right next to picnic tables(gross). Many people seem to be living there so that creates a different atmosphere. Sites are placed close together and feels crowded. Location is good and relatively quiet with a nice view.
Jun 06, 2021
I was concerned that there were not separate showers for males and females. I am not comfortable letting my teen daughter be alone in a place like that. I think it is very unsafe.
Jun 06, 2021
We love this KOA because of friendly staff, the cleanliness, and the views!
Jun 05, 2021
Nice, clean, and very hospitable. Easy to find and great location.
Jun 04, 2021
Ann was a blessing. She told us about the Pendleton underground tour. Our stay at tha KOA was relaxing. I enjoyed using the larger accessible shower!! I am not handicapped, I just liked the larger space.
Jun 03, 2021
We stayed in a pull through and had plenty of room for our 41' fifth wheel and truck. Easy in and out.
Jun 03, 2021
We arrived late, found our booking info pinned to the board. Set up was easy, no problem with the hook ups. Our view was stunning, sunsets here are amazing. 8/10 stars
Jun 03, 2021
Yes nice, friendly park with Awesome views
Jun 03, 2021
The park was very clean And neat. The employees Are very nice. We like the grass areas Outside your RV. The bathrooms were clean Overall a very nice park.
Jun 02, 2021
A wonderful location and so well maintained KOA. Close to most things one would want to see in Pendleton. Staff is excellent. I highly recommend the view sites. Look forward to returning.
Jun 01, 2021
Nice friendly people and it was clean
Jun 01, 2021
The staff was very friendly and personable. The grounds organized and very well managed. Enjoyed the children playing as we were next to the playground, and appreciated the curfew as we are early go to bedders. Thank You!!
May 31, 2021
At the last minute on a Friday afternoon (of a holiday weekend) we called and asked if they had any openings (which we fully expected to here "no") but to our surprise they said they could accommodate us. This was our first time in a KOA RV Park and we had no idea what we were getting into to. Basically this is a parking lot with hook ups. Not our style of Rv'ing.
May 30, 2021
Campground was nice and quiet at night, except for the noise of the freeway. Tent sites are right next to townhomes with windows looking down on us -- did not like that!
May 30, 2021
This KOA is convenient, easy-in, easy-out, great since I was just briefly overnighting. Restrooms clean and well-maintained. WiFi sufficient, but not the strongest.
May 29, 2021
Very clean campground with friendly and helpful staff. The dog park was also awesome.
May 29, 2021
I've stayed here several times and am always pleased with my stay. This one was no exception. Anna helped me with anything I needed and was very friendly.
May 28, 2021
It's a nice park with fantastic views! It is cramped. Each spot is about 20' wide. If you go there with an RV 35' or longer, it is very challenging. They only have 5 extra spots for cars,
May 27, 2021
The staff was very friendly and efficient during checkin. We had a vehicle problem after pulling into our site and needed to stay an extra, but unknown, amount of days. The manager, Kana, went above and beyond by putting a hold on our site so it would be available to us for the entire week if needed. The grounds crew was out and about assisting campers with RV problems.
May 26, 2021
Stayed @ Pendleton KOA for 2 nights. Nice friendly RV park. There are only about 10 pull through sites. The rest are back in, so if you need a pull through book in advance. Pull throughs' are crushed rock, but nice and long and pretty much level. We would stay again.
May 26, 2021
Beautiful campground, well maintained, and very friendly staff!
May 26, 2021
Great staff!
May 26, 2021
Site was level. Good wi-fi. Restrooms were immaculate. Vista is beautiful. Quiet and peaceful.
May 25, 2021
WOW packed in tight. Back in sites were bumper to rear bumper. Glad I reserved a pull thru sight. Place was clean and staff very friendly. The K-9 park was closed so people were taking their dogs to the play ground to relieve themselves. Wish staff would have posted the area to prevent this. I took mine off sight and cleaned up after them.. One restaurant near open for meals.
May 25, 2021
The site was perfect for us! Nice grass and concrete! We love concrete and grass! There was no area for pets but otherwise very nice. Staff was helpful but not overly friendly. One of the things we appreciate when we come to a site with cable is a list of the cable channels. It's a nice service to give to people. Just hoping all KOAs can do that. Thanks!
May 24, 2021
Great location.good amenities, friendly personely. Very clean bathrooms and showers
May 24, 2021
Very clean and quiet. Loved seeing a security guy walking around. Wish you had a pool �. Next time we are through will definitely stay again.
May 24, 2021
Clean and green with a beautiful view. Very nice campground
Jun 06, 2021
Very clean and well taken care of.
- Bob Walsh on Google
Jun 05, 2021
Very nice, clean RV park with a great view of rolling hills and valleys. Level gravel sites with a picnic table for each, and each site has an outdoor night light at the end of each site. Nice little fenced dog park. We did not use the restrooms or showers. The cable was a little fuzzy, but we were just overnighting, so no big deal. Nice playground and a gas grill for RV'ers use. We would definitely recommend this KOA park.
- Kim Seguin on Google
May 31, 2021
Quiet place easy access directly off the highway. We had a relaxing stay and nice shower. On to the next place!
- Steven Prakin on Google