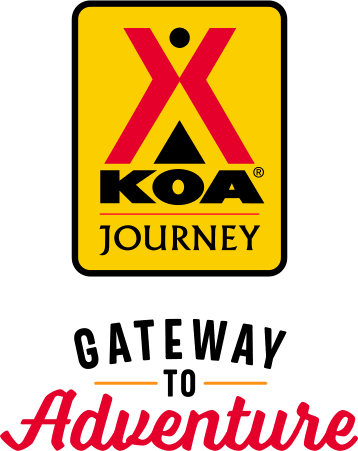 KOA Journey Campgrounds
KOA Journey campgrounds are the perfect oases after a day on the road. Whether it's along the way or a quick getaway, they've got you covered. Located near the highways and byways of North America with long Pull-thru RV Sites, they deliver convenience to the traveling camper. Pull in, ease back and take a load off.
KOA Journeys Feature:
Pull-through RV Sites with 50-amp service
Premium Tent Sites
Well lit after hours check-in service
Directions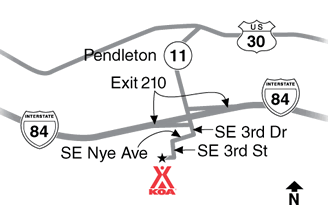 I-84: Take Exit 210.

Head uphill (South)

Take the first right (SE Nye St.)

And then the first left (SE 3rd St.)

Get Google Directions
Jul 27, 2021
Staff was friendly and campground was clean. I gave it a 4 star because there was no pool at this location.
Jul 27, 2021
Love this KOA, the views are memorial. We have used this KOA for a over nighter several times and will continue in the future.
Jul 26, 2021
On the plus side, the staff was friendly and helpful, and the campsite was clean. The big negative is that the back-in sites are extremely tight together with vehicles parked along the narrow streets, so it's like trying to back your trailer into a full Walmart parking space.
Jul 26, 2021
Great spot. Friendly people. The town of Pendleton was a neat place to see. We will stay again.
Jul 26, 2021
There is nothing special about this park, although it is clean and well tended.
Jul 26, 2021
Kana the host is wonderful, an experienced traveler who understands a traveler's needs. Bathrooms are completely clean, and it feels very safe. Sundry supplies available in the office, and Kana will advise where to get whatever else you need. The view from camping area is open fields/hills, RV spaces are surrounded by trees, grass everywhere, a horseshoe gaming area, and nice BBQ grills available.
Jul 25, 2021
Very nice place, wish we could have stayed longer.
Jul 25, 2021
Great view if you are in a back in site along the back.
Jul 24, 2021
Very clean and the manger Kana Smith went above and beyond helping us!! She is the Best!!
Jul 24, 2021
The campground is immaculate. The patio site we had was extremely nice. Table comfortable furniture and a very nice grill. The laundry was spotless. Campground is very well maintained.
Jul 24, 2021
Love the grassy, quiet tent sites.
Jul 24, 2021
This is not a campground it is a trailer park with a few sites for overnighters. Most of the sites have permanent campers on them. The campers are extremely close to one another and packed in. The tent sites are adjacent to an apartment complex with only a fence separating and the tent sites are also extremely close together. Nice enough office staff but this should not be a koa.
Jul 23, 2021
For a Journey this was the cleanest and we'll organized campground we have been to in our 30 stops along the way. Staff was very friendly. It had the cleanest laundry room. No junk in washer and dryers and the floors were spotless and very affordable at a 1.50 a load. I was impressed.
Jul 23, 2021
so cute and shady.
Jul 23, 2021
Friendly owners and staff. Well maintained property. Very nice
Jul 23, 2021
Very clean and quiet great area to explore
Jul 23, 2021
Very easy to get to from I-84. The restrooms and showers were very clean we liked that they were individual so more privacy. Grounds were very clean and staff were very nice. Pull through sites were easy except the sewer location was at the front of the site next to the neighboring sites picnic table. The back-in sites are literally on top of each other.
Jul 23, 2021
Friendly people who are keeping the KOA in good shape.
Jul 23, 2021
Super friendly and helpful office staff. Very clean facilities. Best priced laundry!
Jul 22, 2021
I was apprehensive when we first pulled in but the park, even though tight, seemed spacious. I enjoyed the stay. We will be back.
Jul 22, 2021
Very pleasant. Covered wagon was peaceful, private, clean...even had electricity and a great view
Jul 22, 2021
Very friendly clean campground. Stayed in the covered wagon which was an awesome experience but may not be for everyone.
Jul 22, 2021
Nice, clean park. Great view and quiet. Nice bathrooms also.
Jul 22, 2021
Sites are very tight and our 43 ft 5th wheel barley fit. We would have passed if we had known how cramped the site was before hand. We rely on the people at the office to take into consideration not only the site length/width, but how far neighboring RV's and vehicles stick out to be able to back in and pull out without issues. Park was clean, quiet and friendly.
Jul 22, 2021
It's a nice park. The only concern I would have is being able to fit into an "island" spot. Even though there is room between sites, with parked vehicles in front of their trailers and beside them, it is tough and tight to back into a site. We have a 35' fifth wheel, my spouse is an old truck driver and very good at backing into sites.. this one was super tight. Other than that, it was nice.
Jul 21, 2021
Facilities were clean, however the sites were way too small. We didn't even have room for two chairs outside our camper and our camper isn't even a big one.
Jul 21, 2021
This is always a great half way point for me and my family when we are traveling up the northwest. This KOA is always clean, welcoming and nice to stay at.
Jul 20, 2021
The place is clean and very affordable. The employees are very pleasant
Jul 20, 2021
Very friendly and helpful staff. Parking was very tight for my 45 foot coach but we loved the patio site, probably the nicest one we have used in our travels.
Jul 20, 2021
The staff was friendly and helpful. The campground and restrooms were spotless!
Jul 20, 2021
Nice and clean
Jul 20, 2021
Best koa we ever stayed at.
Jul 19, 2021
Everyone was very nice, helpful, showed me things I didn't know about my RV and made it nice for me, thank you very much, the bathrooms were nice, everything was clean!
Jul 19, 2021
Nice campground.
Jul 19, 2021
Very clean friendly and accommodating! GreaT location for getting around town etc. Loved the fact that she found me a site with a view. Very nice staff!
Jul 19, 2021
Just a good place to stop...clean, well kept, and convenient.
Jul 19, 2021
For an overnight it was good.
Jul 18, 2021
Very clean park. Always a nice place to stay.
Jul 17, 2021
Very nice place. Quiet, clean, & friendly staff.
Jul 17, 2021
Very nice park, clean restrooms showers. Central fenced dog area, great playground nice laundry
Jul 20, 2021
What a park! My in laws had the pull through site in the end with a patio, gas fireplace, and lots of seating along the grass. After a long drive day, it was a wonderful place to sit and relax while the kids were able to play close by. Kana is just a gem and was so kind and helpful. We enjoyed doing parts of the charm trail the following morning. Would absolutely stay here in the future!
- Christian Parris on Google
Jul 18, 2021
Beautiful place
- Me You on Google
Jul 11, 2021
Very quiet park. Very nice and helpful staff. There were lots of trees for shade. Clean restrooms and laundry. Nice recreation room. Good view of the valley below. Close to freeway.
- Roy and Tracy Boling on Google