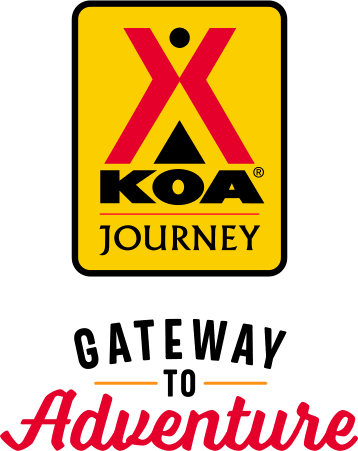 KOA Journey Campgrounds
KOA Journey campgrounds are the perfect oases after a day on the road. Whether it's along the way or a quick getaway, they've got you covered. Located near the highways and byways of North America with long Pull-thru RV Sites, they deliver convenience to the traveling camper. Pull in, ease back and take a load off.
KOA Journeys Feature:
Pull-through RV Sites with 50-amp service
Premium Tent Sites
Well lit after hours check-in service
Directions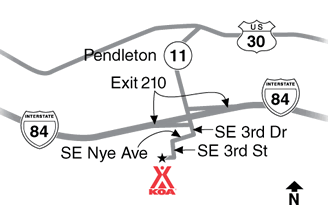 I-84: Take Exit 210.

Head uphill (South)

Take the first right (SE Nye St.)

And then the first left (SE 3rd St.)

Get Google Directions
Jun 18, 2021
The staff was friendly and helpful, the site level, clean and spacious and access to and from the freeway very handy.
Jun 17, 2021
This is our 2nd stay at Pendleton KOA and it is one our favorites. The view spots are amazing! We love how clean this campground is compared to other KOA's we've stayed at. This is a great place to stay while traveling!
Jun 17, 2021
Such a lovely spot and Anna was so sweet and kind to us. We had a Tesla to charge and she gave it her all to find us a spot to hook up. So Tesla owners this is a great place to stop along your journeys. Thanks everyone!
Jun 16, 2021
We had a view side with a gas fireplace which was great. Very friendly staff and people.
Jun 16, 2021
Nice if you like being in a concrete parking lot .
Jun 15, 2021
Clean, quiet with easy access to restaurants.
Jun 14, 2021
Very nice park. Great views of the mountains and valley to the south. Clean and well kept. Quiet in spite of interstate being relatively close. Very friendly and helpful staff. There are several live-in residents at the park but their spots are also well kept.
Jun 14, 2021
Friendly staff, quiet, beautiful view, nice bathrooms
Jun 14, 2021
The place was fine for the overnight. It was clean, staff were friendly and helpful. The negative was how close the sites were to each other. The trees were nice to
Jun 13, 2021
The spaces are very tight, people live there full time so they have several vehicles and stuff to navigate through. Thankfully we were next to a nice lady that offered to move her car or we would have had to find a different camp site because it's so tight for our 43 foot 5th wheel. They do have pull through sites, but then you don't even have a view. We won't be back, just to small for us.
Jun 13, 2021
Nice clean campsite nice views from the outside lots but those were all taken by long term renters
Jun 13, 2021
Did self check-in at 10pm, left at 7am. Perfect stop over.
Jun 13, 2021
Good for an overnight stay. Sites are too close together, something we find in a lot of KOAs. Restrooms were clean and in good repair, and the views from the sites on the south edge of the park had gorgeous views.
Jun 12, 2021
Clean and conveniently located off the highway.
Jun 12, 2021
A little tight for big trailers, but otherwise nice.
Jun 12, 2021
Very nice staff and clean. Local live stock smell pretty strong at times
Jun 11, 2021
Quick one night stay, although a bit tricky backing in with a 35ft fifth wheel, campground was perfectly clean and site had the most awesome view. Definitely recommend!
Jun 11, 2021
The staff was friendly, informative, & incite full of my needs�
Jun 10, 2021
Long gravel pull their sites, grass and trees between sites with a picnic table (the neighbor's sewer connection is right next to the picnic table). They had plenty of room to move it away from it! Easy in and out from HWY. 82.
Jun 10, 2021
It was our 1st time at a KOA Campground, Had a wonderful time there, Jon was always up and down the lane and answered questions and helped out with our needs. Thanks Again and we will be back........ Kent
Jun 10, 2021
very clean and accommodation
Jun 10, 2021
Spots are too small. Jam packed in RV park. Never KOA again!
Jun 10, 2021
This KOA has full hookups and nice shade but the sites are mostly concrete and way too close to each other
Jun 09, 2021
Great KOA, very well maintained, quiet, super good wifi and customer service!
Jun 08, 2021
Everything was pristine and the people were friendly and helpful. Beautiful view. If you had a pool, it would be perfect!
Jun 08, 2021
The Pendleton KOA is very clean and immaculate. The "dog park" is a patch of grass the even the dogs don't want to use. The KOA workers in the yellow shirts were very nosy and obtrusive; they gave you no privacy. I will not be staying at this KOA again.
Jun 08, 2021
Great location and phenomenal staff. The hosts of this park are very nice to talk to and are very helpful.
Jun 08, 2021
Everyone was very helpful.
Jun 08, 2021
We just stopped in overnight. Nice, clean campground. We would love to stay longer.
Jun 07, 2021
We just made a quick over night. The park is very clean but the spaces are very tight. Neighbors very close. Dog park very small. Nice that it is so close to the Wool factory and store.
Jun 07, 2021
Easy check in and well kept KOA.
Jun 06, 2021
Nice and clean KOA with trees and grass at most sites. Nice dog yard. Personnel were helpful and friendly.
Jun 06, 2021
Staff was friendly and the KOA was clean including camp k9. Things that could be improved: site sewage dumps should not be right next to picnic tables(gross). Many people seem to be living there so that creates a different atmosphere. Sites are placed close together and feels crowded. Location is good and relatively quiet with a nice view.
Jun 06, 2021
We love this KOA because of friendly staff, the cleanliness, and the views!
Jun 06, 2021
I was concerned that there were not separate showers for males and females. I am not comfortable letting my teen daughter be alone in a place like that. I think it is very unsafe.
CAMPGROUND RESPONSE / COMMENTS:
I'm sorry you didn't check out our other shower house: we have a males-only and females-only option at the main office. We hope you'll be more comfortable next time!
Jun 05, 2021
Nice, clean, and very hospitable. Easy to find and great location.
Jun 04, 2021
Ann was a blessing. She told us about the Pendleton underground tour. Our stay at tha KOA was relaxing. I enjoyed using the larger accessible shower!! I am not handicapped, I just liked the larger space.
Jun 03, 2021
We stayed in a pull through and had plenty of room for our 41' fifth wheel and truck. Easy in and out.
Jun 18, 2021
Very clean and nice people to work with. Will definitely stay again.
- Randy Magley on Google
Jun 17, 2021
Thanks for the management we were able to get on our way the next day after our slide out would not retract.
- Roger Crenshaw on Google
Jun 06, 2021
Very clean and well taken care of.
- Bob Walsh on Google