Local Area Attractions Near Pendleton KOA Journey
Pendleton Underground Tours
The Pendleton Underground is one of the most fascinating tours in town! Check out the businesses literally carved out UNDER the historic downtown blocks of Pendleton... Chinese laborers lived there while working on the railroads, illicit businesses (brothels and speakeasies) cropped up there, complete with hidden escape tunnels... The volunteer guides are fantastic storytellers, so you're in for a great tour! 
It's a good idea to call ahead and reserve a space on one of the tours.
31 SW Emigrant
Pendleton, OR 97801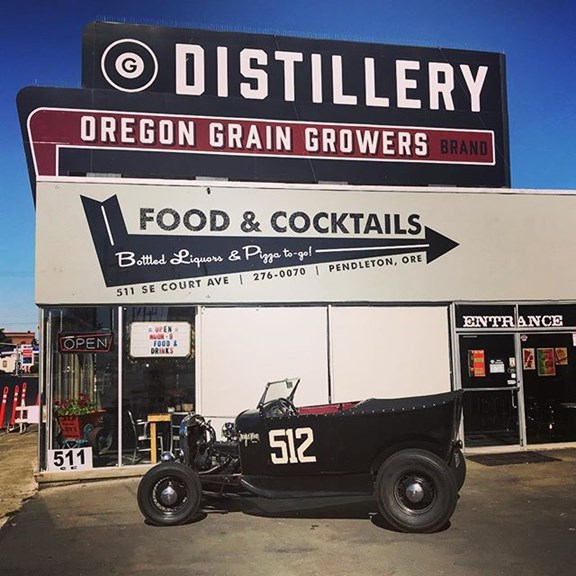 Oregon Grain Growers Brand Distillery
We currently offer free tastings and distillery tours during our hours of operations. Come visit us and take home a bottle or two.Everyone is welcome to visit including children accompanied by an adult. We can also provided custom tours and tastings by request. All we ask is you give us enough lead time so that we can plan to give you our fullest attention. Please feel free to contact us for more information.We will now be open on Mondays starting April 1st 2019. Each Monday will be board game night. Come down play some games, eat, drink, and be merry!
511 SE Court Ave
Pendleton, OR 97801
Pendleton Woolen Mill Tours
Visitors to the Pendleton Mill store are invited to take a free tour of the mill. Here you can see and learn about the renown Pendleton weaving process. When you're finished you can visit our Mill Store where you can select from Pendleton's array of menswear, womenswear, blankets and fabrics.
Public tours for individuals and small groups (under 10 persons) are held weekdays, at 9 am, 11 am, 1:30 pm, and 3 pm. Reservations are not required, however tour spaces are filled on a first come basis. When necessary, extra tours may be added to the existing tour schedule if sufficient tour staff is available. Tours take about 20 minutes.To place a tour reservation call the Pendleton Mill store 541-276-6911
1307 SE Court Pl
Pendleton, OR 97801
Prodigal Son Brewery & Pub
Pendleton, Oregon. A small agricultural town located at the foothills of the beautiful Blue Mountains. And now home to some of the best beers in the state. We're passionate about fermentation and it shows in our beer. Whether it's a dry-hopped Northwest IPA, or a malt-heavy Porter, the Prodigal Son is dedicated to exploring the possibilities of grain, hops and yeast. Creativity is something we value in our Ales and it's our goal to incorporate regional ingredients into beers that go beyond convention.  Brewing to style is not our objective; we prefer to focus our explorations on the potential of beer.But we're more than just brewing, we've got good food to boot. The Prodigal Son features a menu that combines traditional pub fare with from-scratch cooking. Here you will find regional ingredients incorporated into handcrafted cuisine. We have a bona fide chef with an artist's muse- and his work is truly the product of inspiration. Our food is unique –you might even say it has character.We're proud to be back home, here in Eastern Oregon. Come visit anytime, and stay as long as you like. We hope you will join us on our journey to beervana. Lucky for you, your efforts will be rewarded with good beer.
230 SE Court Ave
Pendleton, OR 97801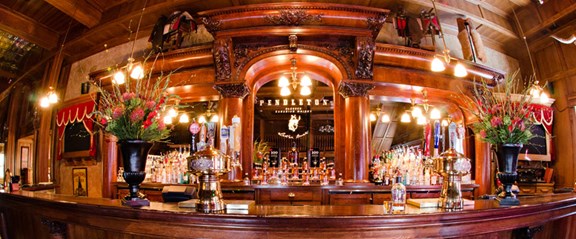 Hamley's Western Store, Steakhouse & Saloon
Since 1883 the Hamley family has faithfully delivered quality western craftsmanship to working cowboys, rodeo bronc busters and horse riding enthusiasts of all kinds.   In 1905, Hamley & Co found a permanent home in Pendleton, Oregon and set up shop in the same building where it still resides today.J.J. and Henry Hamley, sons of the original craftsman, continued the tradition of making legendary saddles, including their own innovative designs and custom work with bits and spurs.  The business soon developed a reputation as the maker of "the finest saddles a man could ride." Over the years, Hamley & Co. has provided hundreds of trophy saddles for the world-famous Pendleton Round-Up, and 58 World Champions have also ridden Hamley saddles.Hamley & Co also carries custom-fitted hats, horse tack, clothing, boots, and a large collection of handwrought jewelry, including some by Native American silver artists.?The second level at the Hamley's store is an art gallery featuring paintings and bronze sculptures by both local and national artists, depicting the western way of life.  ?The Hamley building is registered as a historical site, whose owners take pride in preserving the Hamley name and legacy for the coming generations who will walk through its doors.
8 SE Court Ave
Pendleton, OR 97801