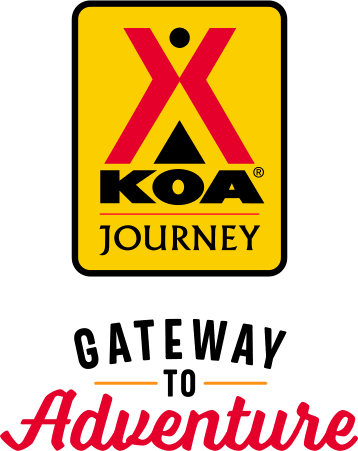 KOA Journey Campgrounds
KOA Journey campgrounds are the perfect oases after a day on the road. Whether it's along the way or a quick getaway, they've got you covered. Located near the highways and byways of North America with long Pull-thru RV Sites, they deliver convenience to the traveling camper. Pull in, ease back and take a load off.
KOA Journeys Feature:
Pull-through RV Sites with 50-amp service
Premium Tent Sites
Well lit after hours check-in service
Directions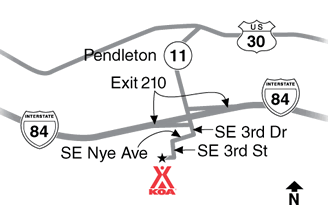 I-84: Take Exit 210.

Head uphill (South)

Take the first right (SE Nye St.)

And then the first left (SE 3rd St.)

Get Google Directions
Jun 14, 2021
Clean facilities and whatnot. Staff member making gay jokes with a guy that stays there, right in front of my tent. Then proceeds to badmouth other guests. Then comes asking when I'm leaving, so he can water the grass. Plus talking crap about how I set up my camp. And wifi that barely works. Another guy in the tent site had same experience. Probably won't stay there ever again. Pretty sad.
Jun 12, 2021
Went perfect no issues
Jun 06, 2021
We really enjoyed our night with you. The only disappointment was not being able to have a wood fire. Overall though it was private, quiet and a relaxing place to rest.
May 30, 2021
Campground was nice and quiet at night, except for the noise of the freeway. Tent sites are right next to townhomes with windows looking down on us -- did not like that!
May 24, 2021
The view was amazing and we felt very lucky to be able to stay in the one and only Coveref Wagon on the property.
May 05, 2021
I really like this KOA. My favorite thing is that all the bathrooms are individual units, so you get a toilet, shower, and sink all to yourself while you prep in the morning or evening! Tent camping here is pretty nice, good grassy spots, and a fairly quiet location but the downside is that there are water sprinkler heads in the grass, which isn't ideal for larger tents.
Apr 16, 2021
Very comfortable stay in the Wagon. Very well kept site. Thank you.
Apr 14, 2021
Clean, well-maintained campsites. Everything in good working order, exceptionally clean restroom and super friendly/helpful staff.....one of the cleanest KOA's we've stayed at, will definitely stay again!
Oct 19, 2020
Great place to stay everything was very clean and quiet
Sep 07, 2020
This is a great facility for just passing through. Beautiful view off the south side. Clean restrooms with warm water and good water pressure.
Sep 04, 2020
So clean !!!!!
Aug 27, 2020
Couldn't be happier. Clean friendly reasonable rates.
Aug 18, 2020
Ultra clean.
Aug 17, 2020
Thanks for everything. See ya next time
Aug 06, 2020
It seemed expensive for the novelty of the covered wagon stay.
Jul 06, 2020
This was my first time using a KOA, and it was really easy! Even though I arrived at 9:30pm, checking in was simple. The bathrooms were super clean, and my campground was nice and quiet until the birds woke me up in the morning.
Jul 05, 2020
Tent sites postage stamp piece of grass next to an apartment building. Motel 6 was a better deal.
CAMPGROUND RESPONSE / COMMENTS:
Yes, we understand our tent sites are minimal. That's why you only paid $27, and that's why the website where you booked the stay is very clear and very specific: no hookups, grass pad for your tent, gravel parking for your vehicle. (Bathrooms, showers, laundry, & dog park onsite.) I'm sorry if you misunderstood that description--we are certainly trying NOT to mislead people's expectations.
Jun 29, 2020
No pool, playground was okay. No one was in the office and the site next to us had drunk chain smokers and we couldn't do anything about it. No fire pits and the water spigot in our site sprayed out five feet because it was angled up. Would not stay here again.
CAMPGROUND RESPONSE / COMMENTS:
I am open to suggestions as to how I could state ANY more clearly, on the website where you booked, that our tent sites have no hookups (including water--the "spigot" you complained about is an irrigation valve), or that city code forbids wood fires, or that the park has no pool. We try NOT to mislead!--we don't want guests to be unhappy when they don't have what we didn't promise.
Jun 26, 2020
Clean and quiet. Easy checkin.
Jun 23, 2020
Loved the deluxe tent site with great view
Jun 10, 2020
Stayed at many KOA'S and this has been my favorite. Nothing super fancy but very nice. I loved how everything worked. I loved that the washers and dryers actually did there good. I loved that my baby could play on the playground. I also loved the handicap restroom that worked great as a family bathroom especially when you have children! Loved it. Simple but super nice. Loved the ranch theme.
Sep 27, 2019
2nd time I've been there, like the back tent area.
Sep 18, 2019
We think the Pendleton KOA is the cleanest of any KOA or any camp ground we have ever stayed at.They always try to accommodate everyones needs.How ever the hours they have on Rodeo week make it had to catch up with the office.When your trying to make all the events.You do make us enter to many characters to complete this review.I really don't want to write a book.Hope we will see you again next ye
Sep 17, 2019
Always quiet, shower and restrooms always clean. Friendly and helpful. Thank you
Sep 17, 2019
wagon site was large and private with a beautiful view, only good site. Propane fire was empty and only light was dead.They did come and fix the problems but, they should have checked this and made sure it was good before we arrived. need a bathroom by the tent sites. bathroom was too far and they were freezing! Door to bathroom needs better hinges it slammed into my moms finger and my kids head.
Sep 16, 2019
Great facilities, very clean! Only downside was the loud dumpster truck trash pickup at 4 A.M. on Sunday morning!
Sep 13, 2019
Staff was fantastic and grounds were very well maintained.
Sep 11, 2019
We stayed in the wagon campsite. It was spacious with a great view and the wagon was very roomy. It rained the 3 days we stayed and the wagon kept up dry and warm. My only complaint was the mattress being quite firm but it beat sleeping on the ground!
Sep 05, 2019
Well kept site, friendly staff, not ideal for tents as the spacing between sites needs to bigger or better barriers such as hedges between
Sep 02, 2019
The wagon tent site was great. It is unfortunate that you don't have a bathroom or at least a toilet near the tent sites. Park was well mai gained and hosts were friendly.
Aug 28, 2019
We stayed in the wagon which was awesome. It is on a large lot and offers some privacy from the other campsites. The host was also very nice. The restrooms were well kept. The location in general is just ok. Seems like many long term residents at the campground.
Aug 26, 2019
I loved the Pendleton KOA, so well sited, organized, maintained, and managed. Thank you!
Aug 24, 2019
Easy check in/out, comfortable space, great value
Aug 23, 2019
The covered wagon area was really quite neat. It exceeded expectations and would be a great spot for spending a few days in town. Only downside was having to kill a few wasps inside the wagon. Great experience tho.
Aug 16, 2019
We stayed here as a last minute plan and got to stay in the covered wagon. The view was incredible and a really neat experience.
Aug 15, 2019
We stayed in the covered wagon and it was great! There was a huge storm and we stayed dry and cozy in the wagon. The staff was friendly and accommodating.
Aug 14, 2019
Great campsite with the wagon, very private, but the wagon only sleeps 2 so you will need a tent for anyone else. However the limited washrooms can be a problem in the morning since toilets and showers share the same space. Great staff make up for all though
Jun 18, 2021
Very clean and nice people to work with. Will definitely stay again.
- Randy Magley on Google
Jun 17, 2021
Thanks for the management we were able to get on our way the next day after our slide out would not retract.
- Roger Crenshaw on Google
Jun 06, 2021
Very clean and well taken care of.
- Bob Walsh on Google