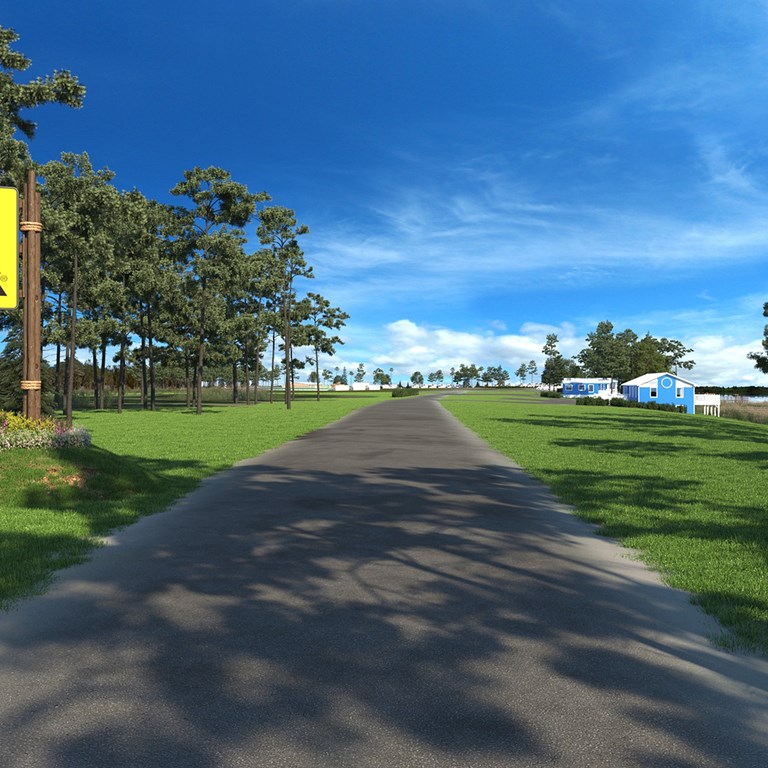 Outer Banks West / Currituck Sound KOA Reviews
Start Planning Your Summer Getaway!
Directions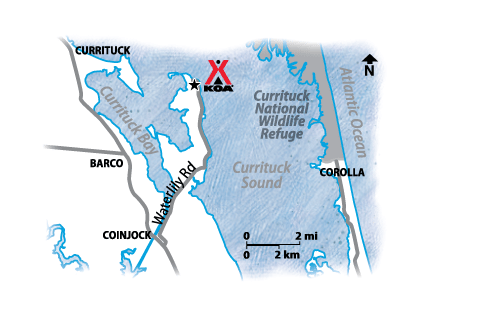 From the north: VA 168 S and NC 168 S; continue onto US 158 E. Turn left onto Old 158 Rd S, then continue onto Waterlily Rd.
From the south: US 17 N and 158 E. Turn onto Old 158 Rd S, then continue onto Waterlily Rd.
GPS: N36.417178, W75.923594
Get Google Directions
Jun 29, 2020
Dusty, patio delux sites too close together, no privacy! Website says there is a grill ,which there was not. No water pressure-unable to wash dishes, shower, much less flush the holding tank ... The sewer dump pipe is lower than the concrete ring, difficult to connect y-adaptor for black/grey hoses... had to move the concrete ring to prevent a spill. I don't think it was quite ready to open
Jun 29, 2020
The sites were very cramped and not level. There was very little water pressure which made washing dishes and bathing very frustrating. Not what I expect from the KOA brand.
Jun 29, 2020
There are very few trees or shade which makes for a very hot stay. The "waterview" sites do not have a water view, as the waterfront sites are so close together the view of the water is blocked by all the campers. The pools and bounce pads and other entertainment that was advertised at this campground haven't even been built yet. There is very little cell service and the wifi doesn't work.
Jun 29, 2020
No water pressure. Barely a trickle of water coming out. Paid for water front site and had two huge trees blocking view and the sites were so tight I couldn't open my awning all the way. The Sound was glorious and my girls loved floating and playing. Live band was a nice touch on Saturday.
Jun 29, 2020
We were in a mud hole and asked to be moved but they wouldn't let us Too packed in like sardines.
Jun 29, 2020
Very pretty area on the Currituck Sound. Nice place for relaxing and enjoying nature. Piers have a great view of beautiful sunrises and sunsets.
Jun 29, 2020
No channels on the cable. Water pressure was extremely low.
Jun 29, 2020
Beautiful spot, though very remote. When this KOA is finished completely, it will be amazing. Water pressure is still an issue and the launch to Corolla still isn't running due to the COVID restrictions. When these are fixed, this will be terrific. The staff is wonderful and accomodating. Sunsets are spectacular!
Jun 29, 2020
We were welcomed with open arms and escorted to our site by a nice man that answered all our questions. We had a waterfront view which was lovely and were able to walk to a beautiful pier and fish and swim from it. Our club had a fun time the campground staff was very accommodating to us. Our site was clean the trash was picked up regularly it was quiet.We look forward to our next visit.
CAMPGROUND RESPONSE / COMMENTS:
We absolutely hope you do come back and we are so happy you had a great experience. Our camp hosts are great ambassadors and care about the guest experience.
Jun 29, 2020
False advertising. It is not in outer banks. It is an hour drive to outer banks. There is no beach at the campground, there is just a bulk head. There is one bath house. There is no water pressure. There were even times when you turn on the sink and nothing would come out. The internet is only decent early in the morning or late at night when no one is on it. It has potential, but needs work.
CAMPGROUND RESPONSE / COMMENTS:
We are sorry you did not have a good experience. The county has poor water pressure but our reginal team is working on a solution for our park. We have a family bathhouse and a second bathhouse behind the event center and a brand new wifi system. We hope you come back to see all the great things we do have to offer.
Jun 29, 2020
it was great the first time we actually had grass up to the camper! I hope they can maintain it through the summer heat.The only thing missing was an beach and the store needs more stuff!
CAMPGROUND RESPONSE / COMMENTS:
Thank you! Grass is great when camping so we will work hard to keep it green! You are right... we need more items in the store. We did just open our Cafe' and we have 16 flavors of ice cream!
Jun 29, 2020
Horrible water pressure along with electrical issues. Had to use our water pump the entire stay. Friends had no power during the day which meant no AC. Shut down power to adjacent lots to fix the problem. Granted, Dominion was on it quickly. Shouldn't have had those issues though. Have seen reviews addressing same issues.
CAMPGROUND RESPONSE / COMMENTS:
We apologize for the water pressure and the electricity issues. Dominion recently did an upgrade to the entire area and had a few faulty cables which were out of our control. Our Regional team is working hard to help boost the county's water pressure issue and make it better for our park. Please follow our progres!
Jun 29, 2020
Great site with the KOA patio right up to the Currituck Sound. New KOA with amazing amenities. Will definitely be returning again very soon!!
CAMPGROUND RESPONSE / COMMENTS:
Thank you! We are delighted that you had an amazing experience. We want nothing but Happy Campers and returning guests.
Jun 29, 2020
every thing was great eccept the water presure, i have never seen water preasure that low before, we couldnt even shower with that.
CAMPGROUND RESPONSE / COMMENTS:
That darn water pressure! We are so sorry. Fortunately,our Regional team is working on a solution for the water pressure in the park! Once we get that fix we will be the perfect place to camp!
Jun 28, 2020
We had a wonderful time! This campground will be great once construction is finished and the COVID-19 limitations are removed. A lot of potential once everything is done. Water pressure was low at times, so we just filled our tank. Problem solved! We will be coming back. Staff was very helpful and friendly.
Jun 28, 2020
The campground was beautiful and I am sure it will eventually be redone to be fantastic but there were so many issues that we didn't even get to enjoy staying. They should have never opened before the electrical issues were worked out either, and they didn't bother to tell anyone it was out which resulted issues I'd love to report all of the issues but I am capped out on space in this review.
CAMPGROUND RESPONSE / COMMENTS:
We apologize for all your concerns. Dominion Power upgraded the entire area, which took three weeks. We did not always know when or how long the power would be out. Please come back and stay with us again, as we are committed to providing our guests with a great experience.
Jun 28, 2020
Wonderful place and wonderful staff. Very nice place to relax and beautiful views.
CAMPGROUND RESPONSE / COMMENTS:
Thank you! It is so lovely to hear your stay was relaxing... We are here to provide you a memorable experience.
Jun 28, 2020
Location is wonderful and peaceful and has a lot of potential to be an amazing campground. Due to it recently opening it has some bugs to work out (mainly with the terrible water pressure). Once the pool is installed and some other amenities opened up, my family and I would come back and spend a week here instead of just one night.
CAMPGROUND RESPONSE / COMMENTS:
Thank you for your comments. We are happy you enjoyed the peace and beauty. We have had our share of "bugs" to work out, but we are committed to making this campground awesome for all our guests. Please come back and see the good things we are doing. Unfortunately, with the pandemic, if we had a poo
Jun 27, 2020
It was really nice, but I would be back after pool is installed. Very peaceful...
Jun 27, 2020
We were placed in WF81. On the second day of our stay, an over-sized 5th wheel pulled into the site next to ours. We couldn't even roll out our awning all of the way. We contacted the office & were told that someone would get in touch with us. No one came down to the site, nor did the manager call us as promised on Monday 6/22. If you could pick your site, this could have been avoided.
Jun 27, 2020
Work in progress! Staff very friendly and accommodating. However, not a five because water pressure very low all the time, used fresh water tank and on board pump to be able to shower and flush toilet. Electric went out without warning and was out all day. Not a good thing on a 90 degree day. And last but not least, our 1st night there a rain storm hit and our site flooded.
Jun 27, 2020
Very nice place... I know it's new so the water pressure situation will be corrected... One suggestion, keep the store/office open longer.. BEAUTIFUL campground ! CLEAN !! Will I come back, yes.....
Jun 27, 2020
Beautiful waterfront sites with lovely sunsets. Staff was very friendly and accommodating.
Jun 27, 2020
Enjoyed our 3 days there. Great new park. The only negative was that as soon as we got set up, we were treated to obnoxious lawn mowing very closer to use for about 2 hours. My wife had to leave the site until they were done. And then, they came back and trimmed within a few feet of us. Seems like mowing and registration need to be in sync to avoid this. Love the patio sites.
CAMPGROUND RESPONSE / COMMENTS:
We apologize for the notice, but we do have to cut the grass. We do not run equipment on Saturdays and Sundays, so we have to mow during the week.
Jun 27, 2020
very poor water pressure
CAMPGROUND RESPONSE / COMMENTS:
We agreed and just cannot apologize enough to our guests! We hope the county resolves their issues, but in the meantime, our regional team has a plan, and hopefully, it will be in place soon.
Jun 27, 2020
Lovely new campground on the sound, not ocean. Still a bit of construction going on but the sunrise and sunsets made up for that. We didn't bring a grill because one was supposed to be on our luxury site. However, they had not arrived yet.
CAMPGROUND RESPONSE / COMMENTS:
Thank you! We are glad you enjoyed our park and your stay. We can only get better!
Jun 26, 2020
Beautiful views. Staff very nice! Site was waterfront and plenty of room. Once everything is completed, this will be full all the time! Freezer needs to be stocked. Hopefully a beach spot is in the works. I've already booked my next stay!!
Jun 26, 2020
Low to no water pressure. Had a scheduled power outage for upgrades set up for Tuesday with power company we were never informed no power for 8 hours Not a patio site as web site stated but small wood deck that was 12" up off ground with no steps and it is behind you not where you walk out. Lastly Site was smaller then listed on web site hard to get in to and no parking more issue but out of lin
Jun 26, 2020
We used the campground as a sleeping area and did day trips thru out the islands. The campground is in a beautiful location but the lack of amenities was disappointing.
CAMPGROUND RESPONSE / COMMENTS:
Thank you for your feedback. We are happy you have things to do. We apologize for the lack of amenities. Unfortunately, opening with limited amenities due to this pandemic was not something we wanted for our guests. We are happy that we have a beautiful place for guests to enjoy the great outdoors.
Jun 26, 2020
Will be a very nice place once completed. Not all paid for amenities we available
CAMPGROUND RESPONSE / COMMENTS:
Thank you for providing feedback. We understand your concern about not having amenities. Fortunately, we do not charge for our amenities since COVID-19 limits what we can share with our guests.
Jun 25, 2020
Campground is not ready to open. Water pressure was very low and at times we had none. The electric went out everyday for work to be done. And throughout the campground work was been done with saws, compressors and loud music all day. The workers used foul language and were very loud. I would recommend you close until all work has been completed. We left after only staying 2 of our planned 7 days.
Jun 25, 2020
For only being open for 3 weeks it wasn't a bad campground.
CAMPGROUND RESPONSE / COMMENTS:
Thank you! We hope you come back as we are committed to turning our guests into "happy campers," and we definitely want to win your thumbs UP next time!
Jun 25, 2020
We rated the stay a 5 as we focused on what we could do and what was available. Are the sites a little tight? Maybe, but believe us when we say if you arent taking advantage of the waterfront you are missing what this place has to offer. We found the staff to be friendly and helpful. If they get the kinks worked out ecause of being a new KOA they are going to become the place to go. Happy camping.
CAMPGROUND RESPONSE / COMMENTS:
Thank you so much! We want all of our guests to enjoy our campground. We have had our share of "kinks," too! We are looking forward to having our guests back again to see how we have grown!
Jun 24, 2020
Loved the KOA as a whole-would recommend Pull thru sites for bigger rigs, back of the park is much tighter and I try to stay on Gravel and off the grass. Lost power once for about 6 hours and water pressure can be really poor at times(FILL your fresh water tanks) Cabins were very nice as I had family staying in 2 of them. Water and Power I believe will be an issue that will go away. I WILL RETURN
Jun 24, 2020
I marked as a 3 because of power work being performed and the lack of management to inform campers of this. We had utility personnel shut off our power at 9am when it was 90 degrees out . Check out wasn't until 11. We should have been notified as well. The work should have never started until after checkout time .
Jun 24, 2020
No power for about 4 hours. Water pressure is terrible. The sites are on top of each other. The only good sites are the water front And I think they are rather expensive.
Jun 24, 2020
Giant mud hole up to door in premium site, no water pressure and electricity that goes in and out. All for a huge $104 a night! We understand it has rained but I actually lost my shoe outside my front door and no where to step or get to my car. Rude, unhelpful staff. Blown off by manager when letting her know. If I could give negative stars I would.
Jun 23, 2020
We were very disappointed in our stay. We never had wifi, which was supposed to be included, we were not given any packet upon arriving(map, activity calendar), we were lead to believe from KOA app that there was a water taxi, blow up things in the water, water sport rentals, and a beach. None of that existed. Water pressure at site was iffy. Will not return or recommend.
Jun 23, 2020
The campground has potential. It's a beautiful peaceful location. It's not very impressive when you drive in and see the large empty space and dumpster and construction material to the wooded side of the campground, but I understand since it is under construction still. The sites were well maintained but with many amenities closed due to covid it's hard to really rate.
Jun 23, 2020
I was going to give it a three star but have slept on it and feel that the staff is doing a good job with getting the place set up. I feel KOA may have prematurely opened this location. Water pressure is not good and will need some attention. Sites are kind of close together except the ones my brother and I had. In time this will be a very beautiful campground.
Jun 23, 2020
I was charged full price did not get the campsite that I reserved then discovered after hours there other people got 50% off I think your sights are super tight your Camp still had limited supplies no jumping pillow as advertised Water Taxi was not running not real excited with the bathhouses need more access to Waterfront campers kept cutting through my site very annoying lost power for several h
Jun 23, 2020
This campground was very disappointing As it was never mentioned that it wasn't done. We paid extra for the deluxe site and there was no chimnea, grill, and the water features weren't in place yet. My son was walking to the restroom in the dark and fell in a unmarked trench and almost broke his leg. dryers kept stealing money. Not worth the $ and wouldn't have stayed if known. Refund would b
Jun 23, 2020
The campground itself was nice. We were very disappointed in the amenities. On the website it shows inflatables in the sound which there weren't any. And there were no kayaks available like on the website either. On the activity schedule it said crabbing and we showed up and nobody was there from the KOA to do it with us, we waited 20 minutes and no staff member ever showed up.
Jun 23, 2020
Great location and the views are amazing. As others have said the spots are tight and the water pressure is low but neither bothered us much because we spent most of our time by or in the water. I would definitely come back.
Jun 23, 2020
No one wore masks inside the buildings. I was even laughed at for wearing a mask in the store. The wind on the coast was so bad that we couldn't put up our awning or tent. The roads and camping pads were so rough that I rolled my ankle. After 3 days of miserable conditions, the power was off for several hours. We left 5 days early and hoped for a partial refund but heard nothing.
CAMPGROUND RESPONSE / COMMENTS:
We are so sorry that you did not enjoy your stay with us! There was no order in place to wear a face mask until June 26. Some guests wore face masks before the new order, and the staff is very comfortable with this. We have a cancellation policy, but we have been very understanding when a guest is n
Jul 06, 2020
Beautiful sites, nice quiet campground, and everyone us so friendly.
- Antoinette Hanik on Google
Jul 05, 2020
Beautiful campground right on the sound with great swimming and views!! Staff were amazing and they accommodated as best they could with covid restrictions. Jump pad, playground and dog park all next to each other!! Lots of great fishing/crabbing! Will definitely be back 😁
- Brittany Pickens on Google
Jul 07, 2020
We just spent 6 days here and had a great time! The staff was awesome! Management came out to our site to take care of a few hiccups and went above and beyond to take care of our group. When finished this place is gonna be awesome. It would be nice if there was more water access (it's either jump off the pier, jump off the retaining wall or walk down the boat ramps). My kids (4, 8 and 16) had an absolute blast jump off everything. The sites are definitely on the small side but that seems to be the norm now a days with new places. They definitely have the room to space some things out and add some more amenities. They also need more paths to get down to the water (attention fellow campers- IT'S RUDE TO WALK DIRECTLY THROUGH SOMEONE'S CAMPSITE, GO AROUND!!!!!!!) we absolutely can't wait to come back in the coming years. I would have gave it 5 stars but the water pressure is not great at all, the prices could have been a little better for what your getting, the sites are on the small side for what you're paying. The views are awesome and the staff was excellent!!! We were in a group of 6 campers and we all had a great time and all agreed we will be back.
- Joshua Eskins on Google

Outer Banks West / Currituck Sound KOA
Open May 21 - November 30
1631 Waterlily Road
Coinjock, NC 27923
Check-In/Check-Out Times
All Sites
Check-in: 3:00 pm, Check-out: 11:00 am
Outer Banks West / Currituck Sound KOA
Get Google Directions

© 2020 Kampgrounds of America, Inc.