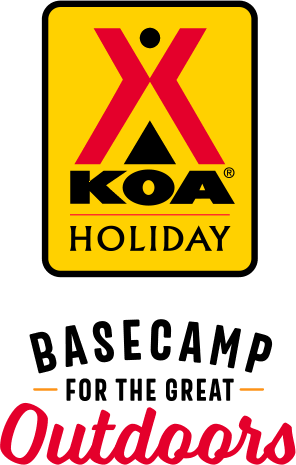 KOA Holiday Campgrounds
Whether you're exploring the local area or hanging out at the campground, KOA Holidays are an ideal place to relax and play. There's plenty to do, with amenities and services to make your stay memorable. Plus, you'll enjoy the outdoor experience with upgraded RV Sites with KOA Patio® and Deluxe Cabins with full baths for camping in comfort. Bring your family, bring your friends, or bring the whole group – there's plenty of ways to stay and explore.
KOA Holidays Feature:
RV Sites with a KOA Patio®
Deluxe Cabins with full baths
Premium Tent Sites
Group meeting facilities
Directions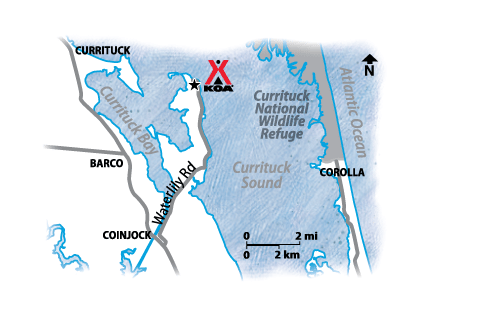 From the north: VA 168 S and NC 168 S; continue onto US 158 E. Turn left onto Waterlily Rd.
From the south: US 17 N and 158 E. Turn onto Waterlily Rd.
GPS: N36.417178, W75.923594
Get Google Directions
Jul 28, 2021
We stayed in the tent area. Our site was nice and spacious, which we chose on a first come basis. We did feel like there could have at least been a porta potty in the tent area; it was pretty far to the bathhouses (1/4 mile from our tent site). Other than that, it seemed like a nice campground.
Jul 19, 2021
The campground is clean. But the main thing negative is that the bathroom are at the opposite side in campground from the tents sides. I am pretty sure tent people have a need of bathrooms larger than RV. Maybe building another little bathroom/showers for tent site would be a good idea
Jul 13, 2021
First time camping made amazing by your beautiful grounds. Also great that we could choose our own spot. We will be back!
CAMPGROUND RESPONSE / COMMENTS:
We are glad you enjoyed your tent site!
Jul 11, 2021
Lack of access to fresh water and bathroom facilities for tenters will keep me from recommending this location.
Jul 09, 2021
Front desk was rude. I booked a campsite. The lady pretty much circled where the sites were and sent me on my way. I didn't realize the sites weren't marked and had to come back in for clarification. Couldn't sleep because the bugs were so thick. Had to sleep in my car, so bugs were a little better but it was hot on top of the bugs. Ended up leaving 2 days early. Was denied a refund & embarr
Jul 06, 2021
We had a great time. Every staff member we talked to was wonderful and helpful! We are looking into the possibility of doing seasonal.
CAMPGROUND RESPONSE / COMMENTS:
We are glad! We would love to add you to our seasonals!
Jul 04, 2021
Need bathrooms and water near the camp sites. Our grandson gives the the campground 5 stars. Great places for your children and grandpa!!!!!
CAMPGROUND RESPONSE / COMMENTS:
Thank you! We are looking forward to adding more bath houses in the future!
Jul 02, 2021
Well we were directed to the camping spot behind the store....when we get our tent out an put up some guy on a golf cart tells us we were in the wrong spot so we stayed one night left early the next morning and I didn't even get my money back for the next night we didn't even stay
Jun 29, 2021
Nice, clean site.
Jun 22, 2021
Overall the stay was great! I would like to offer two suggestions: - toilets closer to the tent site - tent sites should be numbered/outlined: I was told by staff that there was one fire pit-table/site. However, on two occasions I returned from a day away to find another tent set up on my site, closer to the FP/T. If I had not come with a friend on another site, I wouldn't have eaten those days
Jun 21, 2021
The sound is BEAUTIFUL and overall, it was wonderful. The only downfall is we were tent campers and there are no designated campsites; spots are basically first come first serve in the "tent area". There are NOT enough picnic tables or fire rings for all. You have to hope to find a site with one/them, or snatch it from another site when your neighbors leave. But, again still a beautiful spot!!
Jun 21, 2021
The swimming area was not nice & you have to jump off the docks into the water /no beach area so not safe for kids unless they know how to swim...There is also NO pool which is not great for kids BUT they have a nice playground area&a jump pad for the kids! The bath house has only 4 restrooms/showers&is pretty far from the tent areas but you can use the restroom @ the checkin. Icecream is for sale
Jun 20, 2021
Downlow on Tent Camping: very primitive. A far walk to bathhouses/toilets. Lots of bugs/ants/loud raccoons around so bring lots of bug interventions! One tent site had a ring and table, but when we came back to the site at night there was a group in our space so if u find a fire ring, claim it! Park ur car up on it so no one joins you! Rent the golf cart for gorgeous views! Great Location/price !
Jun 20, 2021
The campsite was clean and the tent sotes were nice. The only downfall is that there are NO bathrooms by the tent sites. Also no real place to go swimming with little kids.
May 24, 2021
Awesome stay at the tent site! Only downside was no bathroom close by!
CAMPGROUND RESPONSE / COMMENTS:
Thank you! We are hopeful to add an additional bath house closer to our awesome tent campers!
May 24, 2021
Bathrooms were not the best! Water would run super hot then down right cold! But other than that nice little place!
CAMPGROUND RESPONSE / COMMENTS:
Thank you for the feedback!
May 17, 2021
Excellent service and facilities. Thank you for a nice weekend.
CAMPGROUND RESPONSE / COMMENTS:
You are very welcome! Thank you for the review!
May 04, 2021
Love the camping area it's beautiful however the store hours were disappointing compared to other KOAs which is a deal breaker for my husband, who enjoys the stores.
CAMPGROUND RESPONSE / COMMENTS:
We are sorry about that! We have done our best on staffing and our camp store is back open 7 days a week! We hope ya'll give us a second chance!
May 03, 2021
For my first time camping I loved it. Could use more space for the tent area for the people who would like a little more privacy.
May 03, 2021
The camp itself is beautiful, staff is great but this site has several issues that need to be corrected before I would consider coming back here. - There is one bath house 1/2 mile from tent sites. Showers/toilets are not separate. If 4 ppl are showering, there are no toilets available for the rest of the camp. -There are no fireplace grates/grills at tent sites. I had to go buy a grill!!
CAMPGROUND RESPONSE / COMMENTS:
Thank you for the feedback. We have a family BH with four rooms and another Bathhouse behind the event center. 5 stalls and 3 showers each men/women. Our goals is to have bathhouses near the tent sites. Most guests bring a portable grill. We will look into to getting grills.
Apr 19, 2021
Great place to camp whether your in a tent or RV. Great place for kids with plenty of activities. Facilities where very clean.
CAMPGROUND RESPONSE / COMMENTS:
Thank you so much! We hope you come see us again this season!
Apr 13, 2021
We are tent campers and your section needs some work. I understand that it's a new campground to KOA but the tent section needs to at minimum have a water source. The roads for the "Nature Trail" are being used by the teenagers and golf carts. They ride them right thru your tent site
Nov 18, 2020
My return to the Campground was quite pleasant. I had a twenty year run of staying there when it was Hampton Lodge, mostly to attend the semi annual star party. Thank you for installing a sky friendly lighting system. Previously Hampton Lodge had excellent skies, now they are better if possible. The facilities are a great improvement. Enjoyed my stay, See you next year.
CAMPGROUND RESPONSE / COMMENTS:
Thank you so much! We are happy to hear you enjoy the new park! We are looking forward to your return visit!
Oct 26, 2020
We stayed in a tent site, the sites were very isolated which was great, gave us plenty of room and shade. Only recommendation I have for this KOA, are the bath house are a bit far from the tent area. Recommend building another bath house/restroom located in the field beside the tent sites so we do not have to walk 10 minutes from the site just to use the restroom and shower.
CAMPGROUND RESPONSE / COMMENTS:
So glad you enjoyed your stay! We do have plans in the works to put in another bath house closer to the tent sites
Oct 26, 2020
Great Campground for tent camping. clean, quiet, plenty of space between sites. Staff was extremely helpful upon our late arrival in helping us find the tent area and a spot to camp. amenities and services were top notch. Overall a great campground with lots to offer. We will return!!!
CAMPGROUND RESPONSE / COMMENTS:
We are happy to hear that you had a great time! We look forward to seeing you again soon!
Oct 24, 2020
Loved the pumpkin painting and haunted forest! Very nice campground, but seemed like there should be restroom/ shower facilities closer to the entrance side. If there are some they are not on the map.
CAMPGROUND RESPONSE / COMMENTS:
We are so happy you enjoyed your stay and our activities! We currently have two bath houses on site, behind the camp store and the blue and yellow bath house across from the playground. Plans to add another are in the works!
Oct 15, 2020
My stay was horrible-I left 3 night earlier than planned. I reserved a tent site. I checked in after the office was closed, and my check in information was left in a box by the door. When I arrived, there were bugs covering the door and the box. The regular tent sites were closed so I was directed to an empty grassy field. The bathhouse was too far away to walk. Will never stay here again.
Oct 13, 2020
We had a tent site. We did appreciate that the sites were secluded and we had a good time overall. However, it would have been nice to have a restroom closer. Also, I would have liked to see our site a little cleaner. There was trash under a tree and egg shells. While I understand bugs and such are part of being outdoors, the amount in the shower/bathrooms was a little excessive.
Oct 13, 2020
Great place!! I love all of the activities for the kids!!! Such a great getaway!
CAMPGROUND RESPONSE / COMMENTS:
Thank you! We make sure we always have fun activities for the kiddos every weekend!
Oct 11, 2020
Very peaceful, private, kent was an awesome guy showing us his telescope
CAMPGROUND RESPONSE / COMMENTS:
Thank you! How awesome getting a chance to see that telescope! We love our seasonal "stargazer".
Oct 07, 2020
Great area right on the sound. Nice and quiet place to camp and relax.
CAMPGROUND RESPONSE / COMMENTS:
Thank you very much!
Oct 05, 2020
We enjoyed our mini weekend camping trip but this KOA needs some updates for tent campers. The 'site' was nice and secluded but sites are not labeled & are 1st come 1st serve. It's hard to distinguish one site from the next. Clear camping pads and site numbers would help. Biggest issue is bathrooms. Those that need them the most- tent campers- are the farthest away. Even a porta potty would