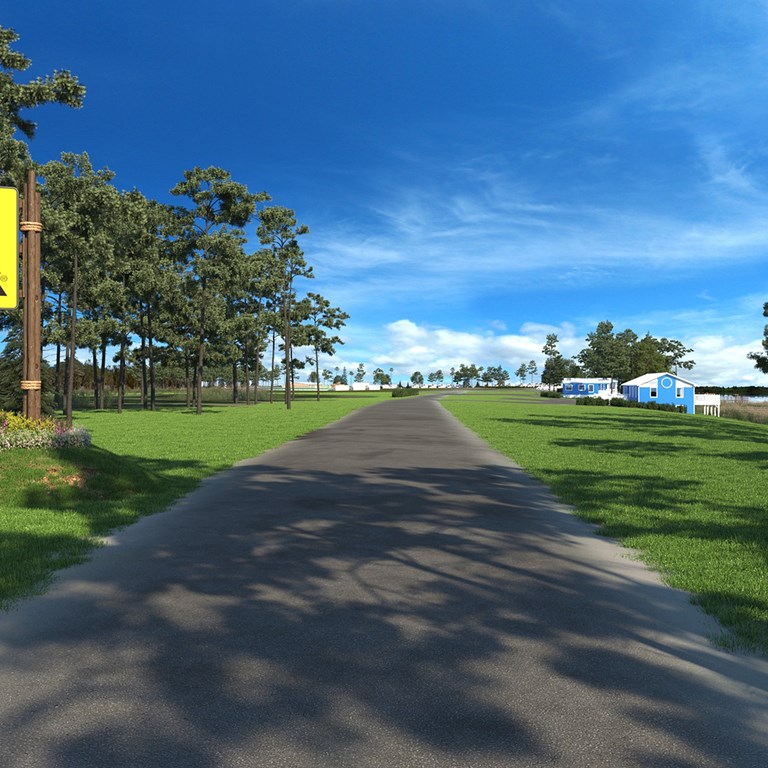 Outer Banks West / Currituck Sound KOA Reviews
Start Planning Your Summer Getaway!
Directions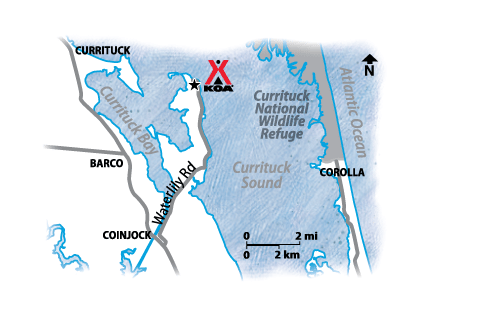 From the north: VA 168 S and NC 168 S; continue onto US 158 E. Turn left onto Old 158 Rd S, then continue onto Waterlily Rd.
From the south: US 17 N and 158 E. Turn onto Old 158 Rd S, then continue onto Waterlily Rd.
GPS: N36.417178, W75.923594
Get Google Directions
Jul 05, 2020
Tent sites absolutely sucked , middle of the woods across the park are the nearest bathrooms. Bugs, biting flys were horrible! Tent sites are away from everything . Staff was very helpful and more then accomdating, left after 2 hours due to bugs .
Jul 04, 2020
Had fun not too crowded.
CAMPGROUND RESPONSE / COMMENTS:
Thank you! We are glad you had fun! Keep coming back... We are going to grow and get so much better at "fun"!
Jul 03, 2020
Very well kept and beautiful view of the sunrise
CAMPGROUND RESPONSE / COMMENTS:
Thank you!!! Our entire staff works hard to keep the park clean, safe and beautiful for our guests! We love our "sunrise"... It's a great start to our day!
Jul 03, 2020
Had a great 2 nights just me and my fiance. Caught my 1st ever Red Drum off the dock, one of my bucket list fish I've wanted to catch
CAMPGROUND RESPONSE / COMMENTS:
Great! Thank you for staying with us and come back soon!
Jul 01, 2020
We reserved a campsite for this weekend and paid a fee (a high one when compared to other rates) only to see the campsites were a free for all with not nearly enough fire pits or picnic tables, so we didn't get either. The ceiling and floor of the bath houses were infested with bugs, and we didn't want to use the laundry facility because of the bugs coating the windows from the inside.
CAMPGROUND RESPONSE / COMMENTS:
We apologize you did not have a great experience. Especially since we have a brand new picnic table and fire ring for every site. This is definitely a park full of bugs and the bathhouses tend to attract more since folks accidently leave the door open.
Jun 30, 2020
We loved it! Amazing water views, secluded tent sites, good for families.
Jun 29, 2020
Tent sites are not marked in any way so you don't know if you're overlapping with someone else's spot or not. The bathhouse was a ridiculously far walk and there is no beach/kid friendly swimming area. I felt like the campground was overpriced for what you get as a tent camper.
Jun 29, 2020
The stay was not great to say the least. I understand that I was at a tent site, however there are no designated spots for tents. The bath house is half a mile away. Not to mention I had to pack up my family and leave in the middle of the night because we were so shaken up after almost being ran over by a car at 4am! I literally had to run out of ten and wave a flashlight so he wouldn't hit us.
Jun 27, 2020
We had a wonderful time! Can't wait to see how this New campground continues to grow!
Jun 22, 2020
This was my first stay at a KOA and I am staying at another one next week. Everything was amazing! The staff was super friendly, the band was amazing! I absolutely love the atmosphere!
Jun 15, 2020
The campground was nice. Bathrooms were very clean and if we had an issue the staff were very quick to take action. I know this is the first year for this campground but it seemed like they only had half the grounds set up for the season. Not sure if there were delays due to COVID but they seemed very prepared for RV's but not tents. Would've been nice to have a bathroom on otherside of ground
CAMPGROUND RESPONSE / COMMENTS:
Thank you for the nice comments. You are right!!! This property is perfect for tent campers, and we need to think more about your needs! So many ideas to upgrade the tent area. COVID did put us behind, but we have plans for a bathhouse on the tent side of the campground!
Jun 10, 2020
Staff was very friendly and knowledgeable
May 26, 2020
The employees were so friendly. The blue bathhouse always hand standing water and mud so we only used the bathhouse behind the store. Hot water came and went though so it was hit or miss.
Jul 06, 2020
Beautiful sites, nice quiet campground, and everyone us so friendly.
- Antoinette Hanik on Google
Jul 05, 2020
Beautiful campground right on the sound with great swimming and views!! Staff were amazing and they accommodated as best they could with covid restrictions. Jump pad, playground and dog park all next to each other!! Lots of great fishing/crabbing! Will definitely be back 😁
- Brittany Pickens on Google
Jul 07, 2020
We just spent 6 days here and had a great time! The staff was awesome! Management came out to our site to take care of a few hiccups and went above and beyond to take care of our group. When finished this place is gonna be awesome. It would be nice if there was more water access (it's either jump off the pier, jump off the retaining wall or walk down the boat ramps). My kids (4, 8 and 16) had an absolute blast jump off everything. The sites are definitely on the small side but that seems to be the norm now a days with new places. They definitely have the room to space some things out and add some more amenities. They also need more paths to get down to the water (attention fellow campers- IT'S RUDE TO WALK DIRECTLY THROUGH SOMEONE'S CAMPSITE, GO AROUND!!!!!!!) we absolutely can't wait to come back in the coming years. I would have gave it 5 stars but the water pressure is not great at all, the prices could have been a little better for what your getting, the sites are on the small side for what you're paying. The views are awesome and the staff was excellent!!! We were in a group of 6 campers and we all had a great time and all agreed we will be back.
- Joshua Eskins on Google

Outer Banks West / Currituck Sound KOA
Open May 21 - November 30
1631 Waterlily Road
Coinjock, NC 27923
Check-In/Check-Out Times
All Sites
Check-in: 3:00 pm, Check-out: 11:00 am
Outer Banks West / Currituck Sound KOA
Get Google Directions

© 2020 Kampgrounds of America, Inc.