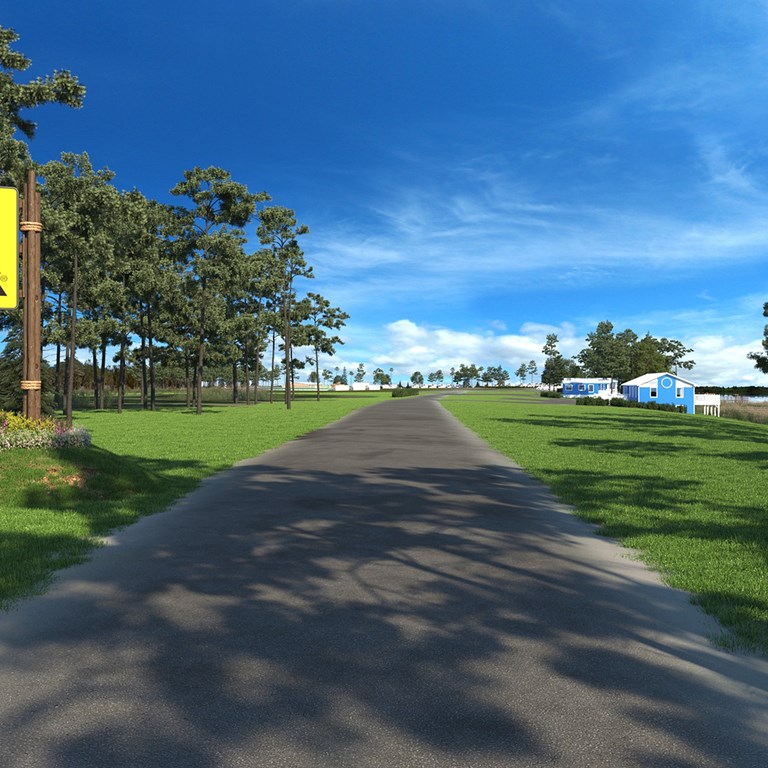 Outer Banks West / Currituck Sound KOA Reviews
Start Planning Your Summer Getaway!
Directions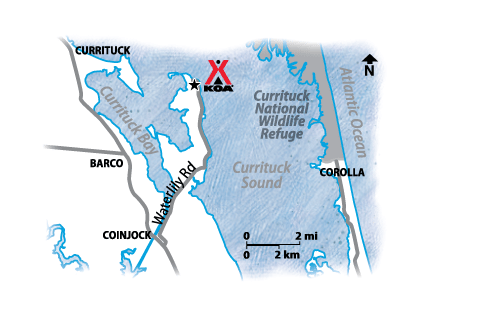 From the north: VA 168 S and NC 168 S; continue onto US 158 E. Turn left onto Old 158 Rd S, then continue onto Waterlily Rd.
From the south: US 17 N and 158 E. Turn onto Old 158 Rd S, then continue onto Waterlily Rd.
GPS: N36.417178, W75.923594
Get Google Directions
Jul 06, 2020
This property is beautiful by nature and absolutely beautifully maintained. We stayed in a cottage by the water which gave us a relaxing sense of privacy. Very nice outdoor seating was provided, too. Robin, Robert, and their staff were welcoming and very accommodating without being intrusive. The campground is beautifully kept and well worth a visit.
Jul 02, 2020
This will be a nice campground when it is completed. The biggest complaint I had was the advertisement of amenities that they do not offer yet. My wife and I went to the store and bought meat to grill because they advertised that a gas grill was included with an rv rental. There were no gas grills anywhere to be found. The views are amazing, but the lack of an actual beach was disappointing too.
Jul 01, 2020
I was very disappointed with our stay. The RV we rented was clean, however the fridge dint cool properly and the smoke detector kept going off for no reason. The water pressure was horrible - literally a trickle! Completely unhygienic (especially now with the virus and the need to wash hands even more frequently!!). They were doing electrical work most of our second day and we even lost power.
CAMPGROUND RESPONSE / COMMENTS:
We are sorry you were disappointed in your stay.The water pressure is a problem we are working on but the electric upgrade that the power company was doing is the area is now complete!
Jun 30, 2020
We had a rented RV site on the water.Beautiful sunrises and sunsets.It seems as though there was a house keeping problem in the bathhouses.There was no toilet paper for long periods of time and they were very dirty.The adults in our party thought the KOA crew was nice but several times they weren't kind to the teens in our group. Mainly in the store. We had fun.Letting you know of issues.
Jun 30, 2020
No water at frequent times a trickle at others. No electricity during one night. No grills yet it's stated they were available. Public bath house in short supply. When open two were unusable. Firewood a disgrace filled with maggots!!! Overall it was very unpleasant with no compensation of fees offered.
Jun 30, 2020
The campground undeveloped. No pool. Bikes expensive for 24 hours. Shower area dirty. No activities as stated for country week end
Jun 29, 2020
Our first exprerience with KOA and we loved it. Highly recommend and will be revisiting.
Jun 29, 2020
We had a great stay and really enjoyed our time at this site.
Jun 28, 2020
Lots of issues. No water pressure for showers n wasn't hot enough. Men working right outside our bedroom window woke us up twice in the morning, swimming area is terrible and they decided to change transformers while we were there and no warning and without electricity for a day. Spoke to manager and only apologized. Campground was not ready to be open and we paid full price. Contacted Corp offi
Jun 27, 2020
We stayed during the week. Staff was friendly. Relaxing stay.
Jun 26, 2020
It was wonderful. We enjoyed it very much!
Jun 26, 2020
Unannounced power loss was the low point of the stay. The power company should have notified the campground and the campground should have notified all the visitors. Rental had all the tools for a stay except coffee filters. First morning coffee was strainer thru paper towels. Rental trailer was brand new and everything worked. Provide oven lighting instructions.
CAMPGROUND RESPONSE / COMMENTS:
Great feedback on the coffee filters. We plan to have coffee in an enclosed filter once COVID allows. The power was a huge disappointment but a necessary upgrade for the entire Coinjock area. We thought it was going to be sections for short periods, but it was not! But the project is complete!
Jun 26, 2020
Our RV was still dirty when we arrived after 6pm. We had our own sleeping bags and towels, so we used those. The next morning, we let Robin know and she immediately fixed the problem beyond our expectations! We had a great time and will stay again once all the cabins are open! Thanks!
CAMPGROUND RESPONSE / COMMENTS:
Thank you! There can be no apology or credits given that can make me feel good about you arriving at a dirty RV Rental! We cannot wait to have you back, and yes, please stay in our cabins.
Jun 25, 2020
Just need to do something about the water pressure. Also, WF37 has multiple ant hills around the lower deck, which made there way onto the screened porch. Other than that, the the cottage itself was great! I also want to give a big shout out to Robin and the entire staff, you guys are awesome!
Jun 22, 2020
On website it listed swimming area and blow up obstacle course on water- both of which aren't even set up yet. Power went off for 6 hours first night we were there.
Jun 22, 2020
Our reservation was Thurs-Sun but unfortunately had something unexpected come up & did not arrive until Friday.. Upon arrival we entered the RV & immediately realized it had not been cleaned. I called the front desk and they immediately sent someone to clean. They were extremely apologetic & also provided us w/a complimentary golf cart to enjoy during our stay. The views are amazing! Will be back!
Jun 17, 2020
New campground and many things not available. We were first to stay in one of the cabins, which are very nice. Screened porch, comfy beds, nice interior. Only complaints about cabin, minimal hot water and low water pressure. There is no actual beach for swimming, so if you want beach don't go. Small arcade, nice camp store. Rained whole time so minimal things to do
CAMPGROUND RESPONSE / COMMENTS:
We are sorry you didn't have a great time! We hope you come back as we grow and get better! The county does have poor water pressure but we are working to resolve that issue in our park!
Jun 16, 2020
We stayed in a rented RV which was clean and had a good amount of supplies. We found the water pressure to be very good and plenty of hot water as well. The location is absolutely beautiful and the sunsets are to die for. There were not many activities, but we knew that ahead and enjoyed fishing and plenty of fresh air. We think this will be even better as more of their amenities open up.
Jun 15, 2020
Loved the campground. The staff were friendly and professional. My only complaint is the water pressure..its the worse of anywhere I have ever stayed. A shower and washing my hair was next to impossible to achieve. The water in the bath house was no better than in the RV. A trickle at its best.
CAMPGROUND RESPONSE / COMMENTS:
Thank you for providing feedback! We are working to resolve the water pressure in our park. We hope you come back soon!
Jun 15, 2020
Nice spot, friendly staff, clean bath houses. Would like to return once everything is finished and restrictions for COVID are over. Only complaint is that we didn't have a grill at our site due to COVID restrictions and weren't told before coming that grills were not available so I had no way to cook my food. I had to purchase a grate for the fire pit.
CAMPGROUND RESPONSE / COMMENTS:
Thank you for providing feedback. We apologize for not getting that information to our guests and promise to do better in the future!
Jun 14, 2020
Pretty disappointing that the camp ground wasn't finished as stated on all sites, once everything is finished it will be amazing. We had a wonderful time there and already booked another weekend. The sites are definitely very small compared to other Koas I've been too even with prices considered. Staff was very friendly but emailing staff only cared about possible reservations.
CAMPGROUND RESPONSE / COMMENTS:
Thank you for providing feedback! We look forward to your next visit!
Jun 11, 2020
We really enjoyed our stay. The view was perfect. Will be glad when they get everything finished.
Jun 09, 2020
Staff was super nice and helpful, especially Lindy! Our RV rental was waterfront on the sound so it was just beautiful. Can't wait to return in September (or maybe sooner)! Thanks for a great weekend stay. �
Jun 09, 2020
We rented an RV, today the location was beautiful but the cleanliness of the RV was not up to par. (There was mud on the toilet and the floors were filthy).We are staying again in July and hopefully the RV will be cleaned more thoroughly.
Jun 08, 2020
False advertisement !
Jun 08, 2020
Our stay was great! The only downside to our stay would be that a grill was listed as part of the rv rental package but was not actually provided at the time of our stay. We had a great time!
Jun 06, 2020
They are doing a lot of work. Huge staff. Very clean.
Jun 01, 2020
Other than a few hiccups with our cabin reserv. (Was an rv rental instead bc cabins weren't ready) and then with our late check-out (paid the day prior but got a voicemail the next day saying we were supp. to check-out at 11..called them to resolve the issue but they couldn't find record of it..then, I got a call they found it..) the actual KOA is beautiful! It's new and the kinks will work
Jun 01, 2020
We had a great stay! We rented an RV for the weekend. It was clean and cozy. We loved the outdoor deck space. The scenery was beautiful and the sound was perfect to go swimming in. Once all the remodeling is finished, this campground is going to be a perfect place to get away.
Jun 01, 2020
Very accommodating for everyone nice staff. Could level some of the sites out a little better but everything else was great
May 28, 2020
Glad to see you are open. I hope to come back later in the year when everything settles down and you're fully operational.
May 27, 2020
I was disappointed that we were not made aware the site was incomplete or that the weekend activities were not taking place. We were also locked out of our rental RV for the majority of our first day, due to no fault of our own. Nothing was done for us except to say they would have accommodated further if we hadn't had friends with us.
May 24, 2020
Simply great! Rented RV trailer was new, neat, clean. Busy day with lots of other campers moving in to other sites on the Friday before Memorial Day but everyone was courteous and efficient. Staff was great and helpful. 5 stars would have given more stars if possible.
Jul 06, 2020
Beautiful sites, nice quiet campground, and everyone us so friendly.
- Antoinette Hanik on Google
Jul 05, 2020
Beautiful campground right on the sound with great swimming and views!! Staff were amazing and they accommodated as best they could with covid restrictions. Jump pad, playground and dog park all next to each other!! Lots of great fishing/crabbing! Will definitely be back 😁
- Brittany Pickens on Google
Jul 07, 2020
We just spent 6 days here and had a great time! The staff was awesome! Management came out to our site to take care of a few hiccups and went above and beyond to take care of our group. When finished this place is gonna be awesome. It would be nice if there was more water access (it's either jump off the pier, jump off the retaining wall or walk down the boat ramps). My kids (4, 8 and 16) had an absolute blast jump off everything. The sites are definitely on the small side but that seems to be the norm now a days with new places. They definitely have the room to space some things out and add some more amenities. They also need more paths to get down to the water (attention fellow campers- IT'S RUDE TO WALK DIRECTLY THROUGH SOMEONE'S CAMPSITE, GO AROUND!!!!!!!) we absolutely can't wait to come back in the coming years. I would have gave it 5 stars but the water pressure is not great at all, the prices could have been a little better for what your getting, the sites are on the small side for what you're paying. The views are awesome and the staff was excellent!!! We were in a group of 6 campers and we all had a great time and all agreed we will be back.
- Joshua Eskins on Google

Outer Banks West / Currituck Sound KOA
Open May 21 - November 30
1631 Waterlily Road
Coinjock, NC 27923
Check-In/Check-Out Times
All Sites
Check-in: 3:00 pm, Check-out: 11:00 am
Outer Banks West / Currituck Sound KOA
Get Google Directions

© 2020 Kampgrounds of America, Inc.