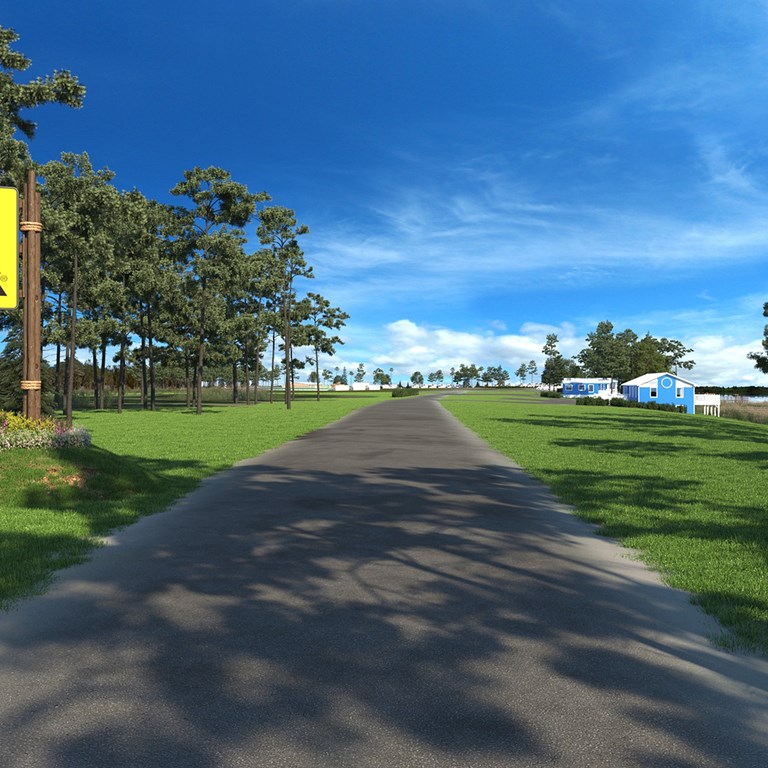 Outer Banks West / Currituck Sound KOA Reviews
Book your fall escape today!
Directions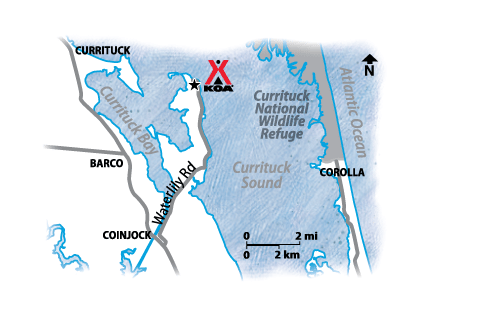 From the north: VA 168 S and NC 168 S; continue onto US 158 E. Turn left onto Old 158 Rd S, then continue onto Waterlily Rd.
From the south: US 17 N and 158 E. Turn onto Old 158 Rd S, then continue onto Waterlily Rd.
GPS: N36.417178, W75.923594
Get Google Directions
Oct 19, 2020
Loved everything except the mattress and how dirty our floors were! The view was amazing! Very well kept grounds. The staff was amazing! Thank you for a wonderful weekend.
Oct 19, 2020
Poor water pressure. Every thing was great except for the water pressure.
Oct 19, 2020
Husband and our two dogs stayed in a delux cottage right on the sound. Great views,fishing piers, outdoor grill,fire pit for s'mores; enjoyed them all. Awesome stars at night and quiet relaxation during the day. Very clean well organized campground with helpful staff. Hope to come back.
Oct 19, 2020
Very clean and we enjoyed the space each sight had. Need more for the kids, like a pool and basketball court.
Oct 19, 2020
Super accommodating staff! nice campground!
Oct 19, 2020
Absolutely the most beautiful view I have had the pleasure of having while staying in a campground.
Oct 19, 2020
We had a great time as a bunch of friends and family members were staying at same time. I've stayed at this campground a few times this year based on larger group gatherings of our friends. I most likely will not stay here again until some things changed. The water pressure is the worst I have experienced in any campground. The prices for sites are very high especially for what you are receiving.
Oct 19, 2020
The front desk girl was not friendly. The cafe was out of pizza. The refrigerator door handle was broken in our rv rental and we were told a part was ordered. There were no golf carts available all weekend. Overall, it was pretty good, but the staff needs to be more helpful and accommodating at the front desk.
Oct 19, 2020
Very nice campground, just needs better water pressure.
Oct 19, 2020
Beautiful view, nice comfortable cabins by the water, nice employees, unfortunately housekeeping gets a 0. The cabin wasn't very clean, the beds were full of crumbs everywhere, one of the master bed pillows had a blood stain on it, the pull out couch had tons of crumbs, hair, etc. filthy floors, no warm blankets, no toilet paper. Tons of dead bugs behind couch.. Housekeeping needs to step it up :/
Oct 19, 2020
Great campground ! Can't wait to go back! Only negative was the water pressure was very inconsistent- would be great sometimes but then also drop to less than half other times - but not bad enough to think poorly of the site
Oct 19, 2020
The water pressure was terrible, could hardly get enough to flush the toilet. There was a wedding there this weekend which caused there to be a lot of driving traffic, they were not driving the speed limit or being cautious of children
Oct 19, 2020
Everything was generally ok. Nothing special. The stay was tarnished by the worst water pressure I've seen in a campground. Unable to use shower or black tank rinser. For "full hook ups," we were terribly disappointed. The desk clerk suggested I fill my fresh water tank when there was some pressure. That is all fine and good if I was aware ahead of time. I wasn't and would have booked elsewhere
Oct 19, 2020
Great campground.
Oct 18, 2020
I made phone reservations asking specifically for a sight that backed to the water. We were placed in sight 59 with the marsh between us and the water. The bugs from the marsh were absolutely terrible they would cover the outside of the camper and our truck. If you had a light on inside and had to go out to walk the dog etc they would be all over the ceiling. I was very disappointed in site.
Oct 18, 2020
Due to extremely low water pressure and bug infested marshfront lot that was supposed to be waterfront otherwise I would give it more stars. The marshfront lots should not be advertised or charged the same as waterfront.Very clean and staff was great.
Oct 18, 2020
Absolutely loved our stay there. Large sites (45) Everyone was so friendly and helpful. Love the rental of golf carts. Your hallowween woods was very neat, and not too scary. We will come back, and see how this compground has continued to evolve. Thank you. Oh yes, great ice cream and slushies.
Oct 18, 2020
The first issue we had, the water faucet was stripped. The roads had a lot of pot holes. The best of it all was the water pressure. At times you would get good water pressure and at other times the water would trickle out. It was so bad the morning after we arrived, I called the office and asked if the water was turned off. A person that works at the KOA said it is a problem. STAY AWAY FROM HERE!
Oct 17, 2020
We had a wonderful stay!
Oct 16, 2020
What a great place. We were greeted by friendly staff and brought to our site WF 1. I don't like going back to the same place, ever, but I will come back here and I'll bring friends and family .
Oct 16, 2020
Nice park. Uneventful,clean and quiet. Beautiful location.
Oct 16, 2020
Cabin was very nice. Water pressure needs to be addressed & I am sure it will be taken care of. You just opened in May of 2020. The virus was an issue. It will get better.
Oct 15, 2020
Water pressure is a big problem and bugs/ may flies are so bad you can't enjoy the early evening. Cable does not have any of the 3 major networks, cannot keep up with current news
Oct 15, 2020
My stay was horrible-I left 3 night earlier than planned. I reserved a tent site. I checked in after the office was closed, and my check in information was left in a box by the door. When I arrived, there were bugs covering the door and the box. The regular tent sites were closed so I was directed to an empty grassy field. The bathhouse was too far away to walk. Will never stay here again.
Oct 15, 2020
It was perfect except for the rain lol. Everyone was so kind and helpful. We will be back.
Oct 14, 2020
This KOA was very nice. Had a great time while here. The only issue that we had intermittently was that the water pressure.
Oct 13, 2020
Beautiful campground. Friendly staff. Family oriented. Cant wait to visit again! Expect low water pressure especially during high use times of the day.
Oct 13, 2020
The only reason the rating is not a 5 is due to the low water pressure in the campground. We did address this with the office and they are working with the county on this.
Oct 13, 2020
The location is beautiful and the staff was friendly. The kids really enjoyed the pillow The downside is that for the cost the bath house was quite a distance from our site and was swarmed by midges making the bath house facility very uncomfortable when we did use it. The biggest issue we had was that the sewage hook up was actually higher than the connection on my camper.
Oct 13, 2020
We enjoyed our visit very much. The setting for the campground is terrific and most scenic. On our next visit to Outer Banks West, we will more likely reserve a deluxe site to take advantage of the wooden pad and resin furniture. The campground employees we interacted with were courteous and professional. Thank you.
Oct 13, 2020
Staff very helpful in getting a site next to our parents traveling. Beautiful location!!! Would have given a 10 & 5 above had the staff been excellent at wearing masks in the store and requiring others to wear masks. Many of my friends traveling are looking for recommendations that allow safe travel with appropriate distancing and proper use of masks. Otherwise, incredible place!
Oct 13, 2020
We had a tent site. We did appreciate that the sites were secluded and we had a good time overall. However, it would have been nice to have a restroom closer. Also, I would have liked to see our site a little cleaner. There was trash under a tree and egg shells. While I understand bugs and such are part of being outdoors, the amount in the shower/bathrooms was a little excessive.
Oct 13, 2020
Great. Only a couple things - in the cabin , our water never got hot. Thought there was golf cart rental by the hour , found out it was only daily for $50 Beautiful views of the sound on waterfront site.
Oct 13, 2020
We had an amazing weekend. The staff was awesome, the facilities are clean and well maintained. So glad we went. We stayed there when it was under different management prior to being a KOA and it was HORRIBLE! Thank you for an amazing experience.
Oct 13, 2020
Only down thing was bugs and there's nothing anybody can do about that� Had a great time, rain and all!
Oct 13, 2020
Great place!! I love all of the activities for the kids!!! Such a great getaway!
Oct 13, 2020
first outing in our RV, staff was very friendly and we loved it
Oct 13, 2020
Beautiful campground, Waterfront sites were large and had amazing views. Made for a nice and relaxing stay.
Oct 12, 2020
I was very impressed with the staff and their quickness to remedy our problem. We didn't have not water. The custodial personnel was quick to respond and fix the problem. Only negative thing was the bugs but we know you have no control over mother nature. All the staff was very pleasant and helpful. We will return for an extended vacation. My daughter in law from FL wants to have a family retreat
Oct 12, 2020
I would rate higher but the bugs were a huge problem..
CAMPGROUND RESPONSE / COMMENTS:
Those bugs are messing with our ratings! We are so sorry you did not have a great experience! We have such a beautiful park and hope you to give us a second chance!
Oct 08, 2020
Great place. Probably will return there when we head to the outer banks
- Bob Zupanek on Google
Oct 05, 2020
We had a wonderful stay at this brand new KOA!! There are so many reviews about the sites being too small or the amount of bugs or the fact that it is 40 miles from the nearest beach. The sites are some of the widest we've ever had. We fit our 30 ft travel trailer and 2500 Cummins side by side in a premium waterfront site with no problem!! Yes, there are bugs...you're outside on the sound and marsh. You are in their territory!! Yes, it is secluded on a peninsula with beautiful views of the Currituck Sound. Google will agree that it is far from the beaches... you can easily plan that into your trip. We had no issue with the water pressure either. You're in an RV not a Hilton. The staff were great and very knowledgeable!! Our 3 yo enjoyed making crafts and painting pumpkins (I would just suggest having plenty of paper towels when paint is involved). We did have a small craft advisory so we were unable to enjoy Captain Jerry's trek across the sound. Overall, we thought this was a great campground and we will definitely be back next year!!
- Heather Roach on Google
Oct 05, 2020
We had a great time with family the camp ground was awesome
- Donna greene on Google

Outer Banks West / Currituck Sound KOA
Open May 21 - November 30
1631 Waterlily Road
Coinjock, NC 27923
Check-In/Check-Out Times
All Sites
Check-in: 3:00 pm, Check-out: 11:00 am
Outer Banks West / Currituck Sound KOA
Get Google Directions

© 2020 Kampgrounds of America, Inc.