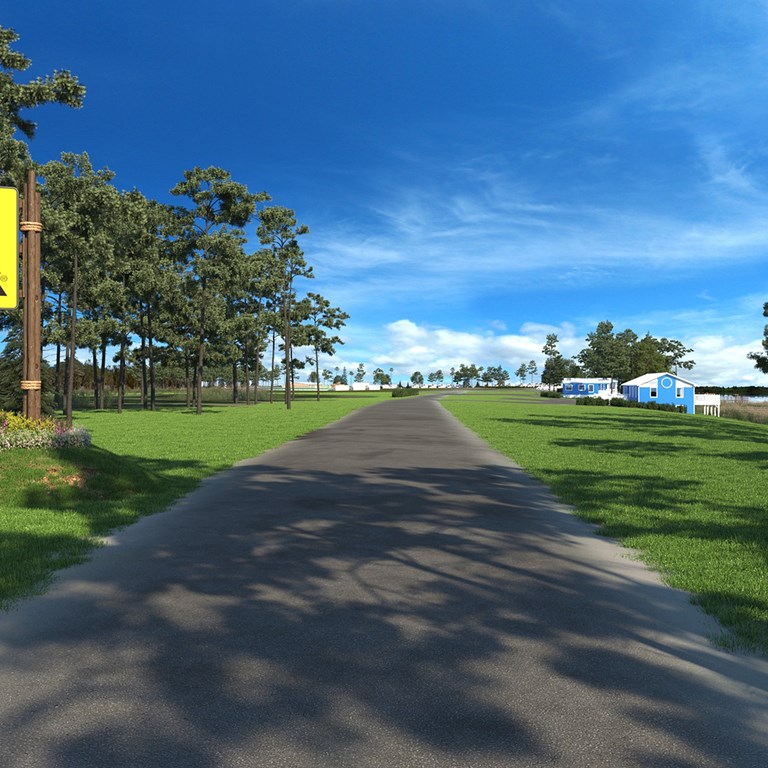 Outer Banks West / Currituck Sound KOA Reviews
Start Planning Your Summer Getaway!
Directions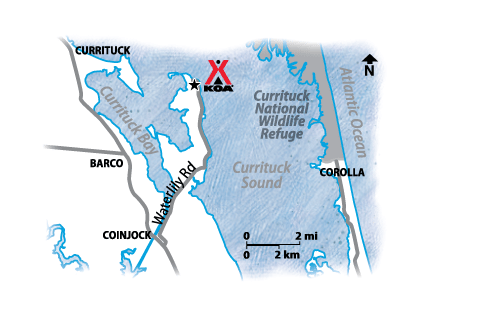 From the north: VA 168 S and NC 168 S; continue onto US 158 E. Turn left onto Old 158 Rd S, then continue onto Waterlily Rd.
From the south: US 17 N and 158 E. Turn onto Old 158 Rd S, then continue onto Waterlily Rd.
GPS: N36.417178, W75.923594
Get Google Directions
Jul 10, 2020
Our stay was great!!! We can't wait to come back... The location is amazing, the store is super well-stocked, the employees are friendly and the facilities are great. The activities were also very good. We loved it thank you so much!!
Jul 10, 2020
Water pressure=horrible, not enough to shower, not nearly enough to clean out black tank prior to leaving. Your store needs to stock ice 24/7, folks have coolers and driving 30-40mins to get ice is a nonstarter bc it's melted by the time you get back.Lighting needed by your playground & jump pad. It's awesome that it stays open until 11,but you can't see-anything. Hours for store past 6pm.
Jul 09, 2020
Really enjoyed our stay. We had a waterfront deluxe site and the view of the sound was excellent. Overall had a really good experience and would come back. Especially excited to hear in the future there may be a water shuttle over to Corolla area...would be really nice as we enjoy beach time and that area and it was an hour and a half drive to get there unfortunately!
Jul 09, 2020
The views were nice but everything was very close together. No one seemed to be enforcing rules. People were pulling boats right up to the swim dock where people were swimming and no campers were wearing masks in the store even though it was "required." Water pressure was awful. The office staff was very friendly. HIGHLY recommend getting a site that is waterfront - sites WF1-WF35
Jul 09, 2020
Water pressure not good had to fill my tank daily Gave me the wrong site still doing construction and not all amenities are ready should have waited to open
Jul 09, 2020
Water pressure was very low we had to use are water pump for backup. The sites on the main road coming in were very dusty and small.
Jul 09, 2020
Highlights, pretty sunsets. Negitives, people drive way to fast around the campground including employees raising major dust. Take all you need so you don't need to go to the campground store. Very limited next to nothing, dont know why they are even open. It was the week before july 4th. The campground has 20 lbs water pressure. Have a tank with waterpump. 15 miles to the supermarket. Don't go.
Jul 09, 2020
Had water pressure and power issues the entire stay. Water pressure they stated was not a KOA issue but folks with a broken pump or tank would be stranded if staying there. Power dropped below 104V numerous times. Once below 104V you can burn up your wiring and melt down your camper. I was told to take off my surge protector because they had issues with them. Don't think so folks!
Jul 09, 2020
We booked online the same day, to arrive and find out they don't allow that. Robin helped us out but not sure why the website allowed it. Just a little frustrating.
Jul 08, 2020
LOVED THE VIEW OF THE SOUND BUT TO COMPETE WITH OTHER 5 STAR KOAS YOU NEED A POOL
Jul 08, 2020
We really enjoyed the cabin accommodations. But we did not have a grill or fire ring as stated on website. Would have liked to have the water play features out for the kids to enjoy. We understand they are still adding things but would hav liked to have a pool available.
Jul 08, 2020
Good first camping trip . Diffently need a pool
Jul 08, 2020
This campground will be great once they finish everything. The views from the campground of the sound are great. Downfalls are the low water pressure and narrow access road to the remote location.
Jul 07, 2020
Extremely close quarters and the sight I rented online stated waterfront and patio. There was no patio, not even a fire ring, and the "waterfront" was over 50 ft of reeds. On a positive note, the staff was very friendly.
Jul 07, 2020
Since it's a new one, roads need still to be paved, the sewer hookups need to be lower than the parking spots and not above them, looks like two different plumbers did the jobs since some were correctly done. Staff were all friendly and helpful. Someone should be on site for "enforcement" of quiet time since some campers kept it going after 11 pm, there was no one to call.
Jul 07, 2020
Loved the place from the moment that we checked in. They escorted us to our site and guided me in. Every part of this place was fabulous. I am already planning and return trip with some fellow campers
Jul 07, 2020
Extremely poor water pressure. Very few amenities available either due to the campground possibly rushing to open and or the pandemic? Sprained ankle 2 times while there. Once on a large piece of recycled asphalt that is all over the campsite and once walking through the field to the store. Took approx 3 minutes to fill a 59 oz bottle with water. Actually have a video of the shower tricking water.
Jul 07, 2020
I stayed at the new KOA Outer Banks West Currituck 7/2-7/5/2020. I understand that it was a holiday weekend but the price was high. The amenities were lacking no pool Very little activities for children or adults no paved roads no concrete pads. This is not a 5 star KOA or a 5 star campground. I've stayed at other campgrounds with more to offer for less money.
Jul 07, 2020
Very low water pressure
Jul 07, 2020
It's very nice. We stayed in the cabin which was adorable and the view of the water was amazing. However there was no beach area to swim or a pool however even if there was a pool there's the COVID. The staff is so friendly and nice. The water pressure was not good. It would have been nice to have outside water house at the cabin to clean up better
Jul 07, 2020
Beautiful cabins and the view was so relaxing. The staff was very friendly and had a lot of planned activities.
Jul 07, 2020
Site B5 is ridiculously small and was flooded for 2 days of our trip. Odor of sewage from neighboring site was bad. Water pressure non existent. No easy access to waterfront except thru other campsites
Jul 07, 2020
This was our 1st visit and it is a very nice campground. Just a few concerns. They need to control the speed limit more. People fly through on vehicles and there are a lot of kids riding bikes and walking back and forth to the play areas. They need more shaded spots so need to plant some trees. The overall staff is very friendly especially the maintenance guy. Wish I had gotten his name.
Jul 07, 2020
Your staff was great you have done a lot with the grounds unfortunately I stayed in sit J21 there was power fluctuations which kept tripping my AC making for long hot nights. I can only hope you figure out the issues. I would like to come back in the future.
Jul 07, 2020
Beautiful campground! Great setup for opening earlier this year. A lot of potential for this campground. Looking forward to staying here again and seeing what improvements have been made during completion!
Jul 07, 2020
I understand issues with Covid But we should get some discount for lack of amenities such as the water feature for kids or concrete pads. Some sites are listed as waterfront when they are not. Very misleading. Charging the same price as actual waterfront sites is not fair for those who dont have direct access to water. One stay we were on the water, next we had to walk quite a ways. Same price?
Jul 07, 2020
The staff was very helpful and the activities were well planned even though COVID-19 restrictions were in place the facilities were still under construction, I foresee an issue with the restrooms being too far and too few, water pressure was horribleNot enough pressure to take a shower in your RV unless you use your freshwater tank . I wish it had a proper beach and not just a sea wall for swimmin
Jul 07, 2020
I camped on a holiday weekend. The website info was inaccurate: tent sites were not where the map shows, LONG 10 minute walk to the bathroom, no water taxi, store ran out of ice and not stocked. Finding a campsite was a free for all, I asked for help & the worker hesitated and scoffed. 30+ minute drive to the closest store or OBX. So many bugs. Has potential but I would rather stay elsewhere.
Jul 07, 2020
During our recent stay at KOA Currituck Stay the power was cut prior to our departure. We weren't told that they were working on the power lines in the campground. I was getting ready for the day and was unable to due to power being cut. It would have been nice if we had known so I could have planned to get showered and ready for the day. Everything else was great I love the patio area at each sit
Jul 07, 2020
It was fantastic! Can't wait to go back!!
Jul 07, 2020
I arrived on a sunday (5th of July) for a one night stay. Everyone was very nice, but my spot was taken, the water pressure was too low, and when I asked if I could stay on property an hour late I was told $25, even if I vacated my spot. That irked me, considering there were over 90 open spots at the time. So: 3 stars, and I doubt I'll be back.
Jul 06, 2020
Nice campstore, lits of activities for children, bathrooms were very dirty, paid for water front but was actually marsh front. Lot size was very small also. All in all not a terrible campground but definitely could use a few improvements. If coming with a group of people i would come back but we wont come back camping alone.
Jul 06, 2020
This property is beautiful by nature and absolutely beautifully maintained. We stayed in a cottage by the water which gave us a relaxing sense of privacy. Very nice outdoor seating was provided, too. Robin, Robert, and their staff were welcoming and very accommodating without being intrusive. The campground is beautifully kept and well worth a visit.
Jul 06, 2020
stayed from 7/2-7/5. KOA is recently renovated and continuing.... KOA staff and the campers are very friendly. i was under the impression there was a beach area not a rock wall, marshy area etc... for me the sites are too close. the sewer hole for the site next to us was under the edge of our awning and it's similar for other sites. just not what i thought from what was explained or web site
Jul 06, 2020
Our spot was awesome with the view of the water. We had zero issues while there and all the employees were great. It stormed two days with heavy rainfall and our site was not flooded. Can't wait to go again!!
Jul 06, 2020
Wonderful campground! Brand new so still some amenities to add but they did a great job with the layout. Couldn't ask for a more beautiful location!
Jul 06, 2020
Awsome camp ground.... Road to it is a lil narrow but really nice once you get there.... And I don't live far away so will definitely be back soon!
Jul 06, 2020
I would have given it a 4 star but the sewer was 18 feet up hill. Made it interesting to get rid of the sewage but I made it work. Other than that, it was a great place to spend the 4th of July. I will travel there again. Maybe I'll get a better spot next time. One last thing, no water pressure. Had to use the camper pump all weekend.
Jul 06, 2020
We really enjoyed our stay! We would like to see a water bowl or spicket though in the dog park so that they can have fresh water. Also having the jump pad right next to two campsites encouraged people to walk through where we were sitting and it became very noisy. I also feel that the jump pad should have a maximum amount allowed on there at one time.
Jul 06, 2020
LOVE THIS PLACE. FRIENDLY STAFF - GREAT CAMPGROUND! SECOND TIME STAYING AND WILL BE BACK FOR MORE FUN!
Jul 06, 2020
Great stay, love the location. Staff are super friendly and helpful.
Jul 06, 2020
Great new location. They are still making improvements and getting things going. We had a fun time swimming in the sound. We will definitely come back :)
Jul 06, 2020
We had a wonderful time, we can see that they are making improvements, the water pressure is not good, that needs to be addressed. Other than that is was nice. Are there any plans for a pool? Thank you
Jul 12, 2020
great place nice staff great playground and the view was very nice
- jason hardee on Google
Jul 12, 2020
Great KOA with plenty of waterfront sites. Staff was friendly and helpful.
- Tiffanie Garner on Google

Outer Banks West / Currituck Sound KOA
Open May 21 - November 30
1631 Waterlily Road
Coinjock, NC 27923
Check-In/Check-Out Times
All Sites
Check-in: 3:00 pm, Check-out: 11:00 am
Outer Banks West / Currituck Sound KOA
Get Google Directions

© 2020 Kampgrounds of America, Inc.