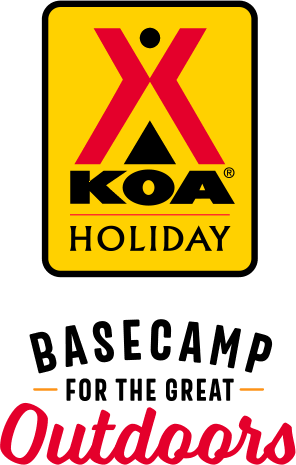 KOA Holiday Campgrounds
Whether you're exploring the local area or hanging out at the campground, KOA Holidays are an ideal place to relax and play. There's plenty to do, with amenities and services to make your stay memorable. Plus, you'll enjoy the outdoor experience with upgraded RV Sites with KOA Patio® and Deluxe Cabins with full baths for camping in comfort. Bring your family, bring your friends, or bring the whole group – there's plenty of ways to stay and explore.
KOA Holidays Feature:
RV Sites with a KOA Patio®
Deluxe Cabins with full baths
Premium Tent Sites
Group meeting facilities
Directions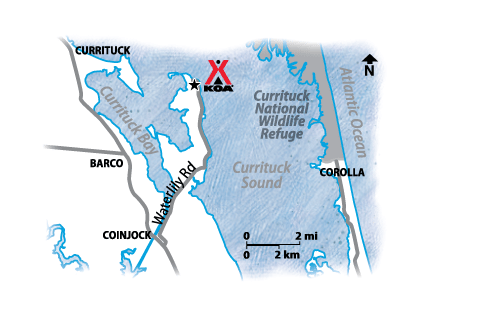 From the north: VA 168 S and NC 168 S; continue onto US 158 E. Turn left onto Waterlily Rd.
From the south: US 17 N and 158 E. Turn onto Waterlily Rd.
GPS: N36.417178, W75.923594
Get Google Directions
Sep 16, 2021
This is our second stay there. Check in was easy, the staff is friendly, and you can't beat the view. The campground is well maintained. There is a great dog park as well as plenty of acreage for a good walk.
Sep 15, 2021
We had a very nice time. I would love to see you guys get a putt putt in as well as a beachy area. I was told that you weren't able to get permission for a pool but making an area with a sandy type beach would be great as per my conversation with other guests.
Sep 15, 2021
Staff very friendly and helpful. Camp was clean. LOVED our back in site with the Sound view! Also loved the Dog Park. Food and ice cream at the Cafe was yummy. Fellow Campers were really nice. It was a little buggy, but not like you read about in some reviews. Our children stayed in a cabin and they were comfortable and impressed with how clean it was.
Sep 15, 2021
Wonderful stay with great view. Quiet, paths to walk or ride on, and a store supplied with things you may need. Ice and firewood are available. Great ice cream! Only flaw- no pool.
Sep 15, 2021
The weather was beautiful and it was a relaxing weekend.
Sep 15, 2021
We had a great time. Everything is very clean & orderly. Staff is very friendly & helpful. We will be coming back. I read a lot of the reviews, where people had negative comments about low water pressure, lots of bugs, & long narrow road. Those people need to get a life. It's camping!!!! If you don't like bugs, stay at home! Why be negative to the campground because of bugs?
Sep 15, 2021
Very clean, nice sites an people are very friendly.
Sep 15, 2021
We had a great time. Everyone e was so nice.
Sep 14, 2021
Fantastic campground with beautiful views from every site. Great amenities and access to water activities. Was disappointed that the water taxi was not in operation, but we had a great time at the campground and didn't feel the need to leave the campground to have a fantastic and relaxing vacation. One suggestion I would make is to pressure wash your paddle boards or put a roof over them.
Sep 14, 2021
Beautiful site on the water, staff was extremely helpful and friendly. Store was well stocked and beautiful sunrises! Definitely will be back!:)
Sep 14, 2021
Our first trip and we loved it. Place was beautiful and clean. Staff and other guests were friendly!
Sep 14, 2021
You need to spray for bugs like the cities do with sprayer trucks
Sep 14, 2021
Very nice cabin and beautiful area. Staff were very friendly and they had very nice community events. The bugs were out in force outside and so that was less enjoyable. We would have had some reprieve in the screened patio; however, there were holes and bugs got in. Also, the cabin itself had some issues with ants. If it weren't for the bugs it would have received a higher rating.
Sep 14, 2021
Very nice campground. The sites are a little close together but nice - we were on one of the waterfront ones. We would recommend a trash pick-up at least once a day because it is hard for RVs to get to the trash dumpster on the way out.
Sep 14, 2021
James was super helpful and every one at the front desk was so friendly! We actually booked two more stays before the end of next month. The golf cart trails are an awesome idea and were so much fun.
Sep 14, 2021
We had a great time. The only down side was the bugs.
Sep 14, 2021
great place to stay only complaint light bulb was out on electrical panel
Sep 14, 2021
Amazing campground; lots of private places yet people around...and very clean and friendly. Beautiful setting with water close by...
Sep 14, 2021
We love your campground and will continue to come back. My only thing I would say that needs improvement is the girl in the snack bar. We went in on Sunday around 100. She asked if we wanted ice cream or food. When I told her food she rolled her eyes real big and copped an attitude. The lady who worked the whole weekend in the store is WONDERFUL. The snack bar girl could learn some things!
Sep 14, 2021
there are NO signs on the highway for the KOA!!!! The directions on the website are worthless! lost twice, called in and still got confusing directions.... the staff was very nice though.Does not meet our expectations for a KOA.
Sep 13, 2021
It was very pleasant staff was very good we had a little problem with our TV and James came out and helped us he was very personable he was a big help and we appreciate it
Sep 13, 2021
Nice place with great views. Lots of activities for kids. Bbq cook off was not as expected. Would like to see more adult activities. Boat rides through Sound would be wonderful as well. Store was nice. Staff were very nice. We will be back. Thank you
Sep 13, 2021
Beautiful waterfront deluxe site. Staff was always helpful and friendly. Liked that staff members on golf carts checked on guests and reminding of park rules. Lots of dog owners had to be reminded to have pets leashed. Staff were all pleasant in store. Great water pressure appreciated. Sewer hookup was clean and easy. Perfect electric supply.Yes there are bugs! It'soutside. Funweekend activities
Sep 13, 2021
The campsite was very clean and had very nice amenities. I only wish there was a shower house closer to the campsites near the entrance of the park. Not all campers use the shower in their units.
Sep 13, 2021
Love it, love it, love it, We will be back as soon as we can
Sep 13, 2021
Great location, beautiful views! We will definitely be back. Were afraid of midges, but they were no worse than any other bugs when you camp and were never an issue for us. We stayed outside from morning until night. Very friendly KOA staff members and lots of activities if you want to participate. Looking forward to next trip already.
Sep 13, 2021
This place is a hidden gem! We arrived after dark and it was very hard to find our site. H row needs large site markers like the waterfront sites have - not tiny mailbox numbers. Wish there was a pool or splash pad area. Sound access is great but not ideal for younger children. We really enjoyed our stay! Site was very spacious and views can't be beat! We will return!
Sep 13, 2021
We had a good stay with friends and family. The bathrooms on the main rec building were never cleaned during our stay. I would love to see this KOA get a pool built. The sound is unsafe for kids and needs a pool for the kids to swim. They have the space so please get one built!
Sep 13, 2021
Nice people, well maintained grounds, nicest playground for the kids iv seen in a long time! Definitely going back!
Sep 13, 2021
Friendly staff. Quiet campground. Nice amenities.
Sep 13, 2021
We enjoyed our stay. The site is clean and safe. Everyone such as staff and campers are very helpful/nice and the amenities are convenient. The camp store food is good and customer service is good. Internet is pretty good here and my students were able to stream and do online homework. The view of the sound is beautiful and the activities and events each week make this place fun.
Sep 13, 2021
Great campground! The grounds are immaculate and well maintained. Great views of the Currituck sound. Activities for kids and all day family fun. Keep up the great work Outer Banks West, KOA! We will be back.
Sep 13, 2021
First time at the campground and loved it! We'll be back!
Sep 13, 2021
The campground is amazing and lovely! The sites are well maintained and the staff was exceptional! Will definitely be staying here again!
Sep 12, 2021
We had a great time! Very clean nice campground. Beautiful views of the sound. We will definitely be back!
Sep 12, 2021
Well maintained, great, great staff, clean bath house, but the staff was what made the stay. Will stay again.
Sep 11, 2021
Nice campground, nice size camp site. We had a couple of beautiful sun sets while there. The only problem was there no attractions that were close . It is way off the beaten path
Sep 17, 2021
Nice and peaceful, it was quiet the sea breeze feels wonderful
- Citron irl on Google
Sep 07, 2021
Really nice grounds tucked right up on the Sound, probably should invest in a pool but otherwise really nice.The kids enjoyed the bounce pad and playground..
- Curtis Bryant on Google