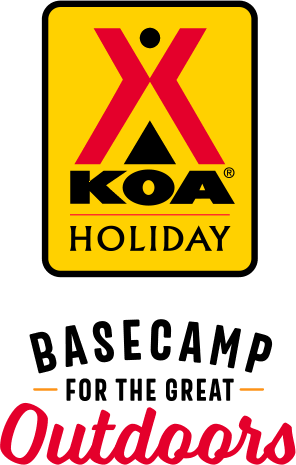 KOA Holiday Campgrounds
Whether you're exploring the local area or hanging out at the campground, KOA Holidays are an ideal place to relax and play. There's plenty to do, with amenities and services to make your stay memorable. Plus, you'll enjoy the outdoor experience with upgraded RV Sites with KOA Patio® and Deluxe Cabins with full baths for camping in comfort. Bring your family, bring your friends, or bring the whole group – there's plenty of ways to stay and explore.
KOA Holidays Feature:
RV Sites with a KOA Patio®
Deluxe Cabins with full baths
Premium Tent Sites
Group meeting facilities
Directions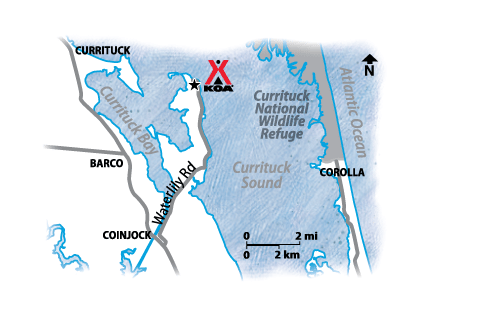 From the north: VA 168 S and NC 168 S; continue onto US 158 E. Turn left onto Waterlily Rd.
From the south: US 17 N and 158 E. Turn onto Waterlily Rd.
GPS: N36.417178, W75.923594
Get Google Directions
Jun 15, 2021
Would like to have had hooks in the cabin to hang towels. Also a weekly rate on golf cart rental. A splash pad/ pool and an actual beach area for swimming. Staff was extremely helpful and friendly when needed. Grounds are well maintained.
Jun 15, 2021
Planned meals around a stove in the trailer. Alerted the office of the problem in the morning, specifically asking that it be repaired while we were gone. Next morning, still no stove. Both days alerted due to stove not working. Too expensive of a place for things to not work. Not the best experience to be sure.
Jun 15, 2021
Great layout, sound is a great backdrop, cold ice cream and ice and shower had good hot water. All in all, I would visit again.
Jun 15, 2021
Water pressure could be improved and a pool would be icing on the cake. Quiet, clean, and great staff. Ice cream was great as well.
Jun 15, 2021
Awesome place for my athlete training and plenty to do for the family.
Jun 15, 2021
Had a good time despite the rainy weather
Jun 14, 2021
Bugs was awful at night
Jun 14, 2021
A few reasons why we probably wont stay here again, No beach access No swimming pool The least little bit of rain and our campsite flooded ( 3 times during our stay ) I wish there were more activities for the kids Some positives The staff was extremely friendly Reasonable rates Bath houses are nice and clean
Jun 14, 2021
We had a great time. Beautiful setting. Staff was very friendly.
Jun 14, 2021
This KOA is a great location. It's a shame customer care is completely lacking. The owners are clearly only interested in making a buck. Dumpsters are far away from rv sites; management says they don't pick up trash at the sites. Kayak rentals are $35/hour. 1/2 the waterfront sites were open, but wouldn't make a deal on one. Spots are tight and unsightly. Sewer pipes are too high. Won't r
Jun 14, 2021
Very serene. Loved the patio areas with fire pit overlooking water. An out of the way location well worth the drive.
Jun 14, 2021
We loved the campground but were really disappointed with the RV we rented from KOA. Oven wasn't working. They didl look at it but it was not repaired during our 7 day stay. Black mold in the AC unit, ceiling and bathroom fan. We were not told we needed to empty the tanks. Not that we mind doing it but found out in a not pleasant way that they were not "open" .
Jun 14, 2021
Everything was great from the time we checked in until the time we checked out. However our camper was ready for early check in, but they would not allow us a early check in. Not sure why they would allow a late checkout but not a early check in.
Jun 14, 2021
We stayed here a week in our MotorHome. We stayed next to the field and had room between sites. My complaints have to do with our site being covered in cigarette butts and dogs that were off leash. My husband and I are both camp hosts and expect that rules would be enforced- especially on the weekend when the campground was crowded. This is a beautiful campground.
Jun 14, 2021
Unfriendly staff, except for store staff. Got there late at night and was not on a campsite we requested, had to move the next morning. No trash pickup at campsite, had to drive 1/2 mile to dumpster. No info was given about campground. There was a walk way behind campsite stating no motorized vehicles allowed, but staff drove golf carts up and down it, inconvenient for campers. Rates too high
Jun 14, 2021
Pros: great friendly staff, beautiful views Cons: not much space between waterfront sites, no designated family swim area, a beach area would be nice, a lot of bugs, no pool, would be nice to see more amenities for the price of a nights stay.
Jun 13, 2021
Beautiful sunsets and sunrises
Jun 13, 2021
Our cabin was very clean and loved the campground ! The staff was above and beyond friendly and always helpful ! We plan to visit again !!!
Jun 13, 2021
Very enjoyable
Jun 13, 2021
Erica at check in was great. Robert and CJ driving on carts were friendly and helpful as were Margaret, Michele and Hannah in the camping store/cafe No one escorted us to our site after check in. ALL the KOAs I've been to do this. Camping store was well stocked and had a large varied selection of items. Great ice cream in cafe.Water pressure was good. Need a bug zapper in the bathroom.
Jun 13, 2021
Staff was friendly. Site were very tight, internet was very poor. Need some more things for the kids to do. Beach area would be great. Overall nice campground.
Jun 13, 2021
Very peaceful.
Jun 12, 2021
It is a beautiful campground but the reason I have to give it a 3 is because the store wasn't open for longer hours, the cafe never seemed to be available and were told once "she" wasn't cooking today, the laundry room was being used by koa staff, the location was far away from activities and stores, and amenities were not available as advertised. We could see a lot of potential in it thou
Jun 12, 2021
Excellent cabins with beautiful views of the sound from the screen porch. Nice furniture and comfortable beds. The staff was friendly and helpful.
Jun 12, 2021
Very nice campground, some distance drive to activities on the outer banks communities. Need to improve the way garbage is taken care of. A collection routine by the campground would be nice (other KOAs do it) since you need to be 6-feet tall or more to open the garbage bins. Personnel very nice, professional and helpful.
Jun 12, 2021
Nothing to do, store closes to early, of the four days we stayed none could we get any food from the cafe. Nothing nearby, nature trail was about a .25 mile walk. Bugs and ants everywhere, no cable, no water trikes, no beach. Has tremendous potential but a very long way to go.
Jun 12, 2021
It was the spot that we didn't like. We had a back in which was ok but we had to butt up to another unit leaving no place for truck so we couldn't use fire pit or the table at all. Don't plan on coming back to the area so whatever.
Jun 10, 2021
Had a fantastic stay
Jun 10, 2021
Campground and staff are some of the best. Especially the manager Robin we had a bad run in with a local and at 8PM she did everything in her power to take care of us. Just beware of the locals they are very ignorant and feel that local laws don't apply to them.
Jun 09, 2021
We were disappointed the water taxi was not running, after being told they hope to have it in the water by the weekend . The pool is not started but we are paying rates for the pool and water taxi . The mosquitos are so prevalent we could not sit outside of our camper after 7:30 , with three citronella candles burning . To offset the lack of pool /taxi KOA should offer upgrades or discounts .
Jun 09, 2021
We loved it!
Jun 09, 2021
Lovely site with a water view.
Jun 08, 2021
Keep in mind this is a fairly new campground. The location is beautiful and the campground has lots of potential. The owners are still improving it. It is clean. Views are great. Common areas are new and clean. They did pick up our garbage. Lots of planned activities. There are bugs. Not much they can do about that. Sites on water front are crowded. We were a row back and our site was normal size.
Jun 08, 2021
We enjoyed it very much and will be back.
Jun 08, 2021
The campsites are too close together when campers have slides. The bugs were horrible. We had a problem with low water pressure. The staff were all very friendly and helpful
Jun 08, 2021
Fun camping with activities for everyone. Nice clean camp store and bath houses. Waterlilly road coming into the campground is too narrow. It moves along the sound and could be a problem for bigger rigs. The rain filled our original sites to the point they were not useable. The water did not drain for three days. The sites are mostly too small. We upgraded our site but it was still small.
Jun 08, 2021
Another great stay in a little cottage at Outer Banks West/Currituck Sound KOA! We stayed for 6 nights this time and the staff was very helpful, friendly and accommodating. The views of the sound were beautiful, and we thoroughly enjoyed our time. Our only request would be a ceiling fan on the porch! When the wind stills, it's unbearable out there!
CAMPGROUND RESPONSE / COMMENTS:
We are glad you enjoyed your stay in one of our Deluxe Cabins! We appreciate the feedback, we are always looking to improve our guest stay!
Jun 08, 2021
Absolutely love it here.just wish we could afford longer stay. Robin is awesome
CAMPGROUND RESPONSE / COMMENTS:
We are glad you enjoyed your time with us!
Jun 08, 2021
Too many bugs and snakes. Standing water and mud in my site after rain. Asked that low area of site be filled and was told that it would. Two days later when I left it was not taken care of.
CAMPGROUND RESPONSE / COMMENTS:
Thank you for your feedback. Unfortunately, we cannot fill sites. We will take a look at all our low lying sites and come up with an overall plan.
Jun 08, 2021
No early check-in, we were told check back 15 minutes before check-in time. Camp store closes at 5:00 p.m. this makes it difficult to buy firewood or ice or any other necessities or things that were forgotten. No instructions were given regarding the RV that was rented, the RV didn't look like it was cleaned before our arrival. On a positive note the campers were friendly, scenery was beautiful.
CAMPGROUND RESPONSE / COMMENTS:
Thank you for your feedback. We are sorry for not offering early check in for our accommodations. Our housekeepers need time to thoroughly clean the RV Rentals and Cabins. And, they are inspecting to ensure they are clean. We appreciate you letting us know about the campstore and we are open later.
Jun 07, 2021
We had an enjoyable stay. Staff was very responsive. Sites are close but no closer than other campgrounds. Be prepared for bugs. They do not bite but are a nuisance. A small gripe that I had was no trash pick up. Not a biggie but most campgrounds that cost that much provide that service.
Jun 07, 2021
I really love staying here but, the only 2 gripes I have is that the bugs are relentless and the dog park isn't separated so little dogs and big ones can be in there at the same time. I took my dogs up there to play but it was full of big dogs. I waited for over 30 minutes to let mine in but they never came out. It was disappointing.
Jun 15, 2021
Peaceful and nice campground.
- Dan Jensen on Google
Jun 14, 2021
Beautiful facility. Spacious sites. Friendly and helpful staff. The midges are a problem. Apparently they don't come around every season but they are there now. We cut our trip short due to the bugs but we will definitely find another time to come back to this Campground.
- Greg Bell on Google
Jun 13, 2021
Great location! Sites are not all level, so bring your levelers. Very friendly and helpful staff.
- Axel Granholm on Google