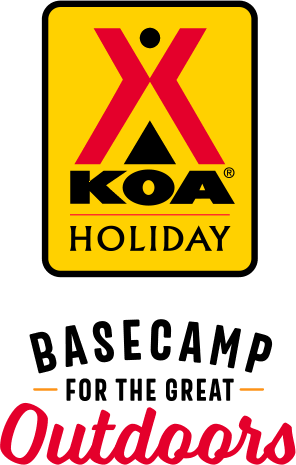 KOA Holiday Campgrounds
Whether you're exploring the local area or hanging out at the campground, KOA Holidays are an ideal place to relax and play. There's plenty to do, with amenities and services to make your stay memorable. Plus, you'll enjoy the outdoor experience with upgraded RV Sites with KOA Patio® and Deluxe Cabins with full baths for camping in comfort. Bring your family, bring your friends, or bring the whole group – there's plenty of ways to stay and explore.
KOA Holidays Feature:
RV Sites with a KOA Patio®
Deluxe Cabins with full baths
Premium Tent Sites
Group meeting facilities
Directions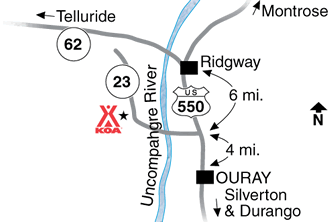 KOA sign on highway.
From Montrose, turn right on county road 23 (mile marker 98)
From Ouray, turn left on county road 23.
Get Google Directions
May 08, 2021
It was very pet friendly!
May 07, 2021
Location, location, location. You got it all.
May 05, 2021
nice location. nickel and dime approach was disappointing tho ($9/day for a dog, $20 to choose a site, etc). We put a tent up so my husband could get some sleep while I stayed w baby in the cabin. next morning I got a text message that we were being charged $39 for having a tent. After discussing, they did not end up charging us, but it left a bad taste. not the Christian hospitality I'd expect.
May 05, 2021
Beautiful, convient, hot tub, wifi ALL excellent!!
May 03, 2021
We were really hoping to experience the restaurant and live music, but we understood the covid restrictions. There was deer on the ridge above our camp. Will be going back.
May 03, 2021
Everything was fantastic! The heater made an irritating noise, so I just shut it off at night. My only other complaint is that the firewood was way too expensive! You can get firewood for half that price just down the road at the gas station!
May 03, 2021
Staff was very friendly and helpful. Our deluxe cabin was clean and comfortable. New owners are really doing a wonderful job of fixing the place up! Will definitely be going back in the near future!
Apr 30, 2021
wonderful people/staff; campground need some TLC and has no internet!!! Dan.
Apr 28, 2021
It was wonderful!!!
Apr 28, 2021
Beautiful area. Campground was clean. They were doing a lot of construction work to improve the buildings. I would definitely come back!
Apr 27, 2021
I love it here it's the perfect escape from the business of life it's peaceful, quiet, the staff is super friendly the place is clean I'll see you again soon!!
Apr 26, 2021
Me, my husband, and my daughter enjoyed our stay at the Ouray KOA. I went here almost every summer when I was a kid and was happy that my husband and daughter loved it as much as I did growing up. The staff was prompt and the campsites were well kept.
Apr 26, 2021
Very nice staff. Clean site but bad internet access.
Apr 24, 2021
It was a perfect 4 days....we love all the people working at Ouray KOA� The owners and everyone feel like family. Extremely friendly, helpful and truly working very hard to improve their facility...it is already beautiful but they are adding the finishing touches. We will be back in June. Thank you for making our stay perfect ����
Apr 22, 2021
We cannot say enough good about Ouray KOA. It is a little gem nestled in the mountains. The amenities are being update and will be awesome. Restaurant, coffee bar, gift shop and very clean bathrooms. The grounds are beautiful whether tent camping, in an RV or one of the small cabins they offer - you will not be disappointed! Penny and Troy (owners) are the real deal! We will be going back.
Apr 15, 2021
No wifi is a deal killer!. The reconstruction is a mess. They charged me for wood and Ice that I did not buy. If I wouldn't have inquired about the extra charge I would not have known. I travelled 1000 miles to ski at Telluride. They closed early. I wanted to move to the new castle KOA but could not get a full refund for my last week there. Only partial. The staff was kind and professional.
Apr 11, 2021
AWESOME EXPERIENCE!!!! THANK YOU SO MUCH!! Treated me and my dog Gypsy like family. Wish I could have stayed longer!
Apr 07, 2021
Everyone at KOA Ouray was super friendly and very helpful. Our hookup functioned properly and the showers and laundry were very clean. Ouray is very nice place to visit and we will definitely use KOA when we return.
Apr 06, 2021
Crew was super nice and helpful. Very clean bathrooms and cute and cozy main office. It was closed while we were there because of remodeling and there were quite a few diesel trucks and tractors, but overall I would love to come back during the summer to get the full experience! Definitely a family friendly place. 4/4/21
Apr 06, 2021
all around great experience, friendly staff and a clean, comfortable place to camp.
Mar 31, 2021
We had a lovely time at the KOA just outside Ouray in March! The jacuzzi was wonderful after a long day exploring and the cabin itself was a nice home base for our adventures.
Mar 31, 2021
Our site by the creek was perfect and relaxing. You can hear water flowing and other sounds of nature 24/7. There was a little bit of construction going on which made the area close to the laundry room a little messy but certainly not noisy at all. My only concern was a church service that was held without social distancing or masks inside their café area.
Mar 27, 2021
We had fun in the deluxe cabin. I don't know if it's the camping experience everyone wants, but we enjoyed it. The cabin was clean and staff was responsive when we ran out of propane. And we got to use the campground hot tub. Only real downsides were the bunk beds weren't real comfortable and the hot water was really high and sensitive, making it hard to set the heat and creating some burn risk.
Mar 26, 2021
Great time at the best KOA in Colorado
Mar 22, 2021
Recent stay in cabin was great. I usually stay in the motorcycle area and was disappointed to see rails installed to mark areas. They will make it difficult to park motorcycles and unload gear. I've stayed there several times and never had any issues with space. The rails are going to cause a space issue in my opinion.
Mar 22, 2021
We were not super pleased about covid practices. No employees wore face masks, at all. This includes both indoors and outdoors.
Mar 22, 2021
This place is awesome and serene as always. Strongly recommend this KOA to anyone and everyone.
Mar 12, 2021
Nice staff. Clean shower and restrooms. Laundry was not. Construction going on so that added to some of the disarray. Snowmelt added to mud at pad, drive and walkways. Could use more gravel. Made it difficult Trl level motor coach. Will visit again when renovations are complete.
Mar 01, 2021
I met the most kind people during my stay In Ouray. Beautiful campground and a great staff.
Feb 24, 2021
Good winter access; sites and roads well plowed; warm, clean restrooms and showers, wifi, wintrized water/sewer hookups, short office/ store, firewood available. Would definitely stay again, and plan to check it out thus summer.
Feb 15, 2021
We stayed Friday and Saturday night. We had come assuming the restaurant and game room were open. We had not been told they were closed. The snow was well plowed. We enjoyed the Hot Tub. People were very hospitable. I think the rate was too high. We were unable to take advantage of the free third night.
Jan 31, 2021
Terrific. I was a relatively late reservation, they did a great job accomodating me. Nice spot along a quickly moving creek. New ownership, they came up and made sure my stay was acceptable. The young man that gave me driving recommendations south to New Mexico was VERY helpful
Jan 26, 2021
Great cabin experience and outstanding people at this Koa. Location was perfect for running into town. Will definitely be back for another stay.
Jan 20, 2021
Dog waste outside the cabin along with some trash, coffee pot dirty. The lamp by bed didn't work & would've been nice instead of having the can lights on at night. The soap was empty in the shower. A nail was sticking out of the bunk room entryway. There was a sign to wear a mask in the office/store area but none of the staff wore them. I don't like to wear masks myself but will follow policies.
Jan 19, 2021
My best friend and I stayed at the Ouray Kampgrounds from 12/27-12/27 and were very impressed with the location. The staff was friendly and accommodating. There was some confusion on the restaurants hours. Texts and posts around the Kampground stated they were open until Noon, but they closed around 10 am, so we missed out on the opportunity to try it. We will definitely stay here again.
Jan 19, 2021
The check in was fast and easy. The employees were friendly, knowledgeable and very helpful. Additionally, when I called from the Ouray Ice Park the last night and asked if I could check out after climbing Sunday around 3pm (check out -11am) the kind folks at the KOA said it was okay. It made for a stress free last morning. My only disappointment was the table and fire pit was buried in snow.
Jan 19, 2021
Bathrooms were nice and warm, very clean!
Jan 17, 2021
Would've given a 10 rating on recommendation and a 5 star but there was a handful of bloody tissues under the mattress and on the bed in the cabin. Was very gross. I took pictures of it and I would hope that you would reimburse me for my night there because that is so unsanitary and disgusting. Beautiful area and campground but the cabin was as it it wasn't sanitized or cleaned well.
Jan 16, 2021
Great spot to winter camp and do things in Ouray.
Jan 05, 2021
We love Ouray, we come every year. This was our first time coming in the winter and we were so lucky KOA Ouray was open during this season, we were able to rent a cabin for our snowy wonderland new year! It was a cozy, quiet and fun experience, definitely what we needed! Thank you so much!
May 03, 2021
This is a great campground right outside the city of Ouray. Perfect location in between Ridgway and Ouray. So many spaces and great prices.
- Ally Clash King on Google
May 02, 2021
Absolutely beautiful an peaceful.My family an myself rented a deluxe cabin as soon as we opened the door the smell of an look of cleanness was awesome.This cabin was extremely cleaned through out.The public restrooms up front absolutely clean an look an smelled great.The entire staff so helpful and friendly we will definitely be back.
- Steve Oldgen on Google