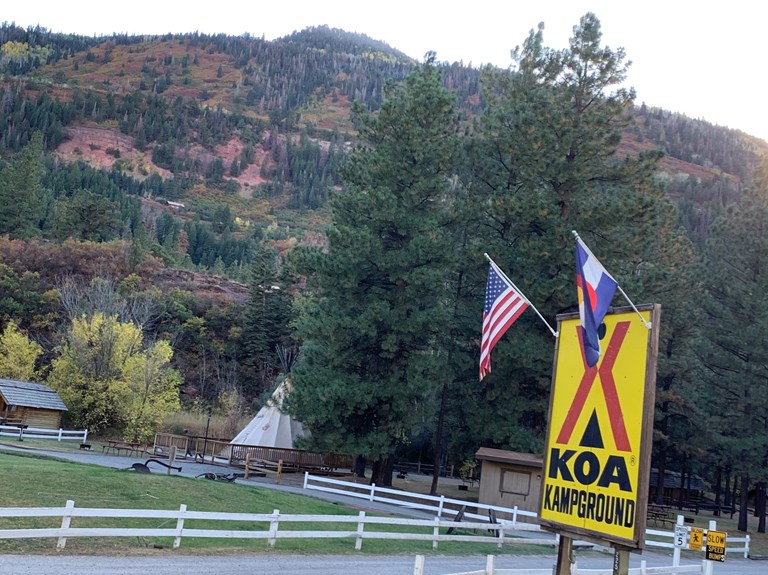 General Campground Information
Check-in and Check-out times
Check-ins are at 3:00PM for all sites. Check-out time is 11:00AM for all sites. If you are a guest arriving after hours, please properly check-in at the office in the morning when we open. Thank you!
Reservation/Cancellation Policy
Ouray KOA Cancellation Policy: *Cancellations made within the specified time frames below are subject to a $10.00 non-refundable cancellation fee. *Cancellations made outside of the time frames below will forfeit the deposit made at the time of booking. July 4th Holiday and Labor Day Holiday: *30 Days notice is required for all Cabins and Teepee Accommodations *7 Days notice is required for all RV and Tent sites. 
All other Reservations: *7 Days notice is required for all Cabins and Teepee Accommodations *48 Hours notice is required for all RV and Tent sites. *Online reservations only: Pet Fees are not calculated in your online reservation. It will be added to your balance on our end once confirmed. Pet Fee's: RV & Tent sites are $1 a day per pet, Camping Cabins and Teepee are $6 a day flat rate for pets, Deluxe Cabins are $25 a day flat rate for pets.
Protocol during COVID-19 virus
Please be advised that we will remain open during this National Emergency concerning COVID-19.
Until the national corona pandemic has been lifted, please call and adjust your arrival and departure dates as needed. 

If you have questions about your reservation, please call us at 970-325-4736.
Jeep Rentals
RESERVE YOUR JEEP AHEAD OF TIME BY CALLING OR BOOKING ONLINE!
 
**$150 deposit required to book, pay the remainder upon arrival!**
**No refunds if canceled within 30 days of arrival**
HERE'S HOW TO RESERVE A JEEP ONLINE:On our home page under Ways to Stay, click Other Sites. Use the check in and check out days for the number of days you would like to rent your Jeep. 
https://koa.com/campgrounds/ouray/ Fill out guests (adults, kids, pets-YES, pets are allowed in our Jeeps!). Equipment type put Automobile. Click Get Rates & Availability. On the next page you will see a picture of Jeeps. Click the red Reserve button. The next page will take you to the payment where you will pay your deposit for a Jeep rental. You will pay the remainder of your Jeep rental once you arrive to Ouray KOA. You will need to see if your insurance covers Jeep rentals, otherwise you will have to purchase Jeep Insurance for $25. Tire Insurance (optional): our tire insurance is $20. If you blow out a tire and have paid for tire insurance, we will cover it. If you do not purchase our tire insurance and ruin a tire, the cost is $150 per tire.
Store Hours
We are open from 7:00am-10:00pm. 
Our store includes souvenirs, groceries, beer, ice, firewood (delivered to site), and maps of the campground.
Hot Tub
The hot tub is open daily for your enjoyment.
Laundry Room
The camp laundry room is located right behind the office and is open daily.
$2.00 each wash
$1.75 each dry
You can purchase a roll of quarters for $10.00
Soap and dryer sheets sold in store.
Pet Fees & Rules
Aggressive behavior pets will not be tolerated. All pets must be on a leash at all times. Please pick up where your pet left off. No pets in office, retail, restrooms, except for service dogs.
*Pet fee's not calculated in your online reservation*
Deluxe Cabins - $25.00 a day all pets included
Camping Cabins and Teepee - $6.00 a day per pet
RV & Tents - $1.00 a day per pet
Firewood Policy
Buy it where you burn it! Upon purchase of firewood at the camp, we will deliver it to your camp site.Transporting firewood can spread insects and diseases that kill trees. It is unlawful to transport pests. Please buy firewood where you camp. 
*If you have firewood from out of state, please BURN IT IMMEDIATELY. Our forests thank you!
For more information contact: 
Colorado Department of Agriculture at 303-239-4140
Colorado State Forest Service at 970-491-6303
USDA APHIS PPQ at 303-371-3355
Camp speed
Camp speed is 5MPH. No riding in the camp area for ATV, UTV, dirt bikes, and golf carts.
Requested Sites
Site numbers are assigned upon your reservation. If you would like to request a specific site and not be moved, there will be a one-time Lock Site fee of $20.00 per site. To do this you can call us or do this while making your online reservation under "KOA Select My Site" in the pricing groups. Subject to availability of requested site.
Group Reservations
If you have a group of more than 5, please call so we can register your group. We will do our best to accommodate all requests for parties traveling together. Sites subject to availability.
Visitors
All visitors on the campground must check-in at the registration office.
Extra Vehicles, Trailers, and Tents
RV sites: one vehicle is permitted in addition to the RV.
Tent sites: Only 2 tents allowed on 1 tent site, 6 people maximum on tent sites. 1 vehicle is allowed on each tent site. If you have a small tent trailer that you sleep on that has two wheels, that is ok, however please check with the front office upon check in.
Deluxe Cabins, Camping Cabins, and Teepee: up to 2 vehicles allowed per site. Overflow parking is available for additional vehicles, off-road vehicles, and trailers. NO TENT SITES ON RV SITES.
Meet Your Hosts
Hip Hip Ouray!
The Ouray KOA would like to welcome Troy and Penny Crosson as the new hosts for this campground! This couple has been in the people serving business for over 38 years.
Troy grew up in a family of builders. Having worked under the wings of his father in construction at the age of 13, groomed him to be a commercial contractor and later a general contractor of a variety of projects, from apartments, churches, funeral home, large box stores, to commercial development projects. His last two commercial projects include The International Market Place, Honolulu Hawaii, and The DOCO multi-use center, of the Sacramento Kings, consisting of retail stores, hotel & condos.
Troy's creative mind and gift in communication inspires anyone who is around him to dream big and desire to do more both professionally as well as personally.
Listen to Troy's personal story on this link. 
http://www.pennycrosson.net/troys-story
Troy has traveled around the world since the early 90's participating in humanitarian mission projects, such as building handicap playgrounds for orphanages in third world countries and vetting recipients of funds, making sure the money was used as promised. Troy's heart is bigger than his creative mind. He seeks to make the world a better place for those who are in his reach.
Taking on a 38 acre campground that needs some attention would overwhelm most, but this undertaking is a playground for this innovative mind.
Penny has a creative background in cosmetology, as hair and make-up artist since 1980. Troy has always been her biggest cheerleader as she found herself painting art on walls and turning her kids' rooms into any childhood dream room, before HGTV hit the scene. Her cosmetology evolved into interior decorating, expanding her beauty clientele into decorating and interior design projects.
Cosmetologists often find themselves as an un-assumed counselor to those who sit in their chair. Penny was inspired in 2004 to write an educational & inspirational make-up book. A book that she now offers as a FREE download  http://www.pennycrosson.net/shop . Enjoy this 200 page, easy to read, down to earth, inspiring delight. 
Penny loves to create visual appeal through beauty, fashion, interior design, exterior design & life's special events. Owning and operating an event venue for many years was yet another creative outlet for Penny to serve others. Creating an unexpected pleasant surprise is her mission in everything she touches. Color & design cause such emotional reactions and she is excited to put her talent to this campground. Throughout Penny's life she has learned to be a great host and friend to all who visit.
Troy and Penny, as well as the new staff, are excited to serve you as their guest and are looking forward to help create an unforgettable experience for you and your loved ones while visiting The Mountain Top Destination, Ouray KOA. 
Welcome,
Troy and Penny Crosson