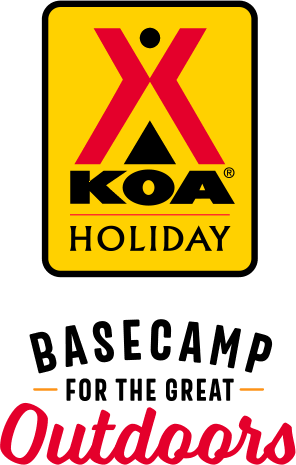 KOA Holiday Campgrounds
Whether you're exploring the local area or hanging out at the campground, KOA Holidays are an ideal place to relax and play. There's plenty to do, with amenities and services to make your stay memorable. Plus, you'll enjoy the outdoor experience with upgraded RV Sites with KOA Patio® and Deluxe Cabins with full baths for camping in comfort. Bring your family, bring your friends, or bring the whole group – there's plenty of ways to stay and explore.
KOA Holidays Feature:
RV Sites with a KOA Patio®
Deluxe Cabins with full baths
Premium Tent Sites
Group meeting facilities
Directions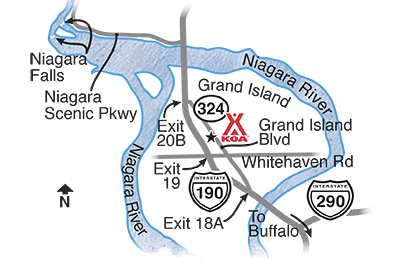 From Buffalo: Take I-190 N to Exit 19, turn right onto Whitehaven Road; Left at second light (Grand Island Blvd 324). South on I-190 from Niagara Falls: Take Exit 20B, turn right onto Long Road and right onto Grand Island Blvd (324). KOA is on Rt 324 next to Fantasy Island.
Get Google Directions
Oct 25, 2021
The campground was very nice but unfortunately the tent site we were put at didn't get any sun at all and it rained before we got there and our site was a swamp. There was mud everywhere for the whole 5 days. I'm sure this site would be perfect in the summer when you want the shade but not in the fall. The people were very friendly.
Oct 18, 2021
I had a great time at this campgrounds! My kids all enjoyed all of the Halloween activities and the staff was the most friendly and helpful people on the planet. I can't wait to go back!
Oct 15, 2021
Friendly staff and fantastic front desk service. Facilities are clean, cozy, and inviting. For a short trip to see the falls, I don't think we could've found a better place to camp. We'll definitely be back!
Oct 13, 2021
Agradezco al personal ...me atendieron muy bien y estoy feliz por eso ...volveré pronto
Oct 11, 2021
Everything was fantastic! At first our site was very soggy, I went to the office and they fixed us right up. Susie was so so sweet!! She got us hooked up with the American illumination tour, and that is a MUST DO!!! We loved the tour. Also the pizza place at the entryway good too… Overall our stop here was 10 thumbs up!!! Loved everything about it!!!!
Oct 04, 2021
Stayed in an electric/water tent site 3 nights, rain forecast, so I packed up and spent the next night in a small cabin. It rained. Campsite was close to the office/store, yet very private. Small, lighted "kitchen area/prep table" was very nice. Now that I've used it, I'm spoiled. Every campsite should have one. The cabin was clean comfortable, and had an optional Heater/AC unit. Great stay!
Sep 22, 2021
Excellent facilities and well taken care of grounds. My only complaint is that it's SOOOO very close to a gun range. Every morning until late evening I was hearing pistol and shotgun blasts accompanied by hooting and hollering. This greatly affected my quality of sleep.
Sep 22, 2021
Very helpful and friendly staff and a well- kept campsite
Sep 20, 2021
The site itself was not good at all. Just open grass no trees for shade no bushes for privacy. But the extras stuff they had was amazing. Pool, park, bikes
Sep 15, 2021
Excellent!!! Staff were great, AWSOME playground and pool for kids!!! Great games for adults half court basketball ball ... and my favorite of all CLEAN,CLEAN,CLEAN!!!!! there are stores within 3-5 min drive and the Falls are about 15 minutes away. Also the KOA store is well stocked with essentials.
Sep 14, 2021
The grounds are amazing, clean, kept perfectly and any staff member I encountered we're exceptionally nice and helpful…I am above and beyond happy to be a KOA member
Sep 12, 2021
Very friendly staff and surprisingly quiet campground. The bathrooms were very clean although the womens room shower curtains were torn or in need of replacement. Other than that, a very pleasant stay. Rose (tent camper)
Sep 09, 2021
Such a great and well-run campground! Staff is attentive and friendly. Accommodations are extremely clean. Easy to get to. Would definitely return!
Sep 07, 2021
Very good the worker nice person
Sep 07, 2021
Other than our campsite being right in front which had all the traffic, and no shade, the KOA was nice with very friendly and helpful staff.
Sep 07, 2021
we had an amazing stay. everyone was very nice and helpful to us. we had a bad bee issue and they took care of it immediately. super helpful and nice to us during our stay.
Aug 25, 2021
Great place to camp every one is nice and helpful I would recommend staying here
Aug 25, 2021
Tent camping, peaceful and lots to do
Aug 24, 2021
Great time, nice facilities, staff was awesome! We wish the tent sites were a little bigger. It felt like we were right on top of each other.
Aug 21, 2021
Gorgeous campsite with nice furniture and a lovely patio area. Family bathrooms are really nice, much better than usual campsite facilities. Kids really enjoyed the pool and play ground. Excellent location to enjoy Niagara Falls. Great sunsets!
Aug 20, 2021
From the beginning the staff was very welcoming and thorough with information about what the KOA had to offer and also about how to visit and enjoy Niagara Falls! It was the best place to stay, the campsite was clean and ready for us to set up. I am so glad I was able to stay here and visit Niagara Falls at night and the following day because it was so easy to access and worth two trips!
Aug 08, 2021
We checked in rather late, under the stars to a tent site that allowed our truck, and it was really really muddy. Without any lights, it was extremely messy. However, we managed, and enjoyed our stay
Aug 06, 2021
The place was very well organized very well spaced out so no one's on top of each other I like the little house with the electric outlet unit on it lots to do with the kids and the bathrooms were very clean very good place for camping
Aug 06, 2021
Loved everything. The staff were very friendly and helpful. The only issue we had was it rained like crazy and the campground started to flood.....I don't consider this the campgrounds fault at all. That's just how summer weather goes sometimes. Thank you. I would definitely stay again!!
Aug 05, 2021
Too much road noise for where we camped next time I'll get a cabin
Aug 05, 2021
Great site, staff, location. 3 unforgettable memories are Bills Store, Niagra Falls, and Dee at GI KOA. Story bout GI New York and Nebraska mix up made me laugh. She then had to show me "how" to make coffee. Must have look confused when she "told" me. We laughed. She's a great employee, hope the message is relayed. Thanks
Aug 02, 2021
Never stayed at a KOA before,It's a little too commercialized. Felt crowded. No sense of nature, just an open field with some gravel roads. Nothing to explore on the property. Wasn't thrilled to find out there were guest fees to have visitors over. Our shower building was badly light and smelled like urine all stay.
Jul 30, 2021
We were camping in a tent. We had a great time. The staff was very friendly. The only downside we had was the bathroom and showers near the pool and jumping pad. Those were in need of deep cleaning and possibly remodeling. Thankfully the family bathrooms with private showers were great!
Jul 28, 2021
Our stay at this site was amazing. The landscaping added that "home" feeling. Our kids loved the cabins, so they are now spoiled going forward, lol. No tenting for them. The staff was so friendly, it was like visiting a family member. Whenever we ran into a staff member they always asked "how it was going?" or if we were leaving to site see it was "be safe". We all loved it!
Jul 28, 2021
Friendly staff. Fun things for kids to do. 2 pools for.kids to swim in. Clean sites. Bathrooms had showers and was ALWAYS clean. I was very impressed the bathrooms were so clean. Liked how they had a quiet time at 10 so families didn't have kids up all night.
Jul 27, 2021
Always very clean and lots of activities for the kids .
Jul 25, 2021
The campsite 2 down from us played their radio loud all day and night. At 12:30am, my husband called security to have it turned off, as it was well past quiet hours and we couldn't sleep with the noise. Security did nothing about it. We were booked right next to another tent, even though we were the only 2 tents there. Seems like we could have spaced out. It was a disappointing stay overall.
Jul 21, 2021
The KOA was amazingly clean, everyone was super-friendly. We really enjoyed the pool. We were only sad that the Zipline wasn't finished. Thanks, KOA!
Jul 20, 2021
The staff members were all very friendly and kind. The bathrooms were kept clean and warm, a godsend on a rainy cold day. It was a great little campground and I look forward to coming back again.
Jul 19, 2021
We simply needed a place to stay without paying an arm and a leg for a quick trip to Niagra Falls! Taking an item off the ol' bucket list! We were in PA for my Mom's 63rd high school class reunion. Wanted to make the most of it but didn't have a lot of money or time. We were able to drive up, set up camp run to the grocers, sleep, break camp, go to see the falls (10 minutes away!)
Jul 19, 2021
Was fun until it didn't stop raining and had to spend all day in the tent on Saturday and deal with everything flooding and getting ruined.
Jul 12, 2021
We all had a great time! There's even an awesome auto repair place across the street called Grand Island Auto who fixed our car fast, kind, and trustworthy! All our needs were met with friendly faces and everyone at the camp was great. The kids loved swimming, paddle boating, caught tons of fish, and went biking all over. We were so close to Niagara Falls too! We had a great time exploring!
Jul 12, 2021
Staff was outstanding and very helpful. Only reason I didn't give 5 stars is the tent sites with no power or electric, weren't very level and accumulated a good amount of water during a storm. Will definitely return but request different site especially for $50 a night.
Nov 01, 2021
Very nice place to stay near Niagara
- manohar ghanta on Google
Oct 29, 2021
Fun staff, landscaped areas, stayed in cabin. Convenient location for the sites.
- Find Your Shine Within on Google
Oct 17, 2021
Clean facilities and very friendly staff
- KC G. H. on Google