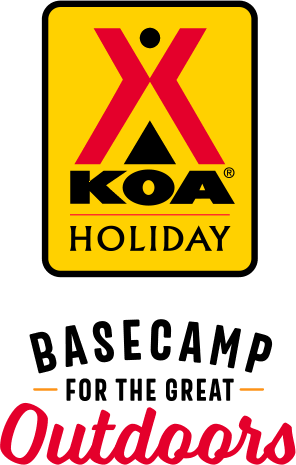 KOA Holiday Campgrounds
Whether you're exploring the local area or hanging out at the campground, KOA Holidays are an ideal place to relax and play. There's plenty to do, with amenities and services to make your stay memorable. Plus, you'll enjoy the outdoor experience with upgraded RV Sites with KOA Patio® and Deluxe Cabins with full baths for camping in comfort. Bring your family, bring your friends, or bring the whole group – there's plenty of ways to stay and explore.
KOA Holidays Feature:
RV Sites with a KOA Patio®
Deluxe Cabins with full baths
Premium Tent Sites
Group meeting facilities
Directions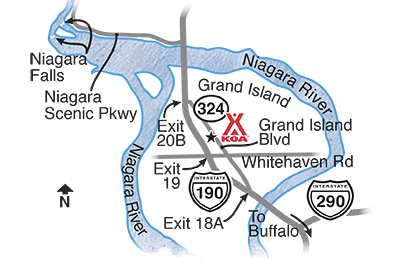 From Buffalo: Take I-190 N to Exit 19, turn right onto Whitehaven Road; Left at second light (Grand Island Blvd 324). South on I-190 from Niagara Falls: Take Exit 20B, turn right onto Long Road and right onto Grand Island Blvd (324). KOA is on Rt 324 next to Fantasy Island.
Get Google Directions
Oct 19, 2021
Rented cabin was nice and comfortable. Great location close to falls.
Oct 19, 2021
large sites a plus.
Oct 19, 2021
Staff was kind, professional and very helpful. Enjoyed our 3 day stay at Niagara Falls KOA. Got all rested up for the journey back to calif. ..�
Oct 19, 2021
The premium sites are amazing, the concrete pad makes it beautiful no matter what the weather. The furniture, the firepit, the size of the sites and the staff - everything is great!!
Oct 18, 2021
We love coming here, we always have an Amazing time fishing and staying in the cabin. The workers there are always Amazing and very helpful. Can't wait to come back for a stay
Oct 18, 2021
We liked this KOA - some ideas for improvement…Thought price was high and will look around for better deal next time (price would would not stop us from staying at this KOA) & the site we had seemed narrow (would like more crushed stone to walk on).
Oct 18, 2021
Nice stay. Large camp ground. Shower area well maintained. Large pool and good play ground for kids. We enjoyed the fact that a tour group picked up at the park for tours of the Falls. Close to shopping. A bit of highway noise in pack of park, but the ability to pull through with extra parking is nice for those staying overnight. Did not use the Laundry facilities. Well stocked store. Great staff!
Oct 18, 2021
I had a great time at this campgrounds! My kids all enjoyed all of the Halloween activities and the staff was the most friendly and helpful people on the planet. I can't wait to go back!
Oct 18, 2021
Friendly staff, not sure why we were put all the way in the back next to the highway noise when lots of spaces available closer to the front. Nice campground other than that and as I said the staff was very friendly and helpful.
Oct 18, 2021
We had a very nice time, the park was well taken care of and the staff was helpful and very pleasant. We would definitely stay there again and recommend it to others.
Oct 18, 2021
Staff is very nice. Lots of activities for kids, love the playground, pickleball court.
Oct 18, 2021
Very load noise from the interstate but we were told that on booking. road to campsite was bumpy but the facilities were nice and Niagara Falls was close
Oct 16, 2021
Wonderful location and top notch campground. Very spacious sites, full hookups and VERY nice staff!
Oct 16, 2021
Stayed 2 nites. Very nice.
Oct 15, 2021
The visit was to celebrate my granddaughters 13th birthday and 10 years of being a member of our family. The campground was the perfect place for us to visit both Niagara Falls and Buffalo. The cabin was perfect for the 2 of us (part of the family has a camper and another part had a separate cabin). Our refrigerator was not working when we checked in but within 15 minutes we had a new one.
Oct 15, 2021
We were there for two nights. It is relatively close to Niagara Falls and Buffalo which we found convenient. There were plenty of places to walk my dogs and to just take a stroll. We would recommend.
Oct 15, 2021
Well run and clean
Oct 15, 2021
Beautiful patio site we tend to not book due to cost but this was a special treat.
Oct 15, 2021
Friendly staff and fantastic front desk service. Facilities are clean, cozy, and inviting. For a short trip to see the falls, I don't think we could've found a better place to camp. We'll definitely be back!
Oct 14, 2021
Absolutely beautiful park. Landscaping was awesome. Staff was super friendly and helpful. Great stay at an amazing destination!
Oct 14, 2021
Beautiful campground we arrived in October and even with the amenities closed( which we did not need) it was still a nice stay. Staff was friendly and helpful will stay again.
Oct 14, 2021
Had a wonderful time. Nice campground
Oct 14, 2021
Very clean, nice staff and excellent location.
Oct 13, 2021
Very clean campground. Great amenities
Oct 13, 2021
Agradezco al personal ...me atendieron muy bien y estoy feliz por eso ...volveré pronto
Oct 13, 2021
Very spacious sites.
Oct 13, 2021
Everybody that works there is positive and full of energy and happy. We went during the Trick or Treat deal and all the kids had a great time. This is the place to stay!!!
Oct 13, 2021
We were very impressed with this campground. The landscaping was beautiful and the sites and grounds were clean. The employees were friendly and helpful.
Oct 12, 2021
Staying at this KOA as a seasonal we feel there should be some things that are included with this rate. For example seasonals should get so many free bike, boat, and arts and crafts included with their rate a season. Little perks like that. It isn't giving away the kitchen sink would be great perk!
Oct 12, 2021
Busy, yet quietly peaceful. One of the few KOAs that display their awards that are actually believable.
Oct 12, 2021
Nice premium patio site, level, good water pressure. Some rowdy Sunday night football fans. Biggest negative was horrible WiFi.
Oct 12, 2021
Great campground. Great people working there. A lot of stuff to do with kids. Clean bathrooms . If your going to Niagara Falls I would recommend this campground . 5star all day long
Oct 12, 2021
We thought the cabin was extremely clean and well maintained (other than a couple of chips found in a bunk bed). The kids loved biking, fishing, and using the paddle ball, jump pad, and playground equipment. We hope to return during the summer so that we can use the pool too. The outdoor patio furniture was sturdy and the fire pits were great. The staff was welcoming and amazing!
Oct 12, 2021
The staff is super friendly and helpful. Grounds are clean. Lots of activities to do. Cabin was clean and had everything we needed. We will definitely be going back.
Oct 12, 2021
Overall a really nice campground. Everything very clean and the staff was extremely friendly. If I had one complaint having the cabins so close to the playground pool area it got a little loud ecspecially between 7-9. It did quiet by to 10 jour though so not a major issue. The trick or treating was surprisingly fun as we really enjoyed seeing the little kids in costume and handing out candy!
Oct 12, 2021
Great service. Family friendly. Highly recommend. One of the better KOA facilities we have ever stayed at.
Oct 12, 2021
Everyone was so nice and helpful. The facilities were also very clean.
Oct 12, 2021
We had a amazing stay the staff was all amazing . We meet some amazing people durning our stay from staff members to other guests .
Oct 11, 2021
I first would like to say that you have excellent workers and a huge Thank you to: Corey, Sam & Claudia for your outstanding help and customer service. My family and I will look forward to staying with you again! My grandchildren had alot of fun. You totally out did yourself when it came to Halloween weekend!!
Oct 11, 2021
Amazing! Spacious campsite. Clean, friendly staff.. love it!!
Oct 17, 2021
Clean facilities and very friendly staff
- KC G. H. on Google
Oct 12, 2021
Amazing staff. Clean grounds. Customer service was above and beyond any other KOA we have stayed at. Easy drive to see Niagara Falls from this campground
- Anthony M Fraser on Google
Oct 11, 2021
The staff here was so friendly and helpful it felt like a vacation resort more than camping, even in my tent! My kids had fun doing every Halloween activity. We all especially liked the trick or treating.
- Catherine Brown on Google