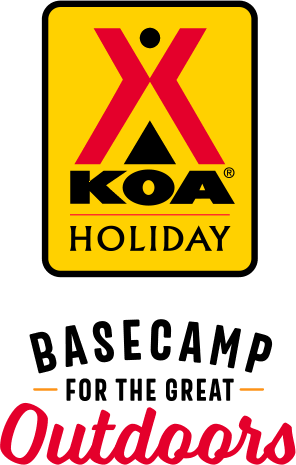 KOA Holiday Campgrounds
Whether you're exploring the local area or hanging out at the campground, KOA Holidays are an ideal place to relax and play. There's plenty to do, with amenities and services to make your stay memorable. Plus, you'll enjoy the outdoor experience with upgraded RV Sites with KOA Patio® and Deluxe Cabins with full baths for camping in comfort. Bring your family, bring your friends, or bring the whole group – there's plenty of ways to stay and explore.
KOA Holidays Feature:
RV Sites with a KOA Patio®
Deluxe Cabins with full baths
Premium Tent Sites
Group meeting facilities
Directions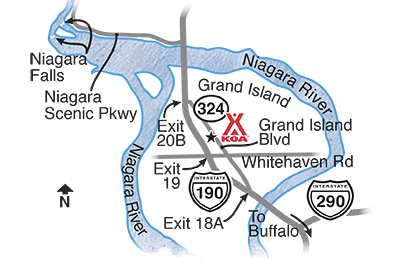 From Buffalo: Take I-190 N to Exit 19, turn right onto Whitehaven Road; Left at second light (Grand Island Blvd 324). South on I-190 from Niagara Falls: Take Exit 20B, turn right onto Long Road and right onto Grand Island Blvd (324). KOA is on Rt 324 next to Fantasy Island.
Get Google Directions
Jul 24, 2021
We had a patio site. Requested near a bathroom and we were right across from it. Landscaping is first rate. Pool was very nice and clean. Bathroom were good. Only advice is to pay attention to the little things because it is so expensive. I would expect everything to be first rate. The bathroom door on one of the men's room didn't close square. The main buildings deck needed pa new coat of pai
Jul 24, 2021
Whatever negative reviews you may have read IGNORE THEM. Bath houses were so clean and if there was pot holes they are gone. This KOA is one of the best we have stayed at! So close to the falls. Booked a tour we were picked up at the park. A tour is best way to see all there is. The staff was helpful and friendly. So much to do at the campground, wishing we had our grandkids with us!! Book it!!
Jul 24, 2021
Great location for Niagra Falls and Buffalo area. The staff was friendly and professional. The laundry facilities were plentiful and clean. There were two pools, a "cool pool" and a heated pool. Lots of cabins, back in/ long pull throughs. Some sites had new patios, furniture and gardens, mine had sparse grass, rough gravel. The biggest complaint it the crater size pot holes. WAY TOO Many!
Jul 23, 2021
Beautiful sites. Excellent staff and amenities
Jul 23, 2021
We had such a wonderful time during our stay!! The kids had such a fantastic time and so did the adults!
Jul 23, 2021
We stayed in a cabin. Very nice!!
Jul 23, 2021
Wonderful stay! First time ever camping and it is our new favorite. We stayed in a cabin with AC, no bathroom which I was nervous about! The facilities were a short distance and always clean and very private. The cabin was great and clean. I love the huge porch with table and chairs and swing. We were by the pond. Beautiful resort. Amazing staff, great facilities!! We are hooked!!
Jul 23, 2021
This KOA Campgrounds allows 42' fifth wheel RV's, with 50 amp hook-ups, which was very important. They allowed me to extend my stay without mooving, which was greatly appreciated, seeing as I had a family emergency all the way in AZ. The provided activities were fun for all, and the public facilities were pretty clean, even though so many people were using them.
Jul 23, 2021
Immaculate place. Bathrooms were spotless.
Jul 23, 2021
Wonderous! Such a pleasant staff
Jul 23, 2021
1st rooms 2 days were not Soo dirty. However there was slot of mold. Not as clean as is should had been for pandemic prevention. Looked like a Passover cleaning with a wet towel at best. 2nd 2 night stay at a different cabin was discraceful. I found wet shorts left behind from prior occupans no garbage basket or remote for the AC. Floors filthy with sticky food with a jelly like substance.
Jul 22, 2021
Staff was really great. We came in a severe storm so our site was under water and mud, maybe we could have been put in a different site, when we arrived. The drive to the falls was very easy. Dog parks are wonderful. Bathrooms/showers were acceptable considering they are by one of the pools so used a lot . Laundry was great. We would stay there again.
Jul 22, 2021
What a great experience! We stayed in a full hook-up patio back-in space right on the fishing pond (which our 11 year old loved). We took the public bus into Niagara and had a great day of sightseeing and were able to return to a lovely and relaxing evening at KOA!!!! Clean bathrooms/showers, great amenities, and friendly staff!!! Perfect!
Jul 22, 2021
Very comfortable stay on a premium site. The sites toward the back of the park were a bit rough with puddles on every unpaved road.
Jul 22, 2021
Great campgrounds very clean helpful staff close to attractions I would definitely recommend it to anyone
Jul 22, 2021
Very friendly staff and very eager to help or recommend services. Very through at check in. Thanks for the stay
Jul 22, 2021
Muddy site, to expensive, charged Me for my 8lb, service dog.
Jul 21, 2021
Our cabin was not level. It means to the back to the point that you can feel that your head is lower than your feet when in bed. Also, the heat in the bunk bedroom never turned off even when the switch was off, so that room stayed hot until I turned off the breaker. Cabin c39
Jul 21, 2021
People very nice but section C spaces are not paved or level. Large rocks placed badly around campground; they can NOT be seen by drivers of large RVs. Exit for large RVs from section c require driving to end and threading way around multiple large vehicles which are frequently projecting into roadway
Jul 21, 2021
Sad ants in cabin . Fridge smelled bad.cabin was not clean welled.
Jul 21, 2021
The roads could use some repairs, many have large holes and little gravel and/or paving left. Some branches need trimming over sites they rubbed and rested on our 5th wheel not happy about about possible damage. Floods easily too. Staff seemed friendly. Road noise was minimal.
Jul 21, 2021
The KOA was amazingly clean, everyone was super-friendly. We really enjoyed the pool. We were only sad that the Zipline wasn't finished. Thanks, KOA!
Jul 21, 2021
Great cabin. Clean facilities. Nice pool.
Jul 21, 2021
Excellent! Need to fix the potholes.
Jul 21, 2021
The campground location was very convenient and sites were spacious. Was surprised by the thorough but robotic check in and checkout-not warm or friendly. During checkout I'd be expected to be asked 'how was your stay, safe travels etc', nothing. The garbage company picked up at six, woke up the entire campground-yikes. Potholes, gotta fix them.
Jul 21, 2021
It was a quick in and out stay. But we will be back.
Jul 20, 2021
So many more free activities for kids offered at other KOAs and campgrounds. Stayed at Herkimer KOA and they had activities for the kids all day!
Jul 20, 2021
We would like to see more free activities for the kids. Herkimer KOA has the kids busy from morning till night without pulling out money.
Jul 20, 2021
There were many little things like leaky windows when it rained, bandaids in "clean" cabins. Took awhile to get service to cabins if we had issue. We have been coming for 6 years and this was the first time we had issues. The improvements look amazing just need the help.
Jul 20, 2021
Spacious sites (we were in the front part of the campground, and did not evaluate the back part); clean amenities, close to the Falls, good restaurant particularly 773 Restaurant; helpful and pleasant staff; enjoyed the tour to the Falls that was booked by KOA, picked up and dropped off at the campground; definitely will return when visiting again.
Jul 20, 2021
While the "stay & staff" were very good, I got so incredibly tired of trying to negotiate the truly horrible condition of the roads, especially the main one we needed to use to get to our cabin. Is there a even a consideration to make repairs of all those pot holes??? We are thinking of coming back next year? Take care
Jul 20, 2021
Everything was perfect!! From being greeted by very friendly staff to lots to do for our kids…we will be coming back for sure!!
Jul 20, 2021
The staff members were all very friendly and kind. The bathrooms were kept clean and warm, a godsend on a rainy cold day. It was a great little campground and I look forward to coming back again.
Jul 20, 2021
Very clean and polite staff. Quiet
Jul 19, 2021
Park was perfect! Wouldn't change a thing other than wish we had more time.
Jul 19, 2021
We were at the campground a week prior for an overnight stay. We returned for two nights to spend more time in the area. The camp has so much on site for families and empty nesters. The location makes visits to historic sites and area very convenient. We'll return for a longer visit.
Jul 19, 2021
Great service at the registration desk. The campsite is kept clean all around and everyone there is helpful!!!
Jul 19, 2021
We simply needed a place to stay without paying an arm and a leg for a quick trip to Niagra Falls! Taking an item off the ol' bucket list! We were in PA for my Mom's 63rd high school class reunion. Wanted to make the most of it but didn't have a lot of money or time. We were able to drive up, set up camp run to the grocers, sleep, break camp, go to see the falls (10 minutes away!)
Jul 19, 2021
Everyone in this place was very welcoming and helpful to us! I will recommend this place to other friends and family.
Jul 25, 2021
We stayed 4 days and loved it. Staff was super nice. We camped in site A11 and it was quieter up against the old theme park. Campground was clean with plenty for kids to do. (Swim, moon bounce, basketball, badminton, walk, fishing (bring your own rods), arcade, bike rentals, etc) Staff was a constant ride around checking on things (I like that). They also have 2 different dog parks. Would love to stay here again.
- Wendy Ray on Google
Jul 22, 2021
We had a very nice stay and would recommend this campground to anyone traveling to the area.
- Deborah Thibault on Google
Jul 16, 2021
Nice lots with cement pads, with furniture and fire pit. Real nice heated pool.
- Richard Van Buskirk on Google