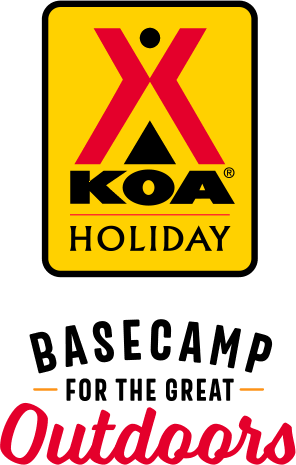 KOA Holiday Campgrounds
Whether you're exploring the local area or hanging out at the campground, KOA Holidays are an ideal place to relax and play. There's plenty to do, with amenities and services to make your stay memorable. Plus, you'll enjoy the outdoor experience with upgraded RV Sites with KOA Patio® and Deluxe Cabins with full baths for camping in comfort. Bring your family, bring your friends, or bring the whole group – there's plenty of ways to stay and explore.
KOA Holidays Feature:
RV Sites with a KOA Patio®
Deluxe Cabins with full baths
Premium Tent Sites
Group meeting facilities
Directions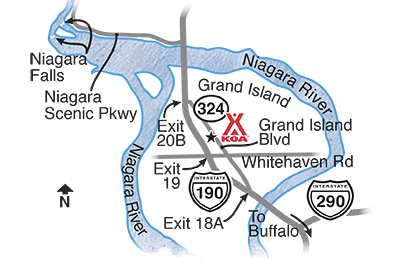 From Buffalo: Take I-190 N to Exit 19, turn right onto Whitehaven Road; Left at second light (Grand Island Blvd 324). South on I-190 from Niagara Falls: Take Exit 20B, turn right onto Long Road and right onto Grand Island Blvd (324). KOA is on Rt 324 next to Fantasy Island.
Get Google Directions
Nov 07, 2021
It rained every day of our visit. We enjoyed the comfort of the cabin! We are looking for to our next visit.
Oct 28, 2021
Friendly staff and clean room, but nothing deluxe about the cabin. There are 5 different deluxe cabin types so you can easily get confused when booking. The kitchen was no different than any hotel except it had a toaster. No utensils, plates or bowls. The inside of the AC was filthy. The internet is BEYOND a joke. No lock on inside of doors. Guests must leave by 9 but kids can scream until 10pm
Oct 21, 2021
Cabin was perfect for our Niagara getaway. And the staff was super friendly
Oct 19, 2021
Rented cabin was nice and comfortable. Great location close to falls.
Oct 18, 2021
We love coming here, we always have an Amazing time fishing and staying in the cabin. The workers there are always Amazing and very helpful. Can't wait to come back for a stay
Oct 15, 2021
The visit was to celebrate my granddaughters 13th birthday and 10 years of being a member of our family. The campground was the perfect place for us to visit both Niagara Falls and Buffalo. The cabin was perfect for the 2 of us (part of the family has a camper and another part had a separate cabin). Our refrigerator was not working when we checked in but within 15 minutes we had a new one.
Oct 12, 2021
We thought the cabin was extremely clean and well maintained (other than a couple of chips found in a bunk bed). The kids loved biking, fishing, and using the paddle ball, jump pad, and playground equipment. We hope to return during the summer so that we can use the pool too. The outdoor patio furniture was sturdy and the fire pits were great. The staff was welcoming and amazing!
Oct 12, 2021
The staff is super friendly and helpful. Grounds are clean. Lots of activities to do. Cabin was clean and had everything we needed. We will definitely be going back.
Oct 12, 2021
Overall a really nice campground. Everything very clean and the staff was extremely friendly. If I had one complaint having the cabins so close to the playground pool area it got a little loud ecspecially between 7-9. It did quiet by to 10 jour though so not a major issue. The trick or treating was surprisingly fun as we really enjoyed seeing the little kids in costume and handing out candy!
Oct 11, 2021
Our stay was great! The cabin was spacious and it's convenient that the lines/towels are provided. All the employees were very nice, which was wonderful! Our kids loved the crafts and activities for the Halloween weekend. Thank you!
Oct 11, 2021
Loved the Halloween weekend! Great activities for kids, warm cabin!!
Oct 08, 2021
I stayed in a deluxe cabin for 2 nights. This KOA is very large, alot of cabins, RV spaces, and tent spaces. The tent spaces mostly were on one side of a road, one next to another. The tent spaces were all good sizes, some electric, some with concrete pads as well. Dog friendly with 2 dog run areas, a huge pool, and playground for children. Everything was well kept and clean. Highly recommend!
Oct 07, 2021
Wonderful , clean and friendly
Oct 05, 2021
The campground was super nice. The cabin was also very nice. The staff was extremely friendly and helpful. The only reason I didn't give all stars is because the mattresses on all the beds were very uncomfortable. They could definitely use an upgrade.
Oct 05, 2021
The staff were exceptionally kind and helpful. The cabin we stayed in was spotless. Thank you very much!
Oct 04, 2021
Stay was excellent, the cabin had everything we needed and more. My son enjoyed the playground and jump pad. We have already recommended to our family members and plan to stay again. Staff was friendly as well. Thanks for a great stay!
Oct 03, 2021
Had a little issue our first night and they worked with us and we moved to a new spot. Very friendly and helpful.
Oct 02, 2021
Excellent KOA. Would give it 10 stars if review let me. Top notch. Thank you for a great stay near Niagara Falls!
Oct 02, 2021
Jumping pad needs replacement. Some more attention to activities needed all season. Otherwise, accomodations are excellent, staff pleasant.
Sep 28, 2021
Our stay at Niagara Falls/Grand Island KOA was wonderful. The sites are large with plenty of room for our 45FT 5TH wheel. The staff went above and beyond to make sure our stay was wonderful. The campgrounds are clean and the facilities were clean as well. The pride in their jobs were obvious. We would have no problem recommending this KOA to anyone.
Sep 28, 2021
We had a great stay. Cabins were very nice and clean. Campgrounds amenities were well taken care of. Thank you!
Sep 28, 2021
This is our 4th or 5th stay here. The staff make this such a great place to stay, best team ever! We had to come in late so I called to let them know. They had our cabin open, the lights on waiting for us to arrive, as well as dropped of firewood we had requested. There have also been so many improvements in the past 3 years since our first stay, it is a pleasure staying here.
Sep 27, 2021
The cabin was beautiful! There was so much to do and we can't wait to come again hopefully soon!
Sep 27, 2021
Easy check in, clean cabin, staff excellent
Sep 26, 2021
Staff was super… cabin was great
Sep 24, 2021
The staff and maintenance staff was so friendly. I didn't know the office closed at 6:00pm and we were running behind on our way there. They stayed 20 extra minutes to check us in and take us to our cabin. The place is so well kept. We really enjoyed our stay.
Sep 24, 2021
Arrived to KOA @ 3:40 and was greeted by the friendliest women at the front desk. They gave us wonderful suggestions for places to eat, and when to head to the fall. Customer Service was wonderful with the delivery of fire wood. Will definitely return here.
Sep 21, 2021
Loved our stay in the kabin, very accommodating and friendly staff. Catch and release fishing was great. Heated pool,late in the season was nice. Will definitely plan a trip there next year
Sep 21, 2021
They should have Air conditioning in all the cabins
Sep 21, 2021
Our deluxe cabin was very nice however when you are cleaning please check under the mattresses as we found water bottles, food, and dirty socks!
Sep 21, 2021
Very relaxing. Beautiful grounds. Wonderful staff. Gorgeous cabins. We love it here
Sep 20, 2021
Bathrooms very clean. Cabin clean as well. Love the outdoor activities. Super friendly staff. Booked another stay even before we left
Sep 20, 2021
We stayed in a cabin while we were in town for a wedding and the cabin was beautiful. Very clean, gorgeous deck, table and chairs and porch swing. Will definately be visiting again with family with us!
Sep 19, 2021
Two nights in excellent cabin. Very clean beautiful site and easy living
Sep 15, 2021
I have all ready recommended this to a few friends this was the best Niagara trip I've had and I live 90 minutes from the falls Thank you to the great staff, Vary enjoyable place better then any hotel Recommend getting the good cabin (don't cheep out)
Sep 13, 2021
Deluxe cabin had dead bees in Windows and door entry not very clean other hand prints on door and window glass.
Sep 13, 2021
This is my second time at this location great stay both times. I will he returning soon
Nov 01, 2021
Very nice place to stay near Niagara
- manohar ghanta on Google
Oct 29, 2021
Fun staff, landscaped areas, stayed in cabin. Convenient location for the sites.
- Find Your Shine Within on Google
Oct 17, 2021
Clean facilities and very friendly staff
- KC G. H. on Google