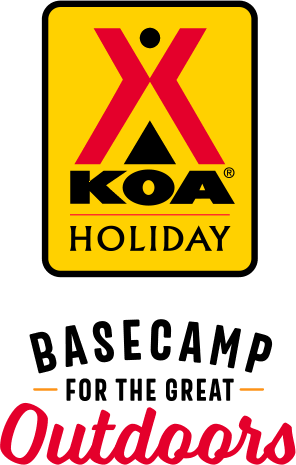 KOA Holiday Campgrounds
Whether you're exploring the local area or hanging out at the campground, KOA Holidays are an ideal place to relax and play. There's plenty to do, with amenities and services to make your stay memorable. Plus, you'll enjoy the outdoor experience with upgraded RV Sites with KOA Patio® and Deluxe Cabins with full baths for camping in comfort. Bring your family, bring your friends, or bring the whole group – there's plenty of ways to stay and explore.
KOA Holidays Feature:
RV Sites with a KOA Patio®
Deluxe Cabins with full baths
Premium Tent Sites
Group meeting facilities
Directions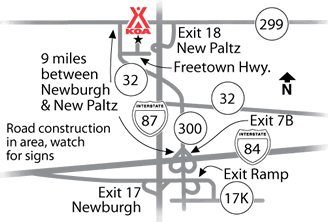 From Newburgh: I-84 Exit 7B or I-87 Exit 17, north 3 miles on NY 300, north 6 miles on NY 32 to Freetown Hwy. From New Paltz: I-87 Exit 18, west 0.25 mile on NY 299, left on S Putt Corners Rd, left on NY 32 S, 7 miles to left on Freetown Hwy.  GPS: N41.639226, W74.102595
Get Google Directions
Oct 19, 2021
Perfect perfect weekend getaway!!!! The only negative is the showers are in DESPERATE need of replacement!!! See you next year.
Oct 18, 2021
No hot water for showers for 3 days. The Grill was a piece of Junk and unusable, fridge was dirty. Charged resort fee then charged us again for pumpkin seed planting
Oct 18, 2021
great time, so much for the kids to do!
Oct 17, 2021
NIce Staff, clean bathroom but far too few locations for the size of the campground, showers were not clean. Convenient location.
Oct 16, 2021
We had NO hot water for showers (plenty of hot water from the kitchen sink, however) the entire weekend!!!. The cabin was not clean, as was the fridge. The grill was a disgusting mess and could only reach a temp of 250 degrees. For the prices you charge everything should immaculate. The resort fee is also ridiculous then charging us a $5 fee for planting a pumpkin seed.
Oct 13, 2021
I wish that there were more group activities to engage the families. Flag football or games like that. I remember capture the flag being played on one trip and all the families, both children and adults playing together. They need more of these communal type of family activities. I also wish that newburgh had more deluxes. I would come more often if I could get a deluxe like I can at other koas.
Oct 12, 2021
Great place!!!
Sep 30, 2021
Personnel were helpful & friendly Cabins are in good condition but Bathrooms are not cleaned often & showers have weak water pressure & some not even working. Need updates & work there Plan to go back for more visits but will not stay more than a weekend due to personal cleanliness reasons
Sep 28, 2021
Cabins where not very clean full of spiders and spidewebbs other than that all was fantastic nice people!
Sep 26, 2021
Very pretty area, family oriented, and beautiful surroundings. However our Cabin was extremely dusty and sticky. I went to the store and bought air freshener disinfectant wipes for the floor and just use warm soap and water on the desk a the bed post but the front k 99 Is rotting and when Francine stepped up her foot went right through the rotted wood! Scary
Sep 24, 2021
The beds were extremely uncomfortable, they dipped completely in the middle and had broken springs and no support. The TV wasn't working. Also, the toilet kept clogging in our deluxe cabin. The clock doesn't work as well, but that's not a huge issue. We left a day early, when I told the supervisor she didn't ask why. She told me there's no refund due to the sale.
Sep 24, 2021
Awesome! We all enjoyed enjoyed it
Sep 20, 2021
Its a beautiful place to camp and the cabin was perfect and clean the staff very friendly for sure we comeback to this beautiful playground thanks
Sep 15, 2021
TV in all 3 cabins didn't work but they did give me a discount which I appreciated. My big issue is there are 2 huge floodlights near the mini golf section that came on at 1145 pm while i was enjoying a fire in my fire pit. The lights were so bright I couldn't even see the stars in the sky. My night outside was ruined. Those lights should be on a motion detector and turn off after a short time.
Sep 14, 2021
The location was gorgeous, however the lodge was the dirtiest I've ever visited. There was an extreme accumulation of dust everywhere, from the ceiling fan, the window, window/door edging and shades, the Air conditioning was so bad we couldn't even use it, toilet had a stain from someone else (previous from us checked in), the grill was so disgusting, broken and leaking, had never been scrubbed.
Sep 08, 2021
The bathrooms during our stay were disgusting. I was told that the water pressure was low but that is not a good answer. You should have contingency plans. The bathroom is the most important thing for campers. It can not be dirty. I put on some gloves and cleaned it even though it was not my job. I was just camping there. It was never great but this year was terrible.
Sep 08, 2021
I've been coming here for 5 years and I can say the maintenance this year was horrible. The bathrooms and showers were disgusting the entire time. The people in charge of maintaining this campsite were teenagers. During my stay, I did not see the person who was above 20 years old and I did not feel like my requests were taken seriously. I'm looking for another campsite to take my family next
Sep 07, 2021
Unfortunately, it seems they were understaffed and their bathrooms were disgustingly dirty constantly.
Sep 07, 2021
Everything was dirty. Main bathrooms were constantly backed up. Floor boards on deck & in bathroom in the BIG cabins were about to cave in. No trash pick up. Hot water & water pressure sucks. Our family spent over $3000 for the weekend. Spent less money per night staying at a Disney resort 2 weeks ago.
Sep 07, 2021
The activities for children were fun, but the campground was filthy.The bathrooms backed up and were unusable, our cabin was incredible dirty, and the gameroom was constantly full of the same trash.
Sep 07, 2021
Clean more often, shower was always dirty, toilets backed up and filthy, feces under seat all day, urinal not working, low water pressure - reported to staff - told me that it was normal on Sundays to be low!? Bathroom on other side of campground same situation. Fix your wooden decking upon entry of cabin and seating on KL3 - cousin fell because bench broke. Was nice 6yrs ago - on a steep decline!
Sep 07, 2021
The Free pancakes I had to wait 40 Min for were horrible sorry to say. Everyone was polite and the bathrooms were not cleaned often that is sad to say. I saw poop on a toilet seat for two days and no one could use the toilet stall. The shower I used the exhaust fan did not work. The rock climbing for adults was not available. The fishing pond has no fish WOW! I would come back. staff is amazing
Sep 06, 2021
Nice place! Neighbors did not really respect the quiet hours, but what are you going to do.
Sep 06, 2021
I was disappointed the bathroom was not very clean. I rented a cabin without a bathroom so I won't make that mistake again. The cabin and grounds, however, were very nice and up to KOA standards. The staff was awesome as well.
Sep 05, 2021
Wonderful stay!
Sep 05, 2021
Traveling between Maine and Virginia. Great place to spot for the night half way through the trip. I booked a cabin instead a tent site due to the inclement weather occurring in the area. We come through several times a year and this KOA is our go-to stop for the night.
Aug 30, 2021
Amazing! We had a great family time. Friendly staff, clean environment, nice amenities. Thank you!!
Aug 30, 2021
I've been going to this KOA for past 9 years and I have enjoyed the stay. But one thing I wish you make improvements on is WI-FI. Its signal is weak that we're are unable to browse web freely. A lot of time we get disconnected or wait a long time to get web page to pop up.
Aug 29, 2021
We enjoyed our stay. Check in/check out was very easy. Overall had a great time. Certain areas could use some sprucing up, but nothing that would deter us from coming back.
Aug 28, 2021
There are a total of 6 women's bathroom stalls for hundreds of camp sites. The bathrooms and showers were filthy and 1 of the toilets was blocked up. A group camping near us blared their music and allowed their children to run screaming through the campground after 10:00. We spoke to them twice about it. Finally, a campground employee talked to them; however, it did no good. Worst KOA ever.
Aug 27, 2021
A very pleasant and relaxing atmosphere. The luxury cabin we stayed in was very comfortable with air conditioner private bath and kitchen amenities
Aug 27, 2021
They shouldn't advertise things like tv if it's not going to be in the cabin we rented. Also only 1 pool worked
Aug 27, 2021
There was not tv and we paid for that. Also only 1 pool worked and was closed half the day
Aug 27, 2021
Guests were on the rowdy side. There were some empty beer cans and bottles laying around Saturday morning after the Friday night dance party. Were still there later in the day.The bathrooms were in rough shape as well. It didn't seem like there were enough bathrooms to serve the amount of people. The cabin had a unpleasant smell in it, like urine.
Aug 27, 2021
I come every year and after this visit I'll never come back. When booking it was never stated the snack bar would only be open for the pancake breakfast and not open for lunch. The bathroom didn't have soap for one of my days and the showers were so filthy I couldn't step in even with shoes on. One of the pools (2nd yr in a row) not cleaned/not useable- absolutely disgusting!
Aug 25, 2021
Stayed in cabin K105 over the weekend, the location was convenient, the cabin was dirty when we arrived, we cleaned as much as we could, however we got infected with fleas, we are now full of bites on our legs and arms, we brought them home with us, now we need to disinfect our home !! very disappointed and stressed.
Aug 24, 2021
For complete review see Trip Advisor/Google...Who was this person that just aggressively approached our area yelling forcefully and without any type of introduction? I asked who she was and what was the concern, which she then responded in a very condescending tone, "I'm the manager and you all have to go to bed NOW," as if we were all children, mind you she could have been my daughter. I wa
Aug 23, 2021
It's was nice however they need to clean the bathrooms/Showers by the office more often. They were really nasty and barely had any soap. Other than that it was good and I had a great time
Aug 22, 2021
It was nice for a family get-together. Staff were helpful. I appreciated the refund for our early departure because of the hurricane. Perhaps you could do a bit more on nature exploring.
Aug 21, 2021
I've been at many KOA's around the country, from Cali to Utah to Colorado to Maine. This one was the most lackluster one. Saw the showers decided to wait and shower when I got home. There's 2 bathrooms for the entire camp? Rented a cabin for about a 100 bucks, musky, kinda smelly, open wires on the ceiling, and huge spider nests all along the bed posts. And, wood bundles were wet and wouldn't burn
Oct 08, 2021
Nice clean campground, good staff, fun activities. Great little camp store for the last minute "forgotten" and nice camping accessories. Also, some nice souvenirs and clothing items available. I mainly have used the black water dump site due to close proximity and low cost. So I haven't participated, but been impressed with lists of daily activities available for all ages. Seriously considering a stay just
- Chris Hemp on Google
Sep 27, 2021
We spent last night at the New York City North/Newburgh KOA it was excellent. Very welcoming and pleasant staff! Nice level site. Clean restrooms and shower. Nice well stocked camp store. We highly recommend you give them a try when in the area.
- leob276 on Trip Advisor
Sep 18, 2021
I just got unlucky at this otherwise very popular, very scenic site conveniently located between the Hudson corridor and the coastal cities, but management was SO helpful, it made for a solid learning experience in the end. As a first time KOA camper, I was a bit concerned when I got in and saw that it was packed on a Friday night, but then all the families and RV sites with cookouts and kids and campfires and firecrackers respectfully wrapped up their warm September night festivities by "quiet hours"…except for the jam packed site next to mine. They were just having fun and socializing (sounded like a blast!) but it was VERY loud and quite obviously after quiet hours as they were the only site still partying well after 10pm—into 2:30am! I didn't even ask if they would quiet down at first just *when* they planned to wrap things up, and that's when the party started getting combative. If I'd been a seasoned KOA camper I would have known to call the security line (instead I called the front desk—to no avail, naturally as it was so so late!), but I was so surprised and heartened to hear from KOA management at this site the very next day. Very unexpected and an above-and-beyond thoughtful touch after my plain bad luck. Knowing all this now, I would feel very confident—and now, better informed/-camping at even the busiest KOA sites looking ahead. During that loud sleepless night, I wasn't so sure! It's reassuring to know that even when you get unlucky, or folks let good fun get the better of themselves, even busy (and beautiful) sites like this have a human touch to help maintain a sense of neighborly respect. Also, for a busy site, it's very well maintained! Both bathrooms and sites. The cute little wine shop is a Hudson valley plus! And if you don't end up with a noisy neighbor (hopefully rare!), the woods at night are blissful and full of life. Feels a million miles away even though you're just a skip from the coast.
- Katie B Kohn on Google