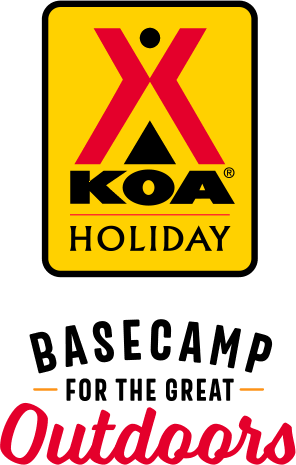 KOA Holiday Campgrounds
Whether you're exploring the local area or hanging out at the campground, KOA Holidays are an ideal place to relax and play. There's plenty to do, with amenities and services to make your stay memorable. Plus, you'll enjoy the outdoor experience with upgraded RV Sites with KOA Patio® and Deluxe Cabins with full baths for camping in comfort. Bring your family, bring your friends, or bring the whole group – there's plenty of ways to stay and explore.
KOA Holidays Feature:
RV Sites with a KOA Patio®
Deluxe Cabins with full baths
Premium Tent Sites
Group meeting facilities
Directions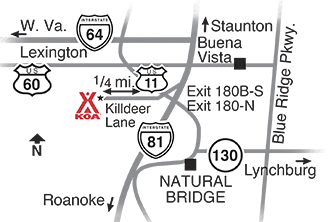 I-81 Southbound Exit 180B. Campground's entrance is right across from the off-ramp just to the left of the gas station.
I-81 Northbound Exit 180. Left on US 11 North and proceed under I-81 for 1/4 mile. Entrance is on left just before the gas station.
GPS: N37.677700, W79.507628
Get Google Directions
Nov 25, 2020
This campground is beautiful and very well maintained. They pay attention to details and it is a very large campground. There are many amenities. All the bathrooms were nice and clean plus well heated. There are many hiking trails and a beautiful meadow. It is near a great park at Natural Bridge in Virginia. I would like to come back here and spend more time exploring.
Nov 20, 2020
We have stayed at lots of KOA's all over the country in the last 6 months. This one was by far the best. The owners showed a high level of hospitality, the facilities were immaculate, and the grounds were great.
Nov 16, 2020
We loved the site in that we had all of the things we needed very close by. Electricity and water at our personal site was a huge plus! We also liked that the tent pad was well maintained and so comfortable to sleep on. What we wished was different was that there were more trees or privacy between tent pads, but that would not keep us from coming back. We were lucky enough to have great neighbors
Nov 16, 2020
Everyone was friendly and the restrooms were very clean. The hosts were thoughtful about which site was best for my needs. Thanks much!
Nov 11, 2020
Great stay- convenient to activities and points of interest, clean and well-kept, friendly staff! The only negative about this campground that you can hear some road noise from the interstate which is nearby. The morning we were ready to leave we found that our battery was dead. The staff was able to assist and we were on our way within 15 minutes. Wonderful service!
Nov 10, 2020
Loved everything! Wish the store was open later but love it!
Nov 09, 2020
We all had a great time. Camp ground is quite and has a beautiful view. Close to the safari park, caverns at natural bridge and the natural bridge itself.
Nov 09, 2020
We just camped for one night in a tent so we could hike the next day. the campground was lovely. i would have liked the lots to be a little more spaced out. it felt like everyone was right on top of each other. but it was a lovely campground. we loved that someone brought the firewood to us instead of us trying to carry it across the grounds.
Nov 02, 2020
The staff was extremely nice and check in was very fast. Camp sites were clean and well organized. Will definitely be going back.
Oct 30, 2020
Checkin was easy. Everytime we bought wood, they delivered it, almost immediately. Bathrooms were clean. Overall, great experience.
Oct 27, 2020
Friendly service. Quiet and spacious campsite for our car and tent. Bathroom was clean and efficient. Toilet paper holder requires one to almost stand on their head to pull the paper out. It was much too low and the shower stalls were a little tight but otherwise it's an excellent and well run campground.
Oct 26, 2020
Great trip with grandkids for halloween, so much fun ,lots going on and appeared that it is a tradition here for a lot of campers. Costumes galore. The staff was very friendly and helpful. Will come back and definitely make reservations early for next year
Oct 22, 2020
Fantastic & friendly guest services and extremely clean campground snd facilities!!
Oct 21, 2020
We had a great experience! Everyone was super friendly and they had us perfectly spaced out via our tent site.
Oct 19, 2020
Very well kept camp grounds.
Oct 18, 2020
The kids playground should close at dark. The quiet time should be monitored and controlled.
Oct 14, 2020
Beautiful campground with very welcoming and friendly staff. Nice size tent pads. Exceptionally clean bathrooms and great signage. We bought a bundle of wood that didn't burn but that wasn't their fault. We will definitely return to this location!
Oct 12, 2020
We had a wonderful time at the Natiral Bridge KOA. Very friendly folks. Delivered our firewood super quickly after we checked in. Awesome property. The kids LOVED the playground. Bathhouse was very tidy and convenient to all locations. They had an awesome weekend for Halloween activities planned. Close proximity to the Natural Bridge Park. Would visit again!!
Oct 08, 2020
Arrived in the dark, so it took a few minutes to find my site. Once I did, it was comfortable, quiet and close to the bathrooms.
Oct 07, 2020
The Natural Bridge KOA is awesome. Very family oriented, had many activities for the kids- from the nature walk to the scavenger hunt- the painted rocks. The basketball court was the best I have seen lately! The bath houses were very clean. The showers were nice. The staff was friendly. I only have one suggestion. the play ground could use some updating. Over all it was a great campground!
Oct 07, 2020
It was wonderful. What we needed to get away and enjoy life a little. Thank you all. Everyone was very nice.
Oct 06, 2020
Very clean facilities. Nice grounds. Friendly staff.
Oct 05, 2020
I was very pleased with the location and the cleanliness of the bathrooms. The activities for the kids were greatly appreciated. We had a wonderful time.
Oct 02, 2020
A very good bathhouse, and large site.
Sep 29, 2020
Clean grounds, attentive staff...glad to return in the future.
Sep 28, 2020
Loved it!!! It was my first time camping ever!! The cabin was very clean and warm and the camp sit was excellent with water and electric!! Will definitely be back again!!
Sep 22, 2020
we love camping at the KOA at Natural Bridge in Lexington,VA the staff at the KOA arevery nice.
Sep 21, 2020
It war good and staff was noce
Sep 10, 2020
Beautiful campground and friendly staff. I wish the camping sites were easier to stake your tent down into haha.
Sep 09, 2020
I am a tent camper and I'm not a fan of tent pads so I couldn't give the campground a full 5 stars. However, I was very impressed with how clean the bathrooms were and the cleaning that was done at the pool every hour.
Sep 09, 2020
A bit noisy the first night, but the subsequent two nights were fine. Clean facilities, hot water. Did have to ask for a grate for the fire pit to cook on, which was readily supplied. Would have liked more trees etc. to forage for wood, but $5/bundle isn't too steep. Unfortunately, do hear a lot of the I-81 traffic, maybe more trees as a sound barrier would help.
Sep 08, 2020
Well laid out, very clean, flat tent sites - I will definitely stay here again!
Sep 08, 2020
Very clean and loved being close to a lot of good sites. We will be back!
Sep 08, 2020
This KOA was VERY clean and organized and well-run overall. My biggest issue was w the location being so close to I-81 and hearing traffic/NB race Sat night. Also, when I arrived early & asked for a less central site due to being leary of site @ entrance being a mom alone w 2 kids in a tent, the staff dismissed my concerns & refused request when plenty others open, ended up leaving 1 day early.
Sep 02, 2020
The bathrooms were very spacious and super clean! This was a major concern for us because it was right before the June covid case spikes. Staff was very friendly. Stayed one night and had a great time, would absolutely book here again
Sep 02, 2020
Over all I am please with this camp site, but this is my first tent camp in more than 35 years, so my opinion is not the most accountable.
Aug 24, 2020
The facilities were very clean and the staff were courteous and helpful. Great if you are looking for a family friendly place to stay. What I didn't like was that the grounds were crowded!! I felt like I was in a fishbowl. People, cars, and RVs everywhere I looked. I could hear my neighbors' conversations word for word. I would liken it more to an outdoor hotel than a camping experience.
Aug 24, 2020
It was a nice, quiet area. It was a great place for my girlfriend and I to set up a tent and just enjoy each other's company. The campground and facilities were well maintained, and the staff was helpful. The tent sites for the most part seem spaced out enough. Our site, 51, was great. But it does seem like some sites are better than others. Overall, great experience!
Aug 24, 2020
Excellent Site/ Excellent Staff / Close to nearby attractions / Great Pool
Aug 24, 2020
Very nice staff and location; trees and shrubs seem to be a work in progress though.
Aug 23, 2020
All aspects are fine except that the tent sites should be located away from the central traffic area. Our site (27) had no privacy, exposed to nighttime truck noise and headlights, and the large group next to us didn't quiet down until 1 am.
Aug 22, 2020
One night stay. Staff was extremely friendly!
Nov 17, 2020
It was great other then the chickens trying to steal meat of the fireplace.
- Joshua Lindsay on Google
Oct 08, 2020
The sites are small but the staff is overwhelmingly wonderful!!! We had issues with our hydraulic stabilizers...they sent someone right away to help...the issue was'nt fixed...but they tried... It's a little too busy for my taste...but it seems that's what camping is like now!!!
- Eileen Dyer on Google
Sep 07, 2020
People are always friendly and helpful. Love the location
- Valerie Belisle on Google