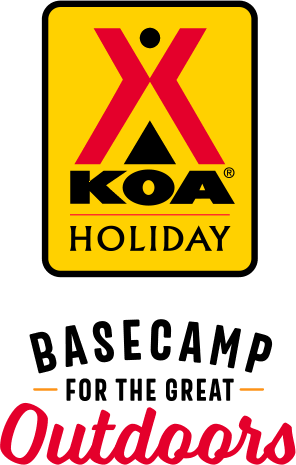 KOA Holiday Campgrounds
Whether you're exploring the local area or hanging out at the campground, KOA Holidays are an ideal place to relax and play. There's plenty to do, with amenities and services to make your stay memorable. Plus, you'll enjoy the outdoor experience with upgraded RV Sites with KOA Patio® and Deluxe Cabins with full baths for camping in comfort. Bring your family, bring your friends, or bring the whole group – there's plenty of ways to stay and explore.
KOA Holidays Feature:
RV Sites with a KOA Patio®
Deluxe Cabins with full baths
Premium Tent Sites
Group meeting facilities
Directions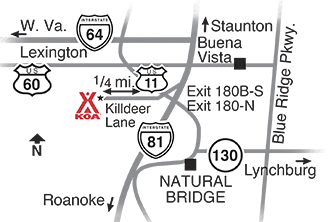 I-81 Southbound Exit 180B. Campground's entrance is right across from the off-ramp just to the left of the gas station.
I-81 Northbound Exit 180. Left on US 11 North and proceed under I-81 for 1/4 mile. Entrance is on left just before the gas station.
GPS: N37.677700, W79.507628
Get Google Directions
Jul 22, 2021
Very friendly staff—clean, nice showers, nice laundry area, many play opportunities for children.
Jul 22, 2021
Greta camp, great hosts
Jul 22, 2021
A great campground. Beautifully designed and landscaped. Nice nature trail for walking.
Jul 22, 2021
Nice sites, friendly helpful staff. Easy access from interstate.
Jul 21, 2021
It was a beautiful campsite with friendly staff. I wish I could have spent more time there.
Jul 21, 2021
We stayed at site #15. This site would have been fine if it had been better maintained. Due to rain the site was muddy which could have been avoided if gravel rock had been poured. Needs maintenance. Because we all know it will rain.
Jul 21, 2021
Beautiful facility. Loved our time there. Everyone was very helpful. Will most likely return in the future.
Jul 21, 2021
Beautiful campground with super clean, spacious sites and a nice pool to relax in. Owner came right out and sprayed my whole site to ward off an ant issue I've been having. A++++
Jul 21, 2021
We were there 4 years ago and have seen the beauty that they developed. What a great example of a wonderful KOA. THE OWNERS R AMAZING AND VERY HARD WORKING. The only negative thing would be poor internet but it might not be a easy one to fix. We love the place.
Jul 21, 2021
Have been here before but this time we brought the grandkids. They looked forward to the activity board every day. Lots of wonderful things to do! Really impressed with the amenities and the facilities! Will visit again.
Jul 21, 2021
Very nice only be thing i believe to be updated, shower stalls very tight and could feel soap scum on shower floor on men's side,staff very coutiou s and try to make you feel at home.
Jul 21, 2021
Such a lovely, quiet campground.
Jul 20, 2021
Beautiful campground with room between sites and easy egress and exit. Our site, an RV drive Thur was level and easy to use. There is a very nice nature trail in the campground.
Jul 20, 2021
Easy check in and out, great staff to work with that's all about the customer. Looking forward to returning again.
Jul 20, 2021
It was a girls get a way from the husbands and kids. Nice and quiet and restroom/showers were very clean. Staff was very friendly. First time ever staying and working on scheduling another trip with my husband. Thanks for the hospitality!
Jul 20, 2021
Beautiful place we loved had a great time until the rain everyone was friendly and polite can't wait to come back
Jul 20, 2021
Beautiful, clean Campground. Nice camping spots and plenty to do in the area. We will definitely be back. The staff was very friendly.
Jul 20, 2021
Easy access and level sites with a lot of trees. The office staff was nice and helpful. We liked having an escort to our site as well as the on-site trash pick-up.
Jul 19, 2021
Staff is friendly and helpful. Campground is very clean.
Jul 19, 2021
We have our annual family reunion at this campground every yr. There are 50-60 people that attend and camp for a long weekend and they accommodate us and we have the best time while there. The bath house is always clean and if there are ever any problems the staff address them immediately.
Jul 19, 2021
This KOA is great. The owners and staff was friendly and helpful. The grounds are well groomed and the bath house was clean and modern.
Jul 19, 2021
Very convenient to Rte 81. Clean facilities , friendly workers. We have stayed there 3 times because of its proximity to route 81.
Jul 19, 2021
Stayed one night. Sites are nice. Easy in and out. Pool looked very nice but weather was uncooperative so we didn't get to take a dip. Wifi is not good but area is remote so it's understandable.
Jul 19, 2021
Nice sites. Clean campground. Friendly staff.
Jul 19, 2021
Although we had to cut our stay short by one day, we have to say, this KOA exceeded our expectations! The pictures don't do it justice! You get more than you pay for. If there's a downfall at all, it's that the internet is marginal at best.
Jul 19, 2021
We passed through last year in the fall, just overnight. It was cold and rainy so we didn't venture out much. We came back this weekend with my niece. They have made a ton of additions and improvements to the property just in the few months since we were there last. My niece loved the craft time and bingo. Betty (one of the owners) and her husband were super friendly. We will be back!
Jul 19, 2021
Overall, I have always enjoyed my stay at the natural bridge KOA. I missed last year due to the pandemic. This year, I was highly disappointed when I witnessed the cleaning lady for the cabins take only five minutes to "clean" a cabin. I did bring it to the attention of the front desk. Although, I have a reservation for next year, I am not sure I will keep it.
Jul 19, 2021
Our stay at natural bridge Koa was pretty good. Did not like the store hours 9a-7p.several machines in the game room where not working and had no signs out side of those peti things it was nice
Jul 19, 2021
Nice site did not use anything except pool for the kids
Jul 19, 2021
Pleasant and efficient.
Jul 19, 2021
I enjoyed my stay. Loved the pool and staff was helpful and friendly. The only thing that I disliked was how close all of the sites are to each other. Besides that I really enjoyed it.
Jul 19, 2021
The site was infested with yellow jacket nests
Jul 18, 2021
Stayed two weeks. Grounds, pool, & bathrooms were always clean & hazard-free. Staff is very pleasant & helpful. The owners definitely want their campers happy!
Jul 18, 2021
pleasant enough, nothing special. Staff very nice & helpful.
Jul 18, 2021
We changed to a cabin due to weather. The cabin was lovely and my daughter and I enjoyed our stay very much. We will definitely be returning next year.
Jul 18, 2021
friendly staff, helpful.
Jul 18, 2021
We only could stay one night but it was a very neat and clean campground .
Jul 18, 2021
Great stay. Clean and orarginized. Staff were very helpful
Jul 18, 2021
friendly staff, well-maintained facility, nice location close enough to i-81 to be convenient, far enough away to avoid the noise.
Jul 17, 2021
We enjoyed our one night stay here. Wish it could have been longer. The grounds were well kept,employees super kind and friendly. We will definitely come back if we are through this way again. Sites all seemed to be fairly level from what we could tell. We loved our site particularly. The deck railing was a nice touch.
- Natalie Reese on Google
Jul 13, 2021
Close but not too close to 81. Very convenient to the natural bridge. Pads were flat gravel , most were pull through. Clean, not crowded together. They are adding new area.
- George Donald Jacobson on Google
Jul 19, 2021
Great campground and super clean bathrooms and showers. Right next to the safari and close to a few other attractions. Only recommendation would be to light up the path to the bathroom/showers, it was very hard to see at night.
- Jennifer Dilks on Google