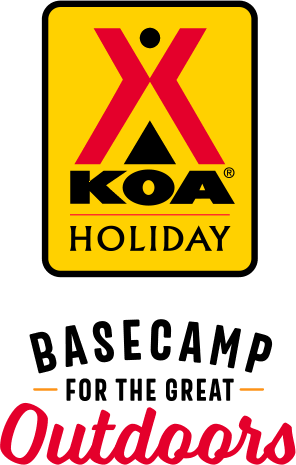 KOA Holiday Campgrounds
Whether you're exploring the local area or hanging out at the campground, KOA Holidays are an ideal place to relax and play. There's plenty to do, with amenities and services to make your stay memorable. Plus, you'll enjoy the outdoor experience with upgraded RV Sites with KOA Patio® and Deluxe Cabins with full baths for camping in comfort. Bring your family, bring your friends, or bring the whole group – there's plenty of ways to stay and explore.
KOA Holidays Feature:
RV Sites with a KOA Patio®
Deluxe Cabins with full baths
Premium Tent Sites
Group meeting facilities
Directions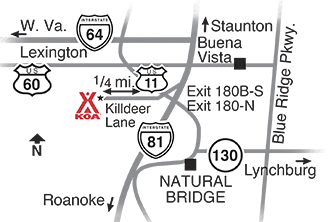 I-81 Southbound Exit 180B. Campground's entrance is right across from the off-ramp just to the left of the gas station.
I-81 Northbound Exit 180. Left on US 11 North and proceed under I-81 for 1/4 mile. Entrance is on left just before the gas station.
GPS: N37.677700, W79.507628
Get Google Directions
Sep 17, 2021
We stayed at site 5. We loved that site. The staff was great and the koa was really clean. We will definitely be going back when we are in VA
Sep 17, 2021
Staff was awesome, bathrooms and laundry excellent. Sites are small, and difficult to get level. Would definitely go back, but would request a site.
Sep 17, 2021
We loved the campground. Sites were good size & was great location for us.
Sep 17, 2021
Nice clean cabins Friendly staff Clean campground
Sep 17, 2021
Beautiful park. Clean and well serviced. We will definitely be back!
Sep 17, 2021
Pool was still open in mid-September which was nice after setting up camp.
Sep 17, 2021
We only stayed for 1 night but it was a nice and well kept campground. Will definitely be back.
Sep 16, 2021
Short but everything great!
Sep 16, 2021
Very pleasant and helpful staff. Hope to return soon.AWESOME
Sep 16, 2021
Clean grounds, friendly staff and easy pull through sites. We always make this an overnight stop when passing through.
Sep 16, 2021
We stayed 2 nights on our way up to Maine from FL and then 1 night on our way back home. Very clean and friendly they even had their pool open on Sept 15th which was nice for people that wanted to cool off from the heat. Good cable and Wifi.
Sep 16, 2021
We have had the pleasure of staying at Natural Bridge KOA for years. The owners never cease to amaze us with their [seemingly] constant upgrades to the park. This year we stayed in one of the 'upscale' sites (parking slab, gas grill, table/chairs, relaxing chairs). Natural Bridge KOA is probably the best campground we have ever experienced (- and we have traveled extensively throughout the U.S.).
Sep 16, 2021
Very nice and clean campground. Helpful staff. Lovely pool and immaculate bathrooms. Pleasant surroundings. Enjoyed our stay.
Sep 16, 2021
I am a camper. I drag around a small trailer with a rooftop tent. I have stayed at 4 or 5 KOA campgrounds. Im old so i forget exactly how many. Its easy and effortless to publish that the KOA at natural bridge is simply the " best". Easy, quick check in. Immaculate restrooms. Great campground layout. Friendly staff. Groomed, framed, fenced campsites. Wandering chickens. Whats not to like
Sep 15, 2021
GREAT , next time we will spend a few days.Yes we enjoyed the chicken.Thanks
Sep 15, 2021
Very hilly to drive. Although sites were on hillsides, the actual site was level; Picnic table patios were actually a nice touch. Wifi was very spotty or non-existent, but good cable. Would stay here again.
Sep 15, 2021
Clean, friendly
Sep 15, 2021
We were only here for one night, a good stopping point on I-81. The pool was open after Labor Day, so we were glad to use it. It looks like a lot of work is happening within the campground. We would stay here again.
Sep 14, 2021
Staff are very polite. The bath rooms were clean.
Sep 14, 2021
It was a girls trip weekend getaway! We stayed in the deluxe cabin and it was just right for the 4 of us. We had a blast! We lit a fire and enjoyed just being away from the hustle and bustle of every day life. I would recommend this place.
Sep 14, 2021
Need to boost your wi-fi
Sep 14, 2021
Only stayed there 1 night, but wish it was longer! Very nice & clean campground with friendly staff!
Sep 14, 2021
Very quiet campground - off the beaten path but worth the trip
Sep 14, 2021
Easy checkin. Our site was beautiful! This family has put a lot of money into making this place perfect! We'll done!
Sep 14, 2021
Very nice and comfortable. Wished we could have spent more time there.
Sep 14, 2021
Cable TV did not work at site 52.
Sep 13, 2021
Very nice campground. Staff was friendly and willing to help out.
Sep 13, 2021
Large campground. Nice camping spots. Quiet.
Sep 13, 2021
Friendly staff and made check in really fast and efficient. Site was level but so short had to park truck across from our site. Trees all around so shade was a nice bonus.
Sep 13, 2021
So glad you were able to put us together
Sep 13, 2021
Beautiful setting and very close to Natural Bridge State Park. Unfortunately, we could only stay 1 night. Restrooms and showers were the best we have seen.
Sep 13, 2021
Staff was great, even in the "off season" (after Labor Day) they had activities for the family. Very clean campground and in a great location to visit all of the attractions in the area.
Sep 13, 2021
I would give a greater rating if it wasn't for the noise levels and construction going on until late in the evening Friday and Saturday next to our site. When I pay for a site i expect my area to be level and to be seperate from the one next to me. The site above us firepit and table was next to us. Very unfair with the amount we pay. We will be back but will choose sites better.
Sep 13, 2021
Very we maintained, friendly caring staff, beautiful area!
Sep 13, 2021
Our first trip camping ever with our camper and it was an awesome stay! We will definitely be back! Very family oriented and a great stay!
Sep 13, 2021
Bathrooms were extremely clean, love the fact they are completely private!
Sep 13, 2021
clean, utilitiies were a step down, alittle awkward. site not level. hard to levbel with toad attached. campground very clean, easy in and out. will come back. will try for concrete pad sites
Sep 13, 2021
Enjoyable ....friendly staff....clean...some sites were tight......peaceful location
Sep 13, 2021
We had a deluxe patio site and it was very nice. We had had a stressful day on the road and this was the last night of our trip so it was nice to have a good spot to relax, have a fire, watch football on our outside tv and forget the day we had on the road. My only negative was the grill seemed to have an issue and we couldn't use it.
Sep 13, 2021
A quick convenient lil one night trip that couldn't have been better... very close to tons of attractions... thanks for your accommodations...
Sep 13, 2021
Great little campground! We tent camped, tent sites weren't huge or private, but were really nice with a fire pit, picnic table, and gravel tent pad. Bathrooms and showers were kept very clean, and despite a full campground there was never a wait. The camper sites were also very nice, the new deluxe patio sites definitely looked worth the money. Kids programming on Saturday was great!
Sep 12, 2021
very nice park and staff. clean restrooms, nice playground, dog park, pool and store. needed a ride to Lexington to the Enterprise and they got me there. would recommend to anyone in the area. plenty to do in the area.
Sep 12, 2021
Beautiful park, very friendly staff and lots of amenities. Looking forward to coming back!
Sep 11, 2021
A beautiful and fresh atmosphere there. Staff was helpful, friendly and very nice to talk with. Our reserved spot was easy to get to and we had a great time! They have facilities (shower, bathroom) that were very well kept. Overall a great experience and we will definitely continue to use KOA sites.
- Elyssa Brown on Google
Sep 09, 2021
a super nice koa
- Shirley McEntyre on Google
Sep 09, 2021
very intresting history here ..the visitors center had everything
- Shirley Mcentyre on Google