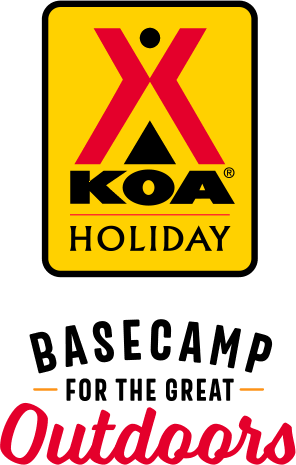 KOA Holiday Campgrounds
Whether you're exploring the local area or hanging out at the campground, KOA Holidays are an ideal place to relax and play. There's plenty to do, with amenities and services to make your stay memorable. Plus, you'll enjoy the outdoor experience with upgraded RV Sites with KOA Patio® and Deluxe Cabins with full baths for camping in comfort. Bring your family, bring your friends, or bring the whole group – there's plenty of ways to stay and explore.
KOA Holidays Feature:
RV Sites with a KOA Patio®
Deluxe Cabins with full baths
Premium Tent Sites
Group meeting facilities
Directions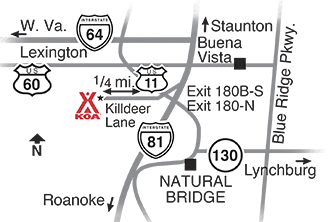 I-81 Southbound Exit 180B. Campground's entrance is right across from the off-ramp just to the left of the gas station.
I-81 Northbound Exit 180. Left on US 11 North and proceed under I-81 for 1/4 mile. Entrance is on left just before the gas station.
GPS: N37.677700, W79.507628
Get Google Directions
May 07, 2021
We loved the place and feeding the chicken. We had a problem with smoke.
May 07, 2021
Staff was attentive and courteous. This park is located in hilly country. Or site was clean with good utilities, but sloped and unlevel. Electricity was running on the low side at 114 VAC. Site was wooded so no satellite, but good cable service.
May 07, 2021
Great place for a night or a week. Chickens own the place:)
May 07, 2021
Great Campground. Only here 1 night but would use this campground again. Sites are spacious, well designed and deluxe sites have great ammentiies. Near the highway for ease but don't hear or see it. Wifi a bit weak but we never asked to resolve since only here one night. Had good cell signal though.
May 06, 2021
Great location, easy access from I81. Site was level, gravel base with a newly planted tree. Close proximity to adjacent sites. No interaction with staff other than a site escort, which was distant and brief. Walked the short nature trail and took the dog to kamp K9. We are planning to return in the fall for a longer stay to have time to explore the area.
May 06, 2021
I like the new expansion and plan to stay again.
May 06, 2021
Awesome campground wish we could have stayed longer Jim and Deanna McGee
May 06, 2021
Fast, efficient check in and registration. All site hookups clean and functioning. Rest room clean and stocked. So all good makes a great stay!
May 05, 2021
Honestly disappointed. Our space was pretty tight not necessarily because of square footage but because of rocks/trees surrounding where the camper had to park to clean slides and make usable space. The roads in the campground were also very tight both coming and going. If the spot behind us wasn't vacant, we wouldn't have been able to pull through as it was designed. Place was also pretty dir
May 05, 2021
Very nice and clean park. Surrounding area is very picturesque. Had dinner at nearby Pink Cadillac Diner - would not repeat.
May 05, 2021
Enjoyed one of the new pull through patio sites. It's nice to see so many improvements underway.
May 05, 2021
I love your place. I always try to stay here if possible when im on 81. Someone stole my reference 2 years ago. " This KOA should be the one measured by all others". Adios.
May 05, 2021
Nice site. As good or better than most KOA. We'll maintained. Friendly staff.
May 04, 2021
Very enjoyable
May 04, 2021
Had the nicest staff you could ask for!
May 04, 2021
3 guys passing through for a quick one night stay. The staff was friendly and helpful. The bath and showers were very clean.
May 04, 2021
This is a beautiful KOA. It was a quick overnight stop. It appears they are really upgrading things. Cement pads looked like they all had nice gas grills. Cabins all had cute porch swings. Lots of trees. Very peaceful. Small area for dogs to play
May 04, 2021
A very clean and well-kept facility.
May 04, 2021
Nice park with great tent sites.
May 03, 2021
Staff was super friendly. Site was in excellent condition. Even though the playground was small, my kids spent hours on the classic equipment, they loved it. They want this to be our only camping spot. If we ever come down to the Natural Bridge area again, we will rebook.
May 03, 2021
This is a very well kept and maintained campground. Always friendly service. Definitely will be back here.
May 03, 2021
staff was great and so polite
May 03, 2021
Nice Clean campground. Really nice wide sites. We stayed in site 34 and really enjoyed our stay.
May 03, 2021
We stayed for one night passing through. It's a lovely campground with many improvements going on since we passed through there just last October. We would definitely stay there again.
May 02, 2021
Very nice campground. We only stayed overnight but had a nice pull through site that was KOA close to the next sites on either side but the terraced layout of sites was great! No road noise even though right off the highway. Nice place
May 02, 2021
Staff was wonderful. Very helpful & friendly. Campground location- easy on & off Rt 81
May 01, 2021
Nice place to stay , quiet , clean , always improving the campground , Great job , keep up thecgreat work , see you in the fall again . Fred n Alice
May 01, 2021
Beautiful scenery and peaceful setting. Very clean. Wonderful stay!
May 01, 2021
Very enjoyably park with all the trees. I wish we were able to stay more than one night.
Apr 30, 2021
Delightful! Very impressed with the site we had: cement slab and patio complete with Polywood furniture (table, chairs and glider) and a Charbroil grill! Owner was very gracious and we enjoyed talking with him.
Apr 29, 2021
Loved the Brand new beautiful site. Unable to get internet at the site.
Apr 29, 2021
Good campground that is clearly improving.
May 03, 2021
An easy, neat check in for a much needed overnight. Very nice! I would highly recommend this KOA.
- Christine Chrzanowski on Google
Apr 26, 2021
We live this small and secluded campground. The staff is friendly, the bathrooms are always clean and have granite and tile in the shower stalls. They have a few chickens that are allowed to roam the property and are a delight for both children and adults to see.
- Paranormal Linda on Google