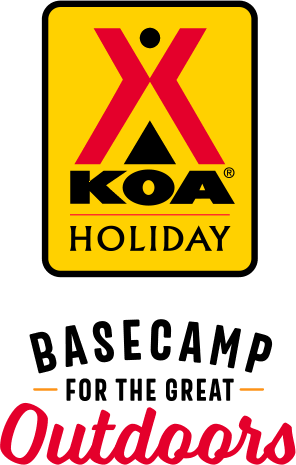 KOA Holiday Campgrounds
Whether you're exploring the local area or hanging out at the campground, KOA Holidays are an ideal place to relax and play. There's plenty to do, with amenities and services to make your stay memorable. Plus, you'll enjoy the outdoor experience with upgraded RV Sites with KOA Patio® and Deluxe Cabins with full baths for camping in comfort. Bring your family, bring your friends, or bring the whole group – there's plenty of ways to stay and explore.
KOA Holidays Feature:
RV Sites with a KOA Patio®
Deluxe Cabins with full baths
Premium Tent Sites
Group meeting facilities
Directions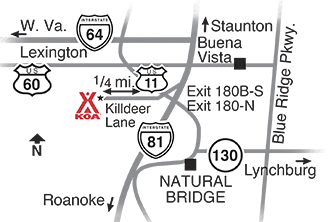 I-81 Southbound Exit 180B. Campground's entrance is right across from the off-ramp just to the left of the gas station.
I-81 Northbound Exit 180. Left on US 11 North and proceed under I-81 for 1/4 mile. Entrance is on left just before the gas station.
GPS: N37.677700, W79.507628
Get Google Directions
Feb 18, 2021
A very nice place that is getting renovated this winter, so it looks like it will be even nicer next summer. We stayed in a 22 foot camper, used 30 amps, water and sewer. It was very cold when we were there, and the place was prepared with heated water spigots. We were able to fill our tanks and live quite comfortably. The Natural Bridge nearby is now a State Park and well worth it.
Feb 18, 2021
They were very accommodating with our day of booking. However I wish they could have put us in one of the paved spots, instead of the muddy gravel one.
Feb 18, 2021
Well kept, quiet campground!
Feb 18, 2021
Very nice park. Enjoyable stay.
Feb 18, 2021
Stopped for an overnight. Loved this KOA. Sites are tidy and laundry facilities were clean and warm. Had a lovely view of the mountains at sunset and sunrise. The cabins look great and there are chickens roaming which made us feel like home. They've put a lot of work into this place and shows in the best way! Will use this location as a stopover for 81 anytime.
Feb 17, 2021
The rolling hills in the woods where this campground is located serve to deflect the noise from the Interstate, which is under a mile away. Large trees add to the sense of being more remote, but the FHUs keep it very comfortable. The roads and sites are gravel, but again, it is in the woods, so having permiable surfaces to protect the trees is preferable to pavement. Loved it here.
Feb 15, 2021
Just a stopover for us but the location was perfect, campground very nice, enjoyed our stay.
Feb 13, 2021
The girl was very helpful in getting us a late arrival spot. This is our 2nd time staying here and we like it very much. Very clean, and campsites are very easy to drive into with an awesome concrete pad.
Feb 11, 2021
Very friendly staff. Clean areas. Cute chicken to greet you.
Feb 10, 2021
Bathrooms and showers were clean. Camp site was nice and easy to park into. The service was great and friendly.
Feb 09, 2021
Wonderful staff with excellent and clean facilities!
Feb 05, 2021
great location, very nice and helpful staff. beautiful area with a lot of history near by.
Feb 03, 2021
I was in Site #10. It snowed 6 inches the first night of my stay. The drive that my site was located along was never plowed the next 2 days. A single shovel-wide path went to the restrooms, crossing the unplowed drive. The sidewalk to restrooms was not salted in the morning. I slipped on ice & fell on my back, hitting my elbow, hip, & head. I had to request an accident report. Do better, KOA.
Feb 01, 2021
Clean and neat! Easy access off the highway!
Jan 27, 2021
Everything was great as hostess was very friendly and we were escorted to our site. Only caveat was that the pull through site they gave us had a wicked sharp turn to get into the space. The site was level and fit our needs perfectly.
Jan 27, 2021
Well maintained and very clean. The prices are very reasonable. We would recommend for sure!
Jan 20, 2021
I love the ability to have space to walk my dogs, it is clean and well maintained.
Jan 20, 2021
A very pleasant experience. The place was clean and orderly and very relaxing.
Jan 20, 2021
Very helpful and wonderful facility!!!
Jan 19, 2021
We arrived after hours under heavy fog. Visibility was very minimum. I called the after hours number and the camp host came out and guided me to my site. The sites are roomy and very clean. We had a fantastic camping trip. The best KOA we have stayed in so far.
Jan 19, 2021
It was a very nice setting. Bathrooms were clean and office staff very helpful with questions.
Jan 17, 2021
Great place, clean, good staff.
Jan 17, 2021
Although only for an evening, we were very impressed with this campground. There are many types of sites to choose from and they were nice and flat. I loved the new luxury cabins. We will definitely stay at this campground in the future. Staff was very friendly and the campstore is very well stocked.
Jan 16, 2021
Quick overnight, nice place with lots of nice upgrades being added. Huge 5th wheel fényes lot.
Jan 14, 2021
Everything was fine. Because of cold weather, we used showers: impeccably clean! Thank you.
Jan 14, 2021
We were traveling through and stayed for 1 night. Nice gravel sites, easy entrance roads and spotless bathroom!!! So quiet we had a great night sleep.
Jan 12, 2021
The facility is in very good condition and we had a really nice site with a good-sized patio, excellent barbecue and table with chairs. The staff were excellent! They were very helpful to us newbies. Especially Ken and his wife. We really appreciated all their assistance and making our stay comfortable.
Jan 12, 2021
This KOA is charming and the staff made us feel welcome. Even though it was cold outside, I really enjoyed walking the dogs around the compound. We will definitely be back if the opportunity arises.
Jan 12, 2021
Very friendly and helpful. I'm a recent widow now traveling alone in a small coach with a huge learning curve! Staff was very kind to help me out with what turned out to be a minor problem.
Jan 12, 2021
Very nice campground. We stayed in January and they were doing a lot of upgrades. The water pressure was great. We will be back.
Jan 10, 2021
What a lovely site. We were so happy to have chosen it and definitely planned to return for a longer stay in the future. Regrettably, Scott died of a massive heart attack while we were there. I cannot convey how deeply appreciative I am of the caring support provide by all of the staff. They made an unbearable situation manageable and were a tremendous help to me. Thank you so very much.
Jan 09, 2021
We used this KOA as an overnight stop over on our trip on both directions. It just happened to be the right amount of distance traveled to stop. Our first time stopping we had a full hookup site. It just happened to not have water. Which I needed because we were winterized and we wanted to add water to the rig before we continued south. 2nd stay our site was so unlevel it was impossible to get lev
Jan 07, 2021
Great place as always on our way south. Easy in and out! Friendly with a helpful escort to our pull-thru site.
Jan 07, 2021
Awesome! Cleansing breath for the soul!
Jan 04, 2021
Everyone was very friendly and helpful and the site and campground were perfect! Plus there were great things to se and do in the area!
Jan 04, 2021
Super clean, pretty area. Staff was outstanding. Picked up our trash on site every day, drove propane over to us when we ran out. Area is a bit limited for stores, coffee shops etc- had to drive to Roanoke . But the hikes were phenomenal, as was the mountain biking. Loved this CG!
Jan 04, 2021
We came on a weekend that wasn't the best of weather but we still managed to enjoy our stay. We did have 1 good day of weather and got to enjoy the local things around and had a nice fire in the evening and grilled some steaks on the grill that night. Would definitely come back again and next time maybe we can get in the pool.
Jan 04, 2021
Only stayed one night as we were driving through on 81 woke up the next morning an was pleasantly surprised what a great place very clean we will definitely stay there again
Jan 03, 2021
We called on our way up I81 and they were able to accommodate us in a roomy pull through. Very friendly and courteous. We have a 34ft TT.
Feb 26, 2021
Very nice place, great stop right off highway on way to North Carolina
- Doreen Guma on Google
Nov 17, 2020
It was great other then the chickens trying to steal meat of the fireplace.
- Joshua Lindsay on Google
Oct 08, 2020
The sites are small but the staff is overwhelmingly wonderful!!! We had issues with our hydraulic stabilizers...they sent someone right away to help...the issue was'nt fixed...but they tried... It's a little too busy for my taste...but it seems that's what camping is like now!!!
- Eileen Dyer on Google