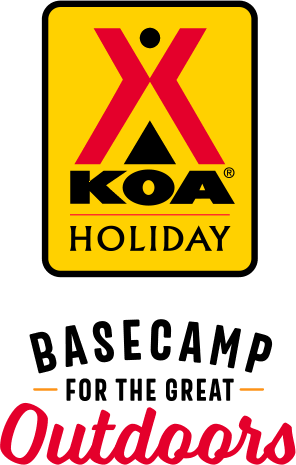 KOA Holiday Campgrounds
Whether you're exploring the local area or hanging out at the campground, KOA Holidays are an ideal place to relax and play. There's plenty to do, with amenities and services to make your stay memorable. Plus, you'll enjoy the outdoor experience with upgraded RV Sites with KOA Patio® and Deluxe Cabins with full baths for camping in comfort. Bring your family, bring your friends, or bring the whole group – there's plenty of ways to stay and explore.
KOA Holidays Feature:
RV Sites with a KOA Patio®
Deluxe Cabins with full baths
Premium Tent Sites
Group meeting facilities
Directions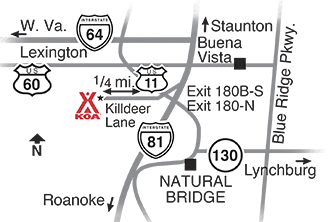 I-81 Southbound Exit 180B. Campground's entrance is right across from the off-ramp just to the left of the gas station.
I-81 Northbound Exit 180. Left on US 11 North and proceed under I-81 for 1/4 mile. Entrance is on left just before the gas station.
GPS: N37.677700, W79.507628
Get Google Directions
Dec 02, 2020
The campground itself was great but the office staff less than stellar. The location is close to the Virginia Safari which is why we chose this location. I would return and hope the the office staff is a little more welcoming.
Dec 02, 2020
nice sites, friendly staff, nice bathrooms
Dec 01, 2020
Internet does NOT WORK!!!!!!
Dec 01, 2020
Very nice place. Helpful, friendly, professional staff. Easy access to everything! Beautiful scenery. Quiet, relaxing
Dec 01, 2020
Lovely view of mountains from camp site.
Dec 01, 2020
Lots of improvements since our last visit. More sites and cabins added. Very nice! We will return
Nov 30, 2020
Stayed 4 nights and would definitely stay here again. Beautiful campground, clean restrooms and showers, friendly and helpful staff. Our site was perfect...very enjoyable stay!
Nov 30, 2020
Nice big rig sites, makes it easy to get into and out. Close to Natural Bridge and other attractions.
Nov 30, 2020
Great stay. Staff were great. Only wish the drive thru sites were a bit longer. Tough to put vehicle in once camper is in place.
Nov 30, 2020
Very Helpful Staff, Very Clean Restrooms
Nov 30, 2020
Just a wonderful campground! Check-in was extremely easy and quick. The propane station was located at check-in so filling up was convenient. And they offered to help me set up after guiding me to my site! Oh, and not to mention the beautiful scenic surroundings! Best KOA by far!
Nov 30, 2020
Nice, clean, quiet campground. Easy check in / check out. Great location for exploring the area. Very responsive and professional staff.
Nov 29, 2020
Everything was awesome except for the wifi. Friendly people, excellent sites. Quiet.
Nov 29, 2020
Excellent campground! Enjoyed it very much!
Nov 28, 2020
We spent 5 nights during the Thanksgiving holiday week. It was quiet and clean. Plenty to do and see in the area. Only dislike was the staff did not seem friendly. We would wave or say hi and they would not even smile let alone speak. Other than that, it was a great week!
Nov 28, 2020
Excellent facilities. Easy to get in and out with 44 ft toy hauler.
Nov 28, 2020
Charming campground. Clean showers!
Nov 27, 2020
Not only are the Staff wonderful but, each time we stay - we notice improvements! These owner/operators really care about their campground and their clients. We love this place!
Nov 27, 2020
Very nice and easy to park for the night
Nov 26, 2020
Stayed on site 36 , would have to say that out of everywhere we went to this year , site 36 at this KOA was the best. Not saying best overall campground , but best campsite. No complaints other then wishing they had better wifi and HD cable channels.
Nov 26, 2020
Beautiful sites and a great area to explore. Easy access from highway!
Nov 25, 2020
Location! Location! Location! Close to I-81 and many attractions! Extremely clean Comfort stations & laundry! Awesome place and much appreciation to the friendly & helpful staff-fuller range of services such as RV escort and garbage collection. Thank you!
Nov 24, 2020
We had an amazing time. The campground was very clean with lots of level ground for rv's and tent camping. Bathrooms were keep clean as well as the grounds. There is plenty to do around the park as well like the Natural Bridge State park, a few breweries and a beautiful pear orchard. thank you
Nov 24, 2020
Our site was at the main intersection. No privacy and a parade of large RVs until a couple hours after sunset. Would stay here again but request a more private site. There were plenty open.
Nov 23, 2020
Owners are very friendly & accommodating, beautiful area and peaceful. We enjoyed our stay!
Nov 23, 2020
Only did a one night pull thru, so we didn't get to use many of the facilities. Online Reservations were good. Staff was friendly and helpful. Site was good. Couldn't connect to the internet.
Nov 22, 2020
Friendly helpful staff, the sites a very close but well maintained and organized. Would highly recommend them.
Nov 21, 2020
Sites were spacious, clean and fairly new. Campground wasn't too big, very friendly staff, dog park and playground, a great brewery right around the corner and close to lots of attractions
Nov 19, 2020
This park was very well maintained by the owners/crew. We felt comfortable and enjoyed our stay.
Nov 18, 2020
Staff was great, convenient location and easy on/off from Rte. 81, sites are snug for big rigs towing.
Nov 18, 2020
Nice level spot we just stayed overnight.
Nov 17, 2020
We had an amazing time and with everything thats been going on with covid I think everyone at the campground including the campers did wonderful for a great Halloween get together the kids had a blast
Nov 17, 2020
I loved the amount of room in our site, but it was all gravel. I felt like we were parked in an old parking lot. The rest of the park looked nice...trees, bigger sites than most koas, nice cabins... but probably wouldn't stay again if it were in the same area.
Nov 17, 2020
It's a very nice, small campground - I'd like to see the sites just slightly larger or for them to have more screening in between - I don't expect them to be huge but a little privacy would be great - Our neighbors were super nice people but if they weren't, it could've definitely negatively impacted our stay - That being said, the setting is fantastic and so close to Route 81 without being noisy
Nov 17, 2020
Friendly staff, nice clean sites, easy to get into and out of the park.
Nov 16, 2020
This is one of the nicest KOAs ever! It's a wonderful family run gem! A clean, organized and overall lovely place to stay!
Nov 16, 2020
Very professional staff, campground is clean and in good condition. Plenty to do in the area.
Nov 16, 2020
We stopped for an overnight on the way home from Florida. Great service and atmosphere.
Nov 15, 2020
We had a great time, only complaints were that we had no internet, and flooded a bit when it rained so hard, but otherwise we had a great time and will be backQ
Nov 14, 2020
Perfect! Easy on/off from 81 Very efficient operation!
Nov 28, 2020
Second time staying here; it's a great location. We stay in the basic cabins
- Greta Street on Google
Nov 16, 2020
Great camp ground.
- Desiree Graham on Google
Nov 10, 2020
Been here a few times. Great place❤️
- Debbi Brunell on Google