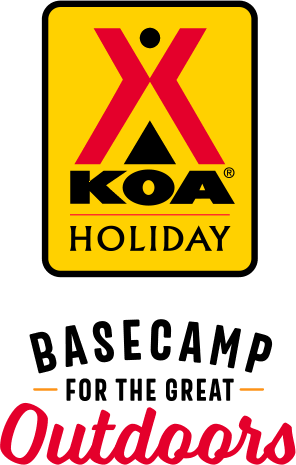 KOA Holiday Campgrounds
Whether you're exploring the local area or hanging out at the campground, KOA Holidays are an ideal place to relax and play. There's plenty to do, with amenities and services to make your stay memorable. Plus, you'll enjoy the outdoor experience with upgraded RV Sites with KOA Patio® and Deluxe Cabins with full baths for camping in comfort. Bring your family, bring your friends, or bring the whole group – there's plenty of ways to stay and explore.
KOA Holidays Feature:
RV Sites with a KOA Patio®
Deluxe Cabins with full baths
Premium Tent Sites
Group meeting facilities
Directions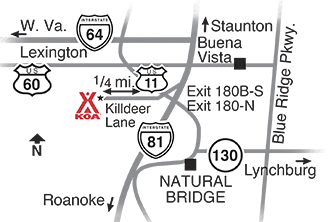 I-81 Southbound Exit 180B. Campground's entrance is right across from the off-ramp just to the left of the gas station.
I-81 Northbound Exit 180. Left on US 11 North and proceed under I-81 for 1/4 mile. Entrance is on left just before the gas station.
GPS: N37.677700, W79.507628
Get Google Directions
Jan 19, 2021
It was very comfortable. I loved the cabin. The bonus was the snow. Everyone in the office were very friendly and helpful. Kudos to you all. My cabin was very clean and enjoyable.
Dec 29, 2020
First time staying at a cabin in a KOA, we usually tent camp. The cabin was like a tiny house very cute and ideal for what we needed it.
Dec 28, 2020
Your staff were awesome! My wife and I always have a great experience at the KOA!
Dec 25, 2020
Wonderful camp & wonderful staff!
Dec 10, 2020
What can I say? I stayed in a basic cabin and had not enough heat or sheets, the bathroom is in another building and the motorcycle I'm on isn't the easiest thing to park on a slope full of dirt and pine needles, the place is desolate and eerily quiet with nary a critter to be found. But there were hens running around, a pair of squirrels jumping on the motorcycle and life was happy. Enough,
Nov 29, 2020
Always great
Nov 28, 2020
4.5 stars this KOA was wonderful! Great location, friendly staff and everything was so CLEAN! Our fireplace was located right in front of someone's window and was a little tight trying to park at our camping cabin. This place was awesome, I booked our next trip before we even left.
Nov 24, 2020
Clean and very nice staff
Nov 23, 2020
Went to see the Natural Bridge and the drive through Zoo. The staff at the KOA was wonderful and made an extra effort to make sure the bathrooms and showers were clean and sanitized. Kudos to the staff!
Nov 17, 2020
Five Stars all the way!! Staff was friendly and very attentive. Clean and everything as expected. Thank you!!
Nov 10, 2020
Liked the location, the basic cabin was very cute and comfortable, close to the bathrooms, had enough space. Sitting area outside was spacious with the fire ring and the table. It was also close to the attractions of natural bridge. The camp store was not overpriced! Thanks!
Nov 09, 2020
Cabin 24 had heat issues. Gentleman tried to be funny by saying not likely you would need it outside temp was 32 degrees when he was told about it. Ants appeared spoiled food.
Nov 09, 2020
The natural bridge KOA in Lexington Virginia was the perfect getaway and a great location.
Nov 09, 2020
Amazing time
Nov 09, 2020
The cabin as very clean and I liked that they deliver the purchased firewood to your site. The communal restrooms need to be cleaned or at least checked more than once a day.
Nov 08, 2020
We very much enjoyed our trip! The cabin facilities were very clean, well-kept and impressive. It was the perfect size for our experience. We also enjoyed the playground, main store area and feeding the chickens. Thanks so much for making our 2 year old's first camping experience wonderful!
Nov 04, 2020
My daughters and I always have a great stay.
Nov 02, 2020
This is 2nd year we've stayed here. Check in very good. Bathhouse very nice. Clean & warm. Plenty of hot water. Grounds kept up nicely. Need to finish the other cabins so they will be available to rent.
Nov 02, 2020
We loved our stay! Everyone was very friendly and the facility was extremely clean which to me is so important! We look forward to returning one day!
Oct 31, 2020
We had a great stay ayour KOA. The cabin was perfect. Everything about it and the campground was neat and clean a d the staff was friendly and informative we will be back. Far superior to a motel.
Oct 30, 2020
Had a very nice time . Everyone was very helpful and pleasant. Stayed here before with our camper 2 other times and was very pleased.
Oct 28, 2020
Love the little cabin feel. Came to see Natural Bridge and it did not disappoint.
Oct 28, 2020
Good covid safety protocols, clean restrooms, nice cabin
Oct 26, 2020
Always a favorite place to stay for Halloween/Fall activities! We already booked for next October!
Oct 26, 2020
I will day that we do enjoy tis campground. But, the Kamping Kabins are not the bargain they once were. We paid more for this night than in a name-brand hotel in Williamsburg with a bathroom and shower. In addition, I paid $20 more for this exact location this year than I did last year. This is no reflection on the quality of the location itself, just the price that I think is no longer worth it.
Oct 26, 2020
It was good, however, the firewood needs to be firewood not construction material. The playground needs to have infant swings and the plastic play area needs to be power washed and kept clean and more items for infants toddlers to play on. The dog park could use an update and items cleaned. The office staff could be a lot friendlier. All fire pits should have a nice grate over them. Thank yo
Oct 24, 2020
Stayed in a deluxe cabin. Loved the site given to us in the back, to ourselves and quiet. Employees were all nice that we spoke with. Only suggestions with deluxe cabin that holds 6 people would be to; 1. possibly allow 2 cars at the site- not just 1 and the rest in visitor parking, and 2. have a 12 cup coffee pot or mini keurig- the 4 cup pot we had took 30mins to brew. A challenge with 4 adults.
Oct 21, 2020
Love the cabin!
Oct 21, 2020
We loved this place!! We stayed in a cabin and both of us agreed that we never slept so well in our lives!! We hope to be able to come back again and explore more of the nearby attractions. We did visit Natural Bridge which was our main objective and it was very close to the campground. But there are lots of caverns the general area we'd like to see. We'll stay at KOA Natural Bridge again!
Oct 19, 2020
My family always stays at KOA in October and we decided to try a deluxe cabin this time. It was cleaner and had more amenities than a hotel room but we were still surrounded by the like-minded camping community. We also enjoyed the caramel apples made at the office and the holiday festivities. This KOA is easy to find and very close to trails, downtown Lexington, VA, and of course, Natural Bridge.
Oct 19, 2020
Always a great place to stay. They do a great job there. Love it every time!
Oct 19, 2020
Had such a fun time as always. I love the Halloween weekends. Decorating and seeing everyone else's stuff was a blast. And the modified socially distancing trick or treating was great. The staff here is always so helpful and friendly and make me want to come back multiple times a year
Oct 19, 2020
What an amazing camp ground with the most wonderful little cabins! From the friendly check in service to the clean and tidy bathrooms...this trip was terrific. We will definitely be returning.
Oct 19, 2020
We thoroughly enjoyed our stay on a colorful Fall weekend. Beautiful campground and cabin site convenient to camp store and bathroom. Firewood delivery to site. Creative Halloween activity schedule with site decorating and trick or treating. Nature trail with a "discovery" game themed to the holiday. Close to Safari Park, Natural Bridge and Lexington. We'd love to come back again!
Oct 19, 2020
It was great! Staff is wonderful and the grounds are well kept.
Nov 17, 2020
It was great other then the chickens trying to steal meat of the fireplace.
- Joshua Lindsay on Google
Oct 08, 2020
The sites are small but the staff is overwhelmingly wonderful!!! We had issues with our hydraulic stabilizers...they sent someone right away to help...the issue was'nt fixed...but they tried... It's a little too busy for my taste...but it seems that's what camping is like now!!!
- Eileen Dyer on Google
Sep 07, 2020
People are always friendly and helpful. Love the location
- Valerie Belisle on Google