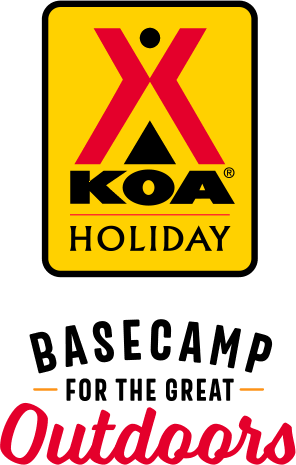 KOA Holiday Campgrounds
Whether you're exploring the local area or hanging out at the campground, KOA Holidays are an ideal place to relax and play. There's plenty to do, with amenities and services to make your stay memorable. Plus, you'll enjoy the outdoor experience with upgraded RV Sites with KOA Patio® and Deluxe Cabins with full baths for camping in comfort. Bring your family, bring your friends, or bring the whole group – there's plenty of ways to stay and explore.
KOA Holidays Feature:
RV Sites with a KOA Patio®
Deluxe Cabins with full baths
Premium Tent Sites
Group meeting facilities
Directions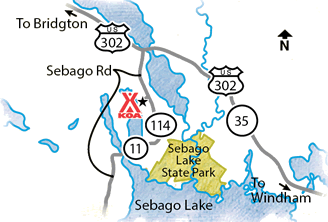 Naples KOA Campground is located on Route 114 / Route 11 just 1.4 miles from Route 302 at the Naples Causeway. We are in the heart of the Lakes Region of western Maine.
FROM THE EAST COAST: I-95 North or South to Exit 48, turn right onto Riverside Street. Go 1.5 miles to route US 302 intersection. Take left on Route 302 West to Naples (26 miles). Turn left onto Route 114/11, then 1.4 miles to the Naples KOA on right.
FROM CANADA & the NORTHWEST: Take Route 91S Route 302 East to Naples. Turn right onto Routes 114/11, then 1.4 miles to the Naples KOA. (only 4.5 hrs to Montreal! QC)
GPS: N43.949953, W70.600204
Get Google Directions
Jun 08, 2021
Best KOA campsite we've ever been to! Great staff, grounds are awesome and great activities!
Jun 07, 2021
Not at all like the previous yearsy
Jun 07, 2021
Very friendly helpful staff.
CAMPGROUND RESPONSE / COMMENTS:
Thank you for your kind feedback!
Jun 06, 2021
Very clean and quiet.
CAMPGROUND RESPONSE / COMMENTS:
Thank you for your kind feedback!
Jun 03, 2021
This review has been removed by KOA due to profanity.
Jun 01, 2021
I would give more stars if the campground offered what was on the site for a holiday weekend, The most expensive campground I've ever been to. We had no heated pool open. Would have made the weekend better. no wifi , no snack bar. Price is way too high for a night.
Jun 01, 2021
It was a cold rainy weekend( nothing they could have changed) but my children were bummed that the heated pool was out of commission! Kids will swim in any weather and it certainly would have made the stay more enjoyable for them! Other than that we were very happy with our stay, facilities were immaculate!
Jun 01, 2021
we rented a camper for 2 nights, went to Maine to bury my dads ashes. first night, no heat, 2nd couldn't regulate the space heaters we were given. shower leaked all over kitchen floor, no linens for second bed. Given a $40 discount on a $425 bill. very disappointed!!! I felt one night should of been free for us.
Jun 01, 2021
The people were very friendly. The kitchen was closed. Average entertainment for kids and adults. The sites are very clean.
Jun 01, 2021
New management is not accomodating or friendly Rates are high!
Jun 01, 2021
Beautiful cabin, clean large patio!
CAMPGROUND RESPONSE / COMMENTS:
Thank you for your kind feedback!
May 31, 2021
This was one of the finest campsites we have found within the past 10 years. I usually compare these to some of the campgrounds up in Canada. This one surpassed our expectations. It was comfortable, it was impeccably clean, the dog park was invaluable as was all of the stations for removal of their waste. We stayed in site 925. We look very forward to returning!
CAMPGROUND RESPONSE / COMMENTS:
Thank you for your kind feedback!
May 25, 2021
This must be a newer KOA acquisition because it seemed more like a trailer park than a camping site. Almost all spaces were with permanent looking set ups.
May 25, 2021
As great as the camp is the price to pitch a tent is outragious. Very clean bath house and got quiet at sun set. That said I can not get over $75 for a small piece of ground for 12 hours is beyound gouging it is sickning.
May 25, 2021
Was great. Site was clean and spacious. Will be back for sure
CAMPGROUND RESPONSE / COMMENTS:
Thank you for your kind feedback!
May 24, 2021
Our campsite was very nice but overpriced for off-season camping.
May 24, 2021
I was a little disappointed this time. I know the campground was just taken over with new owners. But the pool was not open , the kitchen want open, but yet had to pay full price for camp site, and it fairly expensive. I was thinking there should be off season rates. I do like the campground for the most point.
May 17, 2021
super nice staff... a bit disappointed there were no swimming options, other than that, great stay.
May 17, 2021
Very clean and friendly. Staff made sure you had everything you needed thought out the weekend. Made sure you were able to find your site, even help guide you into the site that's a big plus.
May 17, 2021
Easy checking- clean facilities, respectful guests and staff. Didn't see that the pool was closed for repair when I booked so there was not much for the kids to do. Overall a good experience.
May 17, 2021
Very nice place to stay, very clean and well maintained. However this location is very pricey compared to the ones I stayed before. Not a lot of activities to do and pool is still closed. They shouldn't charge for summer prices in spring.
May 17, 2021
Nice quiet and relaxing. That is for a great weekend.
CAMPGROUND RESPONSE / COMMENTS:
Thank you for your kind feedback!
May 17, 2021
This is probably the cleanest and most up to date campground I have ever seen.
CAMPGROUND RESPONSE / COMMENTS:
Thank you for your kind feedback!
May 14, 2021
Campsite was described as remote it was not Misleading. Need to change description. No internet access during my stay and cable TV was very limited.
May 10, 2021
Best place ever��
May 10, 2021
Disappointed because was unable to get cable to work and didn't seem to be anyone able to resolve issues. Other than that I liked my stay. It was clean, staff was friendly and really seemed to care. I have been going for years and will continue!!
May 10, 2021
Excellent, smooth booking process with great communication before arrival. Large, clean and clear site. Excellent service from friendly and helpful staff. We'll be back!
May 10, 2021
We have been coming to Naples KOA for several years for short stays and for both pre and post season stays .Our most recent visit was pleasant with a few glitches such as the cable for TV not working. We will miss the previous owners and look forward to a smooth management transition. It has been nice to have a hot meal prepared from the kitchen. We hope the kitchen will reopen.
CAMPGROUND RESPONSE / COMMENTS:
Thank you for your kind feedback! The kitchen is now open on the weekends and we look forward to expanding the hours soon!
May 06, 2021
Great as always!
May 05, 2021
Everyone was very friend, it's a clean place and we can't wait to book another camping trip at Naples KOA. Thank you for a great relaxing weekend. Roberts & Elizabeth Walker
May 05, 2021
Friendly staff. Clean campsites and wonderful experience. This was our 3rd visit to Naples KOA and we will definitely return!
May 01, 2021
Seems like a nice campground. They were just opening up getting ready for the camping season to start. So there wasn't a lot for us to explore. Will have to visit again later in the season to truly get the full experience that KOA Naples has to offer.
May 01, 2021
The sites are perfect. Very spacious and clean with the gravel! We decided to stay another week!
Apr 29, 2021
The only thing was we couldn't get cable to work . But they did ask the next day when I returned it ! We missed not having snack bar open since they have delicious whopper pies and cinnamon rolls !
Apr 27, 2021
We had a great time. It was a VERY clean campground, the owners were very friendly. We will definitely be back!
Apr 23, 2021
Fun. Conrad and his wife are very accommodating.
Oct 28, 2020
The Crepeau family keeps their KOA immaculate! We can relax and just enjoy every time that we are there. We are seasonal and enjoy every minute. Would love love love if there was an adult pool area with depth! Also the mph in the campground is 5mph...however the people who have golf carts seem to think that the speed limit does not pertain to them!
Oct 28, 2020
Always a great stay!
Oct 28, 2020
Even with COVID our post season stay was enjoyable. We felt confident that guidelines were being followed and that the staff made every effort to make our stay the best that it could be.
Oct 28, 2020
Terrific location for seeing the White Mountains and the Lakes Of NH and Me yet close to ocean for those who love it The owners are Fantastic Hosts and try to acomadate everyone Put this KOA on your Bucket List And give them a call
Oct 28, 2020
We are very impressed with Naples KOA...Conrad and Pam run a great campground..
May 23, 2021
Nice place and people
- Fredrick Sawyer on Google
May 19, 2021
Excellent. Great Staff and accommodations. Amenities are modern and clean. Well done.
- Sandy Silvagni on Google
May 09, 2021
Super friendly staff, great prices and a beautiful camp ground.
- Wheeler Magee on Google