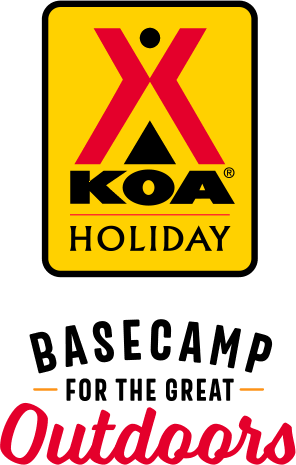 KOA Holiday Campgrounds
Whether you're exploring the local area or hanging out at the campground, KOA Holidays are an ideal place to relax and play. There's plenty to do, with amenities and services to make your stay memorable. Plus, you'll enjoy the outdoor experience with upgraded RV Sites with KOA Patio® and Deluxe Cabins with full baths for camping in comfort. Bring your family, bring your friends, or bring the whole group – there's plenty of ways to stay and explore.
KOA Holidays Feature:
RV Sites with a KOA Patio®
Deluxe Cabins with full baths
Premium Tent Sites
Group meeting facilities
Directions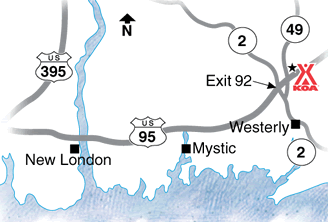 From S/W: Take I-95 N to Exit 92. At bottom of exit ramp, take a left at light onto 2. Go under overpass, take an immediate right at light. Take frontage road to 49. Take a left at light onto 49. Go 1 block to KOA on right.
From N/E: Take I-95 S to Exit 92. At bottom of exit ramp, take a right at light onto 49. Go 1 block to KOA on right.
Get Google Directions
Oct 27, 2020
Very nice customer service and clean facilities. Things to improve would be to add more handwash soap into the bathrooms and to enable returns of sealed woods in case you don't use them all as they do at other KOA camps.
Oct 26, 2020
The tent sites here are well maintained, include a platform for your tent, a campfire ring, and a picnic table. They also have electric and water at each site and the bathrooms are close by, clean, and well maintained. They also have garbage pick-up at the site and will deliver firewood. Staff is very friendly.
Oct 26, 2020
Very friendly staff. All but one of our fellow campers were friendly, the one that wasn't was very inconsiderate.
Oct 25, 2020
Very friendly staff, clean facilities, clean campsite. Great location! Would absolutely stay again and recommend highly!
Oct 13, 2020
Always love going there. Place is very well-maintained and clean! Excellent staff!
Oct 13, 2020
Great stay, friendly staff!
Sep 21, 2020
we def want t go back. we all had a great time, even our puppy loves. the entire site as well as the restrooms are well maintained and very clean. the tent pads are wll worth the additional fee. so much to do w/out having to leave the site. they are conveniemtly located... my daughter has already reserved their next stay!
Sep 21, 2020
We had a great time. The staff was very attentive to our needs. This was probably our 5th stay at Mystic KOA.
Sep 21, 2020
This stay was good. I loved the tent beds. Made sleeping and walking in the tent very comfortable. The location is a lil out of the way. Not much tho. Thought it was closer to mystic but it's actually closer to westerly so we ended up getting good from there instead. They deliver wood and pick up the trash which is great.
Sep 14, 2020
I love this KOA. I've only had one time when noise was an issue but I stay here a few times a year. The staff are friendly, the other campers seems friendly too. Clean bathrooms and common areas. Doing well to keep everyone safe with the COVID situation.
Sep 14, 2020
Campsite and bathroom facilities were clean. Tent pad was comfortable. Staff was attentive. Website said the pool was closed as of 9/9 but it was open when we arrived on 9/12. Would have been nice to swim given the limited activities due to COVID-19.
Sep 14, 2020
Sophie is the best activity director �ϋ��ϋ�
Sep 08, 2020
Was very impressed with campground. Very clean and everyone was really nice. We will be back for sure
Sep 08, 2020
Due to Covid, pool time was limited And very limited activities for children. Emails should be sent out before your stay stating that pool times are limited, bring your own golf clubs it you'd like to play mini golf.
Sep 06, 2020
Campground staff was friendly and polite. Camp store clean and stocked. Our site was in good standing, clean upon arrival. Only down side was was the restrooms. They were clean but dark, fixtures in need of repair, very cramped stalls both in the shower and toilet area.
Sep 02, 2020
Staff were very welcoming and facilities/campsites were clean. Had a great time.
Sep 01, 2020
We had a nice stay at the Mystic KOA this past week. The grounds were clean and the staff was friendly and attentive. We were slightly disappointed that due to the inclement weather the booze truck wasn't operational. My only suggestion would be to have them drive around during the rainy days. We were looking forward to this and it probably would have received big business with the adults camping!
Aug 31, 2020
The staff was friendly and professional. However, the other guests near our campsite (W22) were obnoxious and carrying on until 4 am. In past stays, the staff patrolled grounds more often. The stay would have been much better if the staff enforced quiet hours.
Aug 31, 2020
I love the campground and the staff are very friendly but on this visit there were people partying until 4am so hardly got any sleep and they were still there the next day so we left early because I couldn't do another night of that. I've never had any issues when I've stayed there before and I have booked to stay again in a few weeks but if it's the same thing again then that'll be the last time
Aug 27, 2020
Our campsite was extremely fithly. There were wipes on the ground, bags of food and cigarette buts everywhere. Masks in the bathroom were not enforced. I didn't see anyone wearing a mask the two days we where days. I cut our stay on one night as we didn't want to use the bathroom anymore.
Aug 25, 2020
We loved the mystic KOA and will definitely be back! Unfortunately, there was a group that was partying until 3am the first night, but it was fine the second night. Kept our little ones up all night. Not something I would expect at a KOA! But otherwise a great experience and we were impressed with the grounds.
Aug 24, 2020
Lots of problems with water
Aug 24, 2020
Overall great experience, but had a couple staying across from us and they were fighting, swearing and threatening others at other sites when they kindly asked them to stop cursing since they had small children.
Aug 24, 2020
The facilities was very clean and well-maintained. It was an electrical issue while we were there and although this issue did not affect us the electrician running through our site multiple times around 1130 at night shining his light in our tent while my kids were trying to sleep. The police were there to to issues down the street. The noise level was out of control On top of our neighbor
Aug 24, 2020
My tent site was rocky, and unfortunately it was less than ideal for the campground to be right next to 95. On a positive note, the campground quieted down at a reasonable hour.
Aug 24, 2020
It was our first family tent camping and we totally loved being at your site. We will be back in future. Very pleasant experience.
Aug 21, 2020
Comfortable tent site, clean bathrooms, easy pool access, and friendly staff
Aug 18, 2020
Mystic KOA is a campground that has it all!
Aug 16, 2020
The Tent site was big and wooded. The electric did not work and we were told it would probably not be fixed until our last day stay, it was fixed on day 3. The staff was friendly and helpful for the most part. We were disappointed that this site was full dirt, and it rained, so mud. Probably won't stay there until we have a trailer that does not need shade
Aug 16, 2020
A bit noisy even after the quiet time. Highway is too close. Too small pool for the guests.
Aug 14, 2020
All the staff were very friendly and answered any questions. The campsite and bathrooms were clean. The bathroom was near our campsite. We will definitely stay again. The only negatives we can think of was the bathroom stalls were very small, especially having to help a little one on to the potty and that the playground had no shade. We were very pleased with the amount of amenities available.
Aug 12, 2020
Always a great time!!!
Aug 11, 2020
Clean fun and very friendly and accommodating staff!
Aug 11, 2020
I was told that the bathrooms would be cleaned and sanitized frequently, and the campground would operate at half capacity. However, every site near me was occupied, and the campground appeared to be operating at normal capacity. Also, the bathroom didnt appear to be cared for at all during my visit. I did see someone cleaning as i left. Otherwise, fun, quiet stay! I would definitely stay again.
Aug 10, 2020
Very nice and clean place, the down side was people and staff were not friendly and were rude at times
Aug 03, 2020
There were several issues with our stay but the biggest disappointment by far was how crowded the campground was.when I made my reservation,the website said they were only reserving sites at 50% capacity.this was not true at all! They were well over 90% full. Almost every site had campers in it.and the sites are all very close together.very unsafe and irresponsible. Bathrooms were dirty & crowded.
Aug 02, 2020
The "private" tent sites were not what we expected. The bathroom was dirty and without toilet paper for the first 2 days of our stay. The 10pm quiet time was not inforced. We had people yelling, kids screaming and dogs barking till midnight on Friday night. However, the staff was friendly and helpful. The sites were nice and the camp store was pretty stocked.
Nov 29, 2020
Stayed in the camper cabin for a short getaway. No complaints! Clean and close to mystic.
- Kenyon Shaye on Google
Nov 25, 2020
The campground is clean, the staff welcoming and helpful. The facilities are top-notch (although some kid activities are Covid-limited). Central to many attractions, beaches, casinos. Mid-way between NYC and Boston. Been coming for years, will continue!
- Susan Dineen on Google
Nov 22, 2020
We stayed here a few weeks and really enjoyed our stay. Nice campground with friendly staff and ample ammenities.
- John Anderson on Google