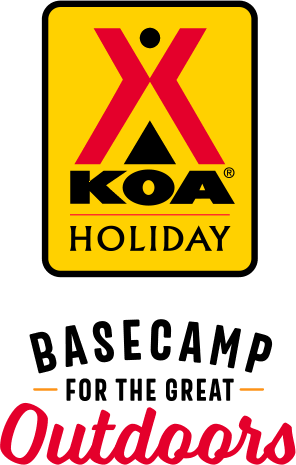 KOA Holiday Campgrounds
Whether you're exploring the local area or hanging out at the campground, KOA Holidays are an ideal place to relax and play. There's plenty to do, with amenities and services to make your stay memorable. Plus, you'll enjoy the outdoor experience with upgraded RV Sites with KOA Patio® and Deluxe Cabins with full baths for camping in comfort. Bring your family, bring your friends, or bring the whole group – there's plenty of ways to stay and explore.
KOA Holidays Feature:
RV Sites with a KOA Patio®
Deluxe Cabins with full baths
Premium Tent Sites
Group meeting facilities
Directions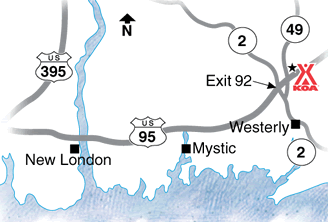 From S/W: Take I-95 N to Exit 92. At bottom of exit ramp, take a left at light onto 2. Go under overpass, take an immediate right at light. Take frontage road to 49. Take a left at light onto 49. Go 1 block to KOA on right.
From N/E: Take I-95 S to Exit 92. At bottom of exit ramp, take a right at light onto 49. Go 1 block to KOA on right.
Get Google Directions
Oct 04, 2021
Me encantó el lugar. Una experiencia inolvidable y sin duda volveré �
Sep 28, 2021
We stayed in a tent site, 2 adults. It was very clean, and spacious. The bathrooms were clean and well lit at night. The pools and the pool area were clean. I liked that they were open even after Labor Day. We received a text letting us know of upcoming events and telling us that the Pub Truck was open! We looked at the cabins and are looking forward to staying in one next time.
Sep 27, 2021
Aside from the rain which is no reflection on the campground, everything was great. Friendly and helpful staff, quality campsites and amenities made for an enjoyable stay.
Sep 20, 2021
We went tent camping. Pros: a lot to keep you and kids busy. Playground, long slides on a hill, fishing, pool, game room all great along with the usual camp stuff to keep busy.cons: the tent sites are on the side of the property that i95 is on. that's ALL you hear ALL NIGHT AND ALL DAY LONG.Sites are practically on top of each other.You do not feel secluded or have any privacy!
Sep 13, 2021
Mystic KOA was fabulous! My family had the best time. We look forward to returning next year!
Sep 13, 2021
Clean pool, lots of kids stuff. We had fun!!
Sep 09, 2021
We had a tent. Very busy weekend. Lots of ppl!!
Sep 07, 2021
Problems with other kids being bullies and not kind at the jump pillow and play area.
Sep 07, 2021
Beautiful campground, lots of things for kids, friendly staff, clean bathrooms-but try as they might, there was no control over the quiet hours.
Sep 01, 2021
My stay was pleasant. My wife and I reserved a tent sight. We were there on a Monday, it was almost empty. The bathrooms were very clean. We purchased firewood from the KOA store for $7. Overall we had a good experience.
Aug 31, 2021
W9 was great. Food truck at pool was nice. Nice campground and cool slides.
Aug 31, 2021
the sites were so small and cramped. we were so close to our neighbors we could hear every word they said, along with their dog barking throughout the night. We could also hear I 95. No sleep at this campground. If you are looking to camp and enjoy nature and have some privacy this is not the place to do it.
Aug 30, 2021
Amazing time! Clean! Friendly staff
Aug 18, 2021
There were only two that we had an issue with, one being when they clean the womans room they prop the door open, even is someone is in there. i wasn't comfortable with that. also, the people in site next to us took about 1/2 our site. since the sites aren't really marked i don't blame them. i feel we were a little cramped, but all in all it was a nice stay.
Aug 17, 2021
This campground used to be very family friendly, but it has gone downhill with the management of the past few years. I have been coming here for over 40 years, but this will be my last visit. The only activity was a booze truck by the pool and there were people in the pool with their alcoholic beverages. No bingo on Fridays, no pancakes breakfasts on Sundays, no ultimate frisbee or pool games.
Aug 16, 2021
I don't think I'll be returning. People were smoking by the pool-so gross! It would also be a nice option to be in a non smoking section. It's really something that my family couldn't hang out at site bc of the incessant smoking of our neighbor. At night, my kids couldn't sleep without getting choked by second hand smoke. This campground needs to address this issue.
Aug 16, 2021
The premium tent site was amazing! Everything was so clean, sites, bathrooms, pool, play ground… everything! My daughter loved the bounce pillow! We will be back again for sure!
Aug 14, 2021
It was overall pretty awesome. The bathrooms were clean but the showers were a little finnicky. I would say the only thing I didn't like is the fact that every site is so close to each other there really isn't too much privacy. Other than that, the pool was fun and everyone there was really nice
Aug 13, 2021
Great fun and family friendly place to visit. Lots of activities for children
Aug 11, 2021
We had a great site. Employees were great! A few more bathrooms would be good. Thanks, it was very nice.
Aug 09, 2021
One of the best camping trips we have had as a family! I definitely recommend staying here!
Aug 09, 2021
Very clean a nice. They were able to take care of complaint of campers next to us fast!! Great place to stay!
Aug 09, 2021
We had an amazing time at KOA mystic, my family has never been camping, my wife enjoyed the facilities and being able to get out of the house and away from working virtually from home. My 4 year old loved our camp grounds and all the extra fun activities (pool, bounce house, movie night, slides and jungle gyms. We stayed for 2 nights and if they weren't booked, we would of stayed longer!
Aug 06, 2021
We stayed here for an overnight stop on a road trip. The tent campsite was easy to find (we got in after dark) and clean; the facilities we used (bathroom & showers) were also clean and convenient; the staff were super friendly; the site is conveniently located. Only downsides were a bit of traffic noise from the highway, and the tent sites were a bit close together. Would stay here again!
Aug 05, 2021
Great staff in all areas of camper needs. Friendly. Attentive. Knowledgeable. Responsive. Thank you for always being on top of things at your KOA. The Strebels
Aug 01, 2021
Great spacious location. We loved our deluxe tent location. Camp staff were friendly and kept everything immaculate. Pool and bouncing pad were a hit with our 10 year old Highly recommend and will definitely add this to our favorites.
Jul 31, 2021
Very noisy by the interstate. Quiet time rules aren't specific.
Jul 30, 2021
We had a great time until we had really bad neighbors the last two nights, really put a sour note on our trip. Playing music until 12, second night decided corn hole would be fun to play starting at 10:30 pm. Could hear it even though we were in a cabin. We couldn't wait to leave. More monitoring after quiet time would be good if you're serious about a family friendly campground.
Jul 30, 2021
Have been going to Mystic KOA for close to ten years now, as always a great stay ! The staff is always friendly and go above and beyond and the facilities are clean and well maintained......"Kudos Mystic KOA"
Jul 26, 2021
very clean, and friendly staff
Jul 26, 2021
This was our grandchildren first camping trip , ages 7, 5 & 3. We absolutely loved it, plenty to do with the kids, place was very clean and very quite.
Jul 24, 2021
The family loved it and has unanimously voted to go there from now on whenever camping in Connecticut. The staff was courteous and friendly and even brought flavored ice to the pool side for everyone on a really hot day free of charge. The bathrooms were the cleanest I have ever seen at a campground anywhere. You can't beat the convenience of the proximity for going to the beach.
Jul 22, 2021
Absolutely beautiful location! Everyone was great to us! Can't wait to come back!
Jul 20, 2021
Our tent site was behind a cabin that when got pumped out it stunk so bad. It happened twice while here and once was while we were eating lunch. It was a horrible smell. The air conditioner in the cabin next to our site was loud and kept us up most of the nights we stayed. A large group of people arrived at 9:30pm and were so loud that I had to complain to staff at 12pm! Very small sites.
Oct 10, 2021
Things were down for the season and Covid. Had this not been the case, this place would have been a fabulous campground with kids!!
- Neal Allen on Google
Sep 26, 2021
Awesome slides and playground for the kids. We also enjoyed the game room and mini golf. Clean facilities and overall great place! Only con was our site was very close to 95 and kind of loud with Friday am traffic. We will be back at a different site soon though!
- beth hill on Google
Oct 12, 2021
Nice place, I just wish that the bathroom was a little closer to the cabin also you do get a little road noise.
- JA Hughes on Google