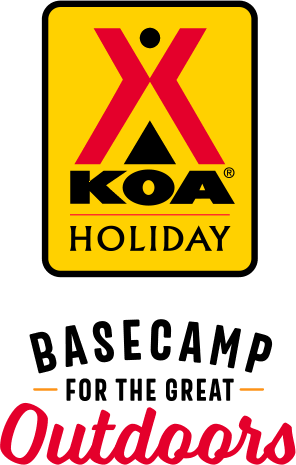 KOA Holiday Campgrounds
Whether you're exploring the local area or hanging out at the campground, KOA Holidays are an ideal place to relax and play. There's plenty to do, with amenities and services to make your stay memorable. Plus, you'll enjoy the outdoor experience with upgraded RV Sites with KOA Patio® and Deluxe Cabins with full baths for camping in comfort. Bring your family, bring your friends, or bring the whole group – there's plenty of ways to stay and explore.
KOA Holidays Feature:
RV Sites with a KOA Patio®
Deluxe Cabins with full baths
Premium Tent Sites
Group meeting facilities
Directions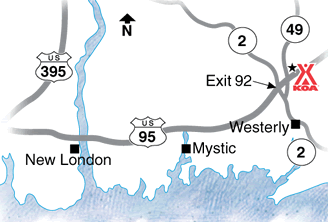 From S/W: Take I-95 N to Exit 92. At bottom of exit ramp, take a left at light onto 2. Go under overpass, take an immediate right at light. Take frontage road to 49. Take a left at light onto 49. Go 1 block to KOA on right.
From N/E: Take I-95 S to Exit 92. At bottom of exit ramp, take a right at light onto 49. Go 1 block to KOA on right.
Get Google Directions
Jun 20, 2021
Lovely stay. We loved site 524. Great patio. Beautiful fire pit.
Jun 20, 2021
Pull thru site very downhill
Jun 20, 2021
Friendly and courteous staff.. pleasant stay
Jun 20, 2021
We had a great stay at Mystic's KOA and will come stay again!! The staff was incredible and always helpful! Thanks for a great weekend!
Jun 20, 2021
Great location and really friendly staff. Clean site and big enough for our travel trailer and and tow vehicle. Didn't care for the bathhouse because it felt dirty and in need of updating so we didn't use those. Cute playground for the kids.
Jun 19, 2021
Staff was great. Grounds were clean, well run. The main negative of our stay was the sites in our area are situated adjacent to the main roadway, Lots of traffic noise.
Jun 19, 2021
Lots of dogs barking, kids screaming and crying, dirtiest cabin with torn mattress. Also even though cabin was empty and ready they charged us $25 for early check in ! Only KOA ever to charge us for being a little early !
Jun 19, 2021
Beautiful campground, well managed and very friendly and helpful staff. Plenty of things to see and do in the area that will interest the entire family.
Jun 19, 2021
Great place, everything clean, sites not too close together
Jun 16, 2021
Clean, friendly. My only complaint is that we could hear the highway from our site.
Jun 16, 2021
Very enjoyable!
Jun 16, 2021
My family and I enjoyed our short but fun filled stay at the Mystic KOA. The office check in was easy, quick and the staff was friendly and warm. We enjoyed the clean and well maintained pool area. We will look forward to our next stay at Mystic KOA. Thank you.
Jun 15, 2021
We had three rustic cabins for family. Wish there were more cabins to choose from. Wish we could place a hold for 24 hours so we can check availability with family before placing deposit. Showers could use updating near clubhouse. Too dark. People were very friendly. Good time and hope to come back. MORE RUSTIC CABINS.
Jun 15, 2021
Super friendly and helpful staff. Just stopped over night while traveling but will definitely stay here again.
Jun 15, 2021
Very relaxing very quiet very clean
Jun 15, 2021
It was a beautiful weekend for camping. The campground was exceptionally clean. People were friendly and the grounds were. beautiful. We were in the Safari section which was a bit of a walk to the putt putt, swimming & playground but other than that had a great time and definitely will be coming back.
Jun 15, 2021
Great and relaxing
Jun 14, 2021
I love staying at KOAs. I was prepared for a lengthy stay. Unfortunately, my husband got very sick and I had to leave early. The staff was so helpful. God willing, I will be back.
Jun 14, 2021
Pricy and the sites are very close to one another.
Jun 14, 2021
Very relaxing great staff. Looking forward to next trip
Jun 14, 2021
We really love the pool and the playground for the kids.
Jun 13, 2021
Staff were great. We had to clean up a little garbage off our site when we first arrived. We were nervous about having a campfire due to the closeness of other trailers but have had to work around that in other places that we have stayed. We are definitely considering this place for next year's vacation. Will recommend to friends who are looking to rent a cabin. Thanks.
Jun 13, 2021
Nice campground for the most part. My site was too small for my trailer.
Jun 13, 2021
Friendly and accomodating staff. Well maintained. Thank you, Pam for patching me up.
Jun 12, 2021
We stayed for a week. The sites were very tight with the neighbors. We made it work with our friends. They did some contruction on all the sites and had some dirt but we made do. Pool was clean and the staff was nice. It's pretty close the Westerly RI if you want the beach. Our first KOA with over 20 years camping. Sites were just to close for us.
Jun 12, 2021
Very pleasant.
Jun 12, 2021
Check in was fast and easy. After setting up the camper I found that our electric was not working, 90 degrees no A/C I called the the front office twice, no answer. I sent a text message to the number provided, I got a reply the next day, that was no help. Had to walk to the office then wait for maintenance. 30amp was defective, had to use 50 to 30amp. Cable TV did not work, sites are tiny.
Jun 12, 2021
generally favorable site, office etc. Looked a bit unkempt in places, - like you were not ready for summer. Biggest complaint is not being able to use the campground shower/bathroom. At $92 a night I should not have to be dumping tanks!
Jun 11, 2021
Older campground that appears to be getting a facelift. Needs a lot of work to come up to KOA standards.
Jun 09, 2021
Everything was in good order. Office staff was responsive to need for replacements or corrections. Cabins were clean and comfortable, although futon was a little soft. Amenities were plenty but we must return to take advantage of all of them. Administration was top notch regarding reservations questions and changes. Most enjoyable and hoping to return again.
Jun 09, 2021
Our tent site was very relaxing with close access to showers and water! The employees were hospitable and kind. Would definitely recommend to a friend or family member!
Jun 09, 2021
We only stayed one day but plenty of room to walk our dogs we will definitely come back with other family members.
Jun 09, 2021
Nice sites, the staff was incredibly nice and accommodating.
Jun 09, 2021
Excellent as usual. One note the pool should have umbrellas so guest don't bake in the sun.
Jun 09, 2021
Staff was always very nice and helpful. Grounds and pool were clean and well maintained, most level sites I've EVER seen. Great location, close to all the sights in Stonington, Mystic and New London. A bit of road noise but a very nice campground. We will be back.
Jun 13, 2021
Very friendly clean lots to do for kids and adults. Going back in August. Food truck on premises that also sells spirits.
- Biagio Fronte on Google
Jun 04, 2021
Easy access off I-95. Great And quiet KOA, lots of length on the pull thru and level sites, room for slides. We have a 40 ft motorhome with a tow. We had a great patio with a fire pit. Wish we stayed longer. Outstanding playground for kids, very nice pool area, definitely will stay again if going thru there again. Staff is friendly and helpful, and campground is very clean. They get a A++++
- Sandy Mullikin on Google
Jun 01, 2021
It was a good place. It rained most of the time but we still had a good time
- Donna Peer on Google