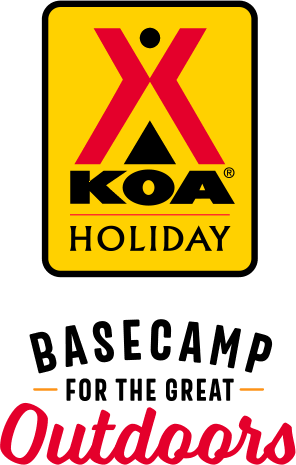 KOA Holiday Campgrounds
Whether you're exploring the local area or hanging out at the campground, KOA Holidays are an ideal place to relax and play. There's plenty to do, with amenities and services to make your stay memorable. Plus, you'll enjoy the outdoor experience with upgraded RV Sites with KOA Patio® and Deluxe Cabins with full baths for camping in comfort. Bring your family, bring your friends, or bring the whole group – there's plenty of ways to stay and explore.
KOA Holidays Feature:
RV Sites with a KOA Patio®
Deluxe Cabins with full baths
Premium Tent Sites
Group meeting facilities
Directions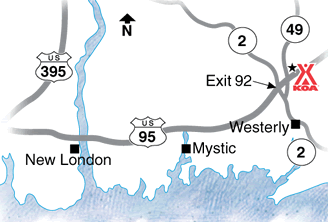 From S/W: Take I-95 N to Exit 92. At bottom of exit ramp, take a left at light onto 2. Go under overpass, take an immediate right at light. Take frontage road to 49. Take a left at light onto 49. Go 1 block to KOA on right.
From N/E: Take I-95 S to Exit 92. At bottom of exit ramp, take a right at light onto 49. Go 1 block to KOA on right.
Get Google Directions
Jan 11, 2021
We stayed in the cabins in January 2021. They were very clean and comfortable. A very reasonable price conserving they have kitchen amenities so you can cook food. There were quite a few people with RVs surrounding the cabins, but you WW ould never know people were there. It was super quiet. We are going to stay again this winter. Definitely a nice visit to get away from it all.
Jan 11, 2021
My stay in a deluxe cabin was PERFECT. The cabin was clean and cozy, and I found it to be quiet and peaceful. I found everything I needed - delicious coffee, nightlights, heaters (it's January!), extra blankets, and a great selection of cable channels. The wi-fi was very helpful when I was working remotely. Thank you for the hospitality Mystic KOA!
Jan 10, 2021
This was our first time staying at KOA and it was the cleanest and friendliest cabin we had ever been to. We will look to stay at KOA the next time we camp. Thank you
Jan 05, 2021
Love this place. It's so clean and pretty
Dec 30, 2020
It was cold but no ppl around. The cabin i have stayed was warm inside regardless of the weather. I enjoyed with my kids. Good for everyone with Kids during this pandemic and winter season.
Dec 30, 2020
Great stay overall. The bushes next to the water spicket need to be trimmed.
Dec 22, 2020
Very nice, well maintained property. A nice place to stay in the winter.
Dec 13, 2020
Great little campground, is probably AMAZING in a (non-Covid) summer. The cabin we stayed in was clean, cozy, and the bed was literally the most comfortable bed we've ever slept on. Can't wait to come back!
Dec 11, 2020
We stayed in a cabin during Thanksgiving. Check in was convenient and easy. Cabin was clean and well stocked with items as listed. Someone called to be sure we checked in OK and because of rain, they were able to finalize everything else on phone, so we didn't have to go down to office. Check out was friendly and helpful.
Dec 02, 2020
Even though we lost all electric inside the cabin in this cold weather, the staff did their best to get back on. Other than that, all the staff were very kind and the place was so clean and well managed. Such a nice experience in Mystic KOA.
Nov 30, 2020
Our stay was very good; everyone was helpful, knowledgeable and professional. The only flaw was that power to the site went out on Sunday morning; not necessarily the fault of the staff, but maybe a backup generator would be a good idea.
Nov 27, 2020
Great Winter Camping stay. Really close to I95, but you'd never know it. Close to beaches and hiking areas [Green Falls Pond in Voluntown is nice hike!] Only part of the campground was open, but our site was fully operational. Very spacious campground. Laundry and restrooms open and not far. Staff was great. Look forward to a spring/summer stay!
Nov 27, 2020
The staff was very helpful to a couple of newbies. The campground was clean as were the bathrooms and showers.
Nov 25, 2020
I am a seasonal camper at Mystic KOA, so I'm somewhat biased. However, I recently had an "off-season" need to stay in one of the KOA lodges for several days/nights. I was extremely pleased! The bed was comfy, the amenities were totally unexpected, clean, and met our needs perfectly! I wouldn't hesitate to recommend to others!
Nov 23, 2020
The people were very helpful and courteous. The location allows easy access to many wonderful places.
Nov 23, 2020
Facility was clean, staff very helpful!
Nov 18, 2020
My boyfriend and I had a wonderful time staying at mystic koa.. the staff were incredibly accommodating and so friendly and helpful. If I had any complaint at all it would be that covid-19 had every activity shut down. So I feel like maybe they should have taken a little bit off the price per night of our stay. There was literally nothing to do on site. Otherwise we will be back.
Nov 17, 2020
We had a wonderful time!! I wish we had a choice on camp site. And a little to expensive in winter rates.
Nov 17, 2020
I had reserved for 2 nights but unfortunately I need to leave after only 1 night. Even though it was after the checkout by time I was happily refunded the second night. Great people
Nov 16, 2020
I booked a deluxe campground a month ago. When I received the confirmation a week before arrival, I saw that the site I booked was different than the one they gave me. So I called KOA and after 2 questions about this discrepancy, they hung up on me. Then when we arrived, they gave us a completely different site and were told that we should have never been able to book the deluxe to begin with
Nov 16, 2020
Nice place. Friendly staff and clean amenities
Nov 16, 2020
It was great to meet the manager, assistant manager and accountant. We look forward to seeing you all I April.
Nov 15, 2020
This campground is very nice and well kept. The staff was helpful. I wish the dog park was bigger and had more obstacle course items. I wish the sites were not as close together but it seems to be the norm.
Nov 13, 2020
Although this year was much different than years past, it was still very enjoyable and relaxing. The staff and the management was A+++, they were dealt a tough hand this year, and did an excellent job dealing with it. as always, we are sad the season is over and we are already counting down to when we can get back to Mystic KOA!
Nov 13, 2020
We rented three deluxe cabins for a family get together and the cabins were clean and cozy. Everyone had a great time!
Nov 11, 2020
Everything was great. I do suggest you take down the very worn and ripped American flag. Other than the flag, the stay was enjoyable.
Nov 11, 2020
Great site, Thanks for staying open during this warm fall.
Nov 09, 2020
2020 was a year that presented many challenges to many campers and campground staffs. Mystic KOA handled these challenges with professionalism and compassion. The staff, though faced with situations never before seen, remained positive, cheerful, and helpful. Kudos to Allison and her awesome team! Looking forward to the 2021 camping season!
Nov 09, 2020
Facility is really nice and amenities are great, but the sites are just way too close to each other and no privacy between them.
Nov 08, 2020
As usual we had a wonderful stay, we were pleased that our season was extended due to the delayed opening. The manager and her staff were outstanding and accomadating Our neighbors were great and immensly kind to us.Our next door neighbor and her friends washed our rv. We hope that Mrs.Allison and Mr.Kent will remain in their positions,we admire them and the KOA team.
Nov 08, 2020
As a seasonal guest it is my home away from home. I love the area and all it has to offer. The staff at KOA Mystic work hard to make my stay and all campers a good experience. Thanks and see you next Spring.
Nov 08, 2020
We enjoy staying here very friendly.
Nov 08, 2020
We were pleasantly surprised at the superb condition of the Delux Cabin we rented! Everything was there...from shampoo to sheets:) It was clean and well stocked with kitchen appliances/ dishes. We wanted to extend our stay but unfortunately there were no more available cabins:( A great place to get away and to explore the surrounding historical areas!
Nov 07, 2020
Had a great time, it was good to get away. The help in office was the best. They were helpful and everything was in the store.
Nov 03, 2020
it was great. everyone was great.
Nov 03, 2020
Our stay was good, it was O.K. a getaway break from the hustle and bustle.
Nov 03, 2020
Had the most enjoyable stay that weekend. It was only out second camping adventure since getting our RV and the campground was eager and willing to help and answer questions we may have had. We had our grand-daughters with us and their time was full and not a cell phone in site of them from either for 2 days (a record). This KOA (being year round) will be our get away stay come the winter.
Dec 16, 2020
We were here a couple days before thanksgiving. My kids and I took a little road trip to see my parents. not wanting to rush home we stayed here for the night, and extended it to two! We needed to stay past check out so my kids could finish their online school. When I went to the office to ask them I ended up talking for an hour. THEY WERE SO FRIENDLY! We had an amazing wind storm on our second night, felt like we were going to get blown off to oz, not something the KOA could control but was a highlight of our 40 night trip! Thank you for being so friendly and nice
- HugeFoodSNOB on Trip Advisor
Nov 29, 2020
Stayed in the camper cabin for a short getaway. No complaints! Clean and close to mystic.
- Kenyon Shaye on Google
Nov 25, 2020
The campground is clean, the staff welcoming and helpful. The facilities are top-notch (although some kid activities are Covid-limited). Central to many attractions, beaches, casinos. Mid-way between NYC and Boston. Been coming for years, will continue!
- Susan Dineen on Google