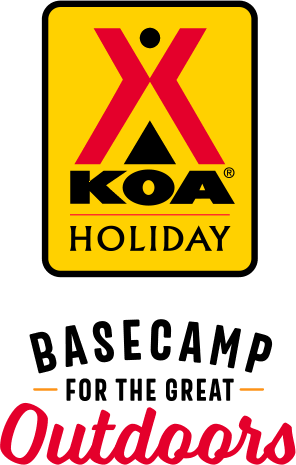 KOA Holiday Campgrounds
Whether you're exploring the local area or hanging out at the campground, KOA Holidays are an ideal place to relax and play. There's plenty to do, with amenities and services to make your stay memorable. Plus, you'll enjoy the outdoor experience with upgraded RV Sites with KOA Patio® and Deluxe Cabins with full baths for camping in comfort. Bring your family, bring your friends, or bring the whole group – there's plenty of ways to stay and explore.
KOA Holidays Feature:
RV Sites with a KOA Patio®
Deluxe Cabins with full baths
Premium Tent Sites
Group meeting facilities
Directions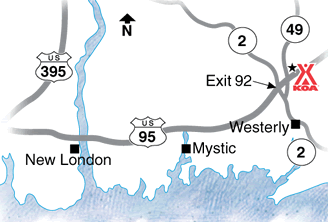 From S/W: Take I-95 N to Exit 92. At bottom of exit ramp, take a left at light onto 2. Go under overpass, take an immediate right at light. Take frontage road to 49. Take a left at light onto 49. Go 1 block to KOA on right.
From N/E: Take I-95 S to Exit 92. At bottom of exit ramp, take a right at light onto 49. Go 1 block to KOA on right.
Get Google Directions
Apr 06, 2021
Went the 1st weekend in April 2021 and it was cold. Not everything was open yet, and some construction happening around the property. But overall it was a good experience and would stay there again.
Apr 06, 2021
It was on expensive side. We have traveled cross the country and never paid this much. We like the campground and is convenient to family.
Apr 05, 2021
It was great to be able to stay in a quiet place during the pandemic. It seemed like there were lots of folks that were there for an extended stay. We had everything we needed at our R29 site, although it was a distance from the showers. There was a big rain storm that flooded the park road nearby, luckily we were on high ground. We loved that the crew came by to collect our trash daily! Thanks.
Apr 04, 2021
Paid full price but no water hook up until last day of 3 day stay.
Apr 03, 2021
Our cabin was ready and clean upon arrival. When we had an issue with hot water, maintenance was there within 5 minutes and the problem was quickly resolved. Their customer service was phenomenal. Thank you Mystic KOA!
Apr 01, 2021
Omg I was in a deluxe cabin and it was so dirty the floor and everything else it was bad and this one used to be my favorite one but am not sure not more and the person at the office very rude
Apr 01, 2021
Friendly helpful staff,
Apr 01, 2021
Spent a couple nights to try out our new trailer. Nice staff and friendly respectful guests
Apr 01, 2021
The staff were friendly and helpful. Bathroom and shower area was clean. Our only complaint was that the sewer hookup at our site was not accessible to our trailer so we had to use the dump station upon our exit from the campground. Their was a place to hook up at the site but it would not easily reach our rig. We were in the area where you have to back your rig in .
Mar 28, 2021
Quick and much needed trip in a deluxe cabin which was immaculate. Can't wait to do it again.
Mar 28, 2021
Quiet and very peaceful during our stay in mid-March. Shoulder season sites with full hookups were a little tight but very manageable (did need 20' sewer hose. Staff was very friendly and helpful. While the area is rural, the campground is about 5 minutes from grocery and gas.
Mar 28, 2021
Truly excellent. Great cabin. Clean, well appointed, really really terrific. Well done KOA Mystic! See you again soon!
Mar 24, 2021
Annual st patties day group. Staff is always helpful and grounds are kept in great shape. Can't wait for next Stay.
Mar 24, 2021
The stay with nice and peaceful the only thing the water when turned on yet but we had a good
Mar 23, 2021
WE DO THE SAME TRIP EVERY YEAR AND IT IS ALWAYS A SUCESS!! GREAT PEOPLE
Mar 23, 2021
Luv the place
Mar 21, 2021
Our stay was amazing. The kids had a blast and it was great to just get away for a few days. I can't wait to come back.
Mar 17, 2021
My husband and I celebrated our one year anniversary and the staff was so nice to us wishing us a social distance happy anniversary. The cabin was very clean as always we have been there a few times in the past.
Mar 16, 2021
Campground was clean. Sites are tight, but the staff helped us fit in. Larger sites were not available due to lack of utilities. We were advised of this in advance and understood. Trash and multiple cigarette butts left in fire ring was the only negative of our stay. We would absolutely return and it was a perfect location for our daily adventures.
Mar 14, 2021
As always, my sister and I had a great stay at Mystic KOA. We had cabins next door to each other and what a quiet, relaxing weekend we had. The cabins are always so clean and cozy. We are planning to visit again next month! Thank you Mystic KOA!
Mar 13, 2021
We stayed here for 4 months ( Nov- March) and we were SO PLEASED wirh the hospitality of the staff. Everyone was always so professional and went beyond their normal duties to accomodate. If I could give them 10 stars I would!!
Mar 09, 2021
We enjoyed our stay very much! There were a few minor issues, most of which were resolved quickly when we called the grounds keeper for help. The only issue that did not get resolved was that one of the burners on our grill did not work. I also feel that the floors should be cleaned more thoroughly. I had a great stay overall and would recommend this location to family and friends.
Mar 09, 2021
Open year round, the employees are friendly and knowledgeable. A huge benefit to me on my first outing with my travel trailer! Thank you all! �
Mar 09, 2021
The staff was great!! Thank you to Lori, Laura, James and Allison for being helpful and friendly KOA staff to talk to, tell them about any issues or ask questions. The facility was well maintained. I am looking forward to returning when I go back to CT.
Mar 04, 2021
The deluxe cabin was awesome. Well stocked, clean and roomy! The staff was friendly and helpful! We'll be back!
Mar 01, 2021
The staff was very friendly
Mar 01, 2021
The check in person Laura not kind or pleasant. I stayed at Middleboro and North Stonington before and never felt so uncomfortable and unaccommodating. But I will continue to camp with you in the future. I always try and put one bad experience out my mind and do what I enjoy. Therefore I rate this stay 2 rating. I'm sorry must be honest.
Feb 22, 2021
This was our 3rd stay at the Mystic KOA campsite. We have loved our stay every single time and the staff has always been amazing. We will back soon again :)
Feb 18, 2021
Although office worker wasn't pleasant .... and there was no one to help with grill and firewood , cabin was so comfy , my granddaughters enjoyed and that's what counts !
Feb 18, 2021
Nice and easy to get info and reservations
Feb 15, 2021
Love the cabins and that it's open year round !!
Jan 24, 2021
Quick, friendly check-in. Cabin was clean and warm when we arrived. Plenty of towels.
Jan 24, 2021
It was exactly what I needed. The cabin was comfortable and spotless. In warmer weather I'm sure the whole campground is a great place to be. I would have liked to have been a little more isolated, but it was quiet and peaceful. Would definitely come back. Thanks
Jan 24, 2021
It was lovely quiet , cabin was beautiful and had everything we needed , best getaway ever , my granddaughters loved it and so did my French bull dog penny !
Jan 22, 2021
We stayed during December 2020. We had no issues and our spot was cleared of snow before we arrived.
Jan 18, 2021
It was a wonderful stay for our first time using KOA. Staff are friendly and courteous and the cabins are great! Going back for sure!!!
Jan 11, 2021
We stayed in the cabins in January 2021. They were very clean and comfortable. A very reasonable price conserving they have kitchen amenities so you can cook food. There were quite a few people with RVs surrounding the cabins, but you WW ould never know people were there. It was super quiet. We are going to stay again this winter. Definitely a nice visit to get away from it all.
Jan 11, 2021
My stay in a deluxe cabin was PERFECT. The cabin was clean and cozy, and I found it to be quiet and peaceful. I found everything I needed - delicious coffee, nightlights, heaters (it's January!), extra blankets, and a great selection of cable channels. The wi-fi was very helpful when I was working remotely. Thank you for the hospitality Mystic KOA!
Jan 10, 2021
This was our first time staying at KOA and it was the cleanest and friendliest cabin we had ever been to. We will look to stay at KOA the next time we camp. Thank you
Jan 05, 2021
Love this place. It's so clean and pretty
Feb 13, 2021
They bend over backwards to to make your stay awesome... and if they can't make you comfortable they will adjust to help you out.. great bunch of people work here!
- Carolynn Walker on Google
Apr 02, 2021
One of the few open all year places in the New York area. Most of the camping areas were closed so it was nice and empty. Felt like we had the place to our selves. 28 degree nights were cozy.
- Michael Ranadazzo on Google