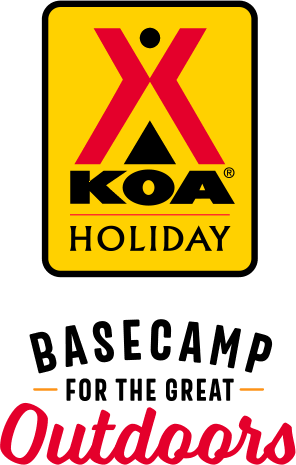 KOA Holiday Campgrounds
Whether you're exploring the local area or hanging out at the campground, KOA Holidays are an ideal place to relax and play. There's plenty to do, with amenities and services to make your stay memorable. Plus, you'll enjoy the outdoor experience with upgraded RV Sites with KOA Patio® and Deluxe Cabins with full baths for camping in comfort. Bring your family, bring your friends, or bring the whole group – there's plenty of ways to stay and explore.
KOA Holidays Feature:
RV Sites with a KOA Patio®
Deluxe Cabins with full baths
Premium Tent Sites
Group meeting facilities
Directions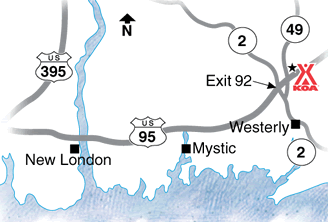 From S/W: Take I-95 N to Exit 92. At bottom of exit ramp, take a left at light onto 2. Go under overpass, take an immediate right at light. Take frontage road to 49. Take a left at light onto 49. Go 1 block to KOA on right.
From N/E: Take I-95 S to Exit 92. At bottom of exit ramp, take a right at light onto 49. Go 1 block to KOA on right.
Get Google Directions
May 28, 2023
It's always clean and reasonably quiet (it was fun watching them power wash the pool decks) and we enjoyed our stay.
May 28, 2023
Very well maintained campground, great location and the pool is back!
May 28, 2023
Very nice place. Nice people. Enjoyed it and was glad ya'll had Connecticut and Rhode Island magnets!�
May 27, 2023
Knowledgeable, friendly, clean, no mud Will stay again
May 27, 2023
I was a little bummed as we had rented a tent space but ended up getting put in an RV spot. This was I. April so the place was mostly vacant. This also cost more so wasn't super happy about that
May 27, 2023
We had a great time at KOA and in Mystic. The cabin we stayed in was very nice. All of the staff were friendly as well as the other guests camping.
May 26, 2023
Our cabin was very cozy and the staff were all very helpful and polite. My wife took me for my birthday and we both had a great relaxing time. Our puppy came along and also had a good time with no issues whatsoever with any other campers or staff members. Clean bathrooms and showers were a mere 30 steps from our site.
May 25, 2023
All good great place and very clean
May 24, 2023
Great place to relax off the grid, as there is zero WiFi in this park. Sites are OK but I did book a park that advertised WiFi & the cost was factored in to the price I paid. When I asked about the WiFi the staff suggested that I go to McDonalds down the road. The WiFi problems were not corrected in the 8 days that I was off the grid in this Park. KOA tell me that I cannot contact them so who?
May 24, 2023
CLEAN AND TIDY. GREAT CUSTOMER SERVICE CHECKIN. LOVED ALL THE ACTIVITIES AVAILABLE
May 23, 2023
It is one of our favorite places to stay but just was disappointed with the rain that we got there was a backup of water in the road right near our camper.
May 23, 2023
Staff was great but the traffic noise coming from 95 next to our campsite was incredibly loud all night long.
May 23, 2023
Great time with the children. Fishing,playing in the playground and bounce pad and slides were a big hit! Nice clean bathrooms also
May 23, 2023
Sunrise came right through the window over my bed…the same window that I watched the stars from the night before. Loved the very level pull through site. Great short stay to prep for summer camping!
May 23, 2023
It was relaxing and enjoyable as always.
May 22, 2023
First time at Mystic KOA and was greeted with by a friendly staff member who was very informative, and made us feel welcome, The daily trash pickup at our site was very nice perk and the daily activity text message was very helpful. Thank you!
May 22, 2023
It was excellent stay besides the rain . They pulled through for my family and were able to save our reunion by renting there building to us for the reunion .Thank you once again .Marty Janicki
May 22, 2023
WE enjoyed our stay for the Spring Fling and despite the Rainy Saturdays would definitely love to stay again next spring.
May 21, 2023
Road noise was expected. A little further from Mystic Seaport than I had thought but that may have been my fault. Campground was not crowded and they did a great job of spreading everyone out. Very peaceful in May but I would think very crowded during the summer months. I'd definitely go back in the fall.
May 20, 2023
Mystic is a beautiful campground. Lots of things to do. Nice people, quiet.
May 20, 2023
Need to hire
May 20, 2023
I had such a great stay here that I already booked another one next week and joined the KOA rewards program for discounts. My cabin exceeded expectations and the campground has so many great amenities and activities. It was wonderful being able to bring my dog and he had such a great time.
May 19, 2023
Area is very pleasant, and great location. Have stayed multiple times. Please though - wifi !! Always issues. Friendly pesronnel? Definitely not an issue! Everyone is great!
May 19, 2023
Very happy with the accomodations and also the friendliness and willingness of the staff to answer any questions or to provide assistance.
May 18, 2023
The bathrooms need updating , the ones by office were nice
May 17, 2023
Excellent campground. Stayed again (for the second time) with my sister to celebrate our mother's day. Enjoyed Newport mansions and Mystic Seaport Museum. Lots to see in the area. Great campground, great staff!
May 17, 2023
First trip of the season. Lots to do locally. Sites are close together.
May 17, 2023
Easy access from highway, easy registration and easy access to an excellent site.
May 16, 2023
Very nice full hookup sites, as long as you don't mind highway noise. Many, many sites do not have sewer. Bathrooms are very far from those sites. The facility is well maintained. Lots of things to do in the area. Will visit again.
May 16, 2023
Dog park is in the far corner of the campground. Other than that, personnel was courteous, areas were clean and inviting.
May 16, 2023
Incredibly clean, well kept, with a very friendly staff. However, what brought my rating down was the fact that our site was tiny. This had to be one of the smallest sites that we've ever stayed at.
May 15, 2023
We had another great stay in the deluxe cabins. They are always clean and inviting. The clean fluffy linens are a bonus and make packing much easier.
May 15, 2023
We liked the campground, They were great in making sure the kids had stuff to do- Stuff maybe to think about- A bathroom remodel would be nice and the shower water was not quite hot enough but we would return with no problems.
May 15, 2023
I've stayed at the Mystic KOA a bunch of times during the last couple of years and always had a blast. My kids played with the other kids on the campground and the weather was awesome. Great activities as well!
May 15, 2023
Cabin was immaculately clean. Excellent location to campground amenities.. we really appreciate it. All the attention to detail That the staff provided
May 15, 2023
Wasn't very happy about getting switched to a different cabin. I booked the cabin that sleeps 6 and ended up with a cabin with 1 bed and a futon couch that sleeps 4. Other than that the place is nice.
May 15, 2023
The sites were a little too close together for my liking, but other than that everyone was very pleasant and had a great time.
May 15, 2023
Been here many times. Things look better this year. All new fire pits at every site. Grass cut before we got there. Friendly staff. Overall a nice quiet campground.
May 15, 2023
We have been here MANY times, no problems. Not sure what is going on, but we were camping with friends, whose site was very far from ours. We asked if they could move and they said they were completed booked. There were 8 sites between our site and the next camper! The whole middle of the campground was EMPTY. If none of those sites were able to be used, for some reason, they could said that!!
May 15, 2023
We enjoyed the campground very much. Very clean and well -staffed. Many great things for kids. Our campsite wasn't great, and we were told we couldn't switch - although there were MANY open sites both nights we were there. Also, too much highway noise. We will come again, however and request a specific site.
May 30, 2023
Great place to camp.
- HF C on Google
May 20, 2023
Nice campground. Fun playground. Clean Bathrooms. The Interstate is very close and loud. We slept in a tent and there was so much noise the whole night.
- Britta R. on Google
May 09, 2023
This is glamping. We had a deluxe cabin with bathroom, kitchen, patio, fireplace and propane grill. There were few people. The place must be really busy in the summer. Lots of activities for kids.
- Jim Eklund on Google