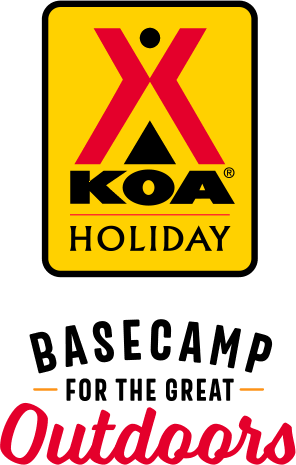 KOA Holiday Campgrounds
Whether you're exploring the local area or hanging out at the campground, KOA Holidays are an ideal place to relax and play. There's plenty to do, with amenities and services to make your stay memorable. Plus, you'll enjoy the outdoor experience with upgraded RV Sites with KOA Patio® and Deluxe Cabins with full baths for camping in comfort. Bring your family, bring your friends, or bring the whole group – there's plenty of ways to stay and explore.
KOA Holidays Feature:
RV Sites with a KOA Patio®
Deluxe Cabins with full baths
Premium Tent Sites
Group meeting facilities
Directions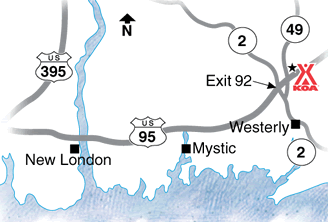 From S/W: Take I-95 N to Exit 92. At bottom of exit ramp, take a left at light onto 2. Go under overpass, take an immediate right at light. Take frontage road to 49. Take a left at light onto 49. Go 1 block to KOA on right.
From N/E: Take I-95 S to Exit 92. At bottom of exit ramp, take a right at light onto 49. Go 1 block to KOA on right.
Get Google Directions
Sep 16, 2021
Camp grounds need a lot of TLC! Not attractive at all.
Sep 16, 2021
Campground was well maintained. Staff were very friendly. Not sure why people in adjacent site were allowed to have a tent on their site when your rules state tents are not permitted on rv sites. Made it difficult to hitch up our 5th wheel when we were leaving.
Sep 16, 2021
Campground was clean; most of the staff friendly. prices at camp store we're to high; rules not enforced aka: speed limit, quiet time, campfires left unattended and burning. We had good neighbors on each side of us
Sep 15, 2021
My stay was perfect, as always. Staff and fellow campers were all so happy this past week! My cabin was sparkling clean, had all the amenities. I love getting texts about the activities going on at the campground when I am there. Thanks Mystic KOA!
Sep 15, 2021
It was wonderful! However, there was a major bee problem. We tried to use the bee trap that we purchased at the story, which did collect 30+ bees over the course of 24 hours, but there were still so many flying around.
Sep 15, 2021
The staff was so super friendly! Grounds were great Price was amazing for such a nice Delixe Cabin The firepit was great Porch was awesome Cabin was incredibly clean!! Gift shop was filled with great stuff!! Loved it!
Sep 14, 2021
Everything was amazing thank you so much
Sep 14, 2021
Staff was very friendly. Interior roads and sites need leveling.
Sep 14, 2021
Bathrooms by cabins need cleaning more frequently and updating.
Sep 14, 2021
My family and I really enjoyed our stay. And the staff were excellent! The visitors there were very friendly and polite as well:)
Sep 13, 2021
Allways great time. I frequent often. One of my favorite koa's
Sep 13, 2021
This was our first time! We'll definitely be back next year!!!
Sep 13, 2021
Mystic KOA was fabulous! My family had the best time. We look forward to returning next year!
Sep 13, 2021
Loved it up on the hill. Staff are always welcoming and helpful.
Sep 13, 2021
Great weekend and lovely people. I only give 4 stars because of location. It felt a little tight but all and all we had a great time and already scheduled for next year in a bigger and better site!
Sep 13, 2021
The activities for the kids were great. Our granddaughter and nephew, who each have different likes, were thrilled with the options you offered and had a great time
Sep 13, 2021
Clean pool, lots of kids stuff. We had fun!!
Sep 13, 2021
Some of the campground site are spacious and nice set ups but for the most part they are no room. We had a lot of bees on are site and it says we should of grey water run off. We did not and the site next to us had a grey water line dumping on are site. The kids area was really nice and a great set up.
Sep 13, 2021
Very nice campground! Staff very courteous!!
Sep 13, 2021
Very nice campground
Sep 13, 2021
We had a wonderful time staying in the Luxury cabin. The staff was friendly. We will definitely be back.
Sep 13, 2021
Excellent in all aspects. Very accommodating for not having reservations in peak season. Extremely helpful staff.
Sep 13, 2021
Large sites, very helpful staff, quiet
Sep 12, 2021
We have already recommended to friends and family! My kids got to swim and play at the playground and bouncey pillow. Our delux cabin was better than a hotel! We have always tent camped so this was a super luxury. The staff were SO kind and friendly and went above and beyond. This place stood out among all the campgrounds we have been to. Thank you. We are already looking at dates for next year.
Sep 11, 2021
Had a great stay labor day weekend. Full campground but pretty quiet crowd. Staff were awesome. Everybody had a great time.
Sep 11, 2021
Nice clean place. Lots of things to do for families right at the campground. Very close to several beaches and restaurants. Very dog friendly.
Sep 11, 2021
The deluxe cabins were perfect & spotless!! The ladies in the gift shop were so nice & friendly! We are all definitely coming back!! The grounds were beautiful & the kids loved the playground area. The adults too!! Thank you so much!!
Sep 11, 2021
Fine as KOA always is , the staff is always on point. It is at top of my budget even though I'm a member so I can't stay but hit and miss. But grateful for the spaces when I can stop . I'm a member it's great for the kids with all the amenities. I don't have kids nor do I use the amenities.
Sep 10, 2021
Only there overnight. Didn't use any of the facilities. Staff was wonderful on phone when I had to change the date of my stay.
Sep 10, 2021
I terror roads very. Arrow and not in great conditi9n. Bushes hedges could use some trimming. Park not really suitable to big rigs…cable poor.
Sep 10, 2021
Spent a week with side by side cabins, had a great time!! Stayed in the accessible cabin, and it was great, but bed position not very wheelchair friendly - hindsight we probably could have pushed the bed to the wall, but didn't realize it was moveable until doing the "end of stay" sweep. VERY happy to see a pool accessibility chair, it made it possible for everyone to swim!
Sep 10, 2021
The cabins were great. Really clean. Everyone we met was helpful and courteous. Had a wonderful time . We will be back.
Sep 10, 2021
Great location. Easy to get to and check in. Property needs help. Too many trees hanging over road. Roads to narrow and spaces to narrow. I made mistake booking and reserved a PULL IN vs a PULL THRU. Office did move me to pull thru after I did the pull in and realized I could not get out if any other campers parked near me. Park could easily become 5 STAR.
Sep 09, 2021
Everyone was very friendly and helpful. The bathrooms/showers were small but clean. The RV sites were smaller than expected but our site was pretty level. Our kids (teens/tweens) had a good time on the jumping pillow. The pool could have been heated, the kids didn't last long as it was too chilly. Over all it was a nice stay.
Sep 09, 2021
It was quiet and nice. I felt safe letting my children go for a walk to the playground without me being with them. We will definitely camp here again!!
Sep 09, 2021
Over the course of this summer we have MULTIPLE reservations due to a family medical issue. I would like to give Laura in the office a huge shout out for making our stays as seamless as possible allowing us to minimize the number of moves we needed to make while here! Thank you Laura!
Sep 14, 2021
Excellent!! We had a deluxe cabin which was really spacious and super clean! Grounds Great fun grounds!! Two pools Staff was so friendly and helpfful! Excellent!!
- Jerilyn Leonard on Google
Sep 14, 2021
Just stayed overnight. Looked like a nice campground.
- Judi Fasick on Google
Sep 15, 2021
This is a lovely rv park, well maintained and it's fees are on the higher side, that said be sure to closely read their rules- especially if you are totally self contained, I.e. your own washer/dryer. They don't allow use of your personal units. You are supposed to use their laundromat. This is why I didn't give them 5 stars. We travel in a 44 ft Class A motor home equipped with washer & dryer.
- 86PatL on Trip Advisor