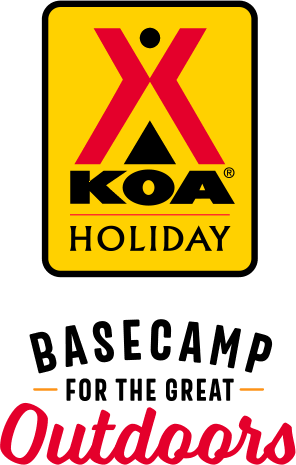 KOA Holiday Campgrounds
Whether you're exploring the local area or hanging out at the campground, KOA Holidays are an ideal place to relax and play. There's plenty to do, with amenities and services to make your stay memorable. Plus, you'll enjoy the outdoor experience with upgraded RV Sites with KOA Patio® and Deluxe Cabins with full baths for camping in comfort. Bring your family, bring your friends, or bring the whole group – there's plenty of ways to stay and explore.
KOA Holidays Feature:
RV Sites with a KOA Patio®
Deluxe Cabins with full baths
Premium Tent Sites
Group meeting facilities
Directions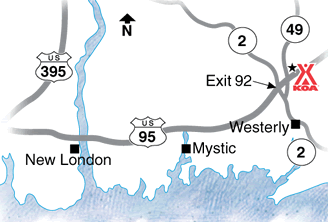 From S/W: Take I-95 N to Exit 92. At bottom of exit ramp, take a left at light onto 2. Go under overpass, take an immediate right at light. Take frontage road to 49. Take a left at light onto 49. Go 1 block to KOA on right.
From N/E: Take I-95 S to Exit 92. At bottom of exit ramp, take a right at light onto 49. Go 1 block to KOA on right.
Get Google Directions
Oct 14, 2021
So much fun! So many great amenities! We were there for Halloween and it was amazing!Our kids had so much fun. Can't wait to visit again
Oct 14, 2021
We had a fantastic time! Cabins were clean upon arrival. The staff was very kind and helpful, even delivering firewood to our site. Our kids played all day on the jumping pillow, playground and giant slides and had a great time trick or treating. This is our second visit and we will definitely be back!
Oct 13, 2021
We had a great time staying Columbus Day Weekend. The staff and other campers put on a lot of Halloween themed activities for the kids. Can't wait to come back in the Spring.
Oct 12, 2021
I love the area, everything so. Lean, just wished pool.was open.
Oct 12, 2021
Staff was extremely friendly...bathrooms were consistently cleaned....Maybe more activities for the kids overall...but very fun! We will be back!!!
Oct 12, 2021
Camp was nice and staff to the guest were super friendly! I would rate it 3.5 if it was an option. We stayed in a rustic cabin which was perfect for us. Loved the bathrooms being a few steps away and the daily cleanings. The cabin itself looked as if no one has cleaned or moved the furniture in years. I get we're camping and it's low maintenance but housekeeping is needed.
Oct 11, 2021
The floors in the cabin were filthy. It's obvious they aren't being washed regularly, let alone between renters/campers. The office/store & activities close exceptionally early for being a weekend. Grounds are decent & well maintained. Staff was very nice. Check in & key drop a total breeze. Would consider staying again.
Oct 08, 2021
Campground was in the perfect spot for easy access to local sites and activities. Plenty of amenities, clean facilities and unique extra events for entertainment, right within the campground! Looking forward to a return trip sometime in the future.
Oct 08, 2021
very pleasurable
Oct 05, 2021
Very clean campground, and friendly staff. There were a lot of activities available, and the food truck was a very nice bonus! It was a fun place and we will definitely be back.
Oct 04, 2021
We had a wonderful stay. This is our favorite Koa so far. There was so much for our little grandsons to do and the facilities were up to date and clean. The only issue we had was the one lady in the store wasn't very friendly and was very short. It seemed like we were bothering her. Everyone else was so friendly and helpful. We loved the food truck too. I will recommend to everyone.
Oct 04, 2021
I felt the cabins were totally overpriced. $175 night is insane for a campsite. The water pressure was low and the knobs on the shower came off while I was showering. They charged $7 for a super small bundle of wood
Oct 04, 2021
The deluxe cabin was perfect! The only thing we needed to bring was food. Very clean very friendly staff and a very quiet stay. We will definitely be back again and again.
Oct 03, 2021
The cabin was clean and in complete working order. The campground was not crowded this time of year which is why we liked it so much. It was very quiet and we loved sitting on the swing on the front porch having our coffee in the morning. We left totally relaxed!!
Oct 03, 2021
Great place to stay.
Oct 02, 2021
I loved my stay there!!! It was a pleasure to be on the campsite, playing games and meeting very nice and sincere people. I plan on going again and again.
Sep 30, 2021
We only stayed for one night. The cabin was clean and comfortable. Everything we needed was provided. The cabins are very close to one another, that's the only thing I wish were different, and I would have given it 5 stars if that had been the case.
Sep 29, 2021
The deluxe camping cabin was awesome. The campground was well marked...easy to find our campsite/cabin. Friendly, helpful staff. Nice store. Definitely on our list for a return visit.
Sep 28, 2021
Stayed in a deluxe cabin. Clean, roomy, comfortable, and very clean. The team does a great job at upkeep and maintaining the large property.
Sep 27, 2021
We had a great time. There is a lot for kids to do and the cabins are rustic but have everything you need. We will definitely be back!
Sep 23, 2021
Everything was nice but the parking is not good at all for the cabin we were in. We were in number 3. We had to pull around back as zero parking in front. Plus the campground had allot of other cabins open but smooshed us in a row with everyone else. We scoped out the other cabins and would have preferred to be in one with more parking and less people around. I kinda wanted a woods feel
Sep 23, 2021
We had a very nice stay here at the Mystic KOA, the 2 pools were great! The smaller cabin we stayed was very comfortable and cozy. The bathrooms, which happened to be near our cabins, were well maintained.
Sep 22, 2021
Everything was great. The only complaints are that the door to the bathroom didn't fully close and then front door to our cabin didn't seal. The gaps let tons of bugs in, but I imagine mice would love it in the winter. We reported it upon departure and they assured us maintenance would take a look. The staff is wonderful and friendly and the site was clean!
Sep 20, 2021
Great stay! Road noise was not that bad, we were in safari area. Staff was pleasant and ready to help. We had an amazing stay! Now the not so great. Could use some sprucing up. Playgrounds, rec areas, pool areas . Doesn't affect function but not so pretty. We will def be back no question ! Cabins are amazing, they have everything you need and very clean patios are great,maybe add some trees???
Sep 17, 2021
We love this KOA!
Sep 15, 2021
My stay was perfect, as always. Staff and fellow campers were all so happy this past week! My cabin was sparkling clean, had all the amenities. I love getting texts about the activities going on at the campground when I am there. Thanks Mystic KOA!
Sep 15, 2021
It was wonderful! However, there was a major bee problem. We tried to use the bee trap that we purchased at the story, which did collect 30+ bees over the course of 24 hours, but there were still so many flying around.
Sep 15, 2021
The staff was so super friendly! Grounds were great Price was amazing for such a nice Delixe Cabin The firepit was great Porch was awesome Cabin was incredibly clean!! Gift shop was filled with great stuff!! Loved it!
Sep 14, 2021
Everything was amazing thank you so much
Sep 14, 2021
Bathrooms by cabins need cleaning more frequently and updating.
Sep 14, 2021
My family and I really enjoyed our stay. And the staff were excellent! The visitors there were very friendly and polite as well:)
Sep 13, 2021
We had a wonderful time staying in the Luxury cabin. The staff was friendly. We will definitely be back.
Sep 12, 2021
We have already recommended to friends and family! My kids got to swim and play at the playground and bouncey pillow. Our delux cabin was better than a hotel! We have always tent camped so this was a super luxury. The staff were SO kind and friendly and went above and beyond. This place stood out among all the campgrounds we have been to. Thank you. We are already looking at dates for next year.
Sep 11, 2021
Had a great stay labor day weekend. Full campground but pretty quiet crowd. Staff were awesome. Everybody had a great time.
Sep 11, 2021
Nice clean place. Lots of things to do for families right at the campground. Very close to several beaches and restaurants. Very dog friendly.
Sep 11, 2021
The deluxe cabins were perfect & spotless!! The ladies in the gift shop were so nice & friendly! We are all definitely coming back!! The grounds were beautiful & the kids loved the playground area. The adults too!! Thank you so much!!
Sep 10, 2021
Spent a week with side by side cabins, had a great time!! Stayed in the accessible cabin, and it was great, but bed position not very wheelchair friendly - hindsight we probably could have pushed the bed to the wall, but didn't realize it was moveable until doing the "end of stay" sweep. VERY happy to see a pool accessibility chair, it made it possible for everyone to swim!
Sep 10, 2021
The cabins were great. Really clean. Everyone we met was helpful and courteous. Had a wonderful time . We will be back.
Oct 10, 2021
Things were down for the season and Covid. Had this not been the case, this place would have been a fabulous campground with kids!!
- Neal Allen on Google
Sep 26, 2021
Awesome slides and playground for the kids. We also enjoyed the game room and mini golf. Clean facilities and overall great place! Only con was our site was very close to 95 and kind of loud with Friday am traffic. We will be back at a different site soon though!
- beth hill on Google
Oct 12, 2021
Nice place, I just wish that the bathroom was a little closer to the cabin also you do get a little road noise.
- JA Hughes on Google