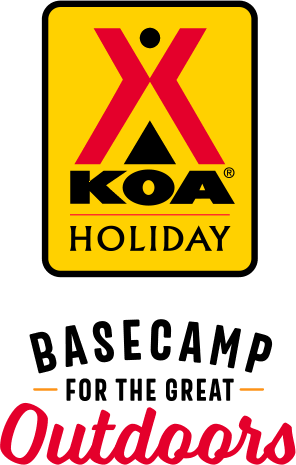 KOA Holiday Campgrounds
Whether you're exploring the local area or hanging out at the campground, KOA Holidays are an ideal place to relax and play. There's plenty to do, with amenities and services to make your stay memorable. Plus, you'll enjoy the outdoor experience with upgraded RV Sites with KOA Patio® and Deluxe Cabins with full baths for camping in comfort. Bring your family, bring your friends, or bring the whole group – there's plenty of ways to stay and explore.
KOA Holidays Feature:
RV Sites with a KOA Patio®
Deluxe Cabins with full baths
Premium Tent Sites
Group meeting facilities
Directions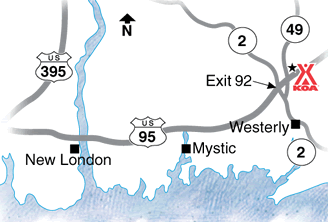 From S/W: Take I-95 N to Exit 92. At bottom of exit ramp, take a left at light onto 2. Go under overpass, take an immediate right at light. Take frontage road to 49. Take a left at light onto 49. Go 1 block to KOA on right.
From N/E: Take I-95 S to Exit 92. At bottom of exit ramp, take a right at light onto 49. Go 1 block to KOA on right.
Get Google Directions
Nov 25, 2020
I am a seasonal camper at Mystic KOA, so I'm somewhat biased. However, I recently had an "off-season" need to stay in one of the KOA lodges for several days/nights. I was extremely pleased! The bed was comfy, the amenities were totally unexpected, clean, and met our needs perfectly! I wouldn't hesitate to recommend to others!
Nov 13, 2020
We rented three deluxe cabins for a family get together and the cabins were clean and cozy. Everyone had a great time!
Nov 08, 2020
We were pleasantly surprised at the superb condition of the Delux Cabin we rented! Everything was there...from shampoo to sheets:) It was clean and well stocked with kitchen appliances/ dishes. We wanted to extend our stay but unfortunately there were no more available cabins:( A great place to get away and to explore the surrounding historical areas!
Nov 07, 2020
Had a great time, it was good to get away. The help in office was the best. They were helpful and everything was in the store.
Nov 03, 2020
it was great. everyone was great.
Oct 29, 2020
The deluxe cabin was comfortable with plenty of room for the two of us. The kitchen sink needs a little work and the toilet seems to be cracked but worked fine.
Oct 28, 2020
Deluxe cabin was perfect.
Oct 27, 2020
Camp sites and rental cabins are crowded together. No room to really enjoy your space. Accessible cabin is not accessible if your use a walker or wheelchair! The whole place could use a thorough update!
Oct 27, 2020
We stayed in a deluxe cabin. It had so many things that weren't listed. It was great. We enjoyed our stay and wished it had been longer.
Oct 17, 2020
We had so much fun during our fall camping trip in one of your deluxe cabins. My sister and I brought the kids for a middle of the week getaway and they had so much fun biking around the campground, eating s'mores and telling scary stories around the campfire. The cabin was perfect, with room for all of us and offered just the right amount of home comforts like a 2 burner stove and full bath!
Oct 15, 2020
We had a great stay! We rented a cabin. It was clean and everything was working. Staff was friendly and the campground was clean and inviting. I would definitely stay here again!
Oct 14, 2020
All good. The only thing I would recommend is having a better wi-fi and ensuring appropriate light outside the cabins to be able to spot the fire pit. Our car almost ran over the pit in such darkness.
Oct 14, 2020
Short 3 night stay. Very well appointed deluxe camping cabin. The gas grill didn't seem to have any propane or we didn't know how to use it. However, A semi full kitchen was able to accommodate alternate cooking option. I was very pleased with the cabin overall, and would visit Mystic KOA in the future.
Oct 13, 2020
We had a great stay on Columbus Day Weekend! We had 4 sites (2 tent, 2 cabin) for 10 adults, 8 kids, and 2 dogs. There were fun Halloween events for the kids and there were plenty for them to do. I would say, that I wish it was noted or explained to me about "locking" in sites when I first called to reserve the sites. If we were closer to each other, it would have been better.
Oct 12, 2020
Great time , very clean , cant wait to come back again
Oct 12, 2020
Loved off season camping. Campsites a bit too close for seasonal camping. Also loved the location.
Oct 12, 2020
Another great getaway! Clean, fun Theme weekend!
Oct 10, 2020
I met some very nice workers, location quiet, clean, and the people in front office ensured customers received the best current rate per night stay. I am coming back soon.
Oct 08, 2020
Love the quiet it was a great stay the cabin had all that was needed
Oct 06, 2020
We had a great visit and even scheduled for another weekend. Everyone was super friendly, store was great, campground was clean with lots of activities!
Oct 06, 2020
Oct was perfect. The campground was quiet even though there were plenty of campers. Social distancing and mask wearing was a priority. Office staff, maintenance staff and especially the older gentlemen that delivered our fire wood super job. Thank you
Oct 05, 2020
We had a wonderful time! We will be back!
Oct 05, 2020
We had a wonderful stay in the rustic cabins at Mystic KOA !
Oct 05, 2020
Great place we had a great time even with Covid precautions that were in place. Also very helpful with recommendations such as Clyds cider Mill this time of year Thank you
Oct 04, 2020
We booked our cabin a year ahead of time. Stove only had one burner working, microwave didn't work, and no dishwasher soap. When I told the person taking back the key, she responded, "You could have called the after hours number." I had no intention of having anyone enter our cabin after we were there due to the virus. I expect it in working order upon arrival.
Oct 03, 2020
Staff so pleasant and fun. Very accommodating! Lots of fun things to do despite things being closed related to COVID
Oct 03, 2020
Needs to have fan fixed in bedroom squeaked Beds uncomfortable Broken screen and window Other then that it was a good time
Sep 30, 2020
Super clean, super nice staff and a great location!
Sep 30, 2020
Cabin was clean. Loved the porch swing and fire pit
Sep 28, 2020
Such a great time and experience! Only negatives are their beds and Keurig machine. I know we are camping and in a cabin but the bed was a little too hard and when we got there we tested the Keurig out and it didn't work so the staff brought us a new one..which ended up not working either :( but there was a Dunkin close by so all is good! I will definitely be staying again but bring more blankets.
Sep 27, 2020
We have been there 5 or 6 times and always enjoy it. Your proximity to the Block Island ferry, Mystic, Stonington, and so many beaches and historical places is why we make the trip from PA. We've actually stayed in Cabin 16 three times now and it's always perfect. I wish it had been warmer because you guys keep your pool open later than most and when I can, I take advantage of that. Thanks.
Sep 27, 2020
Great cabin in great location. Friendly campers, all 5 of us enjoyed ourselves. Thank you
Sep 24, 2020
We love our Anniversary getaway at Koa See you next year �ϋ�
Sep 24, 2020
Very accommodating staff in the office! Restrooms clean and garbage picked up right at your site.
Sep 23, 2020
We had a great time. The cabin was immaculate. And the workers could not have been more helpful. I can't wait to go back.
Sep 22, 2020
Amazing stay. Inviting and helpful staff and the campground and cabins were immaculate. Definitely will be returning asap
Sep 21, 2020
I few things from the last few visits I have stayed could have used some tender love and care. This time KL22, bathroom fixtures falling off the walls, bathroom sink knobs loose, carb webs, screws from the patio sets loose or on the ground. I stay at this campground twice a year. I will stay one more time to see if things improve. The deluxe cabins are not cheap. I do camp 5 times each season.
Sep 21, 2020
Nice and relaxing. Beautiful grounds, helpful staff. No problems at all. A great experience.
Nov 29, 2020
Stayed in the camper cabin for a short getaway. No complaints! Clean and close to mystic.
- Kenyon Shaye on Google
Nov 25, 2020
The campground is clean, the staff welcoming and helpful. The facilities are top-notch (although some kid activities are Covid-limited). Central to many attractions, beaches, casinos. Mid-way between NYC and Boston. Been coming for years, will continue!
- Susan Dineen on Google
Nov 22, 2020
We stayed here a few weeks and really enjoyed our stay. Nice campground with friendly staff and ample ammenities.
- John Anderson on Google