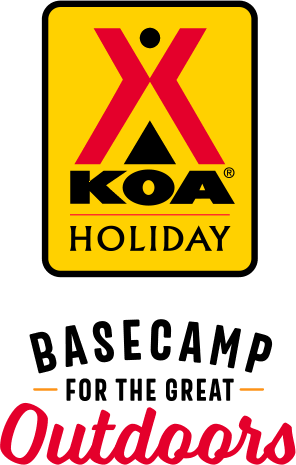 KOA Holiday Campgrounds
Whether you're exploring the local area or hanging out at the campground, KOA Holidays are an ideal place to relax and play. There's plenty to do, with amenities and services to make your stay memorable. Plus, you'll enjoy the outdoor experience with upgraded RV Sites with KOA Patio® and Deluxe Cabins with full baths for camping in comfort. Bring your family, bring your friends, or bring the whole group – there's plenty of ways to stay and explore.
KOA Holidays Feature:
RV Sites with a KOA Patio®
Deluxe Cabins with full baths
Premium Tent Sites
Group meeting facilities
Directions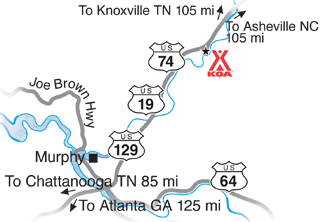 Be looking for the Yellow banner. From Murphy, NC and points West:   Drive east on US Hwy. 74, watch for mile marker 24. 3/10 mile past mile marker 24 turn RIGHT onto Happy Valley Road.
From Asheville/Bryson City/Andrews, NC and points East:  Drive west on US Hwys. 19/74, watch for mile marker 25. 7/10 miles past mile marker 25 turn LEFT onto Happy Valley Rd.
I-75 Southbound from Points North of Cleveland, TN, Exit #25 (Route 60 East):  Exit Rte. 60 at Hwy. 64/74 East. Continue into NC and follow directions above continuing on Hwy. 74 just past mile marker 24.
Get Google Directions
Jan 04, 2021
Nice sites and great staff in spite of the rain. Dog park area is the best I have seen in terms of size
Jan 03, 2021
The hosts were very nice and always willing to help in any way needed. The only thing kind of disappointing was the bathrooms were not available to use. Our groups had a lot of kids and it would have been nice to have them available so they aren't in and out of the campers as much
Jan 03, 2021
Matt and his crew are always very nice and helpful if needed for whatever you might need help with, thanks
Dec 29, 2020
Received the first class treatment every time we stay here. Matt & his crew are always out to give us the best care & support.
Dec 28, 2020
Had a good time. Both of the camp hosts are great. This is our third time camping at the Murphy KOA. We were a little disappointed that the bath house and laundry were not open. I get it though with the freezing weather. The one camp host gave us access to the employee use washer and drier in which I thanked her. We love the location and how near and clean everything is. Our dog loves the park.
Dec 28, 2020
We were given the wrong site and had to relocate and was a bit of a hassle. They wouldn't let us stay in the site we were given. Apparently they gave the wrong site to others that day as well. This is what keeps us from giving a 5 star rating
Dec 28, 2020
We stay every year around Christmas time and it's always beautiful and peaceful.
Dec 22, 2020
Helpful staff
Dec 18, 2020
everything was perfect. very well taken care of property.
Dec 17, 2020
Staff was very helpful and friendly. Campground very clean. Convenient to grocery stores and hiking trails. Only issue was with the laundry room as there was only one working washing machine. Ended up at ax commercial laundry.
Dec 14, 2020
Mat and the crew that work there are very nice and helpful, very peaceful rv park
Dec 11, 2020
awesome little campground. Little bit of road noise from the nearby highway (scale of 1 to 10, it's a 4-5). The turn coming into the grounds is super tight. Take your time! Owners are awesome people and it shows how much they care for their campground. Town of Murphy is small, but not tiny, and it's close enough to the mountains for some epic scenic day trips.
Dec 10, 2020
Our stay was nice. The driveway was a bit challenging. If I could make a suggestion about the internet. If you are going to have. A password for the internet just lock it so you only have to put the password in once. It keep kicking us off. Overall the campground was nice!
Dec 03, 2020
Very relaxing and nice. The staff is caring and helpful. The facilities are clean and well kept.
Dec 01, 2020
Great place to stay. Clean restrooms and professional staff. Convenient to restaurants and casino.
Dec 01, 2020
Once again Matt and the crew at Peace Valley KOA had the place looking good and clean! The staff was helpful and friendly...this time we needed propane, it was no problem and was taken care at the time of arrival. Spent 7 days there over the Thanksgiving Holidays which was very relaxing and the scenery outstanding. We will be returning!
Nov 30, 2020
Nice, quiet and less than an hour from numerous fun places to see. Right on a creek. Staff is friendly and helpful. Stayed one week and hated to leave.
Nov 30, 2020
It was absolutely great. The staff and everyone was friendly and willing to help us for our first time RVing. We will come back again. Thanks guys �
Nov 29, 2020
Very friendly and helpful staff. Great sites and property is immaculate.
Nov 29, 2020
Unfortunately we didn't spend much time there due to it being a holiday. But when we were there it seemed nice. Only thing to not give this KOA 5 stars is the lack of gravel. Camper sites were so muddy. Cabin sites were also very muddy. Just need to apply some gravel around the campground and u would have 5stars!
Nov 29, 2020
Great stay and everyone was very helpful looking forward to next time
Nov 28, 2020
Great, Wonderful, and the staff were exceptional, we will be back.
Nov 28, 2020
Everything was perfect including a fabulous Thanksgiving day with the sun shining and in the 70's. Couldn't have been nicer.
Nov 28, 2020
Very nice place and the staff are amazing.
Nov 23, 2020
Very nice place. Really enjoyed the spot along the river.
Nov 23, 2020
The people that work there are very friendly and very helpful them all facilities were very clean and very neat will definitely be back there again
Nov 21, 2020
We love this campground! The staff was friendly and helpful, our site right beside the River was heavenly and our dogs loved the one acre playground!!! Murphy is a lovely town; we even considered staying forever��
Nov 17, 2020
Very nice. Kamp keeper was tops.
Nov 17, 2020
Great place! Site 32 was so nice right by the river! Matt is great and helped my husband back in and I didn't even have to get out of the truck! Friendly staff...clean facilities...serene location.
Nov 17, 2020
Awesome campground. Love the river sites. We forgot to bring butter and they gave some. ������������
Nov 17, 2020
Is our favorite campground everyone so nice
Nov 17, 2020
Enjoyed it as usual. Great place for our four legged baby girl.
Nov 16, 2020
We came in after dark and appreciated being met at the gate and helped to our spot!! All our hookups were great. The only negative was someone kept banging on something and it was disturbing.
Nov 14, 2020
Great location, the staff are terrific, I would recommend this KOA to all my camping friends.
Nov 14, 2020
Nice and quiet.
Nov 12, 2020
Very friendly staff. Great WiFi.
Nov 12, 2020
Excellent place to stay. Attendants were very helpful and pleasant all the time. Grounds were clean, firewood, delivered, cable good and good internet. Water pressure a little low but not a problem. River is beautiful!
Nov 11, 2020
Always a pleasure coming here. Matt is an excellent host & the campground impeccable as always.
Nov 09, 2020
Enjoyed it. Friendly and helpful folks!
Nov 09, 2020
We loved our visit to the Murphy/Peace Valley KOA. The campground was clean and spacious. The hosts, Jenni and Matt were so friendly and welcoming. The campground is located near hiking trails, the historic town of Murphy and many other activities. We definitely plan on a return trip!
Nov 09, 2020
Everyone was very friendly & happy
Nov 09, 2020
It was a very nice campground!!!
Nov 02, 2020
This is a small campground with beautiful river sites. Staff is wonderful to work with. We are enjoying our week here and would highly recommend it as stopping point or longer. Close to shopping etc. Beautiful downtown Murphy nc.is close by with restaurants that won't disappoint.
- Valerie Hopkins on Google
Oct 26, 2020
Just visited. The sites were super clean and the campground was well taken care of. Large lots allowed for privacy. The owners were gracious hosts. We will be returning.
- Ray Chilcote on Google
Oct 22, 2020
This is the BEST KOA we have ever visited! The sites were absolutely beautifully set against a lovely landscape. The people who work here are just fantastic and friendly. All amenities are top notch! Super clean bathrooms Get here as soon as you can! :)
- Angela Brazeal Hager on Google