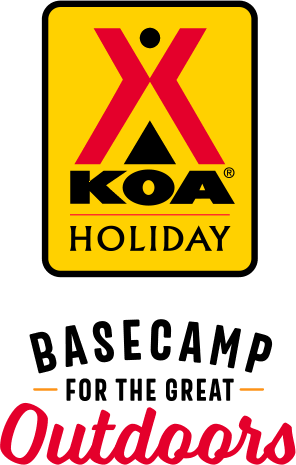 KOA Holiday Campgrounds
Whether you're exploring the local area or hanging out at the campground, KOA Holidays are an ideal place to relax and play. There's plenty to do, with amenities and services to make your stay memorable. Plus, you'll enjoy the outdoor experience with upgraded RV Sites with KOA Patio® and Deluxe Cabins with full baths for camping in comfort. Bring your family, bring your friends, or bring the whole group – there's plenty of ways to stay and explore.
KOA Holidays Feature:
RV Sites with a KOA Patio®
Deluxe Cabins with full baths
Premium Tent Sites
Group meeting facilities
Directions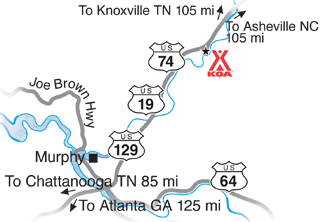 Be looking for the Yellow banner. From Murphy, NC and points West:   Drive east on US Hwy. 74, watch for mile marker 24. 3/10 mile past mile marker 24 turn RIGHT onto Happy Valley Road.
From Asheville/Bryson City/Andrews, NC and points East:  Drive west on US Hwys. 19/74, watch for mile marker 25. 7/10 miles past mile marker 25 turn LEFT onto Happy Valley Rd.
I-75 Southbound from Points North of Cleveland, TN, Exit #25 (Route 60 East):  Exit Rte. 60 at Hwy. 64/74 East. Continue into NC and follow directions above continuing on Hwy. 74 just past mile marker 24.
Get Google Directions
May 04, 2021
Great campground. Matt is awesome. Thank you for such a great place to camp
May 03, 2021
What a wonderful weekend we had Athens KOA! Such a beautiful campground with friendly service. Our cabin had everything we needed and firewood was delivered to our fire pit. We can't wait to return.
May 03, 2021
The staff was very friendly we love the large dog park very quiet great place to getaway to
May 03, 2021
Very nice relaxing area, great accommodations, actually made reservations for another date before we left.
May 02, 2021
Jenny and Kat were super nice and awesome people. The campground was really nice. Bathhouse was always clean. My tent site was right next to the stream and was really peaceful. I will be back for sure!!!
May 01, 2021
The linins were excellent quality. The cabin was clean, and well stocked with toilet paper, paper towels, and dish soap. The shower needs a hand rail and the bedroom and bathroom need some tables, and a luggage rack for the bedroom. The staff is very polite and the view from the cabin was great, overlooking the river. The screen door had a gap in the top, to let bugs in.
May 01, 2021
This is the best of the best. Whether you're staying a couple of days or a couple of weeks, this is a great campground to enjoy when visiting this area.
Apr 30, 2021
Matt ,Jenny,and Kay are nice and friendly and helpful .
Apr 27, 2021
Stayed in the cabin for 5 nights by the river. I really enjoyed my stay! It was a beautiful area and well-maintained. The staff was amazing!
Apr 27, 2021
Nice people very helpful and clean
Apr 27, 2021
We had a great stay at this KOA - the host and staff were all very nice and helpful. The campground was super clean. The dog run area is very big, our pup loved it. Being right on the river is very nice, would be a great place to visit in the hot summer months. We plan to return.... Thanks Matt for a great visit.
Apr 27, 2021
This is the cleanest most well kept campground I have ever been in! Highly recommend getting a spot that backs to the river. Super great place to stay! Will definitely be back!
Apr 27, 2021
Stayed two nights great staff Matt helped us get to our spot with no problem. Will be back!
Apr 27, 2021
Once again we had an incredibly relaxing stay here. We've stayed several times and each time was perfect. The couple that stayed next to us were from Maryland and said that they liked this KOA so much that they made another reservation a year from know just to come back.
Apr 26, 2021
This is a beautiful campground. Matt and his staff are amazing people. I would highly recommend this KOA as a great place to stay. Next year will be our third time spending 9 nights there.
Apr 25, 2021
Highly recommend , great staff,
Apr 25, 2021
This KOA is a very nice place to stay very big dog park the sites were very clean and the staff was very helpful. I am putting this down as one of my favorite KOA. Will be coming back sooner than later I hope
Apr 25, 2021
Matt, Jenny & Cat did an outstanding job satisfying our needs & ensuring we have a wonderful stay. The grounds were very clean & you can see great care was given to prepare it for the upcoming season. I always see new upgrades on every visit.
Apr 24, 2021
Peaceful. Clean! They were extremely accommodating to us. Planning on returning!
Apr 24, 2021
Super place to camp. Clean, professionally ran, friendly, courteous staff, great facilities. Off the road far enough to be quiet but close enough to not have to search for. Beautiful river running right behind the camp and a peaceful "Woodsy" area to stroll in. One of the nicest KOA's we have stayed at.
Apr 23, 2021
Had a wonderful time. Staff is always helpful, friendly and accommodating. We will be back again!
Apr 22, 2021
Great place! Staff was awesome! They took care of all our needs!
Apr 22, 2021
Friendly helpful staff Very clean and well maintained campsites
Apr 21, 2021
This was a beautiful campground with a gorgeous river running right beside it. Located next to all the wilderness that a person could possible want while at the same time have good dining and shopping 5 minutes away in Murphy. The casino is literally right around the corner if that's your thing. The people are super nice. Campground is clean and very pet friendly.
Apr 20, 2021
As always, Matt and his staff made us feel as if we were at home! We have booked 2 more trips to Murphy and are eagerly looking forward to them!! Pat and Janet Schultz Madison, GA
Apr 20, 2021
Excellent customer service!
Apr 20, 2021
We brought our two dogs with us. The cabin was clean and well stocked and the safe was wonderful. We were only planning on staying the weekend. But ended up staying one more night because we loved it so much the kids where begging to stay again!
Apr 19, 2021
What a beautiful little spot on the river. Great people as well and we enjoyed all the amenities and can't wait to go back. Thank you to Matt, Jenni and especially Kat.
Apr 19, 2021
We had a great time at Peace Valley KOA. I reserved 4 nights but we added 2 additional nights because we didn't want to leave. The campground is beautiful, tall trees with manicured sites surrounded by the Valley River. The staff is friendly and very helpful. The playground and dog park make it a family fun place to stay. We can't wait to return!
Apr 19, 2021
As we drove in we could see the facilities were clean and well-maintained. We were met at the entrance, escorted to our campsite, and assisted in backing the camper onto the level area. Since everything had been handled online before our arrival, there was no close contact with the staff. We had a quiet spot on the river and loved it. All amenities worked well. We would definitely stay here again.
Apr 19, 2021
Fabulous campground and great people that work there!! Can't wait to go back again and catch a fish. Thank you to Matt and our amazing camp host Kat who made our stay over the top.
Apr 19, 2021
It was so peaceful and friendly and can't wait to come back!
Apr 17, 2021
Love it there very friendly best campground
Apr 17, 2021
It was wonderful! Matt, Jenni and Kat were very friendly and helpful. Kamp was so clean and well kept. Wish every place we stay was as beautiful. Very nice visit!
Apr 16, 2021
Had a great stay, we rented one of the cabins and it was very cleaned and had everywe needed also the staff is very friendly
Apr 15, 2021
Very friendly and helpful staff. We spent a peaceful evening on the river. We would definitely stay here again.
Apr 14, 2021
The owner was so very friendly and helpful throughout our stay. He was constantly cleaning and raking the sites to make a spotless campground. We will definitely stay here in the future!
Apr 13, 2021
Everyone was supper friendly. Kat always had a smile on her face !!
Apr 13, 2021
We had a great time. The cabin fit our needs perfectly. Beautiful setting along the water.
Apr 13, 2021
It was a beautiful campground and well maintained. The owner and the hosts were very helpful and friendly. We have already made plans to go back in June !!
Apr 13, 2021
Very nice and clean Park. Great price.
Apr 12, 2021
Greeted nicely, friendly and helpful staff. Add more washers and dryers, especially for staff and cabin linen use. Have dry fire wood available.
Apr 12, 2021
Quiet camp ground. Matt and staff are great!
May 02, 2021
Beautiful campground. Clean bath house. Friendly, helpful staff. Campsites on the creek. Tons of activities; volley ball, corn hole, play ground, pool, game room and trails. 1 mile from casino and Walmart so its very convenient.
- Megan Giordano on Google
Apr 30, 2021
What a beautiful campground. The owners and staff are outstanding. Clean sites. Dog areas are clean and well kept up. We were in Cabin 4 peaceful lot right on the river. Very impressive view. 5 stars all the way.
- Dan Wright on Google
Apr 25, 2021
Awesome place... very nice people...very very clean ... loved our stay booked a nother week for next year before we left... thanks Matt and lady's see ya next year
- Barbara Leon on Google