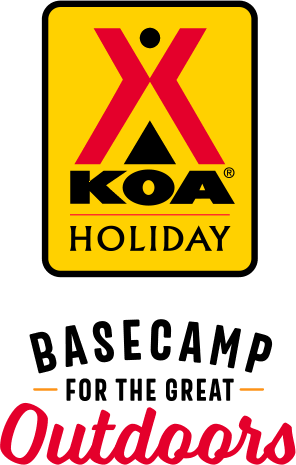 KOA Holiday Campgrounds
Whether you're exploring the local area or hanging out at the campground, KOA Holidays are an ideal place to relax and play. There's plenty to do, with amenities and services to make your stay memorable. Plus, you'll enjoy the outdoor experience with upgraded RV Sites with KOA Patio® and Deluxe Cabins with full baths for camping in comfort. Bring your family, bring your friends, or bring the whole group – there's plenty of ways to stay and explore.
KOA Holidays Feature:
RV Sites with a KOA Patio®
Deluxe Cabins with full baths
Premium Tent Sites
Group meeting facilities
Directions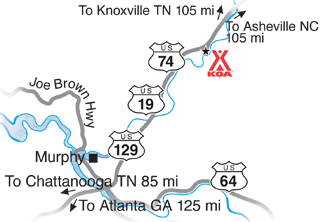 Be looking for the Yellow banner.
From Murphy, NC and points West:   Drive east on US Hwy. 74, watch for mile marker 24. 3/10 mile past mile marker 24 turn RIGHT onto Happy Valley Road.
From Asheville/Bryson City/Andrews, NC and points East:  Drive west on US Hwys. 19/74, watch for mile marker 25. 7/10 miles past mile marker 25 turn LEFT onto Happy Valley Rd.
I-75 Southbound from Points North of Cleveland, TN:  Exit #25 (Route 60 East):  Exit Rte. 60 at Hwy. 64/74 East. Continue into NC and follow directions above continuing on Hwy. 74 just past mile marker 24.
Get Google Directions
Sep 25, 2021
Very helpful with our stay (again) Super friendly & helpful. Will be back!
Sep 25, 2021
We were with a rally group. The campground was clean and neat, with landscaping being tidy. Fairly level site with gravel and grass, as well as some tree-shade cover during the day. Had opportunity to interact with some of the staff and it was a great experience - nice, friendly folks! We used bathhouse/Pavillion/game room. Need more light in game room, as we played cards after dark.
Sep 24, 2021
Our first KOA ever after many state and national parks! Peace Valley KOA is a campground we'd return and recommend! #UMMazing!
Sep 22, 2021
We love it! One of our favorite campgrounds
Sep 22, 2021
Easy in and out. Very friendly staff. Quiet and peaceful.
Sep 21, 2021
We were here as part of a FMCA local chapter rally and had a great time. There are so many scenic routes to drive in the vicinity and a lot of good restaurants.
Sep 21, 2021
Good park! Park attendants were very friendly and accommodating.
Sep 20, 2021
Stayed in site #25. Good location in the park. Matt and his crew do an great job of taking care of the park. They all are very friendly and helpful. Peaceful location. Always a well taken care of KOA.
Sep 20, 2021
Great place. Kept up and owner and all workers were wonderful
Sep 20, 2021
Great stay. Game room could maybe use an update but 98 out of 100. Great friendly staff and a convenient yet quiet location
Sep 20, 2021
very clean KOA and staff was very friendly
Sep 17, 2021
We really enjoyed our stay at this site it was extremely busy but everyone got along great
Sep 17, 2021
We came for a few days avoiding the hurricane season in Florida. Really felt at home at Murphy/Peace Valley and ended up staying a month. It's a great clean, well maintained, and well run campground. Jenny, Matt, Kat, and the whole crew make you feel at home. We had intended to try other campgrounds in the area but saw no reason to move. Great people, great facility ,great area! Highly recommend
Sep 16, 2021
Great atmosphere and employees.
Sep 15, 2021
We've been here before, love the place. Will be back as often as possible. Good people.
Sep 15, 2021
The owner Matt and his team were exceptional. They were very friendly and would go out of their way to accommodate the campers needs. We booked a whole month in 2022 as we were just so impressed with this facility. The cleanliness of the grounds and the bath houses were top shelf! You would not be disappointed booking a site to stay.
Sep 15, 2021
Excellent trip. Very clean and roomy lots. Camp hosts were awesome!
Sep 15, 2021
Love all you Guys, Jenny, Kat and even you Matt... can't wait until we get to go again.
Sep 15, 2021
Great host. Great place to stay. Quiet, friendly Wonderful dog park
Sep 14, 2021
The cabins are always clean and the staff is very friendly. We enjoy our stay every time.
Sep 13, 2021
Peace Valley KOA is a well maintained campground in an intimate setting. The campsites were tended to promptly daily as were the restrooms. The staff is friendly.
Sep 13, 2021
AWESOME...AWESOME....AWESOME WE LOVE TO STAY AT THIS PARK WHEN EVER WE CAN.....ALL THE HOST ARE AWESOME.....AND THE PARK IS METICULOUSLY KEPT.
Sep 12, 2021
My stay was very relaxing. I loved the setting and the surrounding mountains. We visited Fields of the Wood, went panning for gold, and thoroughly enjoyed Downtown Pizza in Murphy. The staff at Murphy KOA was very friendly and made me feel welcomed. I do plan to visit again.
Sep 12, 2021
Great place!! Well cared for!! Matt and Jenny were great!! Great place for our dog too.
Sep 12, 2021
The owners Jenny & Matt are so kind! Our daughter & her family are full time RVers. They were in a horrible wreck that totalled their truck, their only mode of transportation. We live almost 3 hours from the campground. Jenny made our reservation for a cabin at a discount & took our son-in-law to the store. The shower is very small, but the cabin is great, and it is a beautiful campground! Thank
Sep 11, 2021
My wife and I always enjoy our stay at your campground. We usually like the river sites but chose site #9 this time. Poor choice on our part. We have a dog that is very sensitive to other people and their pets. We won't take that site again, but we do enjoy your KOA. We are returning next Spring and we'll have a River site. Looking forward to seeing you again!
Sep 11, 2021
Wonderful time to escape and relax! Our W/E site was everything we wanted and more. Next to the sounds and sights of the river and its relaxing effect, the site encouraged us to sit back and enjoy our time together. The staff is super-friendly and very responsive! We'll definitely be back.
Sep 10, 2021
Just love Kat, our host. If you need it she delivers. Everything is in excellent condition and the grounds are very well kept. The pool is extra clean. Matt, the owner works very hard to keep the campground top notch. It is a beautiful campground and I will gladly return for a 3rd, etc….
Sep 10, 2021
Beautiful and well cared for campground. We are new to RV camping and Jenny and Matt were the best!!
Sep 10, 2021
Great campground. Well cared for!! Matt and Jenny were so helpful and also told us about great things to see in the area.
Sep 08, 2021
One of the Friendliest KOA's we ever stayed. Very clean and welcoming!! Have recommended to several camping Friends.
Sep 08, 2021
The staff are helpful and friendly. Very well kept!
Sep 07, 2021
Staff is very personal and professional. Campground is very clean.
Sep 07, 2021
This campground has one of the best owner/staff teams that I've experienced. Top notch customer service and the campground was cared for meticulously.
Sep 07, 2021
Great place. Hospitality was awesome
Sep 07, 2021
It was a very nice and well kept campground. The bath house was very clean The manager was friendly.
Sep 07, 2021
Beautiful grounds, very quiet, concierge service was unexpected, but wonderful. We will be back.
Sep 07, 2021
We had a great stay. The staff were great. They went well beyond any expectations to make it great. The place it self is well kept and perfect for our trip.
Sep 07, 2021
Great place to stay. Matt and his team make sure you have an enjoyable time. We enjoy going to this campground. Going back in couple weeks.
Sep 06, 2021
Peaceful, beautiful, friendly & helpful staff.
Sep 06, 2021
Fantastic creek side campground with some of the most helpful and kind staff I've ever encountered while camping. The campground was meticulously cared for. We can't wait to visit again.
- Wendy Polsgrove on Google
Aug 04, 2021
Such a great place!Bill helped us out big airing up our tire to get us back on the road. Lovely amenities and super clean.
- Donna Sessoms on Google
Jul 31, 2021
A very well maintained camp ground. Excellent owner and staff. Would highly recommend!
- Rickie Sims on Google