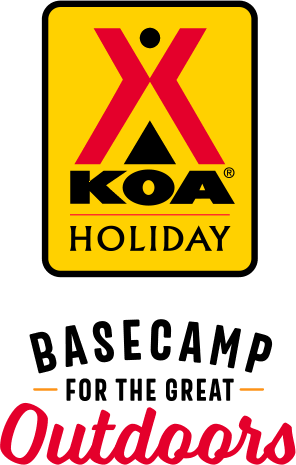 KOA Holiday Campgrounds
Whether you're exploring the local area or hanging out at the campground, KOA Holidays are an ideal place to relax and play. There's plenty to do, with amenities and services to make your stay memorable. Plus, you'll enjoy the outdoor experience with upgraded RV Sites with KOA Patio® and Deluxe Cabins with full baths for camping in comfort. Bring your family, bring your friends, or bring the whole group – there's plenty of ways to stay and explore.
KOA Holidays Feature:
RV Sites with a KOA Patio®
Deluxe Cabins with full baths
Premium Tent Sites
Group meeting facilities
Directions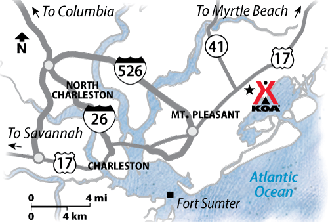 From junction I-526E & US 17N: go 5 miles north, look for our yellow KOA sign on the right.
Get Google Directions
Apr 06, 2021
Very clean and beautiful campground. Easy check-in. The dog park was well maintained. We will most definitely revisit.
Apr 06, 2021
Great place for young families, very well maintained, lots to do, location well off busy roads.
Apr 05, 2021
Overall we enjoyed the Mt Pleasant KOA but was somewhat unhappy with a few items. Our site contained a radio tower, a transformer & a green wood board w/ electrical panel on it. It wasn't pleasant to stare at when sitting outside. Additionally, twice in the early morning workers started mowing, trimming & blowing around our site. The nightly cost was high for these issues.
Apr 05, 2021
Beautiful and clean camp ground. Staff was very nice. Would like to come back again soon!
Apr 05, 2021
Loved it. Quite as always. The best campground
Apr 05, 2021
We stayed in the caboose. It was the little things that really made our visit pleasant. I loved that it was fully stocked with plates, cups, sheets, and towels. It helped reduce the amount that we had to take on our trip. Check-in was a little slow because there was only one person on duty checking in customers + answering the phone as it was constantly ringing.
Apr 05, 2021
Very well organized, very helpful staff, very beautiful campground in a convenient location
Apr 05, 2021
Had a great time! We will be back!
Apr 05, 2021
The campground was extremely clean and very well run. The only downside that we had was that the bike rentals had a lot of issues so there wasn't much available to rent. Otherwise, we would highly recommend this campground. The location is great!
Apr 05, 2021
Wonderful place, great staff.
Apr 05, 2021
Very hospitable. It was very nice that we could use the Campers Kitchen! The lake view was PERFECT and location to the beach set it off for us! Amazing stay. It was very clean. Albeit spider webs in rafters, and corners, but I'm sure that is why they are hiring. We wouldn't mind being part of this staff. They were all amazing! I think we will shoot for K20 next!
Apr 05, 2021
The staff was friendly and helpful. Clean KOA and great location
Apr 04, 2021
One of the most beautiful campgrounds around! Love that there is a lot of nature to experience!
Apr 04, 2021
We liked the campground except the showers were not acceptable. The first day, the shower water was freezing cold and didn't warm up at all even after 10 mins of waiting. The showers always had a clump of hair covering the drain, and lots of black mold spots around door and wall. It was not a clean experience. Otherwise, nice and tidy campground.
Apr 04, 2021
We had a late arrival and were greeted by two gentlemen that escorted us to our RV site. They helped us safely back in our site and made sure I knew where the hook ups were. Once we woke up the next day we saw what a wonderful campground this was. We will be staying here again.
Apr 04, 2021
The campground is very clean and beautiful and our cabin was wonderful! The staff was very kind and helpful! The cable service did not work well and we could not get the internet/wifi to work at all! The restrooms and bath house/showers could use upgrading!
Apr 04, 2021
Very nice camping cabin, perfect for a short getaway.
Apr 03, 2021
Loved the cabin K23. Beautiful to look out on the lake. Felt sorry for the Canada goose that kept "honking". It had apparently lost it's mate. I love Canada geese anyway. And I may have seen a pilliated woodpecker. It flew across the nature trail and just got to see a brilliant red head. Just glad our son and daughter-in-law were at their camp site as it was protected from the wind
Apr 03, 2021
Very nice facility Looking forward to returning
Apr 03, 2021
This is a very nice campground with friendly staff. Close to activities in the Charleston area.
Apr 03, 2021
Great location with excellent facilities
Apr 03, 2021
Very Accomidating. The staff is very courteous and prompt with situations.
Apr 02, 2021
It was great. Only disappointment was that the tractor ride tour to the plantation wasn't running. :(
Apr 01, 2021
Our seventh or eighth time there. Always beautiful and well kept. One of our favorites. I was disappointed about the no visitors policy. We have family in the area and would like them to see our motorhome sometime.
Mar 31, 2021
Lovely campground. Always enjoy our stay there.
Mar 31, 2021
Beautiful site and employees were super friendly!
Mar 31, 2021
Love the campground!
Mar 31, 2021
Super accommodating park! Clean and staff super nice, disappointed we didn't see the plantation house though!
Mar 31, 2021
Quick weekend with family and friends who regularly camp there and we will be returning. Quiet well kept campground with good sized sites and friendly staff. Conveniently located to beaches and conveniences. Enjoyed the nature trail each day with our pup.
Mar 31, 2021
Beautiful campground. Very well maintained. The location is great for access to Charleston
Mar 31, 2021
This KOA campground is run very well and the staff is attentive. It's very beautiful on the lake.
Mar 31, 2021
Great location and service. Easy check-in prior to and upon arrival.
Mar 31, 2021
We loved the campground. We did have trouble with one man on the staff. The quiet time is 10 and although we did break that rule. He proceeded to yell at our children with no adults around and scold them which is very inappropriate. We have 5 campsites booked and were at the campsite beside them. You don't yell at children without parents. He was rude and very disrespectful.
Mar 31, 2021
This was our first time staying at a KOA. We enjoyed the weekend and how close we were to IOP. We will definitely book another trip to stay here!
Apr 10, 2021
Outstanding Service! our family's first camping trip a Success thanks to this Team. Very Clean & Safe. The customer service at the store was unmatched in any industry. Do not have his Name but this gentleman was on Point. EVERYONE at this campground was very Friendly a True show of Sothern Hospitality. Kept the Wood coming & Trash off. A family must Go NOW.. Thanks Team for your Service
- Jonathan Varosian on Google
Apr 01, 2021
Staying here for three days and so far it's great. A little problem with the wifi but hopefully it will be fixed.
- Marsha Hyatt on Google
Mar 31, 2021
Great location and the best internet anywhere! They let us use a router that connected to their utilities via CAT5 cable. It gave our family high speed internet capabilities (Work, school, entertainment). Showers were good. Large fishing pond. Great hiking trail through the swamps. Beautiful setting with large trees and green space. Quick to downtown Charleston and many other tourist activities. One of the best KOA's in the country. Love to go back!
- Dan Piening on Google